Every year a plethora of new gear is introduced into the market, either innovating older products or pioneering brand-new technology. 2022 proved to be no different. We saw many exciting releases over the course of 2022, but there were a select few that really caught our eye.
Best Products Award criterion
For a product to qualify as one of our Best Products of the Year, it must have passed through Videomaker for examination by our editorial staff. From there, we judged the products based on the following questions:
Empowerment: Does the product help videographers become more effective storytellers?
Ease of operation: Is it user-friendly?
Affordability: Does the product must provide good value for the price?
Quality: Is it well put together, durable and does it display excellence?
Innovation: Is it inventive and original?
Dependability: Can it endure the rigors of active video production?
Performance: Does it work consistently and effectively?
Now, let's dive into our choices for the Best Products of 2022.
Best livestreaming switcher
Blackmagic Design ATEM SDI Pro ISO
Many live-streaming switchers use consumer HDMI inputs rather than SDI. Recently, Blackmagic Design launched a range of ATEM SDI switchers designed for professional use. Out of the three models launched, we selected the ATEM SDI Pro ISO, a four-input live production switcher with SDI inputs with standard converters and re-sync video. The re-sync feature will re-sync video sources to the switcher, even if they operate at different video standards. It can stream up to 1080P HD, and simultaneously record to flash disk via USB. It also has a built-in audio mixer that lets you control both camera and external audio.
You can learn more about the Blackmagic Design ATEM SDI Pro ISO here.
Best streaming system
Wirecast Gear 3
What's great about the Wirecast Gear 3 isn't just that it's a fully-configured livestreaming system; it's also extremely user-friendly. It's got everything you need built in. There's no need to build your own streaming system piece by piece. It's an impressive product that works as a live event switch as well as a YouTube Live switcher. It runs with AMD Ryzen architecture and has up to five SDI or four HDMI camera inputs and supports 1080 60p and 4K 60p workflows.
If you want to read more about the Wirecast Gear 3, go here.
Best PTZ camera
BZBGear BG-ADAMO-4K
If you need a camera that automatically pans, tilts and zooms with remote operation, the BG-ADAMO 4K is your camera. It has high-quality video output of up to 60 fps in 4K resolution and an SDI connection for long-distance cables. Additionally, it has the latest NDI|HX technology for connecting video devices over a network. The BG-ADAMO 4K has USB options for plug-and-play connections and options to store up to 1 TB of video footage with built-in micro SD. All of this makes this PTZ (Pan, Tilt, Zoom) camera great for live events, business conferences and houses of worship.
You can learn more about the BZBGear BG-ADAMO-4K here.
Best drone
DJI Mini 3 Pro
With several new features and upgrades, the DJI Mini 3 Pro shoots high-quality aerial video and offers options to control ISO, shutter speed and white balance manually. It has a fixed aperture at f/1.7 and an improved 1/1.3 inch CMOS sensor that can capture 4K video at up to 60 fps. The body redesigns the Mini formula since the Mini 2. To start, the Mini 3 has a more aggressive posture that's more aerodynamic, providing better battery life. Additionally, it features Tri-Directional Obstacle sensing, which senses obstacles in front, behind and below. It can also shoot vertical video, ideal for Stories, TikToks and Shorts. Overall, the Mini 3 Pro is an excellent drone with a lightweight design, 4K video and a fantastic flight time.
You can read our review here.
Best camcorder
Canon XA70
The Canon XA70 is a compact, lightweight camera featuring UHD 4K capture, a 1-inch CMOS sensor, two XLR audio inputs and one mini-HDMI output. It also has on-screen timestamp recording, which embeds date, time, timecode and other data into original camera files. Additionally, it has livestreaming capabilities directly from the camera. This camera is best for documentary or journalism-style productions.
You can learn more on Canon's official website.
Best lens
Sirui 35mm T2.9 1.6X Full Frame Anamorphic Lens (Canon RF)
For Best lens, we chose our favorite anamorphic option. The Sirui 35mm T2.9 1.6x Full-Frame Anamorphic Lens (Canon RF) adds a 1.25x anamorphic squeeze to your image to achieve a 2x squeeze, creating a more noticeable anamorphic look. The lens features an 82 mm rear thread. Also, the lens offers three step-down rings (67 mm, 72 mm, 77 mm) and a step-up ring (92 mm). On top of all that, this lens is quite affordable for an anamorphic lens.
Check out Sirui's official website to learn more.
Best DSLR/mirrorless camera
Panasonic LUMIX GH6
Targeted at small and medium-sized video productions, the Panasonic GH6 has a 25.2 megapixels image sensor with an improved dynamic range of over 12 stops when shooting in V-Log. You can record 4K 60p 4:2:2 10-bit H.264 video with an unlimited record time and output video over HDMI while recording internally. It also has a powerful range of video assist functions, including a waveform monitor, vectorscope and luminance spot meter. In addition, the GH6 can detect when you are shooting vertical video and record the position information. It has improved audio recording with a 48 KHz 24-bit built-in mic and 96 kHz 24-bit audio with an external mic.
Learn more about the Panasonic GH6 here.
Sony FX30
The Sony FX30 provides accessible cinema camera features for everyday content creators and filmmakers with an APS-C sensor. It captures detailed 10-bit UHD 4K at up to 120 fps with a Super 35 mm Exmor R CMOS sensor. It offers high-sensitivity recording at up to ISO 32,000 and dual base ISO (800/2,500). When using S-Log3, the FX30 can capture 14 stops of dynamic range. Plus, it can record in 10-bit 4:2:2 using advanced XAVC HS and XAVC-I formats. Additionally, it has fast hybrid AF for high speed and highly accurate autofocus. Other options include five-axis body image stabilization, lightweight and compact for solo operation, a wide range of connectivity options, advanced audio recording and dual card slots.
You can read more about the Sony FX30 here.
Best specialty camera
Ronin 4D
The Ronin 4D is an all-in-one camera/gimbal solution ideal for independent content creators, indie filmmakers and event videographers. This camera gimbal combines imaging stabilization and focusing in a lightweight carbon fiber and aluminum/magnesium alloy rig. The full-frame camera captures at rates up to 6K 60 fps in Apple Pro Res HQ. It also features an interchangeable lens mount supporting Sony E-mount or Leica M-mount lenses. Other options include a built-in 5.5-inch touchscreen monitor, a built-in 3.5 mm audio input and an integrated CFExpress Type B card slot.
Learn more here.
Best stabilizer
DJI RS3 Pro
The DJI RS3 Pro is a compact stabilizer compatible with mirrorless and DSLR cameras. Additionally, it can carry ten pounds, and its foldable design makes it easy and compact for transportation and storage. With a more prominent full-color OLED display, a new fine-tuning knob and excellent stability, the RS3 can become an essential part of your professional camera kit.
You can learn more here.
Best large diaphragm condenser microphone
HyperX Procast
The HyperX Procast is a professional-grade condenser microphone with an XLR connection and a gold-spotted large diaphragm condenser. The Procast includes an anti-vibration shock mount and a detachable Hyper X Shield metal pop filter to reduce unwanted rumbles and pops in your recording. It also features a switchable 80 Hz high pass filter, -10 db PAD, and a cardioid polar pattern. However, the Procast requires 48 V phantom power via XLR cable. With support for 3/8-inch and 5/8-inch threads, the Procast is compatible with most arms and stands.
To learn more, check out HyperX's official product page.
Best shotgun mic
RØDE VideoMic GO II
The RØDE VideoMic GO II is a lightweight directional microphone designed to capture audio easily and is perfect for cameras, smartphones or tablet computers. It delivers rich, full-bodied audio, focusing on what you point it at while reducing background noise. It also promises clean recording outdoors with a high-quality windshield. The VideoMic GO II requires no batteries to operate and seamlessly connects to your device.
You can learn more here.
Best audio editing software
iZotope RX 10
If you need a complete audio restoration toolset, iZotope RX10 is the staple for recording, mastering, audio for video and post-production. The software can be a standalone application or a plug-in for your DAW or NLE. The RX10 offers new and updated modules and algorithms, including text navigation, multiple speaker detection, a repair assistant plug-in, a spectral upgrade mode in De Hum and selection feathering. iZotope RX10 can transform previously unusable audio into something usable.
Check out iZotope's product page for the RX 10 to learn more.
Best beginner editing software
Apple iMovie
A free editing software available exclusively for Mac OS, IOS and iPad devices, iMovie allows you to edit videos easily. It includes audio and chroma keying tools as well as templates to create trailers and movies. Additionally, it has a feature called Magic Movie, which lets you create styled, edited videos complete with titles, transitions and music in just a few taps.
Go to iMovie's product page to learn more.
Best enthusiast editing software
Wondershare Filmora 11
Filmora 11 brings several new features, such as the Audio Visualizer, HDR function and Speech-to-Text/Text-to-Speech tool to improve the dubbing and subtitle editing experience. Plus, auto synchronization, preset templates, masking and speed ramping are also other note-worthy additions.
Go to Wondershare's website to learn more.
Best professional editing software
Adobe Premiere Pro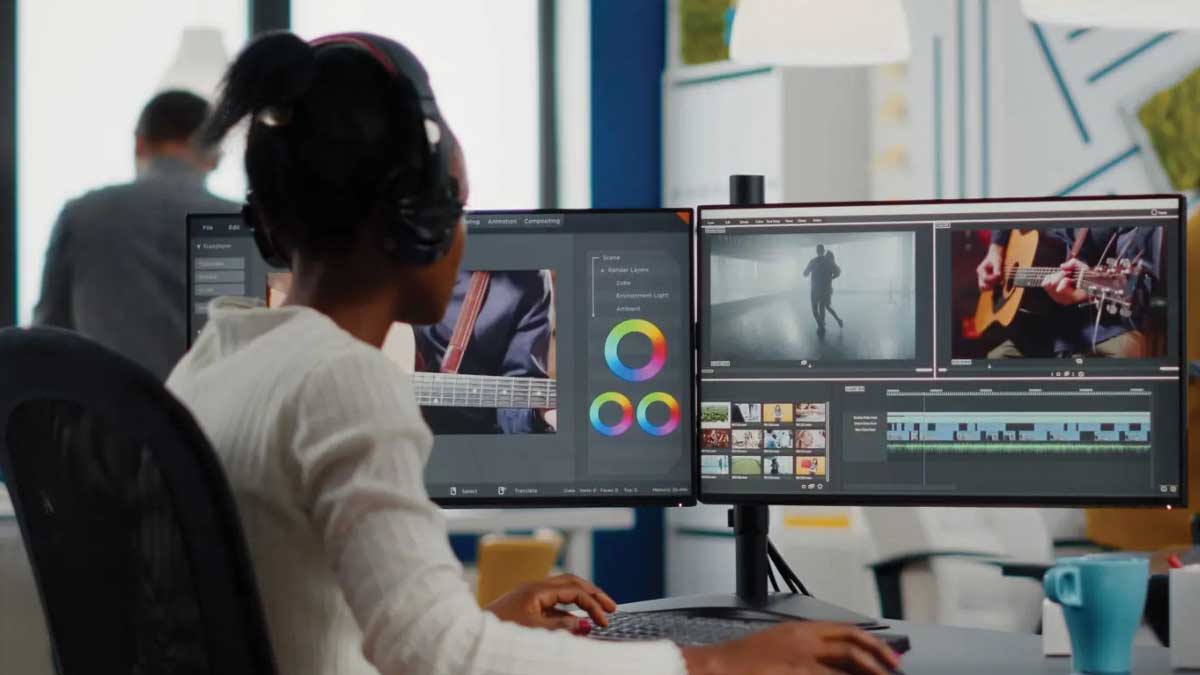 Adobe Premiere Pro is the leading editing software for creating incredible videos fast. New features are rolling out regularly to simplify steps and save time. For example, Frame.io for Creative Cloud lets editors collaborate with real-time reviews and approval tools. You can also export directly to your social channels, and the software offers ARRI ALEXA 35 camera support and improved previews on Windows and Mac OS. Another significant development is Speech to Text being available for offline use. Further, it has color-matching features to accurately and efficiently match colors with Auto Color and Auto Match. And to make video creation more effortless, you have Adobe Stock footage that you can download and use without leaving Premiere Pro.
Check out Adobe's website to learn more.
Best storage solution
Sandisk 1TB Portable SSD
The Sandisk Portable SSD offers NVMe solid-state performance featuring up to 1050 mb/s read and up to 1000 mb/s write speeds in a portable, high-capacity drive. The drive is perfect for capturing incredible footage and tough enough to withstand up to 2-meter drop protection and IP55 water and dust resistance. Additionally, it has password protection featuring 256-bit AES hardware encryption.
Learn more on Wester Digital's website.
Best Mac desktop
Mac Studio
The Mac Studio can be fitted with either an M1 Max or the more powerful M1 Ultra, combining both central and graphical processing into a single chip. Mac Studio systems use unified memory, meaning the CPU and GPU operate off the same memory pod. Of the two systems, the M1 Ultra is most suited for video editing (if you have the cash to spend). It's a powerful computer with many ports such as Thunderbolt 4, USB-C, an SD card reader, two USB Type A, HDMI and a 3.5mm headphone jack. The M1 Max is also a formidable video editing machine that can handle highly-demanding editing projects. One downside of this system is that it is not user-upgradeable, and adding extra internal storage can be very expensive. The Mac Studio is an impressive system, but it performs even better in the Apple Ecosystem paired with Final Cut Pro.
Read our review here.
Best Windows desktop
HP Z2 Mini G9
The HP Z2 Mini G9 is a powerful workstation bringing high performance packed into a versatile design. It has low-profile NVIDIA RTX graphics as well as Intel-Core processors. Its compact design allows you to free up desk space with the option to mount it on the back of your monitor. Therefore, it's excellent for those working in smaller offices and those working from home in makeshift spaces.
Learn more here.
Best Windows laptop
HP ZBook Studio G9
Packing professional performance into a sleek PC, the ZBook Studio helps you build complex assemblies, render in real-time or visualize data. It allows you to edit 8K videos and supports 3840 x 2400 resolution with a 16:10 aspect ratio. It features 12 generations of Intel Core i7 and i9 14-core processors, 16 GB to 32 GB DDR5 memory, up to 1 TB SSD, and NVIDIA RTX A1000, A2000, or Geforce 3010 TI GPU. This portable system provides performance and security to take on almost any project while traveling.
Head to HP's product page to learn more.
Best Mac laptop
MacBook Pro M2
The Apple MacBook Pro M2 is designed for photographers, filmmakers, 3D artists, music producers and other content creators. This lightweight mobile workstation features an Apple M2 8-core processor designed to deliver up to 18 percent better performance than the previous M1 CPU. It has a retina display, delivering sharp and clear images with P3 wide color for vivid, true-to-life colors in photos and videos. Additionally, you can multitask large video clips and project files with 16 GB memory and 1 TB SSD storage.
Learn more here.
Best IOS smartphone
Apple iPhone 14 Pro Max
The iPhone 14 smartphone is packed with video features, including an improved rear camera and front-facing cameras shooting 48 MP at 24mm f/1.78 aperture. It has 4K video recording at 24, 25, 30 or 60 fps and has a storage capacity of up to 1 TB. With a super retina XDR display, new software, improved battery, chip, GPU and fast charging, the iPhone 14 Pro Max is an incredible video tool.
You can read more about the Apple iPhone 14 Pro Max here.
Best Android smartphone
Sony Xperia 1 IV
The Xperia 1 IV smartphone has advanced video and photo capabilities, with 4K 120 fps recording and an optical zoom lens. It has three lenses with a 12 MP Exmor RJ for a mobile image sensor. That's along with the ability to do slow motion recording and real-time autofocus and object tracking. It promises to empower users to become creators with cinematic video, livestreaming capabilities and a water-resistant design.
Learn more about the Sony Xperia 1 IV here.
Those are our picks
We just presented you the 2022 best products, category by category. Each product is a worthy addition to your video production kit. As the year winds down, we can't help but look forward to next year's products.