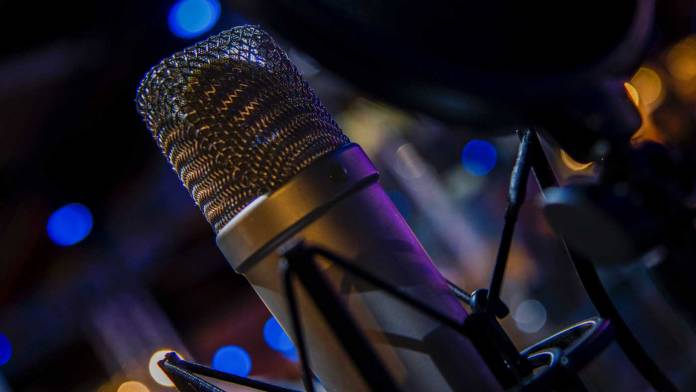 Ever watch a low-budget movie and wonder, "How did this film make the cut?" The cinematography may have been average, the story derivative but — the sound! The quality of the sound design may be the reason the film made it onto the screen. Surprisingly, many film festival programmers rate sound quality as the element they weight most heavily when looking at entries. In fact, sound in cinema can be very deceptive. Having the best microphone possible is an important element in achieving good sound.
Techniques that many films use — such as audio editing, ADR (automated dialog replacement, also known as dubbing or looping), remixing and sound sweetening — occur in post-production and can be very time-consuming as well as expensive.
Because sound plays such an important role in audience perception, it's important to get the audio right. That means you need the right microphone for the job. Here are our picks for the best microphones for video production in several categories. At the end of the list, we'll go over the most important factors to consider as you shop for your next mic.
---
Best Lavalier Microphone
Sennheiser evolution wireless 100-p G4
STRENGTHS:
Broadcast quality sound
Build quality
Industry-standard
The Sennheiser evolution wireless 100-p G4A series is a rugged all-in-one wireless system with high flexibility for broadcast quality sound. The system has a transmission range of up to 330 feet and 8 hours of operation time.
An update to the industry-standard evolution wireless mic system series, Sennheiser claims that the user interface of the 4th-gen ew 100-p series will allow for faster set-up and better control thanks to 12 compatible frequencies. Additionally, the ew 100-p output power goes up to 30 mW. The lighter aluminum housing of the SKM 100 G4 allows for easier use.
Included in the latest ew 100-p series offerings are a 135-p G4 Portable Handheld Set and two Portable Lavalier Sets, an ew 112-p G4 (omni), an ew 122-p G4 (cardioid). Also available is the ew 100 G4 ENG Combo Set, which offers both plug-on and bodypack transmitters with an omnidirectional ME 2-II clip-on microphone. The new systems are compatible with all previous evolution wireless systems.
---
Best Handheld Microphone
Shure SM58
STRENGTHS:
Rugged construction
Great sound quality
Built-in pop filter
WEAKNESSES:
Optimized for vocal recording
Recently celebrating its 50th anniversary, the SM58 wired handheld mic has long been known as one of the world's most rugged and affordable professional dynamic microphones. The SM58 is a cardioid mic with a frequency response of 50Hz to 15kHz tailored to deliver warm and clear vocal reproduction.
Even in extreme conditions, the SM58 is designed to target the main sound source while minimizing background noise. The Shure SM58 has a built-in spherical filter to minimize wind and breath "pop" noise. It also has an internal pneumatic shock-mount system which is designed to help reduce handling noise.
As a wired mic, it retails for $100 and you can get a wireless kit with an SM58 capsule for $500.
$100
---
Best Shotgun Microphone
Sennheiser MKH-416
STRENGTHS:
Industry-standard sound quality
Built to last
Suitable for adverse environmental conditions
While not a small investment, the Sennheiser MKH-416 Short Shotgun Interference Tube microphone is an industry-standard that can be spotted on Hollywood sets and professional independent productions alike. The mic is responsive to frequencies between 40 and 20,000 Hz and has a hypercardioid pickup pattern that begins to narrow into a lobar pattern above 2 kHz. This particular microphone has extremely powerful directivity meaning you will always get an incredibly tight and focused recording, no matter where you're recording.
When your work takes you outdoors, you're bound to encounter humidity and condensation, which can cause many mics to fail. The MKH 416-P48U3's RF condenser design makes it highly immune to moisture, allowing you to reliably capture high-quality audio in normal and adverse environmental conditions. The MKH 416-P48U3 also has a foam windscreen to reduce unwanted wind noise.
Designed specifically for film, radio and television work, the MKH-416 has a durable all-metal body ready for hard use on set or on location. It's expensive but the MKH-416 is a quality product that you can rely on.
$1,000
---
Best Camera-top Microphone
Røde VideoMic Pro+
STRENGTHS:
Safety channel
Long battery life
Rechargeable battery
WEAKNESSES:
Location of eighth-inch output
Larger than previous models
The Røde VideoMic Pro+ is a camera-mounted shotgun mic. It has a 3.5-millimeter mini-jack output with a detachable cable that also supports dual mono output. Also featured is a 20Hz to 20kHz frequency response and a Rycote Lyre shock mount. The VideoMic Pro+ has a high-frequency boost and a selectable 150Hz or 75Hz high-pass filter. The included rechargeable Li-Ion battery can sustain over 100 hours of use before needing to be recharged.
New to the VideoMic Pro+ is a feature called safety channel. The safety channel gives you the same mono input over a stereo channel and records the same thing as the other channel, just -10dB lower. If you are shooting run and gun style, it's not always possible to adjust to a random loud sound. With the -10db safety channel, you'll have one track that's likely to be clean even when the other is clipped.
RØDE did a great thing with the VideoMic Pro+; they improved their already standard product with some usable features. The long battery life coupled with the safety channel makes for a super update that makes VideoMic Pro+ stand out from the crowd.
$300
---
Best Budget Microphone
Røde NTG2
STRENGTHS:
Low handling noise
Solid construction
AA battery or phantom powered
Our budget pick is a classic — it's not the newest model in the NTG lineup, but it still offers solid performance to those looking for good sound quality at an affordable price point. It's also incredibly versatile will work in just about every basic shooting scenario. The Røde NTG2 has a frequency response of 20 to 20,000Hz with a selectable high-pass filter at 80Hz. The NTG2's elevated sensitivity allows it to produce strong output levels without having to apply extreme gain at your mic preamp. It uses either an AA battery or P48 phantom power and comes with a Røde WSVM windshield.
Its lightweight, low handling noise and solid construction mean the NTG2 will be right at home on the end of a boom pole, and the NTG2 has a foam windscreen to reduce unwanted wind noise. Røde promises the mic will deliver broadcast quality sound suitable for film, video and television work making it a solid choice for those on a budget.
$270
---
Factors we considered
The best microphone is the right one for your shooting situation. To get a better idea of how to choose the right mic, let's take a look at some key specs.
Form Factor
The first thing you'll need to consider is form factor. There are several basic types of microphones you can use in production.
Handheld microphones
Whether wired or wireless, handheld microphones are held by an interviewer or talent. They're great for getting run-and-gun interviews in noisy environments where you don't have the time for a lavalier. Handheld mics can also be used on a stand to pick-up audio from a subject who will not be moving around. Handheld mics can deliver a very rich full sound. However, if you don't want your microphone in your shot, a lav or shotgun mic would be a better option.
Lavalier
This tiny microphone clips to a lapel or shirt, or it can be completely concealed under the talents' clothing. Lav mics come in both wired and wireless forms. Lav mics can be helpful at times in blocking outside noise because of their close placement to the sound source; however, the noise created by your subject's clothing moving around while wearing a lav can make the audio captured by the microphone unusable. Lavalier mics typically don't produce as rich of a sound as handheld or shotgun mics. If it's possible, use a shotgun mic instead of or in addition to the lav.
Shotgun mic
This long, thin type of microphone mounts to a stand, boom pole or your camera rig. Shotgun mics can be placed much further away from your subject than lavs or handheld mics, while still doing a good job at rejecting outside noise. Shotgun mics are sensitive to handling noise, however, which can make using one mounted to a camera rig, or even on a boom pole, challenging.
Microphones in post-production
Microphones used for ADR or narration vary from handheld mics to large condenser mics. While many have XLR outs to connect with pro audio gear, many are now being built to connect directly to computers via USB. Foley — the background sounds in film and TV productions — is often recorded with a large variety of mics depending on many variables, including whether the recording is in a studio or outside and what the desired sound is.
Need-to-know tech specs
This is a quick and dirty breakdown. It's important to note that audio recording is an art unto itself, similar to cinematography. Many chapters of many books have been written about types of microphones, construction of mics and their pickup patterns.
Condenser vs. dynamic mics
The design of a microphone element or capsule will affect how the mic performs. There are many types of microphone elements; however, due to cost, durability and function, there are only two that should be considered for production and post: condenser and dynamic.
In the most basic sense, condenser microphones use electrical current to power a series of plates that vibrate when sound waves hit them. The obvious con to this type of microphone is that it needs power at all times in order to work. Pro audio systems use phantom power to send power down the microphone cable to condenser mics without interfering with the audio signal. Otherwise, the mic will need a battery.
Condenser mics can be very sensitive, allowing them to pick up audio from a distance. A good example of this use is shotgun microphones. This same sensitivity can result in a condenser mic picking up a lot of extra wind noise and background noise. That's why a good windscreen is also a vital accessory for your shotgun mic. It's also important to note that condenser mics can be a bit delicate.
Dynamic microphones are the most rugged mics available.
Dynamic microphones use an electromagnetic coil and diaphragm. While that may sound a lot more delicate than a condenser, it's not. Dynamic microphones are the most rugged mics available. They do have a limited sensitivity, which actually is not always a downside; however, dynamic microphones don't usually have as tight of a polar pattern as many condenser mics have.
Polar patterns
Polar patterns, also commonly known as pickup patterns, are the areas that a microphone will be sensitive to sound. The common polar patterns used in production recording mics are omnidirectional, cardioid, hypercardioid, supercardioid and line. Some microphones can even switch between polar patterns.
An omnidirectional mic has a polar pattern that is round in shape, while a cardioid polar pattern is heart shaped. The line polar pattern used for shotgun mics is almost completely in front of the mic and very directional. This helps explain the shotgun's rejection of noise along the sides of the mic and its popularity for use on film shoots.
Lav and handheld mics commonly use cardioid and hypercardioid patterns. They offer a good balance between wide pick up and rejection of outside noise.
Frequency response
Perhaps the most overlooked element when shopping for a new microphone is frequency response. This is a measurement of the audio frequencies a microphone is most sensitive to. This is usually expressed in Hertz (Hz). Each model will have a different frequency response, so you'll need to know how you plan to use it. For example, if you record only spoken word, you only need a microphone that has good reproduction down to around 75Hz. Most people's voices when speaking are not any lower than that. On the other hand, many audio engineers feel that accurate reproduction of up to and in excess of 15,000Hz (15kHz) is important for good intelligibility and a feeling of clarity of the spoken word.
Wireless vs. wired
As a rule, wired microphones are more reliable than wireless; wireless always runs the risk of having radio frequency interference. There are new wireless systems that help eliminate many of those interference issues, making the difference more about money. Wireless systems are typically much more expensive.
Adjusting to the situation
The right mic for the job may be using more than one microphone. For instance, say you're doing an interview on the sideline of a football game using a handheld mic. You can hear the subject holding the mic but not the crowd behind him. If you see the crowd making a lot of noise behind the subject of the interview but can't hear the crowd making noise, it's going to be rather awkward for viewers. In this case, record from a pair of microphones. You can use the built-in mic on your camera to pick up the crowd while the handheld mic picks up your subject. This gives you the ambient sound of your location without overpowering the track from your subject in your mix.
The right mic is only half the job.
Once you've determined the right mic(s) for a job, you'll need to focus on microphone placement. Sound experts have written entire books on microphone placement for recording. Taking the time to learn mic placement techniques will likely improve your audio more than better gear.
Final Thoughts
Many microphones require accessories such as a windscreen, pop filter, zeppelin, shock mount or even a boom pole. Purchase them with your mic so you don't find yourself facing an overnight shipping situation. Remember also that proper placement of your new microphone can make a huge difference.
Don't settle for acceptable audio when you can have sensational sound.
Contributors to this article include W. H. Bourne and the Videomaker Editorial Staff.
Disagree with our picks? Think we missed something great? Tell us about it in the forums.