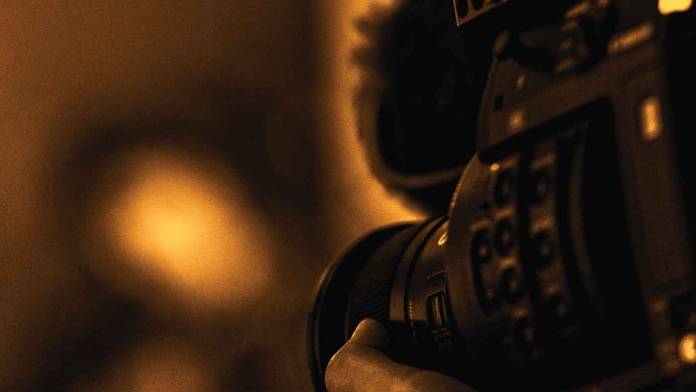 The digital cinema camera is the modern-day iteration of the traditional film production camera. These cameras aim to reproduce the latitude and tonal qualities of celluloid while eliminating huge portions of the typical film workflow. Determining the best cinema cameras on the market today can be complicated.
Now, in addition to these workflow advantages, the image quality produced by today's cinema cameras often meets or exceeds what is possible when shooting on film. And that's not to mention the increase in creative control you get from shooting in a digital format.
At the end of this article, we'll go over some of the special considerations unique to this form factor. But first, here's our list of the best cinema cameras on the market today.
---
Best all-around cinema camera
Canon C200
The Canon EOS C200 features two 4K video formats and Canon's new Cinema RAW Light. The camera uses an 8.85 megapixel CMOS sensor and newly developed dual DIGIC DV6 image processing system to capture video in full HD, 2K and both 4K UHD and 4K DCI video. Cinema RAW Light is available in 4K at up to 60p at 10-bit and 30p at 12-bit. Frame rates up to 120 frames per second are available in 1080p for slow-motion recording.
The new Cinema RAW Light format shrinks file sizes down to between one-third and one-fifth the size of a Cinema RAW file without losing flexibility in post-production. 4K Cinema RAW Light footage is recorded internally to a CFast card while proxy MP4 video can be recorded simultaneously to an SD card. 8-bit 4K video at up to 60p can also be exported to SD in the MP4 format.
Other notable features include oversampling HD processing, wide DR gamma, an ISO range of 100-102400 with 54db gain, an improved grip and support for Canon CINE-SERVO and EF Cinema lenses. Handy for run-and-gun shooters — the camera also has a built-in ND filter.
Also available, the C200B is a pared down version of the C200. It's missing the C200's LCD monitor, LCD attachment, camera grip, handle unit and 1.77 million-dot OLED Electronic View Finder. This makes the C200B a good option for gimbal and drone use while the C200 is built for more traditional cinema, documentary and event production.
---
Best budget cinema camera
Blackmagic Design Pocket Cinema 4K
The Blackmagic Design Pocket Cinema 4K a uses a Micro Four Thirds sensor to capture DCI 4K video with up to 13 stops of dynamic range. It's also the first camera from Blackmagic Design to feature dual native ISO. This should help improve the historically limited low-light performance in Blackmagic cameras.
The camera can record DCI 4K, UHD 4K and full HD video at standard frame rates, with off-speed frame rates of up to 60 frames per second (fps) in DCI 4K and 120 fps in windowed HD mode. Supported codecs include 10-bit ProRes and 12-bit CinemaDNG RAW.
With the addition of dual native ISO, the Pocket Cinema Camera 4K can shoot at ISOs up to 25600, a significant improvement over its predecessor. Blackmagic Design also promises a reduced crop factor with a 4/3 sensor specifically designed to match MFT lenses.
---
Best run-and-gun cinema camera
Sony FS5 II
Sony's FS5 II adds new frame rate options and VENICE color science as well as an Instant HDR Workflow on top of S-Log2/3. The FS5 II can also output 4K RAW via the SDI output and internally capture continuous HD video at up to 120 frames per second.
Along with this new color science, the FS5 II still features S-Log2 and 3. Plus, Sony says the camera's Instant HDR Workflow can be used to produce HDR content in HLG/BT.2020 mode without the need for color grading.
The new FS5 II also expands on the high frame rate recording capabilities of its predecessor. It now supports up to four seconds of 120 fps recording in 4K and eight seconds of HD 10-bit 4:2:2 recording at up to 240fps. The camera also supports continuous recording of 120fps in Full HD.
Users can also pair an external recorder with the FS5 II to shoot continuously at up to 240 fps at 60 hertz or 200 fps at 50 hertz in 2K RAW or at up to 60fps in 4K RAW. Four seconds of 120 fps 4K RAW is also possible when using a recorder.
Like other cameras in Sony's Large Format Sensor line-up, the FS5 II features an ergonomic modular design. This makes it suitable for a variety of uses including gimbal and drone shooting. A built-in electronic variable neutral density filter and ten available picture profiles add to this flexibility. All this makes it an ideal run-and-gun camera that will still give you a cinematic image.
---
Special considerations for cinema cameras
Not all cinema cameras are created equal. Let's go over some of the most important features to look for as you shop.
Form factor
Cinema cameras are designed to be true video-first cameras. They come complete with the external controls and input/output options you'd commonly find on a professional camcorder. The most obvious difference from the outside is the cinema camera's interchangeable lens. But even though cinema cameras look a lot like camcorders, they produce an image that looks more like actual film.
Larger than a DSLR or mirrorless camera, cinema cameras also have space for more accessory mounting points. This helps reduce reliance on full camera rigs or cages. Cinema cameras usually also have XLR inputs as well as HDMI and/or SDI out for sending a clean video signal to an external recorder.
Dynamic Range
One of the main advantages of using a cinema camera is the expanded dynamic range these cameras typically offer. A larger dynamic range means the camera captures deeper shadows and brighter highlights in the same shot without losing detail.
Cinema cameras are designed to capture video with a dynamic range that, at least, matches that of film: around 13 stops. Modern cinema cameras can reproduce 14 or more stops of dynamic range. This gives you a more cinematic image and incredible flexibility during the color grading process.
Cinema cameras are designed to capture video with a dynamic range that, at least, matches that of film: around 13 stops.
Sensor size and dynamic range
One way camera makers achieve this is through the use of larger sensors with larger pixels. This allows the sensor to gather more light at once, which increases low-light performance and reduces noise. It also allows each pixel to accept more light before beginning to clip from overexposure. That means you get more information in both the shadows and the highlights.
ISO and dynamic range
ISO is a factor here as well. Cameras capture the least noise at their native ISO. Therefore, this is also the point at which they capture the greatest dynamic range. At the native ISO, cameras can capture deeper shadows before noise is introduced. Some cinema cameras now feature dual native ISO. This feature originated in top-end, Hollywood level cinema cameras and is now trickling down into more accessible camera models.
Recording Formats
Cinema cameras will typically offer a number of high-quality codecs to fit various workflows. ProRes and DNxHD codecs are especially common, and some kind of raw recording is now all but standard.
As you shop, look for recording formats that give you enough information to freely grade and composite in post-production. Just make sure they don't bog down your workflow.
RAW recording
Raw recording captures unaltered information directly from the sensor to provide maximum flexibility for color grading and compositing in post-production. It preserves all of the dynamic range and color information captured by the sensor. Raw footage does require post-processing, however, and takes up a lot more space on a storage drive. Most times, you'll need an external recorder to capture raw video.
Log picture profiles
Logarithmic picture profiles, commonly referred to as log, offer a more practical alternative to shooting raw. Log picture profiles assign exposure values along a logarithmic curve rather than a linear curve. This process produces a flat image that preserves more color information and detail in the shadows and highlights. In post-production, colorists apply a LUT to transform this extra-flat footage to a more natural looking color space.
Bit-depth and color reproduction
Connected to this are color science and bit-depth. Each camera manufacturer has developed a particular way of capturing and recording color information. That's why Sony cameras produce an image that looks different from one out of a Canon camera, even if all the settings match.
However, what's more important is the amount of color information a camera can record. Typical consumer cameras and most DSLR and mirrorless cameras are limited to recording at a bit depth of 8 bits. Cinema cameras, however, often capture 10-, 12- or even 14-bit video when shooting in a high-quality codec or raw format. Again, it's all about flexibility. The more color information your camera can deliver, the more latitude you will have in post-production. This, in turn, means you'll be better able to craft a unique look for your finished video.
Additional cinema camera controls and settings
Since cinema cameras aim to give the DP ultimate creative control, they often include some handy bonus features. Higher maximum frame rates allow for slow motion recording, and anamorphic de-squeezing helps when working with anamorphic lenses. Global shutter is another feature that allows cinema camera to behave more like traditional film cameras. This also eliminates rolling shutter issues that cause straight lines to bend during quick pans. In general, these extras are there to make it easier to capture the desired image.
Final thoughts
While these features help distinguish cinema cameras from other camera types, it's still important to consider universal features like sensor size, resolution, and connectivity. You'll also need to think about how the camera will fit into your existing kit and production workflow. For an overview of the most important features, read How to buy a camera.
Once you know what you need, you can pick out an awesome camera perfect for your next production.
Disagree with our picks? Think we missed something great? Tell us about it in the forums.