The best mirrorless cameras and DSLRs dominate the video production scene thanks to their impressive image quality and relative affordability. Though these little cameras still look like photo-only tools, they have become increasingly capable video cameras with some big advantages.
At the end of this article, we'll go over some of the special considerations unique to this form factor. But first, here are the best DSLR and mirrorless cameras across several use cases.
---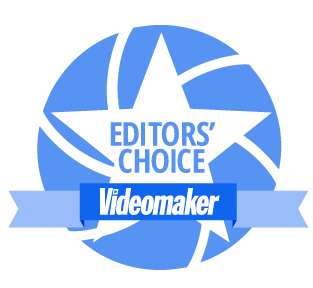 The Editors' Choice award recognizes exceptional video production equipment, software and services. These products must help videographers be more effective storytellers while being affordable, easy to use and dependable. The products must also deliver a superior user experience.
---
Best all-around camera
Panasonic Lumix S5
Strengths:
Dual card slots
Internal 10-bit video recording
Fully articulating screen
4K 60 video recording
The Panasonic Lumix S5 is an impressive all-around camera. For a very reasonable price under 2K, the Lumix S5 is a great choice for both videographers and photographers. The camera's 24.3-MP full-frame CMOS sensor ensures the camera captures great quality.
On the video side, the Lumix S5 is capable of UHD 4K 60 video, 10-bit internal video recording an APS-C sensor area and 4:2:0 10-bit color. Additionally, the camera can shoot full-frame UHD 4K30p with 4:2:2 10-bit color. Its ISO ranges from 100-51200 native range, which is expandable to ISO 50-204800. One of the Lumix S5's key features is its inclusion of dual card slots, allowing you to keep recording when one of the memory cards becomes full.
Still shooting modes are available for recording continuous 3:2 or 4:3 8-MP stills at 60 or 30 frames per second (fps) shooting rate or 18-MP stills at a 30 fps shooting rate.
The Panasonic Lumix S5 is weather-sealed and can withstand both splashes of water and dust. Additionally, the camera is lightweight, so it's portable.
For all the Panasonic Lumix S5, it's clearly the best all-around camera currently out on the market.
---
Budget all-around camera
Sony a6400
Strengths:
No record limit time
120fps in HD
Weaknesses:
No in-body image stabilization
No headphone jack
The Sony a6400 is the follow-up to the a6300 in Sony's lineup of compact, lightweight APS-C cameras. Sony claims the camera has the fastest autofocus in the world, with an acquisition time of just 0.02 seconds. That's lightning fast. It also sports 4K video recording, "Real-time Eye AF" and "Real-time Tracking," and of course the 180-degree tiltable LCD touch screen.
The camera uses a 24.2-MP APS-C-sized image sensor with an upgraded BIONZ X processor. With this combo and the same image processing algorithms as Sony's full-frame cameras, noise in the a6400 is greatly reduced.
This is also Sony's first APS-C mirrorless camera to include the Hybrid Log-Gamma picture profile. Both S-Log2 and S-Log3 are available, as well. Other handy tools include Zebra functionality, Gamma Display assists and proxy recording. That last feature should make editing large video clips in post much easier. Overall, the Sony a6400 is a feature-rich camera.
---
Best camera for online video
Fujifilm X-T4
Strengths:
10-Bit 4:2:2 DCI 4K
Eterna Bleach Bypass Film Simulation
Long battery life
The Fujifilm X-T4 comes with a lot of important features for online video creators. It has a newly designed IBIS system, a quiet shutter and a new vari-angle LCD screen that makes it easier for vloggers to shoot in selfie mode. Plus, it adds Eterna Bleach Bypass Film Simulation for that cinematic look. It can also record F-Log footage in 10-bit color, straight to the card.
Inside, the X-T4 has a 26.1-MP, back-side illuminated CMOS sensor and an X-Processor 4. The camera can record DCI 4K/60p and Full HD/240p super slow-motion video. Additionally, the AF-C subject tracking works in low-light conditions down to -6EV. Finally, it has a battery said to last quite a while and a form factor that's both compact and lightweight.
---
Budget option for online video
Canon EOS M50 Mark II
Canon EOS M50 Mark II features a 24.1-MP APS-C CMOS sensor and DIGIC 8 image processor. Together, the pair enables UHD 4K video recording at 23.98 fps and a native sensitivity range of ISO 100 to 25600. Additionally, the camera operates with an Eye Detection AF system and supports Eye Detection and Face Detection with Movie Servo AF.
Also, the Canon EOS M50 Mark II supports five-axis image stabilization, helping keep shots steady. If you want a great camera, but want to save some money, the Canon EOS M50 Mark II is a great option.
---
Best hybrid photo/video camera
Canon R6 Mark II
Strengths:
Five-axis sensor-shift stabilization
10-bit 4:2:2 H.265 UHD 4K internal capture
Dual Pixel CMOS AF II
The Canon R6 Mark II is a great camera for videographers who also shoot photos. It features a 24.2-megapixel full-frame CMOS sensor and a DIGIC X Image Processor. It also has an ISO range of 100-102400. And, while Canon isn't necessarily known for its low-light performance, the R6 Mark II's low-light performance is impressive, introducing no noise until ISO 12,800.
Its RAW burst mode and pre-shooting capture up to 30 frames per second. Additionally, the R6 Mark II can oversample 6K to 4K at up to 60 fps. Plus, it features in-body image stabilization with up to eight stops of shake correction with Coordinated Control IS.
So, if you're looking for a hybrid camera, the Canon R6 Mark II is a great option.
---
Budget option hybrid photo/video camera
Canon Rebel T8i
Strengths:
Accepts EF mount lenses
Record up to 60 fps
Flip-out screen
Weaknesses:
Shared headphone/mic jack
Limited external controls
The Canon Rebel T8i is a DSLR that accepts EF and EF-S mount lenses. That means it can use high-end EF lenses if you so wish. This camera has an APS-C sensor, on the larger side for its price. This will give you a 1.6 times crop factor, when shooting at up to UHD 4k at 4:2:0 8-Bit or any other resolution. making it a good choice for those who want a solid video camera and strong photo capabilities. Additionally, the T8i can shoot up to 60 frames per second in full HD — that's more than two times slow-mo when played back at 24p. Although this camera offers plenty of options, one of the most important for this price point is the flip-out screen. The T8i isn't a ground-breaking camera, but for the money, it's a great buy.
---
Most cinematic camera
Panasonic GH5s
Strengths:
Image Quality
Included v-log L
Internal 10-bit 4:2:2 recording
With a new 10.2-megapixel Digital MOS sensor, Dual Native ISO and a Venus Engine 10, the Panasonic LUMIX GH5s aims to correct one of our only issues with the GH5: its performance in low light. Though the two cameras share many similarities, Dual Native ISO technology borrowed from the VariCam line helps the GH5s shoot at higher ISOs with less noise.
The GH5s is also the first mirrorless camera to offer 4K 60p video recording in Cinema 4K — a pretty big milestone. And thankfully, just like the GH5, there isn't any record time limit for either Full HD or 4K video recording. In addition to 10-bit video recording, photo shooting in 14-bit RAW format is also possible. The GH5s shoots video in DCI 4K at up to 60 fps for a maximum 2.5x slow-mo. By contrast, resolution on the GH5 tops out at UHD 4K. The GH5s also ups the maximum HD frame rate to 240 fps for a maximum 10x slow-mo.
With its Multi-Aspect sensor, the GH5s also captures a wider field of view than that of other four-thirds sensor cameras. Less crop equals more field of view at the same resolution. This will give videographers the advantage using the maximum sensor area possible.
Absent from the GH5s is the 5-axis in-body stabilization of the GH5. If you're choosing between the GH5 and the GH5s, you'll be confronting a trade-off between sensor performance and image stabilization. However, cinematographers shooting in controlled environments where the camera properly supported likely won't miss the stabilization.
---
Best run-and-gun camera
Sony a7S III
Strengths:
Low light performance
Face-detect AF
Weaknesses:
Larger weight and size
Auto exposure in high-speed video
The Sony a7S III is a full-frame mirrorless camera that can capture internally up to 10-bit 4:2:2 UHD 4K video in 120 frames per second. All that for $3500, one might ask, what other features you might want or need?
---
Special considerations for DSLR & mirrorless cameras
As with any type of camera, choosing the right DSLR or mirrorless camera means weighing a number of different factors against your budget and intended use. You can get an overview of the important tech specs to consider before any camera purchase in our article on How to buy a camera. However, there are a couple of considerations that are unique to this particular form factor.
DSLR or mirrorless camera?
One of the major differences between mirrorless and DSLR cameras is size. A DSLR has a mirror in front of the image sensor, allowing the user to look into an optical viewfinder and through the lens. When the shutter is released to take a still picture, the mirror drops, momentarily exposing the image sensor. When shooting video, the mirror remains down, and the video can be seen on the LCD screen in the same way as on a mirrorless camera.
Because of the mirror mechanism, DSLRs tend to be larger and heavier than mirrorless cameras. DSLRs, at their smallest, weigh around a pound and a half and can fit in a small bag. In contrast, mirrorless cameras can weigh as little as half a pound and can be pocket-sized with a small lens. If you're shooting on a tripod or a shoulder rig, the difference in size can be insignificant.
If you're shooting on a tripod or a shoulder rig, the difference in size can be insignificant.
Another common difference is in monitoring options. Some mirrorless cameras lack viewfinders, instead relying on rear display panels; those that have them necessarily use electronic viewfinders, or EVFs, which have a reputation for making it difficult to see detail. Fortunately, many come with the advantage of being able to digitally zoom from within the EVF for focus assist. When a DSLR is in video mode, the optical viewfinder is disabled, and the video is viewable on the LCD screen making it function much like a mirrorless camera.
Lens compatibility
When buying an interchangeable-lens camera, lens mount is also important — especially if you already have a collection of glass in your kit. This is typically tied to the sensor size. The larger the sensor, the larger the glass in the lens needs to be because the lens needs to be able to cover the whole sensor with light. That's why a full-frame lens can work with an adapter on a smaller sensor, but a small sensor lens will not work on a full-frame camera regardless of the adapter; it won't cast enough light to cover the whole sensor. If you already have a substantial lens collection, consider lens-mount compatibility before you have to put your old lenses on Craigslist.
DSLRs have the broadest selection of lenses, from macro lenses to super-telephoto to fully manual cinema lenses. You can find a lens for almost any application to fit your DSLR's mount. While the selection of lenses for mirrorless cameras is limited, the lenses are smaller and lighter than comparable DSLR lenses. You can often find adapters for mounting DSLR lenses on mirrorless cameras, but these adapters vary in quality, and some lens functions such as autofocus and iris control (aperture control) may not work.
What's your style?
Do you need a camera that's super compact and lightweight? If so, then a small, mirrorless camera might be right for you. Do you want an affordable camera with a huge variety of lenses and accessories? In that case, a larger DSLR might be the solution you're looking for.
Many of the newer models of mirrorless and DSLR cameras share similar features, making the difference between these two types of cameras minimal. Besides the mirror, the biggest difference is weight and size. On a tripod, that doesn't mean much. With the camera handheld, a little more weight and a larger body can make the camera easier to keep steady.
Above all, focus on the features that are important to you. Think about what you'll be shooting and the environment you'll be working in. Finding a camera that has the right features for the types of shoots you do is the first step in selecting the best gear for your productions.