The XA25 dual-recording format, high definition camcorder from Canon was conceived with the action-hungry professional in mind. Light on heft, but not on features, the XA25 is built to
run-n-gun
with the best of them. Whether packing in to the remotest of locations or army crawling through hordes of paparazzi standing between you and your next
news
story, the diminutive size and excellent recording capabilities of the XA25 make it the perfect shooting companion.
New Arrival
The XA25 comes with the usual items such as a lens hood (with manually operated flip-up lens barrier), battery pack, wireless controller, and cables for USB 2.0, RCA and Mini HDMI. One super-nifty extra that puts the XA25 a few steps higher on the "oh yeah" scale is the microphone holder/handle unit. It attaches to the shoe mount at the front with a pair of screws and a multi-interface shoe at the rear. With the audio handle attached, it serves double duty as both a carry point and is home to a pair of XLR microphone ports and their controls.
Up Close and Personal
With the form factor of a compact camcorder, the XA25 utilizes a fixed Canon lens with 20x optical
zoom
to perform its magic. Focusable to just about two feet and with a zoom range of 26.8mm – 576mm (35mm equivalent) the XA25 offers the user a great deal of versatility. Stabilizing and focusing functions are virtually silent, while zooming produces sound that is barely detectable, with only a very slight hum noticeable in the otherwise quiet places.
There are few buttons on the XA25 since most features are accessed through the touch sensitive LCD screen and menu system. A CUSTOM dial and button beneath the lens may be set to Tv (adjust
shutter
)/Av (adjust aperture), Manual Exposure, AGC Limit, Exposure Lock or Off. Five additional user-programmable buttons are available, two of which reside on the bezel of the LCD display. One is preset to switch between Auto and Manual focus while the other accesses the pre-record function.
Even though buttons are few, full
manual control
is achievable.
Focus assist
features include 2x image magnification and color peaking in your choice of red, blue or yellow highlights. While there is no histogram, two zebra settings at 70 percent and 100 percent help to get the
exposure
just right.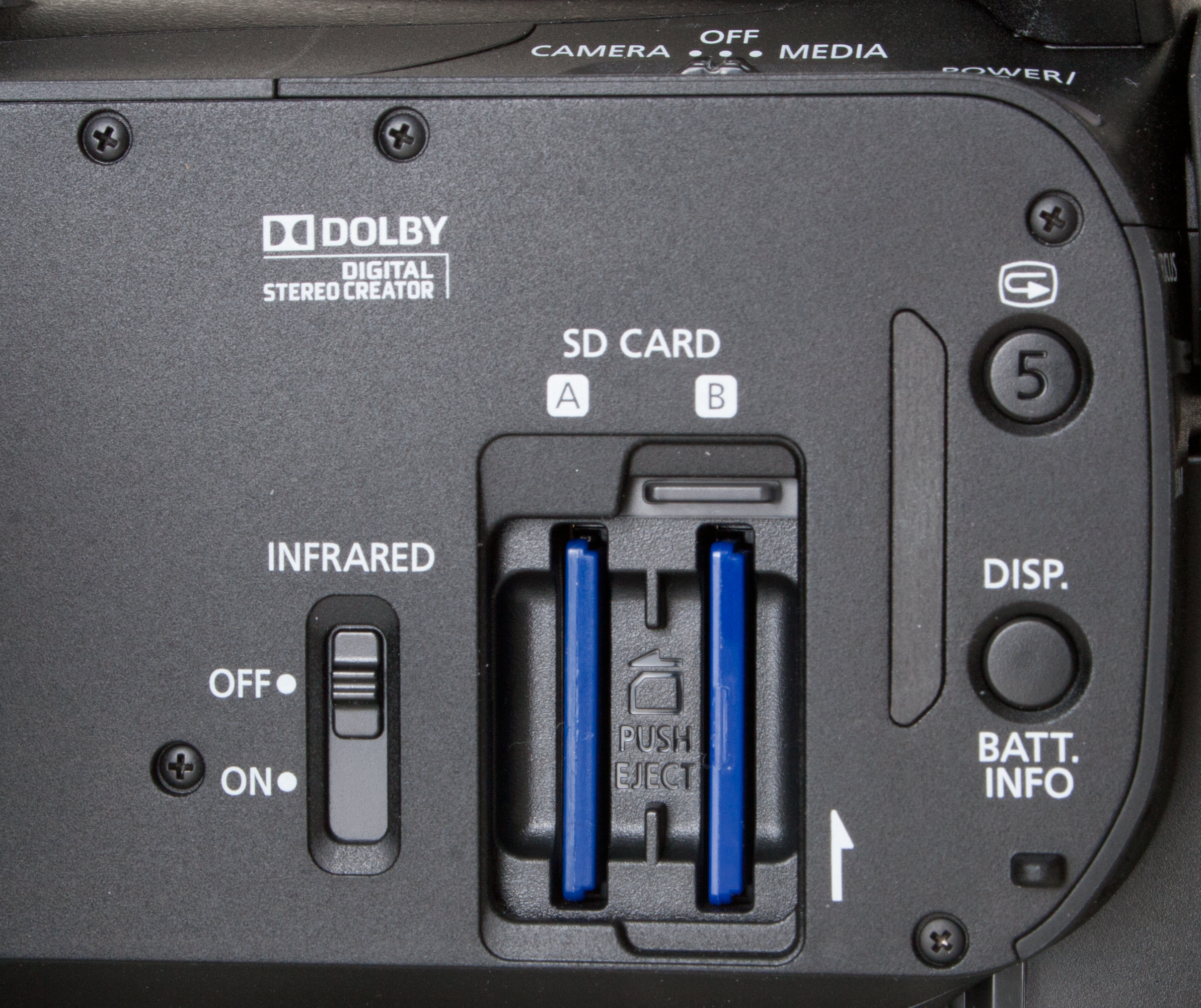 Behind the LCD are the infrared on/off switch and the dual SD card slots with protective sliding cover. Infrared is a fun feature that records that almost surreal, funky-eyed, green or black and white look, that is seen in many a horror movie, and useful when shooting in very low light situations. Dual card slots provide a great deal of versatility by allowing you to record to two cards at the same time for instant file backups. Or, you can record longer by choosing Relay Recording automatically switching from one card to the other when the first one is full. You can even capture footage in the AVCHD recording format to one card while simultaneously capturing the MP4 recording format to the other.
A switch at the rear changes the lens ring to control either zoom or focus. Zoom control with the ring probably won't be necessary though, as there is a zoom rocker on the right side of the camera and another on top of the detachable handle. Speaking of switches, the battery release is a bit of an issue when the XA25 is perched atop a tripod because the adapter plate will cover the release switch – requiring the camera to be removed from the tripod in order to swap out the battery.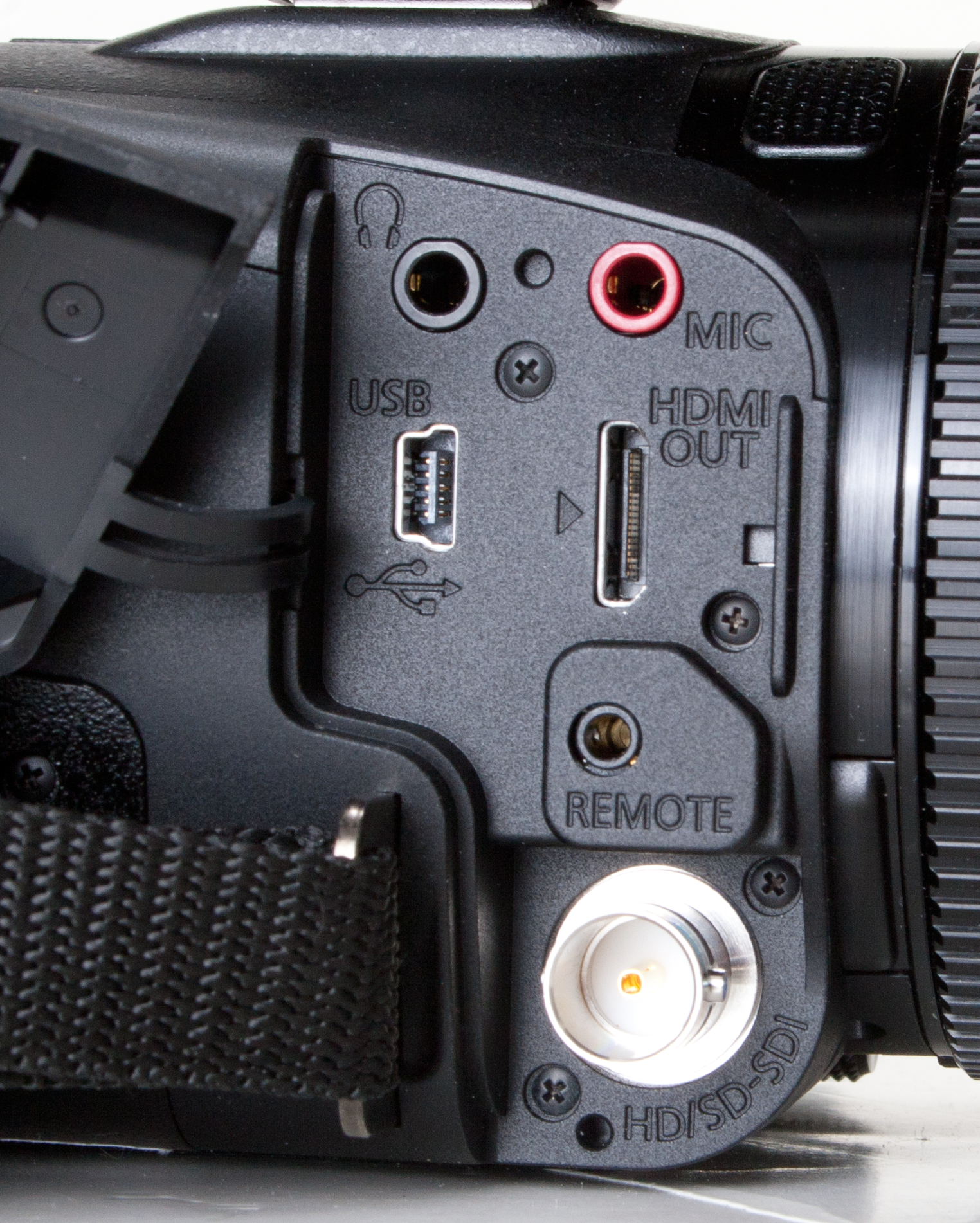 The FUNC and navigation buttons at the rear allow you to access Function and Menu settings without having to get fingerprints all over the LCD panel. A switch next to the main optical zoom rocker lets you choose between full auto, full manual or CINEMA mode. Input and output options include AV out, headphones, Mini-B USB, Mini HDMI, remote, an HD/SD-SDI BNC connector for uncompressed 1920×1080 and 4:2:2 color output as well as an external microphone 1/8-inch jack.
Now if the 1/8-inch jack just isn't enough, the handle incorporates dual locking
XLR
ports on the right side, with line, mic, phantom power and gain controls on the opposite. Above the mic ports is a detachable flexible shock mount for carrying a quality
shotgun microphone
. While the onboard mic is fine for non-professional use, handling noise is certainly an issue. For pro applications, getting the mic up and away from the camera is always the
best approach
. This feature alone indicates the XA25 isn't your run-of-the-mill camcorder.
On The Road Again
Anxious to try out the XA25's color reproduction prowess, we headed out to a nearby historic home and garden area. Happily, the Canon glass, imaging sensor and DIGIC DV 4 processing engine didn't let us down in the least. We captured our footage using the AVCHD recording format but MP4 is an option as well. Whether dark green stems and leaves or bright orange and yellow blossoms, colors were vivid, true and breathtaking. The XA25's HD image quality is excellent. (See our video tests at: www.videomaker.com/r/654.)
Next, an amazing old cork tree and polished inlaid stone bench gave us the opportunity to check out the XA25's ability to handle textures and fine details. Again, we were not disappointed. The rugged exterior of the cork tree, with all its cavernous cracks and crevices, bumps and striations is visible right down to the smallest detail. The polished rock of the bench holds no secrets either as the individual particles within the mortar and even the smallest of insects running frantically back and forth across its surface are captured.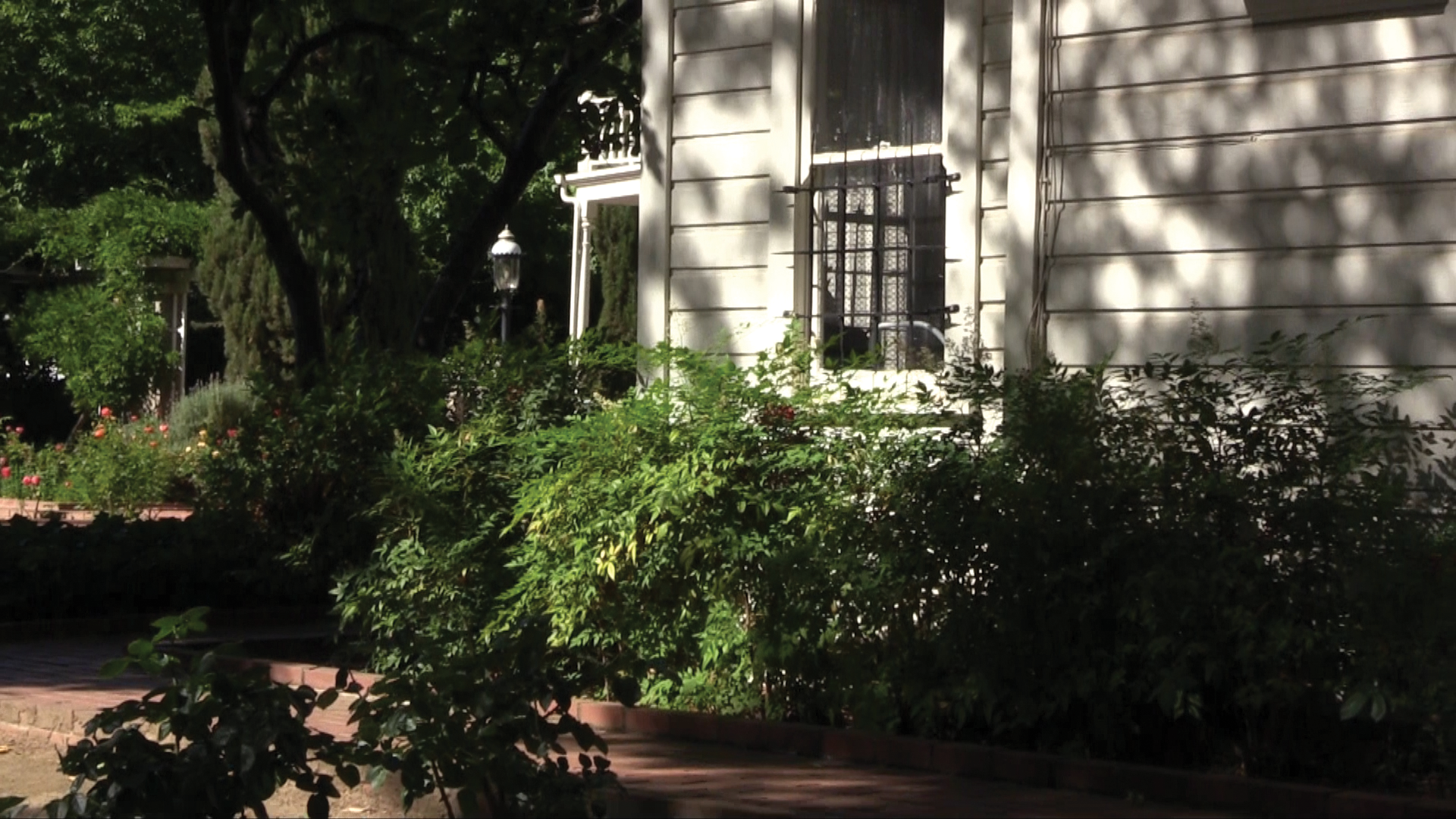 Numerous scenes depicting both deep darks and very bright areas show the broad dynamic range of the XA25. Digital can't touch film in this respect but the XA25 certainly does a very fine job.
Because of the way CMOS sensors capture images,
rolling shutter
, also known as "the jelly effect," is an issue for any camcorder or DSLR that uses one or more of them. We tested this by panning across a tall communications tower in the distance. As expected, the XA25 also falls victim to this effect. How much? It is probably somewhere in the middle, as we've seen some that are much worse and a few that fared better. Avoid fast pans and vertical structures as much as possible to minimize the effect.
As vertical lines can lead to the rolling shutter anomaly, horizontal lines and other fine patterns can sometimes lead to a pair of equally undesirable phenomena known as aliasing (the jaggies) or
moiré
. Aliasing occurs when straight lines appear to be jagged and moir̩ happens when lines appear to interact in such a way that movement and/or new patterns appear. During a drive through a residential area, where houses feature rooftops with horizontal lines, the XA25 demonstrates the effect Рnoticeable, but comparable to other cameras we've seen in this price range.
For our test of the optical image stabilization system we zoomed all the way in on a subject and shot it handheld while remaining as still as possible. We did this with the
stabilization
turned off and again with it turned on. We then repeated the test while moving slowly forward toward the subject. While stationary, whether standard or dynamic (five-axis) stabilization was used, the result was a much more stable image. The moving test however showed somewhat less dramatic results.
The XA25's handle features an infrared emitter and diffuser that lets you capture footage when there is little to no light present. Whether you're shooting in the style of The Blair Witch Project, police reality show or simply traipsing through the boonies without your flashlight, just set the infrared switch to on, select white or green light from the menu and get ready for some night vision.
As a final test we "deliberately" shot some underexposed and overexposed footage to see how well the video fares in post. The results were passable considering the detail that is typically lost from over and underexposed footage.
The Canon XA25 is a camcorder aimed squarely at the run-n-gun professional. It's compact, lightweight and packed with plenty of pleasing features.
Canon U.S.A., Inc.
www.usa.canon.com
$3,000
[video:818]
Tech Specs
Model: Canon XA25
Image Sensor: 1/2.84-inch CMOS, RGB Primary Color Filter
Total Pixels: Approx. 3.1 Megapixels (2208×1398)
Effective Pixels: Approx. 2.9 Megapixels (2136×1362)
Zoom Ratio: 20x Optical/400x Digital
Focal Length: 3.7-73.4mm (35mm equivalent: 26.8-576mm without Dynamic IS; 28.8-576mm with Dynamic IS)
Zoom Speed: Variable speed/Constant speed (16 levels); Fast, Normal, Slow
f/Stop: f/1.8-2.8
Focusing System: Hybrid AF; Instant AF; Medium AF; Normal AF; Face Priority AF; Face Only AF; Manual Focus
Manual Exposure: Available
Programmed AE: Smart Auto, P, Tv, Av, Manual, SCN (Portrait, Sports, Night, Snow, Beach, Sunset, Low Light, Spotlight, Fireworks); Cinema Mode: P, Tv, Av, M
Max. Shutter Speed: 1/2000 sec.
Minimum Focusing Distance: 20mm (wide end)/600mm (across entire zooming range)
White Balance: Auto, Set 1, Set 2, color temperature (2000K to 15000K in 100K increments), Daylight, Shade, Cloudy, Tungsten, Fluorescent, Fluorescent H
Frame Rate: NTSC: AVCHD – 1080: 59.94P/59.94i/PF29.97/23.98p; MP4 – 1080: 59.94p/29.97p/23.98p; 720 and 360: 29.97p/23.98p
Video Recording System: MPEG4-AVC/H.264
Audio Recording System: Linear PCM (2ch) (in 28Mb/s/23.98Mb/s recording mode only); Dolby Digital (5.1 ch when SM-V1 is used); resolution: 16 bits
Minimum Illumination: 1.2 lux; Low Light Mode: Approx. 0.1 lux (shutter speed1 /2 ½ sec.)
Image Stabilization: Dynamic SuperRange Optical System (Lens shift), Standard SuperRange Optical System (Lens shift), and electronic stabilization. Available modes: Intelligent IS (AUTO mode), Dynamic IS, Powered IS, Macro IS, Tripod Mode; Standard IS, IS Off
Filter Diameter: 58mm
Viewfinder: 0.2-inch, TFT Widescreen color LCD (equivalent to approx. 1.6 million dots; approx. 100% field of view)
LCD Screen: 3.5" OLED, Capacitive Touch Panel (Approx. 1.2 million dots)
Recording Media: SD/SDHC/SDXC memory card slots (2)
USB Terminal: Hi-Speed Mini-B (output only)
Video Terminal: Composite: A/V terminal, 1/8" (3.5mm mini-jack) output only; BNC terminal, output
Audio Terminal: XLR 3-pin jack (2ch), MIC/LINE switch possible (input only)
HDMI Terminal: HDMI OUT mini connector
Microphone Terminal: 1/8" (3.5mm mini-jack)
AV Mini Terminal/Headphone Terminal: 1/8" (3.5mm mini-jack) 4-pole mini-jack (video/audio output only)
Headphone Terminal: 1/8" (3.5mm mini-jack)
Remote Control Terminal: .1" (2.5mm mini-jack) (input only)
Power Supply (rated): 7.4 VDC (battery pack); 8.4 VDC (DC IN)
Dimensions (WxHxD): 4.3" x 3.3" x 7.2" (not including lens hood, grip belt, microphone holder and handle unit)
Weight: Approx. 1.7 lb. (includes grip belt)
Strengths
Excellent video quality
Highly effective stabilization system
Professional XLR mic support
Focus-assist options
Two zebra levels
Simultaneous dual recording format capture
Weaknesses
Battery release blocked by tripod adapter plate
Contributing Editor Mark Holder is a video producer and trainer.