Congratulations to Roland. The Roland BRIDGE CAST takes our Best Mixer Award at CES 2023.
What is BRIDGE CAST?
The new Roland BRIDGE CAST dual bus gaming mixer is an easy-to-use audio interface and mixer designed for pro-level gaming and streaming. It's a major upgrade to your computer's sound card with high-quality inputs and outputs to give your audience the best possible sound. BRIDGE CAST also has game-optimized mixes and EQ, along with built-in vocal effects. In addition, BRIDGE CAST's onboard processing means that it doesn't place any strain on your computer's CPU.
Connections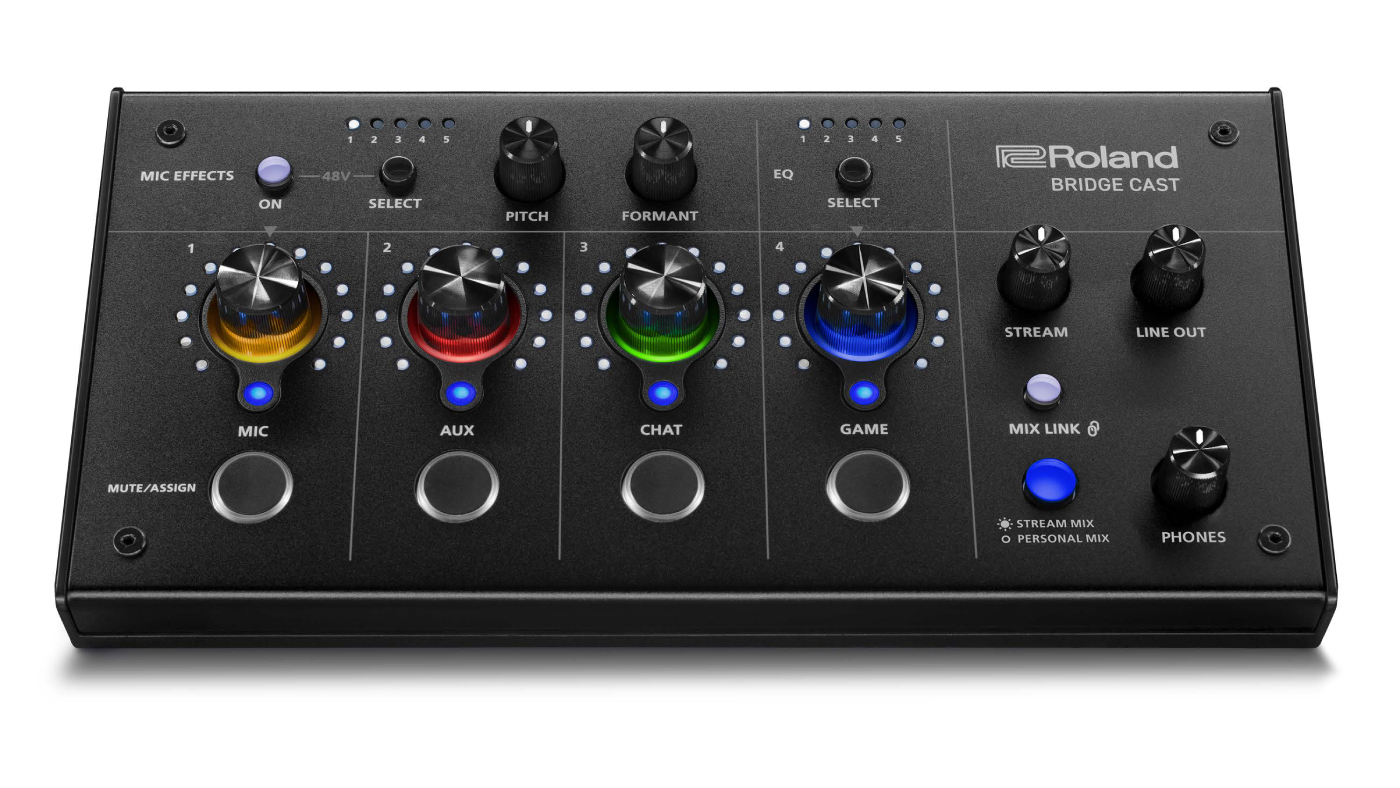 The new BRIDGE CAST gaming mixer has all the essential professional input and output connections that you need. There is an XLR microphone connection with a high-quality 75-decibel Roland mic preamp. This means that you can connect any dynamic or condenser microphone to BRIDGE CAST without needing an external preamp. You can also use a headset with an onboard mic via the 1/8-inch headphone jack. In addition, there is an auxiliary jack so you can bring in music and audio from a smartphone, tablet or musical instrument. Finally, there is a USB-C connection to connect to your PC.
Controlling your mix
BRIDGE CAST has a separate level control knob for each part of your mix: Mic, Aux, Chat and Game. This means you can adjust your mix while gaming without needing to change windows on your computer like you would with a software mixer. You can also silence any part of the mix with its dedicated mute button.
Dual bus mixer
BRIDGE CAST is a dual-bus audio mixer, so it can operate two mixes at once. This means you can have a personal mix for you and a stream mix for your audience. You can also independently adjust the levels for each mix. For example, you could have music playing as part of the audience stream mix while your personal mix only has the in-game audio, so you can concentrate on the action.
Line out control
BRIDGE CAST has outputs for both your gaming speakers and headphones, with a dedicated volume control knob for each output. This means you can transition smoothly between your headphones and speakers during your stream.
BRIDGE CAST app
There is also a BRIDGE CAST app that gives you extra control over audio mixing, signal routing and customization. You can configure which audio sources and assign them to the hardware knobs. For example, if you aren't using the Aux channel, you can use that control knob to adjust another setting. With the app, you can also adjust detail, EQ and effects settings. In addition, there are mic settings, including a low cut filter, vocal compressor, noise suppressor and a de-esser.
Effects
With BRIDGE CAST, you can morph your voice with processing derived from Roland's VT Voice Transformers. There are presets to add reverb and to make your voice sound comically high, as if you have inhaled helium. There is also a contrasting low voice effect.
EQ
The BRIDGE CAST app has built-in EQ presets for games, including "Apex," "Call of Duty" and "Valorant." These adjust the in-game audio to boost important aspects such as enemy footsteps. In addition, you can save your own personalized EQ settings and up to five unique user profiles.
What we think
BRIDGE CAST is a great mixer with all the professional features you need to take your gaming streams to the next level. However, you can also make sure it looks great on your camera too. For example, you can customize the look of your BRIDGE CAST by assigning different colors to the LEDs. You can even create a custom panel overlay skin for the mixer to reflect your brand or your game.