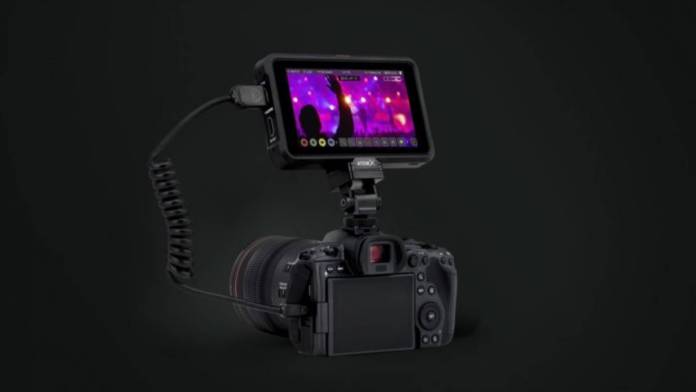 Yesterday, Canon announced the release of the EOS R5 and R6. Now, to make things even more exciting, Atomos announced that the Ninja V, Shogun 7 and Sumo19 HDR monitor recorders will record 4kp59.94 10-bit 422 Apple ProRes or Avid DNx video from the new cameras.
This is exciting news. The R5 and the R6 are already impressive video cameras. The R5 alone could potentially become the golden standard of mirrorless cameras. However, this announcement from Atomos sweetens the deal.
Shoot and record Log or PQ HDR
Users can monitor and record the 10-bit Canon Log or PQ HDR output of the EOS R5 and EOS R6 on Atomos devices. With AtomHDR tech, you can see the details the sensor is capturing on-screen in real-time. Additionally, multiple 3D LUTs can load into Atomos monitors that show the Canon Log output of the camera with the looks applied to the image.
When users shoot in PQ HDR on the EOS R5 and EOS R6, the Atomos monitor can set up to display an "accurate" HDR image, according to Atomos. Images from either Log or PQ HDR can instantly play out to a compatible HDR television or monitor in PQ or HLG standards.
Multi-camera shooting
Both the EOS R5 and R6 can integrate into multi-cam shoots. These should have other devices also capturing in ProRes or DNx by using Atomos monitor-recorders. The EOS R5 and R6's multi-camera operation also contains the wireless sync options. The Atomos AtomX SYNC clip-on module provides these options for Ninja V. This connects multiple AtomX SYNC-equipped Ninja V's with cameras and audio recorders by using patented long-range RF wireless technology to communicate at distances up to 200m. Also, the module can bring other devices into the synchronized system via in-built Bluetooth.
You can learn more about this by reading the Atomos press release.