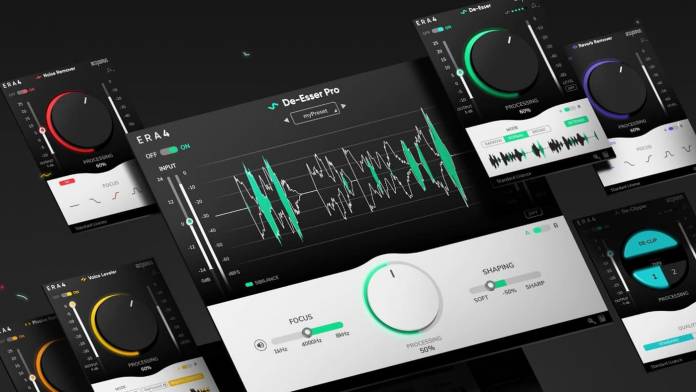 Accusonus has announced a new set of single-knob audio cleaning and noise reduction plugins: the ERA 4 Bundles.
Since the original ERA Bundle, Accusonus' goal has been to make sound design easier without handicapping the quality. Essentially, tech should make things run smoother. The single-knob audio cleaning should accelerate complex audio workflow. Plus, Accusonus claims that the ERA 4 Bundles' "intelligent control[s]" will lead to "high quality audio cleaning and repair" for content creators from all skill levels from all platforms.
The new ERA 4 Bundles comes in two collections: The Standard Bundle and the Pro Bundle. Let's take a look at what each collection had to offer:
The ERA 4 Standard Bundle
The ERA 4 Standard Bundle is a collection of single knob audio cleaning plug-ins that are meant for beginners and those who have never edited audio before. This is what that bundle includes:
Noise remover
Reverb remover
De-esser
Plosive remover
Voice leveler
De-clipper
The ERA 4 Pro Bundle
The ERA Bundle Pro 4 is more suited to professional editors audio engineers and podcasters working in advanced post and music production. This bundle includes all the features the standard bundle offers. However, it adds the ERA De-Esser PRO — which is a de-essing plug-in. There's also controls that should offer "some extra controls to give you the granularity you need to really dive in and fine-tune the settings for when you're fixing up a really bad recording," says Accusonus.
What supports the Accusonus ERA Bundle?
Supported audio editing applications
Avid Pro Tools 12.6 (or higher)
Audacity 2.2.2
Apple Logic Pro 10.4.3 (or higher)
Ableton Live 9 (or higher)
Cockos Reaper v5.9
Image Line FL Studio 12
Presonus Studio One 3 (or higher)
Steinberg Cubase 8 (or higher)
Adobe Audition CC 2017 (or higher)
Apple GarageBand 10.3.2
Supported video editing applications
Pricing and availability
The bundles are out now and are priced at these price points:
The ERA 4 Standard Bundle: $149
The ERA 4 Pro Bundle: $499
You can learn more at Accusonus' website.
Image courtesy Accusonus