We were in New York City on September 12th, 2017 for the announcement of the Sony Cyber-shot DSC-RX10 IV. Along with the announcement were were given first access to shoot the camera with a select group of journalist. For this release, Sony had no plan to waste time — the camera was on the streets just a month later.
The RX10 IV is a fixed lens camera with a super long zoom. With its 20.1 megapixel 1-inch Exmor RS BSI CMOS Sensor it has an 35mm equivalent focal length of 24mm to 600mm. That's a 25 times optical zoom with its Zeiss Vario-Sonnar T f/2.4-4 Zoom Lens. On top of that, the zoom is servo controlled, and the camera also has three control rings for aperture, zoom and focus control. The RX10 IV looks like a DSLR, but is more like a camcorder. Starting with the lens, with the flip of a switch, the aperture control becomes smooth. That means you slide between 1/3 stops for perfect exposure. Additionally, because the zoom is so long, there is a function to quickly zoom out at the push of a button for the user to be able to find their subject. Say you're shooting a bird or an airplane, if you lose where it is in the sky, it can be difficult to find it again while fully zoomed. Press the button, see a much wider field of view, lock on to the subject and then keep shooting at 600mm.
The RX10 has a 2.36m-Dot OLED EVF and a 3-inch tilting LCD touchscreen. It shoots up to UHD 4K 30 frames per second (fps) and up to 960 fps in Full HD. New to the Mark IV is a Hybrid AF System with 315 focus points. Up to 24 fps continuous shooting is also possible with full AF/AE tracking with a buffer limit of up to 249 pictures. The RX10 IV has a two times faster focusing speed than the prior model the RX10 III. It can shoot silent in all shooting modes, so no need to worry about getting shutter noise when shooting around video shooters.or in quiet environments Lastly, the ZEISS Vario-Sonnar T lens has optical SteadyShot image stabilization, a necessity at 600mm.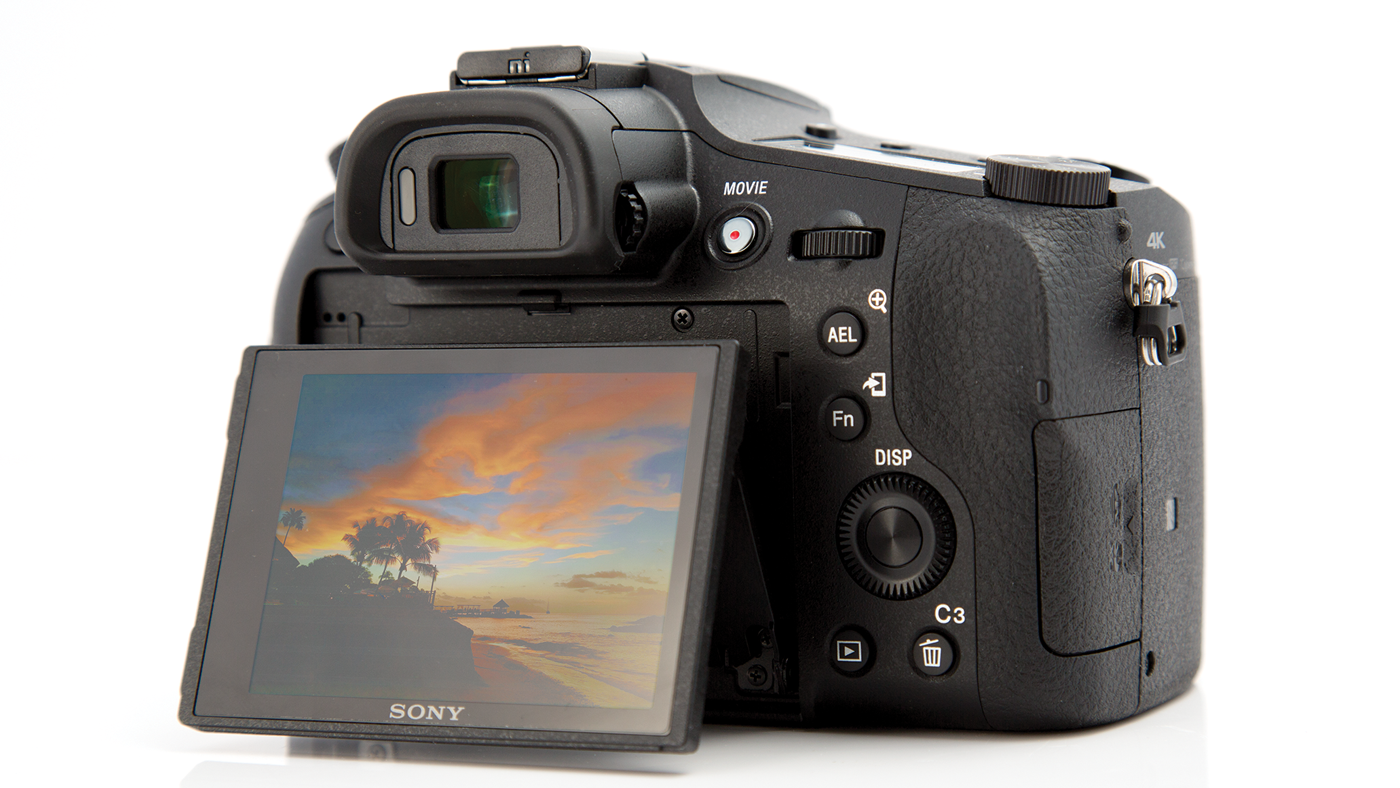 Video Capability
The RX10 IV shoots 4K with full pixel readout without pixel binning. Get up to 100 MegaBits per second and 120 fps in HD when shooting in normal Video recording mode and up to 960fps in High Frame Rate(HFR) mode. Shoot up to 4 seconds in HFR mode in 960fps, 480fps and 240fps. The video is scaled up to 1080 in this mode, so make sure to get the best focus. In HFR mode, you must arm the system before recording. This locks the focus point and exposure. Because 4 seconds can be fleeting, there is a feature to trigger capture by start trigger, end trigger half and end trigger. Depending on what you choose, the capture will either stop rolling, start rolling or take half of the time before and half after. This will help alleviate the difficulty in anticipating the timing of your subject matter. Moreover, the HFR mode automatically changes into 24 fps, 30 fps or 60 fps, giving you in-camera reviewable slo-mo.
The RX10 IV shoots 4K with full pixel readout without pixel binning.
Get more dynamic range and color information by shooting in S-Log3/S-Gamut3 with Gamma Display Assist. Log footage can be difficult to expose, but with the gamma display assist, you can shoot log and preview the footage as it might look after grading at the same time. Lastly, the feature that makes this camera a great option for video shooters is that it offers independent input for a microphone and output for headphones. This is big, unlike other Sony RX cameras (RX0, RX100 V, RX1), the RX10IV has video shooters covered when it comes to audio capture.
Photo Capability
The RX10 IV will shoot 24 still frames per second in fine JPG and RAW for up to 8 seconds. Although there is a buffer after you shoot, this feature is still way cool. The camera sounds like a toy machine gun. Our first experience with shooting 24 fps photos is in the RX100 V. Unlike the RX10 IV, the RX100 V has a built in electronic ND filter, so you don't need to shoot a high shutter speed to get the right exposure. With the RX10 IV, shooting 24 fps stills in the sun will require either a small aperture or a high shutter speed. Because of the 1-inch sensor, any yield in aperture will create an unassuming, everything-in-focus shot. We prefer a more wide open aperture, so increasing the shutter is the only option — unless you have an ND filter. If you are shooting pictures of fast action, then the built-in ND filter on the RX100 V is a very useful feature that's missing from the RX10 IV.
In Use
We have had experience with the last three RX10 models the RX10 II, RX10 III and now the RX10 IV. The zoom on this camera is crazy. Introduced in the last version of the RX10, the zoom covers just about any focal length you need. The biggest new feature Sony touts is the new AF. The 315 AF points, covers about 65 percent of the screen and Sony says that it takes only .03 seconds to acquire focus. These improvements, though helpful with photos, is not the best for video. When it comes to AF, video shooters need to be hyper critical. Shoot a sequence of pictures and if some of them are out of focus, it's not a big deal. However, with video, keeping focus is key. We shot video of multiple moving subjects with the AF on. The First was a soccer team. When wider, the AF is acceptable. With the camera mounted on a gimbal, it's likely to give you good results. However, when zoomed in, focusing becomes much more difficult. This is where the weakness of the AF for video shows up. Not all focal lengths have the same performance. When shooting two other subjects, some show dogs and birds of prey at 300mm. Plus, the AF just didn't cut the mustard. Because of this, we wouldn't recommend using it when shooting video.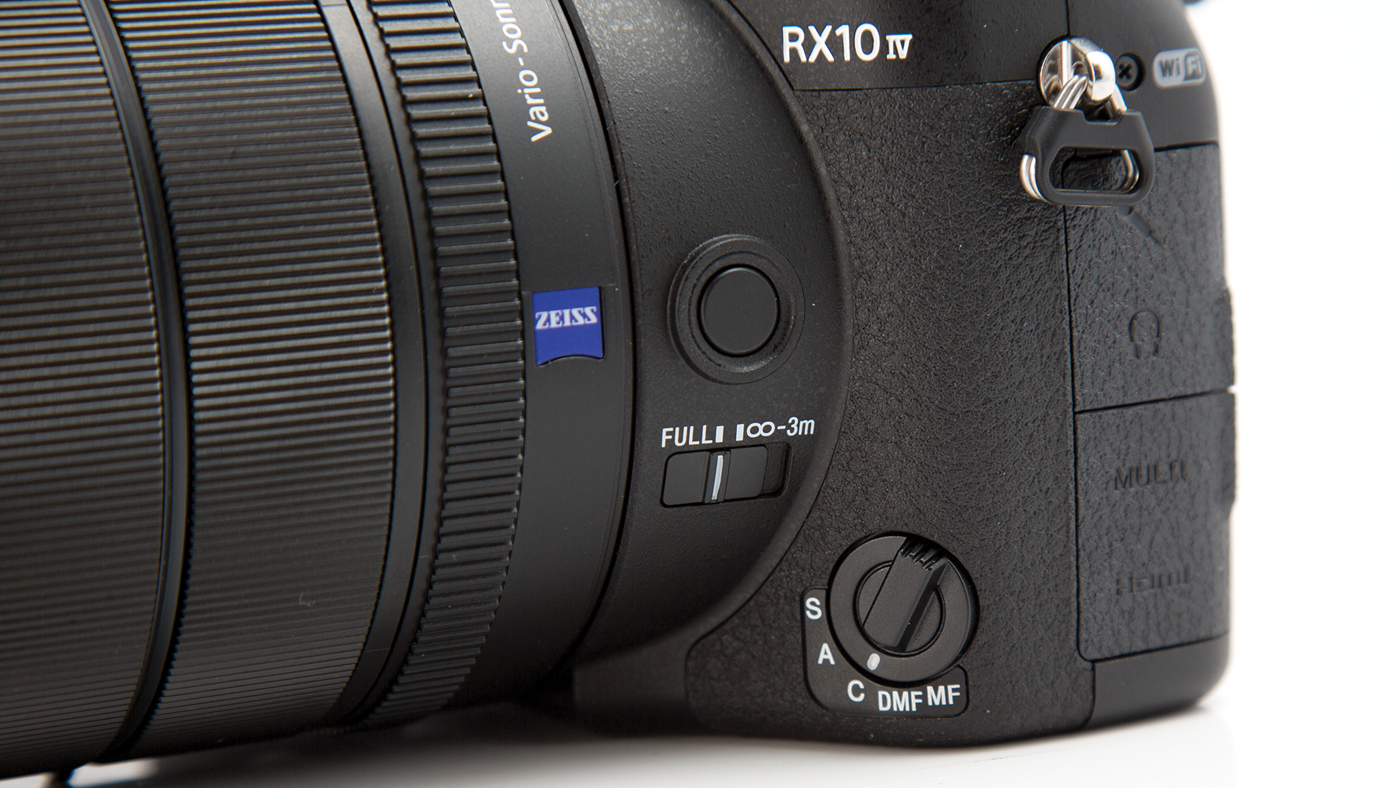 HFR mode is super fun. Being able to shoot nearly 1000 frames per second isn't something your everyday camera can do. Consider this, when shooting in 960 fps, a two second event, when slowed down to 24 fps, takes 80 seconds to play back. With that said, not everything looks good slowed down that much. What framerate you choose for your subject matter will be key to the best shot. Just because you can shoot super high frames doesn't mean you have to use it.
The last feature that we should talk about is the LCD screen. The screen is nice when not in sunlight, but it is prone to glare. Its nice to be able to articulate it, however it's just a tilt, not full articulation. No selfie mode for the RX10 IV means this won't be the best vlogging camera.
Tests
Taking the RX10 IV into our testing studio, we tested rolling shutter, its low light performance and moire. To test the low light performance, we set the camera at the lowest ISO possible when shooting video of ISO 100. Because we are shooting video we start at 1/50th shutter speed, about double the frame rate. We then adjusted the aperture till we had proper exposure. Then, doubling the shutter speed and ISO to counteract each other, we learned at what ISO noise is introduced into the picture and at what point does the noise become unfixable. While shooting at a DSC Labs chart, we observed that no noise reduction is needed up to ISO 1600. One stop later, at ISO 3200 after putting Red Giant Denoiser III, there was no significant sharpness lost. Denoiser III was able to remove the noise up to ISO 6400. Although some sharpness was lost at ISO 6400 when Denoising it, everything above it did not denoise well and would not be acceptable for professional work.
Testing the moiré on a DSC sharpness chart, although there was some morie, it was not bad or distracting. Last up is the rolling shutter: Starting out with a slow pan and ramping up to a whip pan, we tested how noticeable the rolling shutter effect is. While focused on a monopod, we saw very minor rolling shutter. It was so minor, we would not concern ourselves with it.
Marketplace
Because of the incredible zoom on this camera, it has no rival. However, there is one camera that gets close and another that shares other features with the RX10 IV. Let's look at cameras from Canon and Panasonic to see how they match up.
First up is the Canon XC10. Its been out a while and although it's MSRP is 2,500 dollars, you can find it for less than that. It has a 1-inch CMOS sensor and DIGIC DV 5 processor. It shoots up to UHD 4K at 30 fps in H.264 in an MXF wrapper. It uses a bitrate up to 305 Megabits per second in UHD 4K. It has a 35mm equivalent focal length of 8.9mm to 89mm — a 10 times optical zoom.
The Panasonic Lumix DMC-FZ2500 almost keeps up with the RX10 IV with a 35mm equivalent of a 24-480mm zoom. That's not too shabby, but is still short. It also has a 20.1MP one inch MOS Sensor. It costs 1200 dollars, has manual control rings, a built-in ND and can shoot up to 12 fps photos.
Final Thoughts
The Sony RX10 IV is a monster of a camera for just 1,600 dollars. Although it doesn't look like it, it's a formidable camcorder. The zoom is incredible, the HFR shooting is loads of fun and being able to shoot in S-log is just icing on the cake. We like that it has a separate headphone and mic jack, but we wish the screen flipped out to be able to shoot vlogs. We liked the new AF for shooting pictures, but it did not instill confidence when shooting video. If you are looking for a small sensor camera that gives you a huge focal length range and loads of other features, you should look at the RX10 IV.
Sony
www.sony.com
PRICE: $1700
STRENGTHS:
24-600mm zoom
S-log3
HFR mode
WEAKNESSES:
Hybrid AF system not optimized for video
Limited articulation of Touchscreen
SUMMARY:
The Sony RX10 IV will shoot up to 960 frames per second, 24 pictures per second and UHD 4K, mind you not at the same time, but cool nonetheless. The camera offers lots of features for the money. Did we mention the focal length is 24-600mm?
RECOMMENDED USERS:
Home video shooters
Event Videographers
Documentarians
Journalists
Travel videographers
TECH SPECS:
Effective Pixels: 20.1 Megapixel
Sensor: 1″ (13.2 x 8.8 mm) CMOS
Still Images: JPEG, RAW
Movies: AVCHD Ver. 2.0, MP4, XAVC S
Audio: AAC LC, AC3, Dolby Digital 2ch, Linear PCM (Stereo)
Max Resolution: 20 MP: 5472 x 3648
Aspect Ratio: 1:1, 3:2, 4:3, 16:9
Image Stabilization: Optical
Color Spaces: sRGB, Adobe RGB
Lens: Carl Zeiss Vario-Sonnar, 18 elements in 13 groups
6 Aspherical, 8 ED
Effective focal length: 8.8-220mm (35 mm equivalent: 24-600mm)
Aperture: f/2.4 (W) – 4 (T) to f/16
Filter Thread: 72mm
Zoom Optical: 25x
ISO Sensitivity: Auto, 100-12800 (Extended Mode: 64-12800)
Exposure Metering: Center-Weighted, Multi, Spot
Video Recording: NTSC/PAL
Resolution:
3840 x 2160p: 30 fps, 25 fps, 24 fps
1920 x 1080p: 60 fps, 50 fps, 30 fps, 25 fps, 24 fps
1920 x 1080i: 60 fps, 50 fps
1280 x 720p: 30 fps, 25 fps
HFR Mode
1920 x 1080p: 240 fps, 480 fps, 960 fps
1824 x 1026p: 240 fps, 480 fps, 960 fps
1676 x 566p: 240 fps, 480 fps, 960 fps
1920 x 1080p: 250 fps, 500 fps, 1000 fps
1824 x 1026p: 250 fps, 500 fps, 1000 fps
1676 x 566p: 250 fps, 500 fps, 1000 fps
Video Clip Length: Up to 29 Min
Audio Recording: Built-In Mic: With Video (Stereo)
Screen: 3.0″ LCD Rear Touch Screen Tilt (1,440,000 pixels)
Connectivity: HDMI D (Micro), Micro-USB, USB 2.0
Wi-Fi: 802.11b/g/n built-in
Battery: 1 x NP-FW50 Rechargeable Lithium-Ion Battery Pack, 7.4 VDC, 1020 mAh
Chris Monlux loves shooting slow-mo video. He is also Videomaker's Multimedia Editor.