More than 90,000 people from 155 countries came to see the latest and greatest from lights and lenses to cameras and codecs. As you maneuver through the masses of humanity and more than 1,600 booths in the industrially lit convention center, you can suffer from sensory overload. Being heavily burdened by bags of product brochures, free samples and gimmicky giveaways, you wonder if you can ever see it all.
Why 2k? Why not 4k?
Every show has a hook or theme. The marketing tagline this year was METAMORPHOSIS: The Changing Face of Media & Entertainment. No matter what slogan the NAB puts on a show, there is always a buzz created by the attendees. Last year, with the glow of Avatar and an appearance by James Cameron, 3D was the word most heard. This year, if one had a dollar for every time the term 4k was uttered, one would have left 'Vegas a rich person. 4k pushed 3D out of the limelight and took front and center stage.
Six years ago, the RED One camera pushed 4k to the forefront and now every major camera manufacturer has a 4k entry. Most of these kits are far beyond the budget of most enthusiasts, but there are some offerings that will capture the imagination of those who want to take the leap into 4k.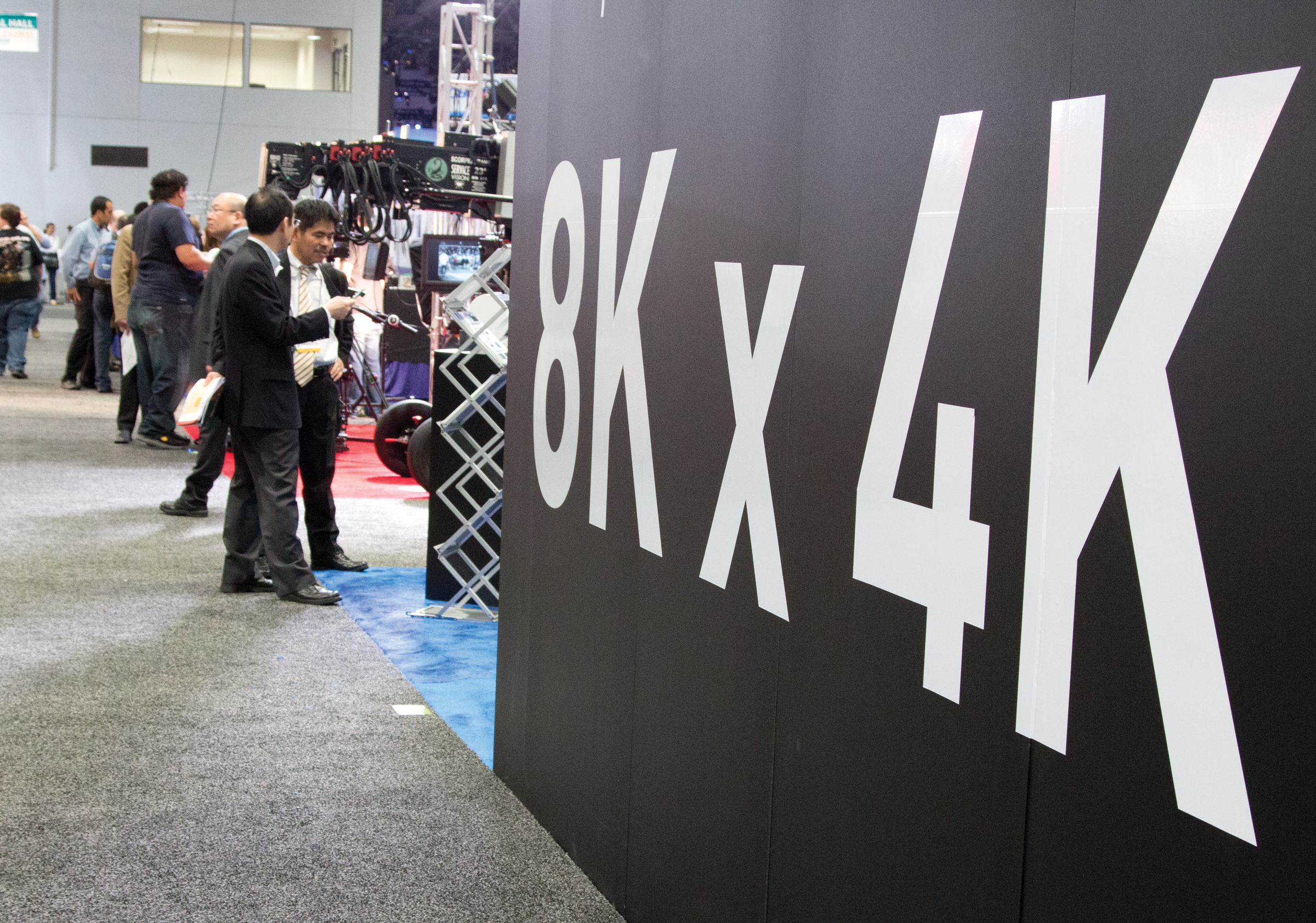 4k refers to the horizontal resolution (instead of the vertical) of the video files. Generally, they are in the range of 4,000 pixels wide. In the digital cinema game the resolution is 4096×2160 at the aspect ratio of 1.90:1, while the standard for Ultra High definition television is 3840×2160 resolution at 1.78:1. With more than 8 million pixels in each frame, not only do you need loads of storage space, but you'll need the right software and hardware to handle 4K.
This year, Blackmagic Production Camera 4K now features 4k version recording 4k directly to high speed SSD (solid state disks). The suggested retail is $3,995 without lens. Put a $1,000 lens on this baby and you'll be in the movie business.
But the diamond in their display case was a new HD offering, the Blackmagic Pocket Cinema Camera, which delivers high-quality Apple ProRes 422 (HQ) recording files and is touted as the world's most compact Super 16 digital cinema camera. With interchangeable optics, you have some flexibility with an active Micro Four Thirds lens mount. You'll need a 64GB SD card and a lens: add about $600+ in gear to the $995 retail price and this just might be the next camera for the run and gun documentarian.
Fads and Trends
In the 1982 best-selling book Megatrends, John Naisbitt made a great point about the difference between fads and trends. In the not so recent past, like last year, everyone was talking about 3D and how it was going to be the new rage. What was driving the 4k chatter at the NAB convention? Was it the hardware manufacturers, the movie makers or the broadcasters?
First, it is not the broadcasters. At this point, even cable TV is still only 1080i, even though 1080p televisions do a fantastic job up-converting the signal. For the industry to convert transmitters, televisions and cable systems to 4k Ultra HD it would cost billions. With 4k, the film industry has found a way to cut costs, deliver content faster and be able to do more with special effects. Even TV shows are keeping a 4k copy of each episode believing the future will give them a home. Another driver in this equation: the audience.
People are getting better quality video from all sides. They are seeing high quality digital video in the theater. The Federal Communications Commission forced all the TV stations in the United States to move to HD, literally taking the analog signals away from broadcasters in 2009. As more and more people watch flat screen televisions and monitors for their content, their eyes are getting used to seeing high definition video. Even YouTube offers 1080p videos via the Internet. This is not a fad; this is where things are going. The NAB simply attempts to prepare the industry for how things will be in the future.
Extreme Sports and Choppers
One of the liveliest booths at the NAB was GoPro, where they describe their fans as a "movement." Their palm-sized cameras, are sold in editions and do have 4k, but only at 15 frames a second. And right behind the GoPro booth were the DJI people who demonstrated their Phantom quadcopter with a GoPro mount. By attaching a GoPro HERO, this 1.8lb. helicopter, one can shoot from places only Peter Pan can go. If the controller stops working or falls into the ocean, the Phantom quadcopter has a GPS. It is programmed to return to where it was launched. Phone home Phantom.
Another real trend in technology, as we saw with the iPod to Nano era, things get smaller. With smaller cameras, you can start to do amazing things. The Blackmagic Cinema Camera begets a Blackmagic Pocket Cinema Camera. Lenses may always be large, but the cameras get smaller, while maintaining or improving quality. The fact that a consumer can attach a high definition camera to a helmet and participate in extreme sports is a remarkable step forward. It appears that the GoPro movement feels similar to what we have seen before with Apple products; lots of third-parties producing accessories and add-ons to the product, a cult-like following and high youthful acceptance. It's not just the product, it's how it will be used; lifestyle trends. The high-quality cameras in smartphones demonstrate the point vividly.
The Reflex Revolution
There was another debate at rushed NAB lunches. It was beyond the question of 4k or not 4k; it was what kind of camera to buy. There are those who will invest in a state of the art HD camera, but some who will prefer DSLR cameras with cinema lenses for their cinematic efforts.
Canon, with their massive 16,000 square foot booth also had a 90-seat theater where they rotated a 20 minute movie showing off some of the films that were shot with their cameras. It was one of the most convincing pitches driven by the number of high-quality artistic works being created by cameras that were primarily designed for photography. The fact that they can shoot raw video makes them a wonderful tool for independent filmmakers with limited budgets. This is not a fad, this is a trend. More and more filmmakers are seeing the high end DSLR camera as the answer to achieve 4k features. If properly applied, the quality is stunning. The trend is affordable high quality.
Silver Lining Clouds
Most of our devices today are connected to the Internet. The revenue that is being created by digital advertising is growing by leaps and bounds. The click-to-buy generation helps move sales of companies everywhere. Even with the decreases in external drive storage costs, the idea of keeping your data in the cloud is now getting some real traction. From Dropbox to Google Play Music and Drive, cloud computing is not a fad, but a real substantial trend.
It has almost been a tradition that Adobe releases its next version at the NAB. Some people thought they would see Creative Suite 7 revealed, but that was not the game plan. At this NAB show, Adobe pushed their Creative Cloud monthly subscription model that includes cloud storage space and upgrades to their software programs. This initiative is so important to Adobe that their post-convention Internet questionnaire focused on the customers' perception of their cloud offering.
And top of that, Adobe premiered a concept they're calling Adobe Anywhere that will take collaboration to the next level. For large productions where producers, editors and directors are located around the world or around the block, Adobe's enterprise software combines a collaboration hub with three or more Adobe Mercury Streaming Engines. As soon as assets are uploaded to the servers, they are available for viewing, editing and rendering from anywhere. In a sense, this is a private cloud on a heavenly level. Of course, you have to buy the servers and maintain them.
Working Smarter and Faster
It's almost midnight. You've been working for hours on a video and you need some footage to complete your project. You don't want to be up all night searching through your archives. This is when you need a service to acquire some stock footage to complete your project.
With companies like Shutterstock with 100,000 HD video tracks and Videoblocks.com with more than 100,000 videos, sound effects and music tracks, they are setting the trend for content producers who are attaining assets from outside sources. Videoblocks offers After Effects templates of show titles and lower-thirds that can be rendered out in minutes for that last minute production additive.
The NAB show had hundreds of booths with unique providers of content, services and products that help people get things done faster. The reasonable costs of downloading footage, backgrounds and music tracks in seconds makes this trend a life-saver for the content creator who wants to look professional without breaking the bank. More services will surface and join this trend.
Conclusion
The NAB show is more than just a marketplace. It is a gathering of experts, creators, inventors and video people from around the world. Beyond the broadcasting aspects of its origin, the annual gathering is a predictor of where video, media and entertainment are going. Those who choose not to attend, like Apple, are missing out on a forum to show their products and services and motivate creative minds. Most people agree this is the one show that has it all. Where else can you learn so much and also ride in a gondola?
Dwight C Douglas is a VP of Marketing for a major broadcast software company.
SIDEBAR:
The Ten Best Angles in Vegas – as seen through the lens of a camera
We cover at least two tradeshows in Las Vegas every year – for some of us, that means we've hung out in Las Vegas 20 or more times. Ironically, we rarely get to see anything except the convention center during the day and The Strip at night, but we always have a camera in hand, so next time you're in Sin City, here's a list of our favorite places to take shots.
1. From the Stratosphere observation deck, that space needle-like hotel: 360-degree view of the lights and desert.
2. The Fountains of Bellagio – shows are every half-hour 3 p.m. to 7 p.m., then every fifteen minutes 7 p.m. to midnight. Great video opportunity.
3. The night shot from the footbridge between Caesars Palace and the Flamingo Las Vegas – great shot of the Eiffel Tower; easier than flying to France.
4. The traffic going north from the footbridge connecting MGM Grand and New York-New York – excellent time-lapse shot.
5. Early in the morning (before the traffic) a shot of the Paris Las Vegas Hotel entry. If you frame the Arc de Triomphe just right, it's like you are on the Champs-Elysées.
6. The fountains in the garden of Caesars Palace – you could be back in ancient Rome.
7. The Excalibur from the MGM Grand footbridge – jolly old England.
8. The Luxor from Las Vegas Boulevard, the obelisk, sphinx and pyramid make a great image.
9. Looking up from the sidewalk in front of the MGM Grand looking toward New York, New York – the dynamic New York skyline.
10. And for another closer to the ground 360-degree of the strip, take the elevator to the top of the Eiffel Tower at the Paris Las Vegas Hotel and see the other city of lights.