We caught up with the Guys, Tommy Woodard and Eddie James, along with their Lead Producer and Director, Brian Cates. They regaled us with their journey from class clowns to a media group that has over 175,000 subscribers on Youtube and just over 24 million combined views. One of their more popular videos, "God's Chisel", has over 10 million views. On their website, SkitGuys.com, they have a catalogue of more that 1,000 videos. These guys are seriously working on some funny business.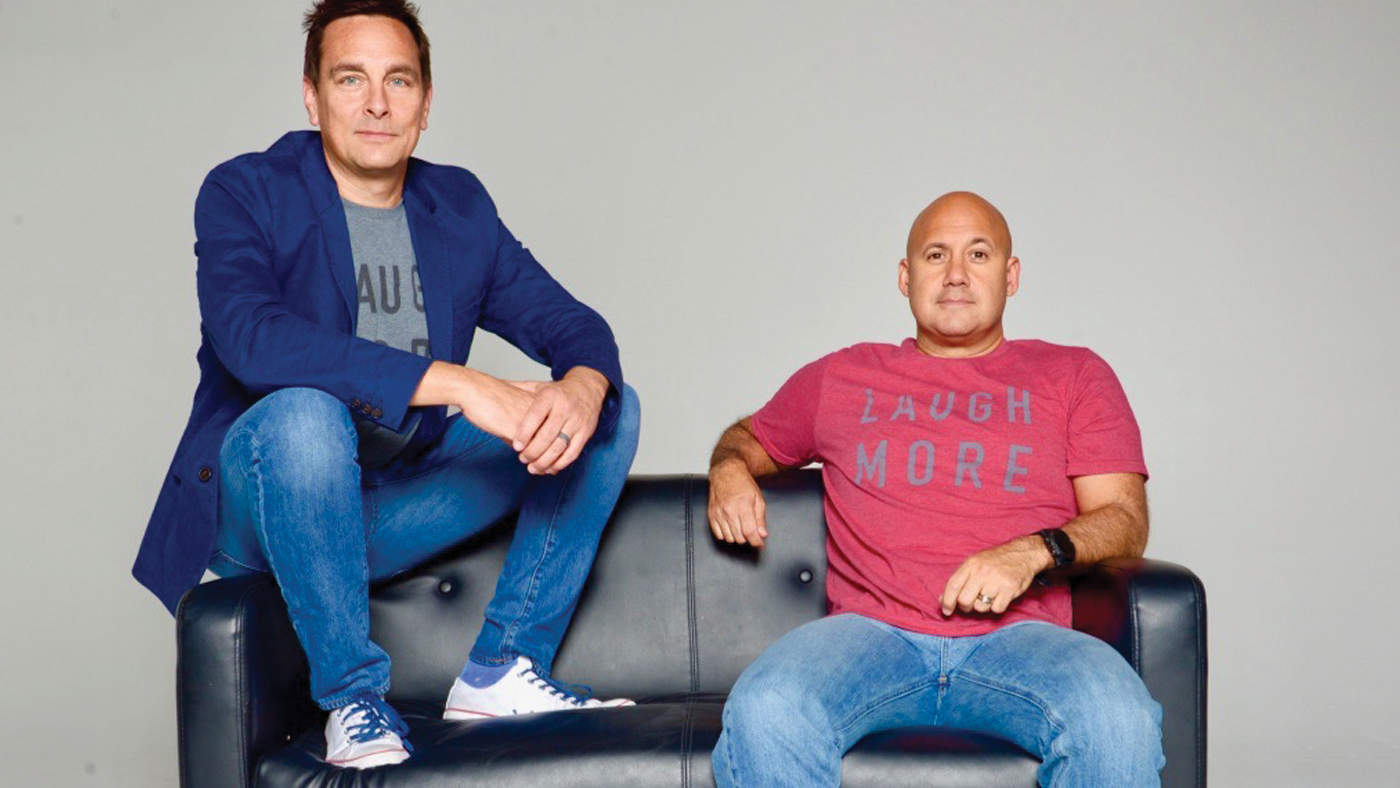 The Beginning
The Guys met in High School in Oklahoma in the mid-1980s. Their friendship got off to a rocky start when Woodard stole James's girlfriend, "But once the girl was out of the picture, we became best friends," said James. A few years later, Woodard invited him to church: "I said 'yes' to Woodard and then 'yes' to Jesus."
They both became involved in the church's teen ministry. Their antics led the church's youth pastor to give them a challenge. "He asked us to start writing and performing skits each week for our youth group. He held our feet to the fire and made sure we were there every week," recalled Woodard. At first they got ideas from television that they would "redeem" for the church audience. Later, they would develop their own ideas and characters. The two became a hit within their group.
"Our youth pastor told his friends about us, and we started traveling to different youth groups," James said. They refer to those as the chicken-in-a-pot-and-gas-years: "We didn't know any better and probably weren't worth more than that, but the pay for those gigs was a chicken dinner and gas money." They honed their talents and gained some recognition, but their collaboration didn't last long.
The two friends eventually parted ways. James headed west and spent about seven years serving at Saddleback Church, a megachurch in California, while Woodard became a youth pastor in Texas. "God separated us to help us grow," Woodard reflected. "Once we got back together, things took off. We started performing at churches, camps, conferences…"
This reunion would become their development stage. "We are a product of the church as a whole, rather than one local body. I mean, come to think of it, it was a group effort. There were churches that had us in camps and conferences that let us be part of their programming, and all of it just sharpened our skills and timing. We began to see just how God's truth would be received by using not only comedy, but also drama," said James. The time also helped them develop a base of support that would assist them in the next phase of their lives.
The Video Years
Even during those early years, video recording was always part of the plan. "We took the clunky VHS camcorder from Tommy's parents and created videos that would be played at the different youth groups where we were performing," said James. "So I guess you could say it was self-produced by editing it from the camcorder to the VCR. Those videos are pretty fun to watch!"
As things progressed, they thought it might be beneficial to have a comedy DVD of those recordings so people could keep the laughs going after the guys had left. James told us that those early discs gave them an idea for a larger release. "It did reasonably well and we decided to make a VHS. A friend in the ministry told us we should make a DVD because that was 'where everything was headed.'" From the beginning they wanted to stay on top of the technology.
They followed the advice and started production that would forever alter the duo's dynamic. "We set up three cameras and recorded our top seven skits," said Woodard on their first homemade video. Those early videos worked, but they were far from polished.
Enter Brian Cates, the media pastor at the church where Woodard was serving. After seeing some of Cates' work, James wondered if Cates would be interested in making some videos for the Skit Guys. With Cates' help, they started creating a series of two to five minute shorts. These shorts continue to make up the core of the Skit Guys repertoire.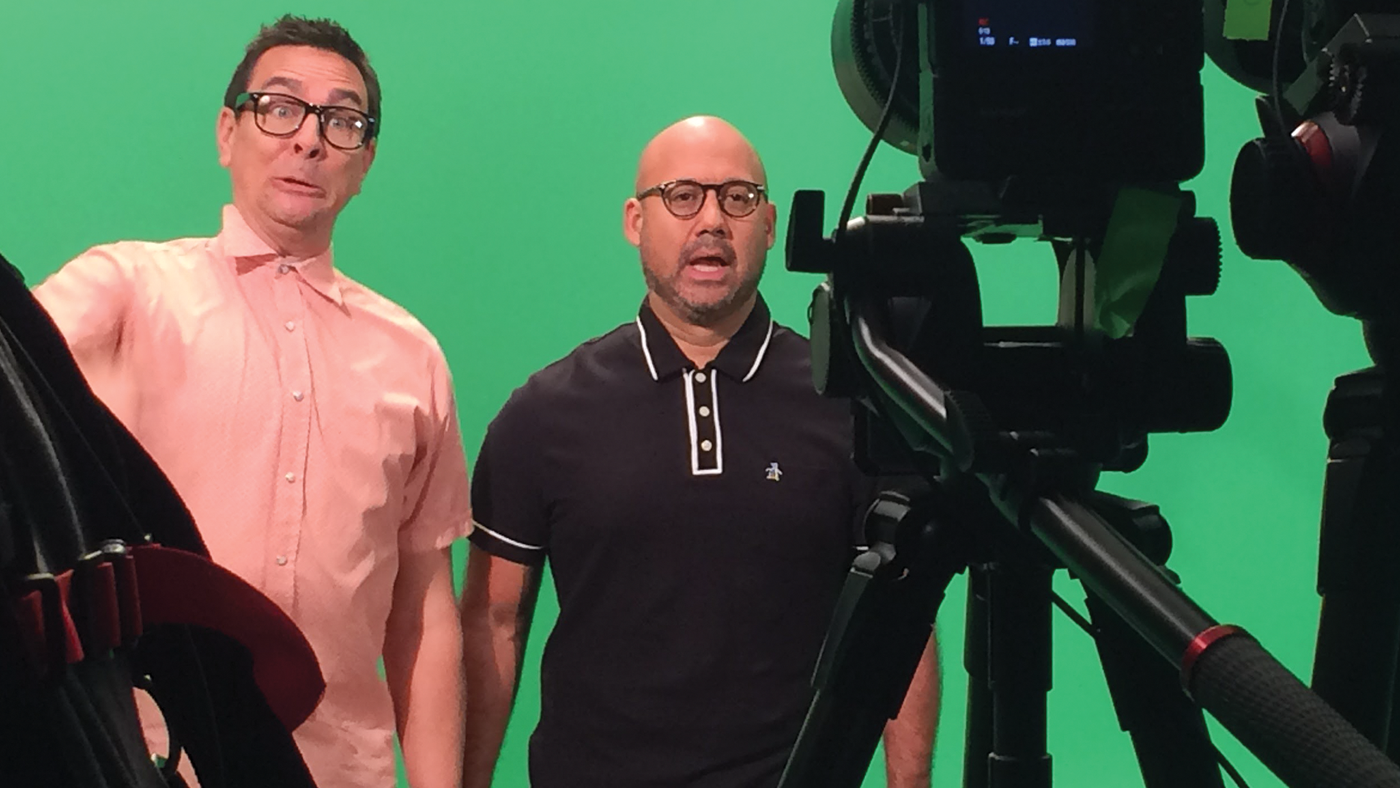 The format was well-received and they decided to seek wider distribution. "We approached Zondervan publishing with an idea to create DVDs filled with content for student ministries and a 6 DVD series entitled 'You Teach' was born," said Woodward.
James proposed including one video on each DVD called a "Big Church Video." This would be a skit that wasn't youth specific but intended for a wider audience. "The idea worked. Youth pastors shared their DVD's with their pastors and Skit Guys' mini-movies started being used in 'Big Church,'" said James.
The Skit Guys consider what they do a ministry and try to stay within a reasonable budget.
This new audience led to more recognition and soon churches all over the world began sharing Skit Guys videos. The growing demand led to more resources and better quality gear. When asked how their productions evolved from the early VHS days, Woodard and James answered in unison: "We don't believe in evolution. We were raised Baptist."
"Probably the biggest evolution was going from run-and-gun sets to running things like a real movie set," explained Cartes, chuckling. "The transformation was definitely not overnight. We took it super slow and added as needed—it probably took us about three or four years to do that, and we are still trying new things."
They also began to produce outside their church and that meant location shooting. "We started by loading gear into our cars, and, to be honest, we haven't totally got away from that, but now we have a pretty nice little grip trailer that stores just about everything we need," said Cates.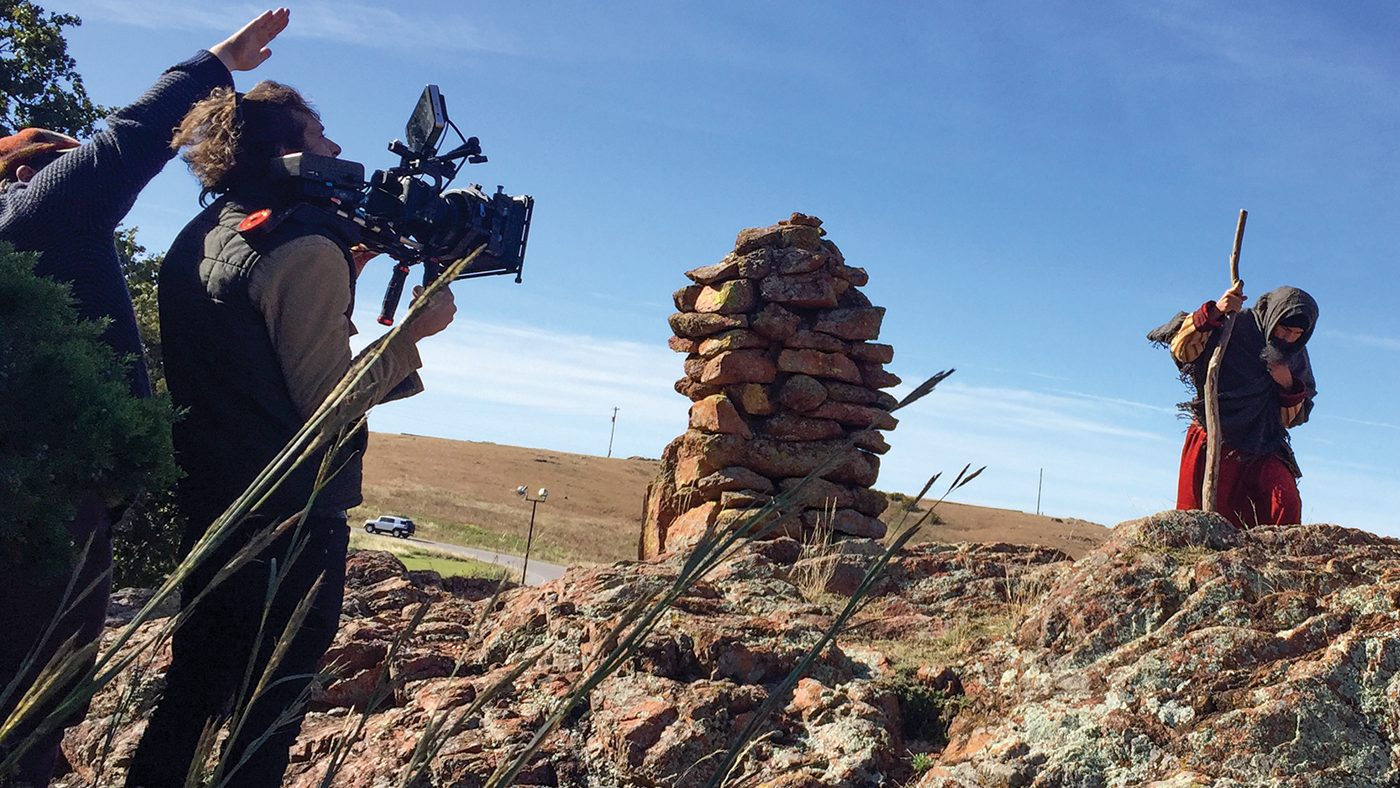 The increase in production quality includes a storehouse of props, wardrobe and set dressing. For videos with a more Biblical feel, they've even advanced to using green screen to place the guys anywhere.
From Two Guys to a Team
Woodard tells us that, today, the Skit Guys ministry has grown to include "Fifteen other amazing individuals who do all sorts of jobs from counting the pennies to booking live shows to taking care of the business and, of course, creating mini-movies."
"Rene Gutteridge is our lead writer. Chris Castor is our SFX and motion graphics magician. Jay Howver is the 'Great and powerful Oz' helping to keep everyone on the straight and narrow while adding in his own creative touch," said Cates, outlining their core production crew. This is not an exhaustive list of everyone involved but they are the key leaders on the team. "We honestly look at every project as a group project. Everyone helps wherever they are needed, and everyone has a voice in shaping our projects."
They are always trying to stay current with technology: "Selling last year's model and only spending a few hundred bucks to upgrade is always easier to swallow than having no gear equity at all," said Cates.
Though staying current is always a concern, they still consider what they do a ministry, and try to remain within a reasonable budget. "Just because your production gets bigger, it doesn't mean your gear has to get more expensive. We still try to count our pennies and make all of our decisions based on need because there's no sense in buying something super expensive when you can just rent it once or twice a year," explained Cates.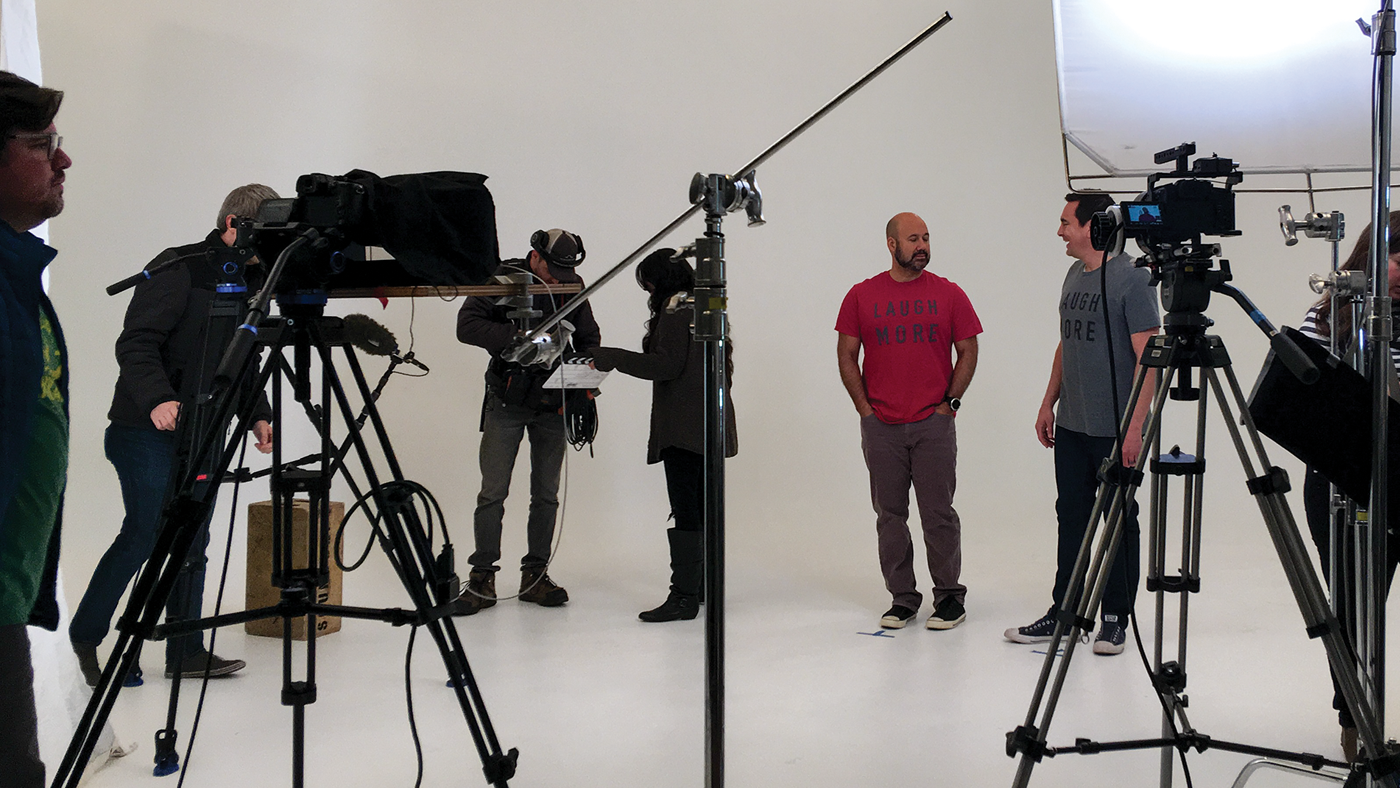 Each video is really a team effort, and the Guys stress the importance of the organizational partnerships they've developed over the years: "We have had the privilege to meet and partner with many different organizations. We truly see our job as helping equip the church. Not a certain denomination or branch, but the whole church. We work very closely with Celebrate Recovery. We have been privileged over the years to work with Youth Specialties, Group Publishing, Zondervan, The Gideons, Orange's Married People, Awana, Simply Youth, DYM," said James. These partnerships often take the Skit Guys on the road where they speak and perform at national conferences.
"We really are two best friends from high school getting paid to do what we did in the '80s for a chicken dinner," said Woodward. "We never set out to make mini-movies for a living. We never set out to travel around the continent performing for people. We just loved doing skits and making videos, and we love God."
Keeping it Going
Although it may appear that it's just a couple of friends having fun on camera, Woodard told us that every Skit Guys' video is a labor-intensive process. "James heads-up our idea and writing department. He works closely with Rene Gutteridge in writing scripts. While Rene does the heavy lifting, several of us will chime in with ideas and even lead out in writing some things."
"Most of our scripts go through several versions before we land on a final script," added James.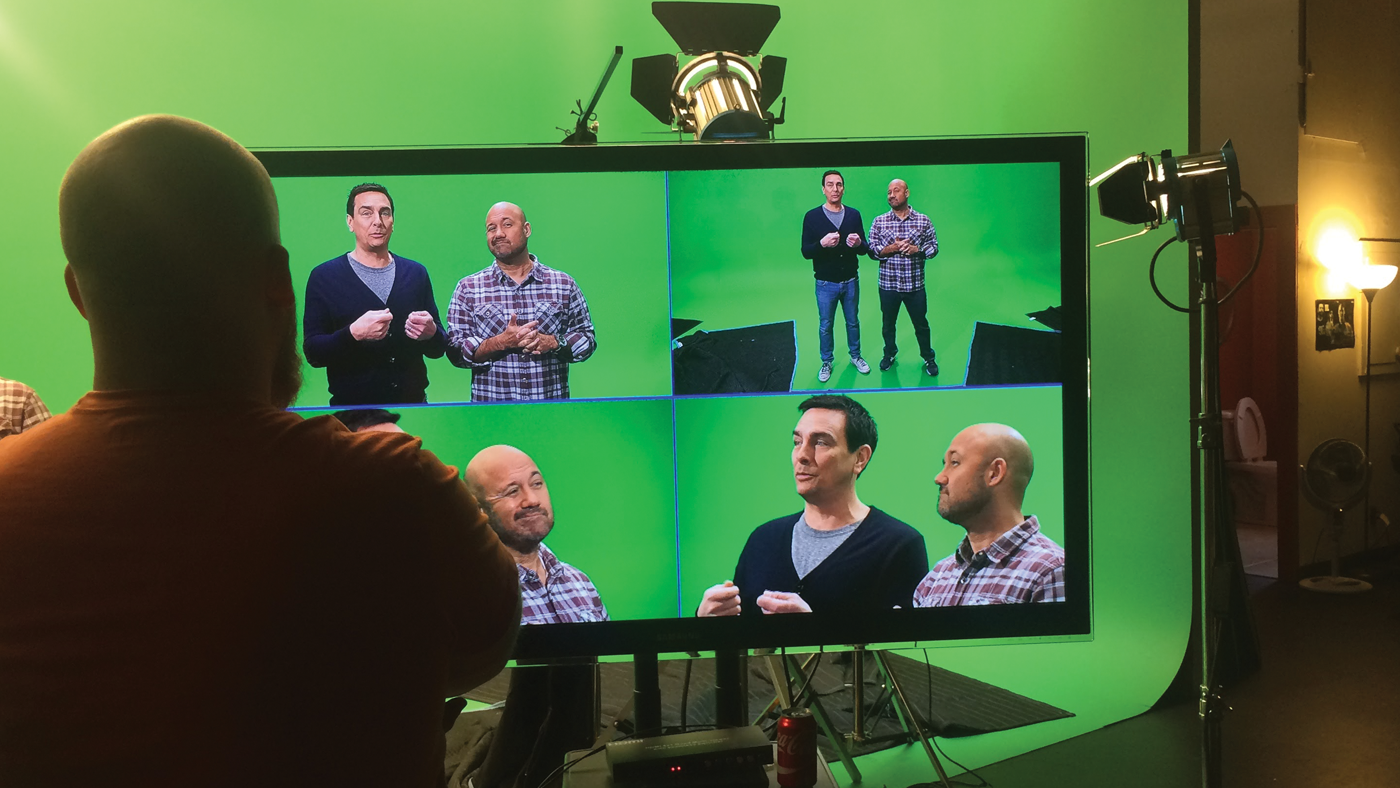 After the revisions, the script is placed into Cates' hands and the production team will make plans. "They will hire any contract labor or extra actors that are needed. They do location scouting, costumes, prop. Once things have been filmed, Brian and his team will do rough edits," explained James.
Even post-production is a team effort added Woodward, saying "Several of us will give our thoughts on these, and we will go through several different cuts to finally get what we are looking for." From there, the team goes through the process of color correction, sound enhancing, graphics and anything else that needs to be added in post before the official release on SkitGuys.com.
What keeps them on track and focused on the next project is not recognition or financial gain. "Sometimes it does feel like a big deal when we go to live events and people tell us that they watch our TV show, or that God used one of our videos to speak to them. That feels big. When we get emails from places where it is illegal to publicly express your Christian faith but people are encouraged by Skit Guys' videos. That seems big," Woodward said.
James continued, saying, "When a family tells us that they use our videos for family devotions at night, that seems like a big deal."
The Guys say that what keeps them going is not from how many churches use our videos or how many likes something gets on a social media platform. James says, "It's when God takes these little 3.5 minute offerings and does something so big with them — it is the best and it is why we still do what we do."
The Guys' Future
It seems like there is no stopping the Skit Guys. They continue releasing titles that are topical and timely. They always produce videos to support the major holidays like Easter and Christmas. They produce pieces both funny and serious, like first person narratives from a Biblical character including one from this past Easter where James, as Peter, reflected on Jesus walking on water.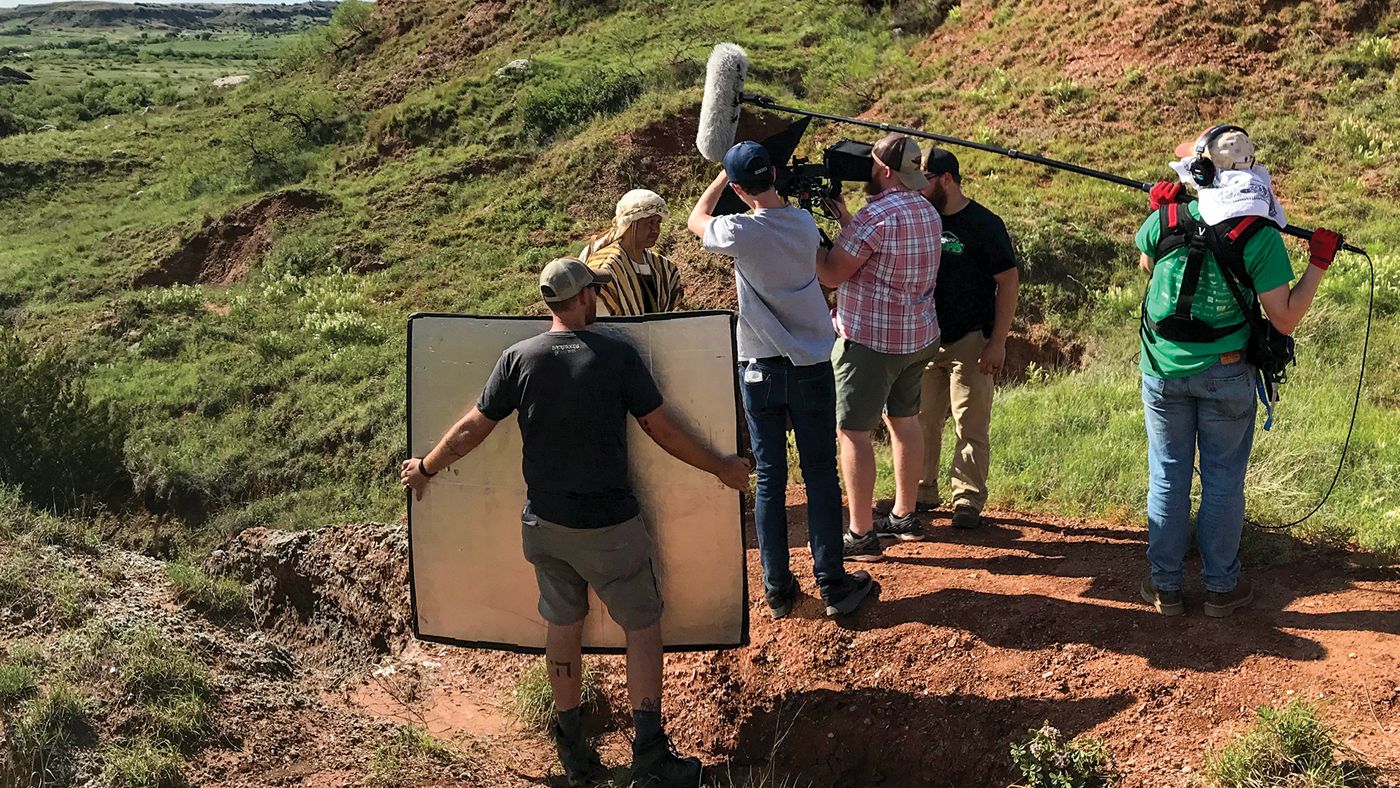 We asked what the future held for the guys, Woodard responded, "You know, we've been thinking about this a lot lately. Our mission at Skit Guys is to bring God's Truth to His people utilizing humor to allow the truth to enter people's hearts and minds. In the beginning we were just a couple guys doing shows for a chicken dinner and gas money and then it was scripts and then it was creating mini-movies. We're on the verge of reinventing ourselves once again. Keep your eyes peeled, there are some big things brewing!"
You can connect with the Skit Guys on their website SkitGuys.com, through their YouTube channel, The Skit guys, or on Facebook and Twitter.
Sidebar: Under the Hood
So what kind of gear is behind a Skit Guys' production? According to Tommy Woodard, they "have those cameras that the people stand behind. We usually have two or three and, sometimes, four cameras. We have the really bright lights. The big ones that you put that colored overhead projector sheets on." Eddie James chimed in, adding, "For sound, a guy holds a giant stick over our heads."
Brian Cates gave a little more detail: "Over the years we've used a little bit of everything. In terms of cameras, we started on the DVX100, bought the 7D as soon as it hit market, and we even shot on the RED Epic for a few years. Right now we've settled nicely into the Panasonic GH5 and GH5s, as they serve our needs just perfectly." He adds that for lighting they use, "A pretty standard one ton light package and we have a couple of Joker-Bug HMI's to give us a little more power."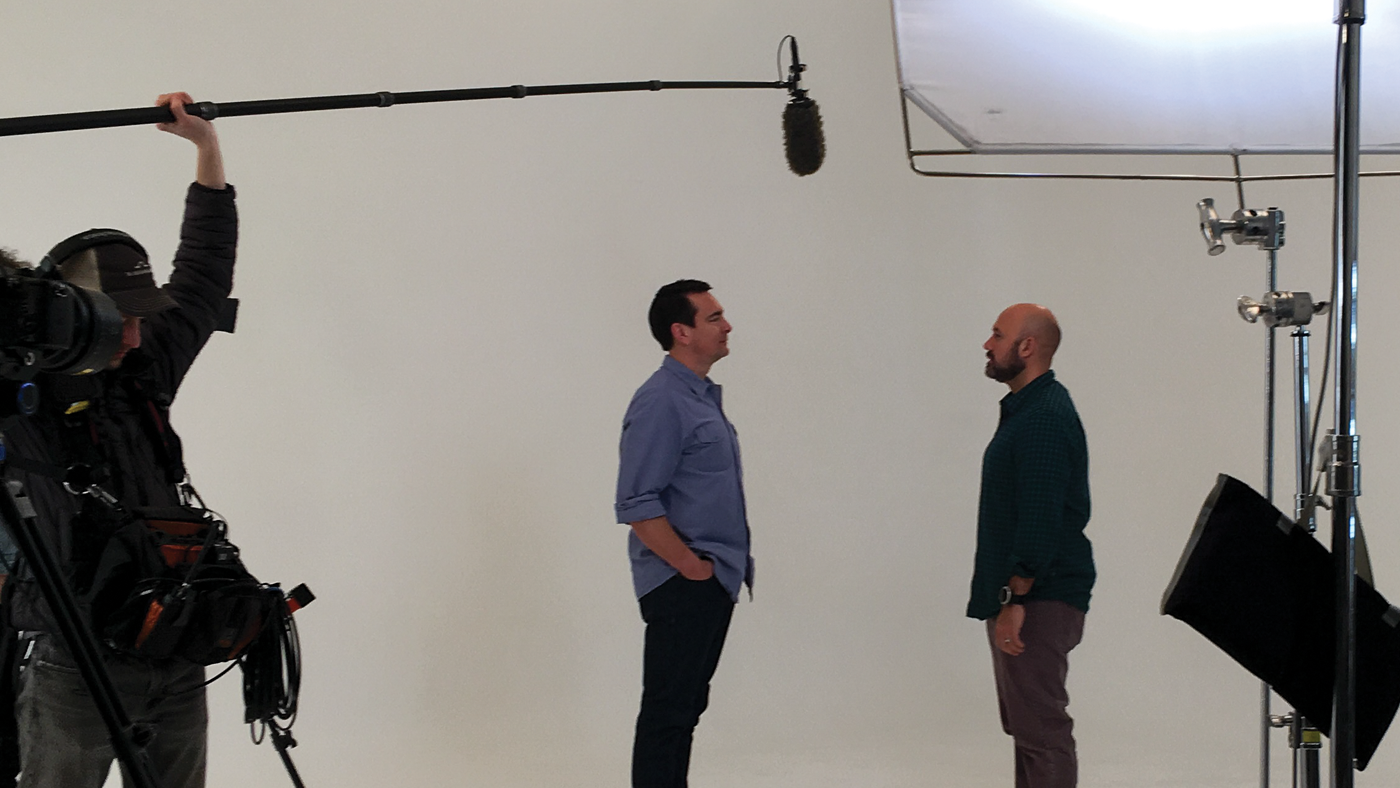 Sound is critical to conveying their message, Cates said, adding, "We record our sound both from boom and lavs so we have a backup just in case, and we mix and record on the Sound Devices 633."
For post production, Cates gave us the specs, "We are pretty much all in with Adobe Creative Suite with several flavors of third party products to spice things up." He added that their most valuable recent addition is "A Thunderbolt 3 editing server from Q-NAP. We use 10-20 meter optical fiber thunderbolt cables to serve our all three of our editing bays. Saying goodbye to hard drive swapping was such a welcome experience, let alone a huge time-saver!"
Jeff Chaves is the Chief Creative Officer of Grace Pictures Inc., which he co-owns with his wife, Peggy. He got his start as an Army Broadcaster in the 1980s and spent 12 plus years working on broadcasting. Jeff left broadcast television to pursue full-time ministry.
Interested in Church Video Production? Check out our upcoming Church Video Conference, happing this June in Berkeley, California: www.videomakerevents.com