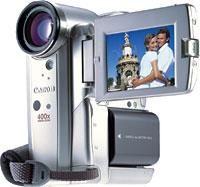 Canon Ships Elura 50 Mini DV Camcorder

Canon's Elura 50 Mini DV camcorder, which shipped in May, features a 10x optical zoom lens and dual image processing capabilities, which Canon says improve the quality of both still and video images. SD or MultiMedia Cards store still images shot by the camera at 640×480 or 1024×768.

Like the recently released Optura 20, the Elura 50 includes direct photo printing capabilities to Canon bubble jet printers. A microphone input and LANC terminal round out the unit. Canon also includes its DV Messenger software, which allows the camcorder to act as a Webcam, as well as share video clips and still images. Through December 31, buyers will receive Pinnacle Studio 8 SE software free with purchase. The Elura 50 retails for $899.
RAIDs: More Mainstream than Ever

Gateway's 700XL (which we reviewed in the March 2003 issue) is now available with a Serial ATA-based RAID. The system will be available with two identical 160GB Serial ATA drives, for a total capacity of 320GB. This is a built-in capability of the new Intel 875P chipset, which also includes support for an 800MHz front-side bus. The system also includes FireWire and USB 2.0 ports, as well as an ATI RADEON 9800G PRO AGP video card with 128MB of RAM. The newly RAID-enabled configuration is available now online and in Gateway stores.
Sony Releases DCR-PC105 Mini DV Camcorder

Sony shipped the DCR-PC105, a new compact and lightweight Mini DV camcorder, in June. The unit features a 10x optical zoom lens and a one-megapixel CCD, and includes a 2.5-inch touchscreen LCD viewscreen that includes a touch focus feature. It has a pop-up flash for still images, and both the infrared-illuminated NightShot and color slow-shutter recording for recording video in low- or no-light situations. The camera grabs still images at resolutions up to 1152×864. The unit can also record MPEG-1 movies for Internet streaming onto Memory Stick media, either by recording directly from the camera to the Memory Stick or by converting already-recorded footage from tape to MPEG-1. The DCR-PC105 is available now for $1,000.
Sony Pictures Digital To Buy Sonic Foundry's Desktop Software Assets

Financially troubled Sonic Foundry, in a joint press release with Sony Pictures Digital, detailed an agreement in which Sony Pictures Digital will purchase Sonic Foundry's desktop software titles (including Vegas, Sound Forge and ACID) for $18 million. Sony's Screenblast Movie Studio and Screenblast Music Studio already leverage Sonic Foundry technology and the two companies have been close partners for a number of years. At press time, the deal was subject to shareholder approval.