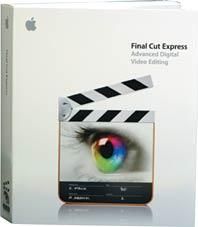 $299

Apple

1 Infinite Loop

Cupertino, CA 95014

(800) MY-APPLE

www.apple.com
We love iMovie. We love Final Cut Pro. Until recently, there really wasn't much for Mac users between these two applications besides $1,000. And Final Cut Pro (beyond the price) can be intimidating. You know it is powerful, but where should the beginner start? If you feel like you've mastered iMovie, but don't have a thousand bucks for FCP, Apple has the perfect solution: Final Cut Express.
Where It Fits

Perhaps the best reason to recommend Final Cut Express is that it is Final Cut Pro at its core. It has the same basic software engine and a very nearly identical workspace. This is important for two reasons. First, Final Cut Pro (FCP) can open Final Cut Express (FCX) projects. Second, and more importantly, all of your FCX training carries over to FCP. Still, most of you will not need more than FCX has to offer.

A few of FCP's advanced capabilities that you won't find (and likely won't miss) in FCX include offline editing, EDL support, After Effects plug-in, HD editing and 24p support. Perhaps the only feature that we did miss was FCP's excellent batch capture and logging tools. Then again, we also really like iMovie's scene detection and background rendering, which FCX and FCP both lack. But it is a complete waste of ink to talk about what FCX doesn't have.
What It Has

In short, you'll find all you may ever need in FCX. The FCX core is constructed around a usable and professional multitrack timeline; a full set of editing tools and modes (e.g. ripple edits); extensive shortcut keys (with keyboard overlay stickers included in the box) and fabulous compositing and cropping tools. Multitrack audio is not an afterthought either, with fast stereo waveform display and volume envelopes (video tracks also have level envelopes for animated compositing). These are all critical aspects of any serious video editing application that are particularly well executed in FCX.

Beyond the core strengths, FCX sports quite a few features that set it apart from other editors. One important example is the ability to save complex edits as Sequences (sub-projects of sorts) in the Bin. Further, you can open multiple projects at the same time. Less important, but no less interesting, highlights include a fantastic color correction tool with an eyedropper tool that will let you automatically reset the white balance. Another editing technique we really liked was dragging clips to the Canvas window to perform insert and overwrite edits with drag-and-drop ease. The ability to record voiceovers straight into an audio track during project playback (with pre-roll) was useful. The typographic options in the titler were broad and attractive and non-animated titles did not require rendering.

One final exceptional editing example was the splitting of Photoshop-layered files into multiple overlay tracks. Once these multiple layers are on the timeline, complex animations of Photoshop PSD files are not only possible, but breathtakingly easy. The convenience of WYSIWYG cropping, positioning and motion paths in the Canvas window, combined with automatic keyframing, is reason enough to recommend FCX as a compositing application.
Performance

There were no surprises in the performance department, where FCX is dependant on the speed of the system running it. We ran FCX in RT preview mode and were impressed with the quickness of the FireWire output to an external monitor via our DV camcorder. Transitions, titles and some effects are real time, but FCX needs to render any combination of effects or any animations (such as a title scroll). All audio filters, even a simple three-band equalizer, require some rendering. While we would prefer to see this happen automatically, we experienced render times of about five seconds per minute of source audio.

More importantly, FCX was extremely responsive and lithe when editing on a single 1GHz processor PowerBook G4 laptop. We did experience one crash on that machine that somehow changed the preferences so that FCX would not run again without deleting the Final Cut Express 1.0 Preferences file. We were unable to recreate this issue and FCX was otherwise rock stable.
Cut It Out

FCX can output in many formats, most obviously DV, but also in streaming Web formats, including newer MPEG-4 compression. While FCX does not perform DVD-video MPEG-2 encoding, you can export your projects, complete with chapter markers, directly into iDVD 3 or DVD Studio Pro. Getting the rendered video out to tape was a simple but manual affair that involved cueing the DV camcorder and executing the Print to Video command.

FCX does not come with a printed manual, in contrast with the 1,400 page behemoth that weighs down the Final Cut Pro box. We did enjoy the included "Getting Started with Final Cut Express" tutorial DVD from DigitalFilm Tree, which will get iMovie users up and productive in about an hour. We also appreciated the transparent keyboard shortcut labels: The use of shortcuts is one hallmark of an advanced user and FCX utilizes them extensively. Better still, they are identical to FCP shortcuts and, indeed, shortcuts like JKL are fairly universal in video editing.

Final Cut Express is not better than Final Cut Pro, but it might be better for you. Since FCX and FCP use the same software engine and user interface, time spent learning FCX translates directly into FCP experience. And since FCX projects can be opened and subsequently edited in FCP, the upgrade path is clear. Of course Apple is offering upgrade pricing on FCP for FCX owners, so if you aren't sure you need FCP, we highly recommend that you go with FCX until you are sure. Make no mistake: Final Cut Express is a professional editing environment that does not compromise quality. And for $300, we think it's a bargain.
TECH SPECS

Platform Mac

Operating System Mac OS X v10.2

Processor 300MHz PowerPC G3 or G4

Recommended Processor 500MHz Power Mac G4

RAM 256MB

Recommended RAM 384MB

Hard Disk 40MB

Included Extras Boris Calligraphy, CGM FXScript DVE
STRENGTHS

Professional features and interface

Responsive and lithe workflow

Impressive toolset

WEAKNESSES

Audio filters always need rendering

SUMMARY

Final Cut Express has professional features at an attractive consumer price, with a clear upgrade path.