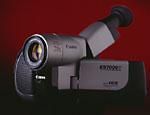 Hi8, Ready to Travel
ES7000V Hi8 Camcorder

($999)

Canon USA, Inc.

One Canon Plaza

Lake Success, NY 10042-1113

(800) 828-4040

www.usa.canon.com
Canon recently introduced the ES7000V, a fully-automatic camcorder with a twist for
point-and-shoot videographers who travel. One of the most common complaints of video
enthusiasts who travel abroad is the fact that North America and Europe use different
standards for television delivery. North America uses the NTSC (National Television Systems
Committee) standard of 525 lines and 60 fields per second, while most of Europe, except for
France, Russia and the whole former Eastern block uses the PAL (Phase Alternating Line)
standard of 625 lines and 50 fields per second for television signals. This makes playback
of video shot on a North American camcorder impossible on a European television, and
vice-versa.
Canon's ES7000V Hi8 camcorder addresses this problem by offering a simple switch on the
camcorder that lets you choose either NTSC or PAL playback. The ES7000V also features a
large 3.5-inch flip-out color LCD monitor, something that Canon hadn't included in any of
their earlier Hi8 camcorder models.
The Basics
When you pick up the ES7000V, you immediately feel your thumb migrate towards the
start/pause button, while your index finger rests on the zoom toggle. You must have the LCD
monitor opened if you want to access the titler, turn the electronic image stabilization off
or use the digital effects, because they're located on the side of the camcorder body
underneath the screen.
The ES7000V features a 16:1 optical zoom, a 72:1 digital zoom and a 160:1 extra-long
digital zoom effect. The ES7000V also has a closeup feature that provides a 1.5:1 digital
zoom. If you combine the closeup feature and the extra-long digital zoom, the ES7000V can
zoom up to 240:1, but the pixelated and grainy image you get at that level of zoom is hardly
worth taping.
The ES7000V has manual focus, but limits itself with automatic exposure control and
automatic white balance. It does, however, have backlight compensation. One nice feature for
beginning shooters is the 10-second counter that appears on the screen whenever you start
taping. This is very handy for avoiding the tendency to shoot lengthy shots while shooting
in-camera edited productions.
This camcorder has a microphone jack, so you're not dependent on the built-in stereo
microphone. However, it lacks a headphone jack for properly monitoring the audio. For
playback, the ES7000V includes a built-in speaker, so you can review the audio on playback
but not while you're shooting.
The ES7000V also has an arsenal of digital effects like 16:9 aspect ratio for the
cinematic look, art mode (solarization), mosaic, mirror image and sepia for an old-time film
look. The ES7000V also includes digital faders that include horizontal wipes, mosaic fades,
art (solarization) fades and black-and-white fades. The last feature to round out the
ES7000V is the built-in titler for adding simple titles to your videos.
One of the most appreciated features of the last Canon Hi8 camcorder we reviewed (the
ES4000 in the December '97 Benchmarks) was the inclusion of Rewriteable Consumer Time Code
(RCTC). Unfortunately, the ES7000V doesn't support RCTC. It also doesn't use any of the more
advanced editing protocols, with only an optional remote control to provides the ability to
perform IR editing.
NTSC and PAL: Who's It For?
The ES7000V is a basic, fully-automatic camcorder. It is not intended to be the successor
to the ES4000: a Hi8 camcorder with full manual controls and time code. If you want to shoot
video casually, and aren't planning to use your camcorder as a source deck for editing, you
might find the ES7000V to be a handy Hi8. If you want to be able to display your footage on
televisions that have NTSC or PAL standards, the ES7000V could be the camcorder you've been
waiting for.
TECH SPECS: Canon ES700V Hi8 Camcorder
Format: Hi8
Lens:16:1 Optical Zoom, 72:1 digital zoom, f/1.4, 4-64mm focal length, 46mm
filter diameter
Image Sensor: 1/4-inch CCD, 470,000 pixels
Viewfinder: 3.5-inch color LCD, 0.5-inch monochrome CRT
Focus: TTL auto, manual
Maximum Shutter Speed: 1/4,000 of a second
Exposure: Auto, backlight compensation
White Balance: Automatic
Digital Effects: 160:1 extra-long digital zoom, 16:9, negative, mirror,
mosaic, art (solarization), sepia, horizontal wipe, mosaic fade, art fade, black & white
fade
Audio: AFM stereo
Inputs: Microphone
Outputs: S-video, a/v jack
Edit Interface: IR (with optional ED-50 editing remote controller)
Other Features: PAL playback, titler, built-in speaker
Dimensions: 4 1/2 (width) x 4 7/8 (height) x 8 5/8 (depth) inches
Weight (sans tape and battery): 1 pound, 15 7/8 ounces
Video Performance (approx.)
Horizontal resolution (camera): 310 lines
Horizontal resolution (playback): 280 lines
Performance Times
Pause to Record: 1 second
Power-up to Record: 7 seconds
Fast-forward/Rewind (120 min. tape): 5 minutes, 49 seconds
strengths

PAL playback
Large LCD monitor
Manual focus
Microphone jack
weaknesses
Lack of manual controls
No time code
No headphone jack
summary: A decent point-and-shoot camcorder with the the added bonus of
PAL playback.