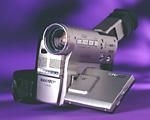 Sharp Puts the Mini in Mini DV
Fully-automatic single-CCD digital camcorders for those who want to shoot high-quality video but don't want or need all of the features of the bigger, fancier camcorders are becoming more and more popular. Sharp's new Mini DV camcorder, the VL-PD3U, fits the bill as an easy-to-carry camcorder, perfect for the travelling set, and it has enough manual control to keep seasoned videographers happy. A good choice for beginning to intermediate shooters.
It's Really Small
Sharp built a camcorder that can easily fit into a jacket pocket. In fact, at a little less than 5x4x3-inches and a fraction more than a pound, the VL-PD3U literally fits into the palm of your hand. Despite its small size, it's big on features.
First and foremost, the VL-PD3U has an i.LINK (IEEE 1394) port to allow you to digitally transfer the ones and zeros from the Mini DV tape to either another camcorder for duplication, or a computer for editing. If you're in the market for a digital camcorder, you'd be shortsighted to purchase one without this important feature. The VL-PD3U also has connections for S-video and composite video and audio, and an RS-232 port to easily transfer still images to a computer through a serial port (Sharp has optional software available to facilitate using the serial port for still transfer, but it's not included with the camcorder).
Advertisement
The VL-PD3U has a 10:1 optical zoom that responded quickly to commands. You can select either a 60:1 or a 100:1 digital zoom through a menu system, if you want the VL-PD3U to zoom further than the optics allow.
The VL-PD3U features a flip-out 2.5-inch LCD monitor in addition to its color viewfinder. The flip-out LCD monitor has a very sharp picture, and can be flipped over to act like a monitor and allow the camcorder's subject(s) to view themselves as they are taped.
The VL-PD3U also has electronic image stabilization, a popular feature among the handheld shooting crowd. Though prone to some imperfections common to EIS, namely increased pixelization at the telephoto setting, this feature worked well enough to satisfy the targeted user.
To help the beginning videographer, Sharp has included a complete array of automatic controls in the VL-PD3U. It has auto white balance, autofocus and auto exposure–basically auto everything. Overall, the autofocus system responded well, although there were a couple of instances in testing where the autofocus spent a little too much time hunting around for the proper focus.
But has Manual Controls
While the auto controls help the beginning videographer, more experienced shooters usually prefer to have the option of manual controls. With versatility in mind, Sharp didn't forget to provide manual controls. Through a menu system, you can select manual focus, manual iris, manual shutter speed and manual white balance. This gives the VL-PD3U the control that more advanced videographers crave, while the full-auto mode maintains the simplicity that video newbies require.
The Downside: Audio
The biggest fault in the VL-PD3U is the audio system. Sharp neglected to put either an external microphone or a headphone jack on the camcorder. By ignoring these two simple features, the VL-PD3U severely limits its operator's ability to properly record audio. Not only are you forced to get the VL-PD3U right next to your subject, but you also cannot monitor your audio as you record it.
There is another weakness in the audio system of the VL-PD3U. It doesn't record in the 16-bit audio mode that some Mini DV camcorders can record. However, the VL-PD3U can play tapes recorded in the 16-bit audio mode. The VL-PD3U does let you record in the two-track 12-bit mode, and has an audio dub feature for adding a narration to your video in addition to the sound you recorded along with the video.
All things considered, the VL-PD3U is a fine Mini DV camcorder that will serve most people well. Its small size makes it perfect for the videographer on the go. Its full-auto mode makes it approachable to the newer user, while the manual controls give the camcorder the flexibility that more advanced shooters need. The i.LINK (IEEE 1394) port makes it easy to connect to a computer for editing. If Sharp had included a microphone and headphone jack in the design of the VL-PD3U, it would have been difficult to find anything to complain about with this camcorder.
Tech Specs
Format: Mini DV

Lens: 10:1 optical zoom, 100:1 digital zoom, 4.7-44mm focal length, f/1.4-3.0

Image Sensor: 1/3-inch CCD, 660,000 pixels

Viewfinder: 2.5-inch color flip-out LCD

Focus: auto, manual

Maximum Shutter Speed: 1/10,000 sec

Exposure: auto, manual, 4 AE modes (sport, sunlit, dusk and party), backlight compensation

White Balance: auto, manual

Digital Effects: 16:9, multi-strobe, mosaic, sepia (record), still image overlap, wipe, zoom, mosaic, sepia (playback)

Audio: 12-bit 2-track stereo recording, 16-bit playback possible

Inputs: i.LINK (IEEE 1394),

Outputs: i.LINK (IEEE 1394), S-video, RS-232C, composite video and stereo audio
Other Features:

Dimensions: 5 1/32 (width) x 3 7/8 (height) x 2 3/4 (depth) inches
Weight (sans tape and battery): 1.1 lbs
Video Performance (approx.)
Horizontal resolution (camera): 400 lines
Horizontal resolution (playback): 400 lines
Performance Times
Pause to Record: 0.8 seconds
Power-up to Record: 5 seconds
Fast-forward/Rewind (60 min. tape): 2 minutes, 40 seconds
strengths:
small size and weight
i.LINK (IEEE 1394) port
manual focus
weaknesses:
no microphone input
no headphone jack
summary:
A perfect camcorder for travelers, but it does lack some audio features more advanced videographers will want.
VL-PD3U Mini DV Camcorder

($1600)

Sharp Electronics

Sharp Plaza

Mahwah, NJ 07430

(800) 237-4277

www.sharp-usa.com