Few would question that cell phones have changed our world. We've gone from phones the size of bricks, that would only be used in an emergency, to a smartphone the size of a credit card that can do everything from surfing the Web to shooting HD video. However, there is one area that smartphones haven't been able to change–the image sensor size. Due to size restrictions, a smartphone's camera will almost always have to deal with bad low-light performance and a deep depth of field. Even so, Sony has decided to tackle this issue head-on with the new DSC-QX100 lens camera. By coupling a powerful zoom lens and a sizable sensor with Wi-Fi connectivity, Sony has finally found a way to bring high quality videography to the smartphone camera world.
Cutting the Cords
If you've ever used a point-and-shoot or a smartphone camera, you'll feel right at home with the QX100. The only difference between the two is the lack of an LCD screen and the added Wi-Fi capability that lets you connect the QX100 lens camera to your smartphone. In order to connect your mobile device to the QX100 lens camera, you'll have to download Sony's PlayMemories app to your smartphone. This app lets you see and record the live image coming from your camera onto your smartphone's memory card.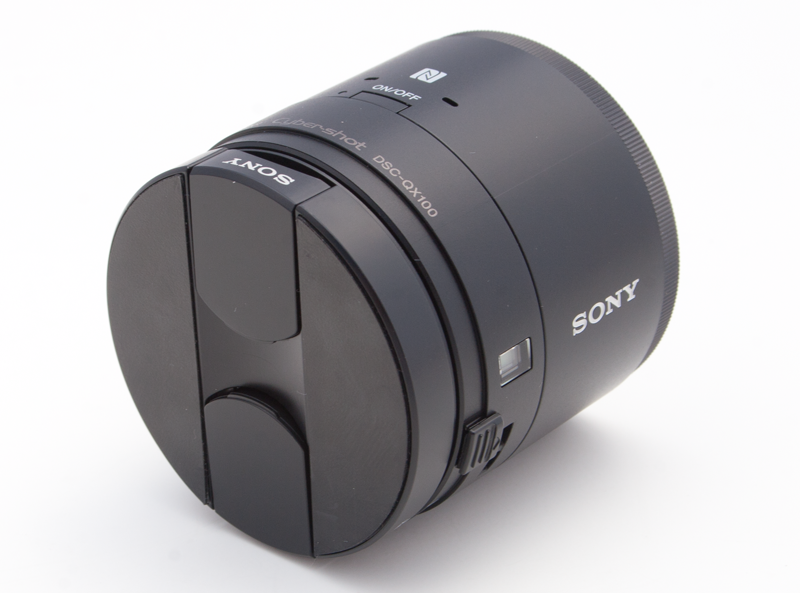 We found that the camera connected fairly quickly to our smartphone via Wi-Fi. Though we didn't have the right phone to test it, NFC pairing is also available which will skip the additional step of having to input a password. But until that catches on, you'll likely find yourself connecting via Wi-Fi. The QX100 camera's wireless network name (SSID) and password is tricky to find, being embedded in the battery compartment. Ultimately, we found connecting via Wi-Fi to be a pretty simple process, but in a world of constant connectivity, we were less than enthused about losing our Internet connection over Wi-Fi when pairing with the device.
Once you connect your smartphone with the app started, users will see most of the controls typically found on point-and-shoot cameras. At the ready is a live image preview, with aperture, shutter speed, exposure compensation, white balance, focus, resolution and shooting mode options. These options were very intuitive and made getting a good image easy.
Sony has found a way to bring high quality videography to the smartphone camera world.
Sony also included focus control for video and multiple shooting modes for stills in the camera. The aperture priority mode allows you to manually set your aperture from f/1.8 to f/11, while letting the camera compensate using the shutter speed and ISO automatically. The program auto mode allows you to adjust white balance and exposure value while the camera handles the aperture and shutter speed. The other two modes are intelligent auto and superior auto, which don't offer the user much control over the camera, but still capture nice stills.
Speaking of capturing images, one of the coolest features about the QX100 is that you can choose whether to record the captured images right to your smartphone or with the microSD card inside the QX100 itself. This allows you to quickly share your high quality photos with friends straight from your smartphone's wireless connection. On the video side, you can only record to the microSD inside the QX100, which means that you'll have to use a SyncQX app to connect the camera to your smartphone before you can share your Hollywood masterpiece. Also, we were disappointed to find that formatting the microSD card was not possible from the Sony app on the smartphone, which made it necessary to plug the QX100 into a computer before formatting the card. We were also less than impressed to find the camera records smaller resolution copies of your images to your smartphone, leaving access to larger resolutions, and abilities such as cropping, to your laptop or computer. Though we would have liked the option to save original-sized images to our phone, we also realized that smaller resolutions are preferable for those with a limited amount of free space on their smartphone or who need to send pictures to their friends and family right away. On the plus side, we were happy to find that the Wi-Fi connection allowed us to be up to 40 feet away from the QX100 and still manipulate the camera to our heart's content. This should be a great feature for video bloggers and for those wanting to take the occasional wide-shot selfie.
External Controls
There's a lot to love about the internals of the Sony QX100 but there's even more to love on the outside, too. The camera includes a power button, function ring, zoom rocker and a shutter release. The ring on the front of the lens acts as both a zoom and focus ring, depending on whether the manual focus is engaged. In photo mode the shutter release gives a confirming autofocus beep when partially depressed, useful for those times when connecting the camera to a phone is not an option and for those who have become accustomed to typical DSLR focus. However, the camera's built in orientation sensor is occasionally slow to update or simply gets stuck in the wrong orientation which made shooting on the fly sometimes hard to do. In addition, the QX100 doesn't currently work with your phone's flash, though it seems like an easy firmware update in the future.
In order to attach the camera to your phone, Sony includes a clamp. We felt the clamp worked well, but the weight of the lens made it almost impossible to hold the device by the phone alone. Instead, it felt best when we held the camera with both hands, one on the phone, and one under the lens, with a thumb free to manipulate the hard buttons on the lens. If you'd rather not hold the phone at all, the QX100 has a standard tripod mount on the underside, that can easily hold both the lens and your phone. This feature definitely comes in handy when we want to get smooth pans and tilts.
Summary
As any shooter knows, the ability to have a remote-controlled camera small enough to fit in tight spaces is a rare thing. Even more so, is being able to shoot with a 1-inch sensor on a smartphone camera system. That's what makes Sony's new QX100 so innovative. With its large sensor, small size, and 1080p shooting capabilities, this device will allow mobile video enthusiasts to finally capture the variety of images they've always wanted.
Sony
www.sony.com
$500
Tech Specs
In Movie Mode
Sensor: 1" Exmor R CMOS
ISO: 160-3200
Shutter Range: 1-1/2000
Aperture: f/1.8-f/11
Zoom (Optical): 3.6x, 29-105mm
Inputs/Outputs: microUSB
Battery: InfoLITHIUM NP-BN (3.6V)
Media Type: microSDHC, Memory Stick Micro
Video Format: MP4
Video Size: 1440×1080 (30p)
Image Stabilization: Yes
Strengths
Wireless live view and controls
Lightweight
Large 1" Sensor
Weaknesses
Doesn't work with phone's flash
Can't format microSD card from application
Dan Bruns is an award-winning cinematographer and editor who has worked in video production for 10 years.