You've just finished an important video project and your clients called to say that they want 250 copies the day after tomorrow. What do you do? There isn't enough time for an online publishing house to have them printed, shipped and delivered before the deadline. You could start cranking out copies on your desktop computer while printing out paper labels and go without sleep the next two nights affixing them to your newly burned discs. (Yes, I'm kidding. Paper labels are never recommended as they can come apart inside your drive and create a real mess.)
Or, you could just bust out your new Primera 4102 Disc Publisher, pop in up to 100 discs at a time and spend the next few hours doing something fun and/or productive. Whatever your disc publishing needs, Primera's new Bravo 4100 series is definitely up to the challenge with a variety of configurations and pricing to match.
Go Ahead and Pick One Already
Your first task is to determine how you intend to use your disc publisher and then choose the appropriate model. The Bravo 4100 AutoPrinter is for printing labels on discs only and therefore contains no drives ($1,995). The Bravo 4101 contains one drive and comes in two flavors: with Blu-ray ($3,995) and without ($2,995). The 4102 includes two drives, also with or without Blu-ray ($4,995 and $3,295 respectively). For this review we tested the Bravo 4102 without Blu-ray support.
The Setup
Setup was easy. The manufacturer even went so far as to design a cardboard cradle and lifting handles into the packaging to make it easier to get the unit up and out of its box. Once out, set the publisher in place and fire up the installation disc. You'll be walked step-by-step through the setup process.
During this time, you'll encounter a couple of very nice features such as the user replaceable print head and individual cyan, yellow, magenta and black ink cartridges. No need to replace an entire tri-color cartridge just because one color is used up. When the cyan is empty, you replace that color only; definitely a more economical and less wasteful approach.
After setup, the publishing and label creation software will be installed (PTPublisher and SureThing.)
Burn, Baby, Burn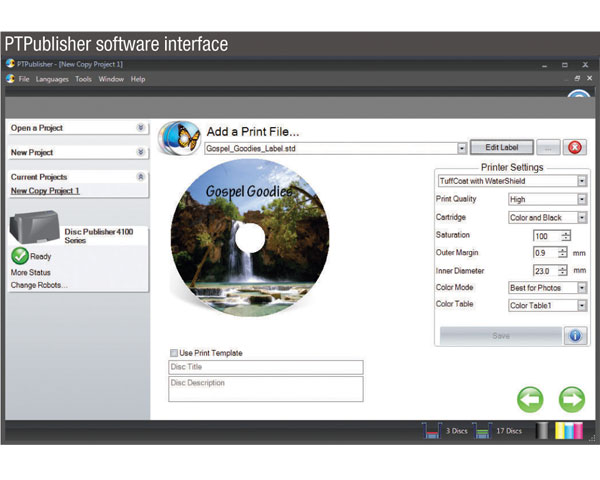 Like the initial setup, project preparation and execution is easy also. Open the PTPublisher software and you are presented with a list of project options: Data Project, Audio Project, Copy Project, Video Project and Disc Image Projects. Also, there is Print Only Project and Advanced Projects, which lets you rip audio discs to iTunes or Windows Media Player as well as backup files and folders – across multiple discs if necessary.
We decided to try Copy Project using a master disc containing a video project with a size of 3.95 GB. After selecting Copy Project the rest is truly as easy as 1, 2, 3.
1. Load the disc to be copied. Note the icons located in the lower right corner of the application window. Images resembling the disc trays on the publisher indicate the number of discs currently in the input and output trays. To their right are the ink cartridge level indicators.
2. Add a print file by creating a new label or browsing for an existing one. Create a Label brings up the SureThing CD Labeler, allowing you to create custom labels from scratch or very quickly using a variety of supplied backgrounds. Once in the project the label appears as a preview and lets you custom fit it to your particular disc using the Printer Settings options.
3. Start the project by giving it a name, specifying the number of copies you want and clicking "Go".
While you could go out for a nice something to drink you may want to stick around and watch the show. The blue indicator lights inside the cover are cool enough to look at (as well as functional: they pulse when inks are low and blink during errors) but the robotic choreography is fascinating to watch. Our first ten discs (Primera's Tuffcoat with Watershield) went as follows: The master read in 4 minutes 48 seconds. 76 minutes later ten completed DVDs had been accurately burned and beautifully printed – an average of 7.6 minutes per disc. Printing alone, (with the quality set to High,) required just under one minute per disc with about 22 seconds actually receiving ink.
Conclusion
If you need to deliver large quantities of accurately produced, beautifully printed CDs and/or DVDs then take one of the Primera Bravo 4100 series disc publishers out for a spin. You'll find yourself on your feet shouting (dare we say it?) "Bravo! Bravo!"
Tech Specs
Disc Capacity: 100 discs

Number of Drives: Bravo 4100 AutoPrinter – 0; 4101 Disc Publisher – 1; 4102 Disc Publisher – 2

Recordable Formats: DVD+/-R, DVD+/-RW, DVD+/-DL; CD-R, CD-RW, CD-Audio, Video-CD, MP3 to CD-Audio, most other industry standard CD formats

Print Resolution: Up to 4800 dpi

Print Head: Semi-permanent; user replaceable

Ink Cartridges: Separate high-capacity ink cartridges for Cyan, Magenta, Yellow and Black

Ink Level Warning: Calculates actual number of prints remaining based on ink usage of graphics being printed (patent-pending)

Print Speeds Per Disc: 3 seconds (Draft); 6 seconds (Normal); 10 seconds (Better); 22 seconds (Best)

Operating Systems: Windows:XP/Vista/7; Mac: OS X v10.6 or higher

Included Software: PTPublisher; SureThing Labeling Software

Dimensions: 17.8″W x 11″H x 17.5″D

Weight: approx. 26 lbs.
Strengths
Easy setup of unit and projects (via PTPublisher)
Fast and accurate burning (no coasters during testing)
Faster printing
User replaceable print head
Individual ink cartridges for greater economy
Weaknesses
Summary
For rapid-fire, ultra high quality disc burning and labeling, the Primera Bravo 4100 series disc publishers are sure to make you stand up and cheer.
Primera Technology, Inc.

Two Carlson Parkway North

Plymouth, MN 55447-4446

www.primera.com

$3,295
Colin Marks is a video producer and trainer.