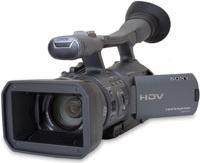 The HDV Line is Growing
It doesn't seem like that long ago that high-definition video was too technologically complicated to even consider. Over the past few years, the camcorder industry has not only made the technology readily available to almost any user group, but also improved the technology and given us a broad enough selection to suit almost any application.
The new HDR-FX7 is a mid-range HDV camcorder with all the manual controls to suit any video producer working in the video production environment but is small enough and easy enough to operate to appeal to hobbyists and enthusiasts alike. Packed with 3 1/4-inch ClearVID CMOS sensors, the FX7 has picture quality that is vibrant and clear with bright vivid colors.
Sleek Design
Pulling the FX7 from the box, I'm reminded of the SD model that it replaced, the DCR-VX2100. The body style is identical and the controls appear to be in the same place. Strapping my hand into the camera, right away it feels comfortable. Weighing in at just over 3lbs., it's heavy enough to justify its price yet light enough to carry for an extended period of time without a shoulder mount.
From the front, we see the 20x optical zoom Carl Zeiss Vario-Sonnar lens. The lens aperture varies from f1.6-f2.8 with a focal distance of 37.4-748mm in 16:9 mode, and 45.7-914mm in 4:3 mode. Covering the lens is a 16:9 aspect ratio matte box with internal shutters that act as the lens cover. This is quite convenient if you're like us and find yourself misplacing your lens cap. Directly above the lens, we see the onboard stereo microphone with a hot-shoe adapter directly on top.
On the right side, we see the tape compartment, which fits nicely in the palm of the hand and acts as the grip. Above that, in the typical location, is the rocker switch that controls the zoom function. Also found on the right side is the power switch, battery eject button and LANC port. Looking behind a plastic door reveals one of two port clusters found on the camera. This port cluster includes Component out, A/V out, and the HDV/DV FireWire port.
The left side reveals many of the manual controls for the FX7, including rubber-gripped zoom and focus rings. We also see the iris control, push auto-focus, ND filter, three programmable assign buttons, and the new expanded focus button which enlarges the image on the screen to help get a more accurate focus. Flipping out the 16:9 LCD, we find an assortment of controls, including the VCR controls. From left to right, the buttons read stop, rewind, play, fast-forward and slow. In the second row are the pause, record and record pause buttons. In the third row are two controls. On the left is a Volume/Memory button, and on the left is the zebra striping toggle switch that toggles from off to 70 IRE to 100 IRE. In the fourth row, we see the Display/Battery Info. The last three buttons act as programmable assign buttons as well as the play, index and delete buttons in memory card mode. Below the LCD is the second port cluster, again hidden behind a sturdy plastic door. From right to left we see the Memory Stick slot, USB port and HDMI out terminal.
Finally, on the back, we see another assortment of manual controls, including the auto lock/hold toggle, gain control, shutter speed control, white balance and menu button. Below is a selection wheel that controls each of the four above buttons. Just to the right is the battery compartment. Above is the extendable color viewfinder that swivels up and down to allow for multiple viewing angles. The color viewfinder is a welcome addition to Sony's prosumer cameras and makes it much easier to see what you're doing when shooting in daylight.
In Action
Our first test took place indoors with only window light illuminating the subject. Once the white balance was in order, we began playing with various controls. First off, we must say that the LCD screen appears very sharp and clear and shows vivid detail we're not used to seeing on an LCD monitor. The zoom and focus rings are smooth and react differently to the speed at which they're turned. For example, the faster we turn the ring, the faster it zooms or focuses and vice versa. The layout of controls is intuitive and easy to access.
Now we've moved our subject to a lower light portion of the environment and quickly increase the exposure and add a little gain. Once the camera reaches maximum exposure, the iris wheel automatically starts adding gain. This could be a drawback if you wish to avoid using gain adjustment. But the picture does stay clear with minimal grain and color loss, even at 9dB.
Finally we move outside, placing our beautiful subject in front of a colorful background, we switched to the sunlight white balance preset and add an ND filter. Maybe this is a personal preference, but we found the sunlight white balance setting to be a little cool for our taste. Moving on, once again the image comes across clear and sharp, and here's where the color viewfinder really comes in handy. No more having to shield the LCD with your hand in order to see the true color of your image. We switched to auto focus and noticed the camera had a little trouble finding the subject with a busy background. Moving the subject away from the background seemed to help.
Conclusion
The FX7 handles quite well, is comfortable to hold and has easy-to-access controls. We're very pleased with the color and sharpness on an HD monitor. It performs well in low light situations, much like its predecessor, the VX2100. A drawback is that the onboard mic records decent stereo sound, but the option of plugging in a higher quality mic via XLR would be nice. The mini stereo mic input requires an adapter or mixer, which could introduce problems and interference.
Anyone working in a professional production environment will find the Sony HDR-FX7 to be an affordable high-quality solution.
SUMMARY
High definition video, lightweight sturdy design, reasonable price tag… sounds like a winner to us.
TECH SPECS
Image Sensor: 3 1/4-inch ClearVid CMOS
Pixels on CCD: 1120k

Video Effective Pixels: 1037k

Format: Mini DV and HDV

Lens: Carl Zeiss 20x Vario-Sonnar T 37.4-748mm, f/1.6-2.8

Viewfinder: color (252K pixels, 16:9)

LCD Viewscreen: 3.5-inch color (211K pixels, 16:9)

Focus: auto, manual

Anamorphic: 16:9 yes

Image Stabilization: optical

Exposure: auto, manual,

Minimum Shutter Speed: auto: 1/60; manual: 1/4

Maximum Shutter Speed: auto: 1/2000; manual: 1/10000

Iris: auto, manual

Electronic Gain: +18dB

Neutral Density: Filter: yes (2)

Zebra Stripes: yes (70%, 100%)

White Balance: auto, manual, presets

Audio: 12-bit (default), 16-bit

Audio Gain: auto, manual

Microphone: Input 1/8-inch stereo mini

Headphone: Output 1/8-inch stereo mini

Inputs: FireWire, USB

Outputs: Composite, Component, HDMI

Edit Interface: FireWire, USB

Dimensions: (w x h x d) 5.8 x 6.2 x 12.8 (inches)

Weight (sans tape and battery): 3 lbs. 6 oz.

External Battery Charger Included: no

Battery Type: infoLithium

On-Camera Light: no

Accessory Shoe: yes
STRENGTHS
Light weight
Good low light performance
20x optical zoom
WEAKNESSES
Auto focus searches a little
Iris control automatically switches to gain
No XLR inputs
Brent Holland is a wedding/event video producer and owner of a local video production company.
$3,499
Sony Electronics Inc.
16530 Via Esprillo, MZ 7104
San Diego, CA 92127
(800) 833-6687
www.sonystyle.com