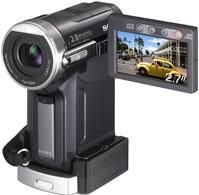 $1,300

Sony Electronics, Inc.

16765 W. Bernardo Dr.

San Diego, CA 92127

www.sonystyle.com
Shoot To Kill
If the illustrious character, James Bond, carries a Handycam around, this is probably his model. No, it doesn't have a rocket propulsion system, but those who like a sleek, sexy camcorder have found their number one gun.
License To Shoot

Ironically, the DCR-PC1000 fits in your hand much like a pistol does with your hand around the grip and your index finger on the zoom rocker. All the controls are easy to reach and there's an exciting feature called the Cam Control Dial. This dial is near the front of the lens barrel on the left side of the camcorder and can control the exposure, focus, white balance and AE controls. The dial is setup to control only one of these camera controls at once, but it's only a couple steps from the menu to switch between them all. The dial, otherwise, is incredibly easy to use and enables the shooter to control the focus and exposure a great deal better than if accessing those controls through a slider in the menu.
The menu system is accessible through the 2.7" color LCD that acts as a touch panel. On the LCD is an additional record start/stop button, zoom controls and a wide select control that swaps the aspect ratio between 16:9 and 4:3. The wider 16:9 mode uses the full width of three 1/6" CMOS sensors, lending a higher quality than camcorders that squeeze the image onto the image sensor.
The body of the camcorder itself has limited options for in and out jacks. In fact, there's only a special AV jack on the body of the DCR-PC100. To get FireWire or USB access from your camera, the Handycam Station must be used. The Handycam Station can be powered by the camera so that it's not necessary to have access to power outlets, but if you want those jacks accessible while shooting you'll have to have the dock.
Included with the camcorder is Picture Package software (Windows and Mac) that creates multimedia presentations and enables you to burn to disc. There's also a wireless remote control and a 16 MB Memory Stick Duo and a Memory Stick Duo adapter. There is not, unfortunately, an external battery charger.
Audio Under Fire

The DCR-PC1000's onboard mic is on the very top of the camcorder between the accessory shoe and the front of the lens. It didn't pick up any zoom motor noise, but it is not unlikely for it to pick up some noise from the Cam Control Dial, if you're using it heavily.
The onboard mic quality is fairly good. It was able to pick up sound from 15 feet reasonably well, and beyond that it drops off quickly. With the accessory shoe you can attach an additional mic, but with no mic input on the camcorder, you'll have to find one that's compatible with Sony's Active Interface–which seems to be only Sony accessories at this time.
Golden Video

The real strength of this camcorder is the video quality. The auto white balance performed well as did the auto exposure. Hands down, this camcorder is one of the best in image quality we've seen at this price range.
With 3 image sensors the Sony DCR-PC1000 does a fine job with color balance. The colors are bright and accurate and will definitely please even the semi-professional shooters. We noticed in our lab tests that the reds and yellows were slightly oversaturared and the blue levels tend to shift towards cyan. Overall, we were extremely pleased with the color balance and marveled at how crisp and sharp they were. We saw very little bleeding between colors.
The details in our test footage were also very pleasing to the eye. The CMOS sensors certainly add a more polished look to the overall contrast of the images. We played back the footage a second time without the color from the image to see just how smooth the gradients were. We are quite pleased with the camcorders image quality.
Summary

The Sony DCR-PC1000 has the ability to turn heads. Where this camcorder lacks in audio options, it makes up for with an incredibly sharp video image. It's definitely one of the smartest looking camcorders, but it's not for everyone with its mildly high price tag.
TECH SPECS

Format: Mini DV

Number of CCDs: 3 CMOS

Size of CCDs: 1/6" CMOS

Pixels on CCD: (k) 790

Video Effective Pixels (k): 670

Focus: auto/manual

Shutter Speed: No Manual Control

Maximum Shutter Speed: 1/4000th sec.

Minimum Shutter Speed:1/60th sec.

Lens f Stop: f1.8~f2.4

Program Exposure Modes: 6

Optical Zoom: 10x

Focal Length: 2.77-27.7mm

Image Stabilization:

Manual White Balance: yes

Viewfinder: Color 123k

LCD Monitor: 2.7" Color 123k 16:9 Format

Progressive Scan: Simulated Mode

HD Modes: no

Video In: AV Jack (additional jacks on docking station)

Video Out: AV Jack (additional jacks on docking station)

Mono/Stereo Recording: stereo

Microphone In: no

VU Meters: no

Manual Audio Level Controls:no

Headphone Jack: no

Speaker: yes

Still Shot Media: Memory Stick Duo

Memory Card Included: Yes, 16MB

Flash: yes

Wireless Remote: yes

External Battery Charger Provided: no

Battery Type: InfoLithium (A series)

Tape Loading Configuration: side

Onboard Video Light: no

Accessory Shoe: yes
STRENGTHS
Sharp Image
Sharp Design
Camera Control Dial
WEAKNESSES
FireWire on Dock Only
Mic Input

ul>

SUMMARY

I'll have a camcorder with impressive video quality and a stylish body. Shaken, not stirred.

Mark Montgomery is Videomaker's technical editor.