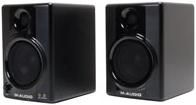 The Sound of Music- And Speech
Enjoying a good set of speakers on your desktop is a joy many have yearned for. I'm not talking about the "high quality" multimedia speakers that came bundled with your computer. I'm talking about real speakers. I'm talking about speakers that don't just let you hear the sound; they let you taste it.
The AV 40 speakers fall into that category. After pulling up some CD quality music, it was satisfying to have the speakers envelope me with the tones, instead of blast them at me. Do you get the impression that I liked these speakers?
The author of product reviews will generally hope for a few substantial faults, just to prove a certain level of objectivity. I have done this and happily announce that I didn't come up with much.
Inside the Black Box
The 1-inch tweeters have silk domes, as opposed to titanium or aluminum. Personal preference dictates whether this is a big advantage. Metal domes tend to have a brighter sound with the danger of sounding harsh. With silk domes the highs ring just as high, but a bit smoother.
The four-inch woofers pound out enough power to feel the percussion without danger of cracking the plaster. Using the bass-boost feature might rattle the pencils in the cup on your desk.
This is an active (amplified) speaker system. Both channels go into the left speaker via RCA or 1/4 inch plugs. The speaker then takes the right channel signal to the other speaker, connecting with spring clips on both ends.
It was thoughtful of M-Audio to include two 1/8 inch jacks on the front of the left speaker: an auxiliary input and headphone output respectively. The convenience of that small nicety can hardly be overstated.
An illuminated blue circle surrounds the volume control knob. This is the only color that interrupts the classic black appearance of the speakers. And it brightens as you turn the volume up. Nifty.
The cabinets themselves are made of thick MDF (Medium density fiberboard). Their weight is a bit surprising for their size, but that's the price you pay for good sound. Instead of rubber feet, you are supplied with two thin pads of dense peel-and-stick foam.
Take Me There
When first listening to the AV 40, it struck me that I wasn't really aware of any particular quality in the sound. That's a good thing. If you immediately think, "Wow, what a great bass" or "what crispness in the high tones," then the speakers have a bit too much emphasis in one area or the other.
I want to be unaware of the speakers. While doing my tests, which ranged from vocal narration to classical guitar, from rock and roll to simple sine wave tones, I was repeatedly struck with the clear imaging I experienced. I found my eyes returning to the invisible sound source hovering in the air, not to the right or left, but right in front of me. I like it when that happens.
The classical guitarist seemed to be sitting in front of me, and I could see the pick falling off the strings. The sine wave tones rang with clarity. I preferred to leave the bass-boost off, but it did help recreate the way I'm used to hearing some of the rock songs. I even played some of my son's mild hip-hop, and it handled the thumping without distortion at the highest volume setting.
M-Audio refers to these monitors as "portable." At 14 pounds, they are a bit bulky to be moving around to an on-site video shoot. And while they pump out all you'd need for a desktop environment, you won't be using them for large parties.
We always want lower prices, and at $200 MSRP the AV 40 won't seem "cheap" to a lot of users. M-Audio's somewhat smaller distribution channel also means that 50% street pricing may be impossible to find. However, a quick bit of web surfing will reveal good discounts. With that said, audio monitors are critical for discerning the audio qualities of your production, so make sure you find the right value.
TECH SPECS
Low Frequency Driver: 4″ diameter curved cone

High Frequency Driver: 1″ diameter silk dome tweeter

Frequency Response: 85 Hz – 20 kHz

Crossover Frequency: 2.7 kHz

S/N Ration: >90dB

Input: left & right RCA Line input, left & right 1/4″
TRS input and 1/8″ aux

Dynamic Power: 20 watts continuous, per channel into 4 ohms

Input: Impedance 10k ohm unbalanced, 20k ohm balanced

Power: Requirements 100-120V, 50/60Hz or 220-240V, 50/60Hz

Cabinet: Vinyl-laminated MDF

Dimensions: 8.75″ (H) x 6″ (W) x 7.25″ (D) each

Weight: 14 lbs.
Strengths
Very clear, even sound reproduction
Input and Output in front
Cool blue halo around volume knob
Weaknesses
A bit heavy to be easily portable
Not the cheapest price in town
SUMMARY
These are really nice speakers for desktop studio use. A buyer wouldn't regret the investment.
Greg Robinson is the owner of an independent production company.
M-Audio USA

5795 Martin Rd.

Irwindale, CA 91706

www.m-audio.com


$200