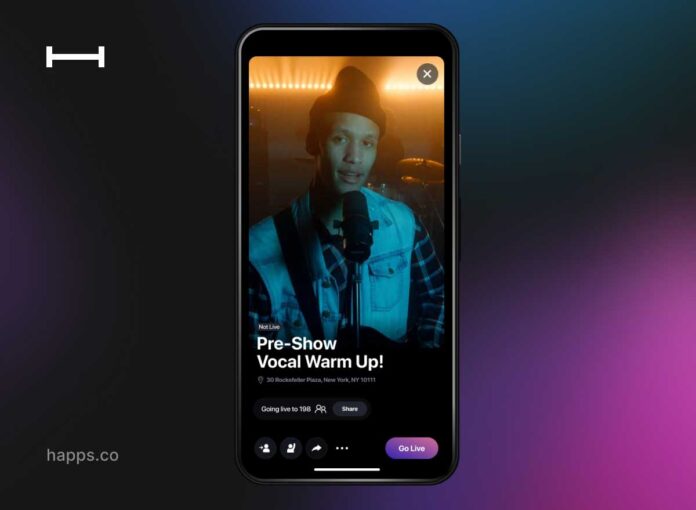 Operating as an all-in-one user generated content platform, Happs allows creators to broadcast live to their community along with simultaneous streaming to Facebook, YouTube, Twitter, Twitch, and more. Happs provides built-in studio tools and the ability to monetize viewer engagement through financial awards and monthly sponsorships. Founded three years ago as a media-focused company catering to independent journalists, Happs has since grown to serve any and all creators, from musicians live streaming their concerts to entrepreneurs broadcasting their own talk shows. Happs makes it easy for creators to scale their audiences without investing too much time or resources in any one platform, as its multi-streaming and chat services allow them to engage with viewers wherever they are.
Using Happs, creators can team up with other creators or invite guests and broadcast to multiple audiences simultaneously. Happs handles all of the backend infrastructure for creators, bringing together multiple video feeds, compositing them together, and broadcasting out a single feed to social platforms of choice. Through Happs' Broadcast Studio tools, creators can quickly and easily control the layout, graphics, and other design elements of their broadcasts. Happs also has a comment engine that aggregates all audience comments from YouTube, Twitch, and the like, providing a unified chat for both the broadcaster(s) and the viewers tuning in on the Happs website or native Android or iOS apps.
Happs was first introduced to Amazon Web Services (AWS) through its use of Amazon Elastic Compute Cloud (Amazon EC2), and the company recently adopted Amazon Interactive Video Service (Amazon IVS) for end-to-end live stream video transcoding and distribution, which delivered immediate improvements in latency along with cost savings. Adam Cobb, Happs' Full Stack Engineering Lead, explained, "What we love about IVS is that it reduced our latency significantly. Our previous service could get us a broadcaster-to-audience latency of 25-30 seconds. If the audience is trying to have a conversation with the creator in real time, that doesn't cut it. We used to receive a lot of complaints from viewers about the lag in response time to their questions and comments, but that doesn't happen anymore. IVS can get us 2-5 seconds for most devices, anywhere in the world. When we switched over it was incredible, and our audiences really saw that huge difference immediately."
Happs CTO and VP of Engineering Peter Sankauskas added, "What IVS does is it brings the creator and their fans closer together – it closes that feedback loop. Imagine being a comedian telling a joke and having to wait 30 seconds to see if it was funny, or playing a song at a concert and the crowd doesn't applaud until 45 seconds later. That doesn't work. Additionally, IVS provides that improved playback experience for viewers all over the world – so a viewer in Australia sees the same quality and latency as a viewer right here in the U.S. where the content was generated."
Happs is also using IVS to record video, as well as Amazon Simple Storage Service (Amazon S3) for cloud storage, enabling creators to make their broadcasts available on-demand almost instantly after a stream ends. Additionally, Happs is in the process of migrating its application management over to Amazon Elastic Container Service (ECS).
"Since getting IVS in place, our AWS usage has only increased," shared Sankauskas. "The amount of support we've gotten from AWS is not something that we've seen with any other vendor, not even close. That's really important to us and has allowed us to move pretty quickly as the pandemic has driven unprecedented adoption of live video. As creators such as musicians, journalists, and others had to figure out how to pivot and keep doing what they do in a way that was COVID-safe, we were fortunately situated in a place where we could provide them with that alternative."
To learn more about livestreaming with Amazon IVS, visit: https://aws.amazon.com/ivs/