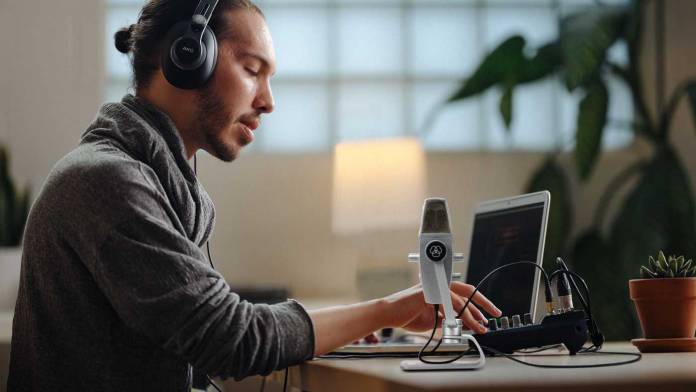 In recent years, podcast listenership has grown tremendously. More and more people are tuning in to hear their favorite podcasters talk about topics that interest them. Additionally, podcasts are allowing creators and business owners to grow their audience and market their content. This article will give you five easy steps to starting your podcast; from what kind of content you make, to the technical needs like a microphone and monitoring, to how to evaluate the success of your podcast.
Step 1: What will your content be about?
There are tons of podcasts out there. Since the demand for podcasts has grown, more and more podcasts have popped up, as creators want to capitalize on the growing listenership. The competition for listenership has become fierce in the podcast industry. When starting your podcast, you need to determine what will make your podcast different from the rest. The best way to stand out is to focus on topics with less competition. Your podcast will exist in a place that doesn't have much competition, and it will be easier to dominate. However, make sure the topic has an audience. Regardless of the quality of your podcast, if no one is looking for that kind of content, it will go unheard.
Step 2: Microphone
When it comes down to it, the microphone you choose to use for your podcast is essential. The better your voice sounds, the easier it is for your audience to listen. Additionally, it will be much more enjoyable and the focus will be on the content rather than trying to make out what you're saying. However, you also don't want to get too complicated with your setup. Keeping it simple is critical. Simplicity gives you much more flexibility and the ability to set up your podcast fast and in many different places. Just like radio, it's essential to use a microphone that works best for the human voice, be it male or female. Another thing to consider is the maximum amount of people or voices that can be on that microphone. That would be determined by the directionality of the mic (the directions the microphone picks up sound in). Consider if the mic can capture from two directions, allowing two people to use the same microphone.
Step 3: Monitoring
To ensure that your microphone is picking up the best, you need to have some way to monitor the podcast's audio. Being able to hear yourself as you record allows for the best quality capture without poor plosive performance. Misdirected speaking and any other errors that might happen that meters won't show you. Wind noise is an excellent example of this. So get a good pair of headphones that will allow you to monitor the podcast's audio quality throughout the entire recording.
Step 4: Publishing
The next step to starting your podcast is determining how and where you're going to publish. Ask yourself: where do you want your podcast to be available. Spotify and iTunes are the most popular places people go to find a podcast to listen to, so consider them. Depending on where you want your podcast to be available, consider creating an RSS feed for your podcast. Essentially, an RSS feed eliminates the need to manually upload updated content to each platform you want your podcast to appear. It's a standard for podcasting.
Step 5: Evaluate your analytics
The most significant benefit of keeping a close eye on your podcast analytics is it allows you to identify strengths and weaknesses accurately. Your analytics make the process of improving your podcast much more effective than guessing what your audience is responding to. The areas you should always watch are your podcast's subscriber growth, the average duration of listening, subscriber conversion, and the number of listeners. These areas will give you a solid understanding of what set up and topics are attracting subscribers and long listening times.
The AKG Podcaster Essentials Bundle
No podcast is complete without a quality microphone and a pair of headphones. The AKG Podcaster Essentials Bundle includes a pair of the AKG K371 headphones and the AKG Lyra, a USB microphone that is easy to set up and use for many podcast applications. Its multiple capsules allow for lots of options for directionality, giving the ability to work as a mic for a single speaker or between two making a two-person or interview podcast a sinch. Plus, the Lyra offers a headphone jack with a volume control too. The bundle also comes with Ableton Live 10 Lite recording software and a free course from the Berklee Online Recording School. More on the Berklee Online Recording School course: it's a four-part course that will introduce you to important audio production topics varying from microphones to multitracking. This bundle gives you the tools needed to capture the best sound possible. Learn more at: www.akg.com.