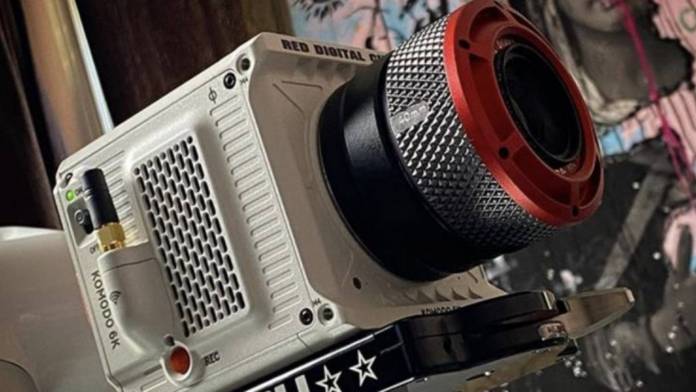 While the RED Komodo camera did experience some setbacks due to the COVID-19 pandemic, RED president Jarred Land says the camera is back in production. While we don't know much about the camera's specs, we do now know more about its pricing.
So far what we know is there are two versions of the Komodo camera. The first is the base Komodo which will set you back $6,000; this model comes in regular black. As for the second model—the white-colored version dubbed "Stormtrooper"— it will cost you $7,000 to purchase. We're not sure if the Stormtrooper edition will offer anything beneficial in terms of its specs. It's being positioned as a limited edition custom-colored Komodo, so it might be just an extra $1K for the color swap. Note, it's typical of RED to sell white "Stormtrooper" versions of new cameras.
Jarred says, when speaking about the Stromtrooper version's price: "Everything got way more expensive cause of this whole virus thing but I'm gonna hold these custom colors to the stormtrooper price for as long as I can."
RED Komodo is out of development
The COVID-19 pandemic did interrupt the production of the RED Komodo, but Jared posted on Instagram the camera is back on track. However, due to new safety protocols, it's going to take more time than expected to get the camera out. Jarred did write that in two weeks RED will start selling the first group of cameras in "super limited low quantities." Judging by the data of the post, it's likely the cameras will start shipping on June 1st, 2020.
Later in the post, Jarred says the Komodo's hardware is finalized, but its firmware might still have some bugs. Those will need to be fixed in later updates.
Alleged specs
Jarred has spoken about the specs of the RED Komodo over the past few months. However, we don't have an official list so we can't officially confirm the specs he's revealed. Still, here are a few of the key specs Jarred has revealed:
Super 35 6K sensor with global shutter, rolling shutter modes and Phase Detect Autofocus
Max Resolution: 6144×3240 (full sensor with DCI aspect ratio)
Max Framerate: 6K FF at 40 fps, 6K WS at 50 fps, 4k at 60 fps
Lens Mount: Integrated Canon RF Mount, however native support for RF lenses could come to the Komodo after launch
Anamorphic Support: Yes after two months from launch
Codec Support: Internal Compressed RAW (REDCODE RAW, R3D)
Form Factor: 4x4x4″ with magnesium/aluminum alloy body
Body Weight: less than 2lbs
Pricing and availability
So, currently, the RED Komodo is up for pre-order. The only way currently to pre-order a Komodo is to contact Jarred Land directly at jarred@red.com. As stated above, the base price for the RED Komodo is $6,000. The Stormtrooper white version costs $7,000.