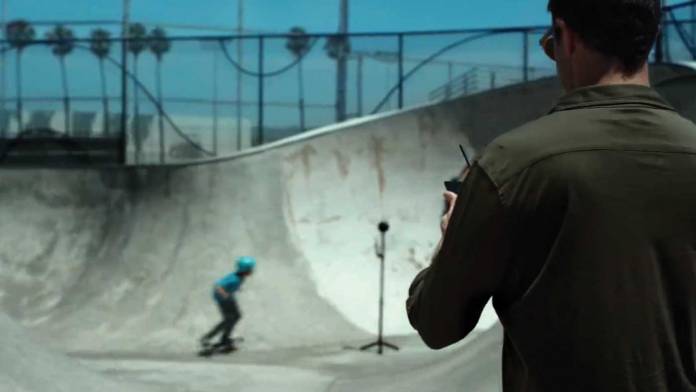 Andrew Shulkind has spent a couple of decades behind the camera in Hollywood. Recently, he changed his title from Cinematographer to Director of Future Imaging. Clients with well-known brand names like Apple, Microsoft, Chevrolet and Home Depot are coming to him for next-level content. Thus, he serves as consultant and producer on cutting edge projects. "Each project has sort of its own R & D dimension," Shulkind explains.
Shulkind started with a DIY 360 rig
In short, Shulkind's career path began to shift about 5 years ago when he was working on a production for Nike. The producers decided that they wanted to create a 360 video from the project. He knew from past experiences with small action cameras that he needed something unique with better imaging quality.
"I brought together a couple of partners, went to a camera rental house that I had a good relationship with, and we started kind of plotting out what building a rig from scratch would look like." The end result was a hybrid unit that would cost nearly $750,000 but had unmatched image quality for 360 video.
In any event, that production led to other clients. Shulkind estimates that he's been involved in more than 50 spherical video productions since then, including the NBA Finals and All-Star game.
There are still misconceptions about 360 video
He says that the hardest part of making the jump from traditional cinematography actually has nothing to do with the hardware. In fact, the difficulty comes in what he says is "being able to communicate with kind of the normal executive flow." In other words, getting people at higher levels of a company to understand what they are actually doing.
He gives us an example from the set of a car commercial from a few years back. "We were in Moab with a whole crew. We've got a rigging team, rigging up the car up with cameras. The car hadn't been launched, so it's under a cover. There are 75 people standing around in the middle of Utah."
Shulkind says that someone from the advertising agency got a phone call from the company CMO: "It's at the 11th hour as we're losing the light and he's trying to figure out what exactly what we are doing out there."
In short, the CMO began asking for shots, but wanted to make sure the driver could not seen, a near impossibility in 360 video. Fortunately, 360 video is becoming more and more familiar to company executives.
Moving up the ladder
Shulkind also is encouraged to see camera companies creating better and better image capture units. In fact, he has even been able to get his hands on one of the newest cameras, the Manifold. A collaboration between Red and Facebook, the Manifold uses 16 Red Helium bodies. These are equipped with custom 220-degree Schneider super wide angle lenses. Combined with brand new imaging algorithms, this is the next rung in the 360 ladder.
"The first level is where you're in a very fixed position" Shulkind explains. "The next is where you're in a fixed position and you have stereoscopic depth where you can sort of perceive the depth and feel like you're really in a space."
Shulkind continues to describe the scale of interactivity in 360 video as he perceives it: "The next level is where you can kind of lean around things. Look around corners and look behind people." He tells us this is available in the new Manifold camera. Using a complex imaging system that takes full advantage of the overlapping video.
This Hollywood professional also sees some advances on the lower priced models like the Insta360 Pro 2. "Insta has done a great job at creating a reasonably priced product it that I would have no problem using on a professional commercial or a narrative piece." He says their live monitoring system, FarSight, solves one big problem — no way to view what's actually being recorded.
What's next?
So where does he see the future of 360 video? Shulkind tells us, "The imaging products of the future will not just be for capturing VR but capturing a waterfall of deliverables all at the same level of fidelity." One camera can be used to record in 360 but will have high enough quality to extract 220, 180 or a standard 16 x 9 images. He actually accomplished this recently on a Verizon production. "The whole thing was shot on a single Red with a 220-degree lens." The editor was able to extract the rectangle for standard television shot and render video that could be viewed with VR goggles.
You can catch up with Andrew Shulkind and see some of his recent work on his website.