As much as video gear and video technology have advanced, they have also become mainstream. Chances are high you're acquainted with at least one video enthusiast. If that's true, there's also a good chance you'd like to give a great gift to the video creators in your life.
We're here to help with a handy buyer's guide for video gear gifts. It's more than just a list full of technical details. We'll cover the different types of videographers. Then, we'll give you insight into choosing the best gear for them. Finally, we've compiled a list of products to inspire you. Use it this holiday season to give gifts that encourage them to make even better videos in the year ahead.
Video geeks and video pros
First, it's helpful to know what type of video creator you're buying for. Professional videographers are the ones running a business. It may be a side gig or a full-time operation. They have clients, marketing strategies and business plans. Whether they're filmmakers creating storylines or for-hire videographers filming weddings or small projects, these pros know their stuff. Someone who is a professional filmmaker or videographer will appreciate quality gear. However, this doesn't always have to mean expensive gifts. Do a little extra research when shopping for a professional. Read the product reviews from previous buyers and be aware of red flags like low ratings or not many reviews.
Do you know some aspiring filmmaker types? Amateurs are those trying to break into the market. Frequently, they are running the livestreams for their church or creating short, creative entries for annual film festivals. They may or may not know what gear is best for their needs yet. Nevertheless, they will still benefit greatly from owning quality gear and accessories. Since they're probably working on tight budgets, aspiring professional videographers will happily receive useful gifts related to their craft.
When choosing gifts for casual video enthusiasts, you might want to focus on more novelty gifts. Casual videographers enjoy shooting videos without the intention of building a career. They can be parents capturing precious moments with their adorable children. They can also be students who loved their audio/video classes in high school and maintain video-related hobbies. Hobbyists might enjoy the latest gadgets or interesting gifts in the niches they love.
Gear to get and gear to skip
It sounds like fun to be the one who gives a truly amazing expensive gift. However, we caution against this sometimes. For example, a videographer and their camera should be a perfect match. It's a personal choice. They should test how it fits in their hands. More importantly, they should be certain the camera's features will help them reach their goals. Unless someone gives you a link to the exact camera or lens they want, we recommend taking a different angle. There are lots of fun accessories and techy gear on the market. As with cell phone accessories, some microphones and lighting equipment are only compatible with gear from the same maker, while others are closer to universal. Other things, such as studio equipment, can serve a wide variety of purposes. These are the kind of gifts that will be used over and over.
We suggest that you start with these ideas presented in several budgets. Then, expand your search to find the perfect gifts for your favorite video enthusiasts. The prices shown here are approximate. So, you may find the same items at various prices from different sellers. For this gift guide, we included links wherever possible.
Shooting
---
Canon EOS C70 Cinema Camera
If you're looking to gift exceptional image quality and professional video features, look no further than the Canon EOS C70 Cinema Camera. Perfect for professional documentarians, newsgatherers and those shooting corporate videos, the Canon EOS C70 can shoot up to 4K 120p video with Dual Pixel Autofocus and 16 stops of dynamic range. That's all thanks to its Super 35mm Dual Gain Output (DGO) sensor.
Plus, the Canon EOS C70 supports both Canon Log 2 and Canon Log 3 Gamma, gifting a lot of flexibility in post-production. Additionally, the camera works with RF lenses and is compatible with the Mount Adapter EF-EOS R 0.71x. If top-of-the-line quality's what you're searching for, the Canon EOS C70 Cinema Camera is your camera.

Learn more.
---
Mics and audio gear
---
Tascam DR-40X Four-Track Digital Audio Recorder and USB Audio Interface – A digital audio recorder helps videographers of all levels capture audio that they can easily edit in post-production. This one has built-in adjustable microphones for clear, crisp results. $199
---
AKG Ara
The AKG Ara is a pro-grade dual-mode USB microphone made for podcasters, bloggers, gamers and musicians looking to capture high-quality, high-resolution audio from their desks. This professional mic captures up to 24-bit, 96kHz resolution, delivering clear, concise audio. Since the AKG Ara uses dual pickup patterns, you can choose to record either one person's voice or an entire group of voices. Plus, the AKG Ara works in a variety of setups. With its integrated base stand, the AKG Ara sits great on desks. At the same time, you can use it on a desktop boom arm as well. Additionally, the mic's USB connectivity supports on the go, plug-and-play use.

Learn more.
---
Audio-Technica AT2020 Cardioid Condenser Microphone – If you're looking for a mic, this is a solid choice. Be sure to choose one with a great reputation that is compatible with various stands and accessories. Versatility matters. $99
---
Sennheiser XSW-D Portable Lav Mobile Kit
Sennheiser's XSW-D Portable Lav Mobile Kit has what vloggers and content creators need to make a quality video away from home. This kit includes Sennheiser's XSW-D Portable Lavalier Set, Smartphone Clamp and a Manfrotto PIXI Mini Tripod. The XSW-D Portable Lavalier Set is a complete 2.4 GHz wireless lavalier system that utilizes a digital transmission to link audio sources. With this system, you can capture audio reliably. Additionally, the Sennheiser Smartphone Clamp features a 180-degree locking dial and grips nearly all smartphones. If you need a great mobile kit for shooting video, the XSW-D Portable Lav Mobile Kit is a great option.
---
On-Stage Condenser Microphone w/ Mic Stand/Broadcast Arm/Pop Filter – For one price, this bundle includes a microphone, mic stand, mic bag, shock mount, windscreen, carrying case and more. $109
---
Sennheiser HD 25 Headphones
Sennheiser's HD 25 are the perfect headphones for professional mobile monitoring. Thanks to their low weight and optional one-ear listening, they're comfortable to wear however you like. They also feature a closed-back design, delivering high attenuation of background noise. The Sennheiser HD 25 can handle very high sound pressure levels and can perform well in loud environments.
The Sennheiser HD 25 is perfect for cameramen and DJs needing monitoring headphones. Professionals worldwide use the Sennheiser HD 25 because they perform exceptionally well in loud environments. So, if you need affordable, professional-level headphones, the Sennheiser HD 25 is a solid choice.

Learn more.
---
Audio-Technica AT2005USB Microphone Pack with ATH-M20x, Boom & Mini-USB Cable – Another package deal, this one includes an adjustable boom arm that easily clamps to the edge of a table. The bundle pack also comes with headphones, cables and adapters. $129
---
Sennheiser MKE 400 Mobile Kit
Vloggers and content creators who are constantly on the move need video gear that can keep up with their workflows. The MKE 400 Mobile Kit includes Sennheiser's compact MKE 400 compact shotgun microphone, Smartphone Clamp and the Manfrotto PIXI Mini Tripod. The MKE 400 comes with a built-in windscreen and shock mount — reducing the handling noise. Additionally, the kit's Smartphone Clamp allows you to shoot with portrait and landscape orientations. The Manfrotto PIXI's locking ball head also allows you to adjust it with just a push of a button. This kit has everything needed to keep up with even the most fast-paced workflows.

---
Shure CVL Centraverse Cardioid Lavalier Microphone – Lavalier mics are tiny microphones. They can discreetly attach to a speaker's shirt. Give this gift to your documentary makers and anyone who might film interviews or conversations. $40
---
Saramonic Vmic5 Pro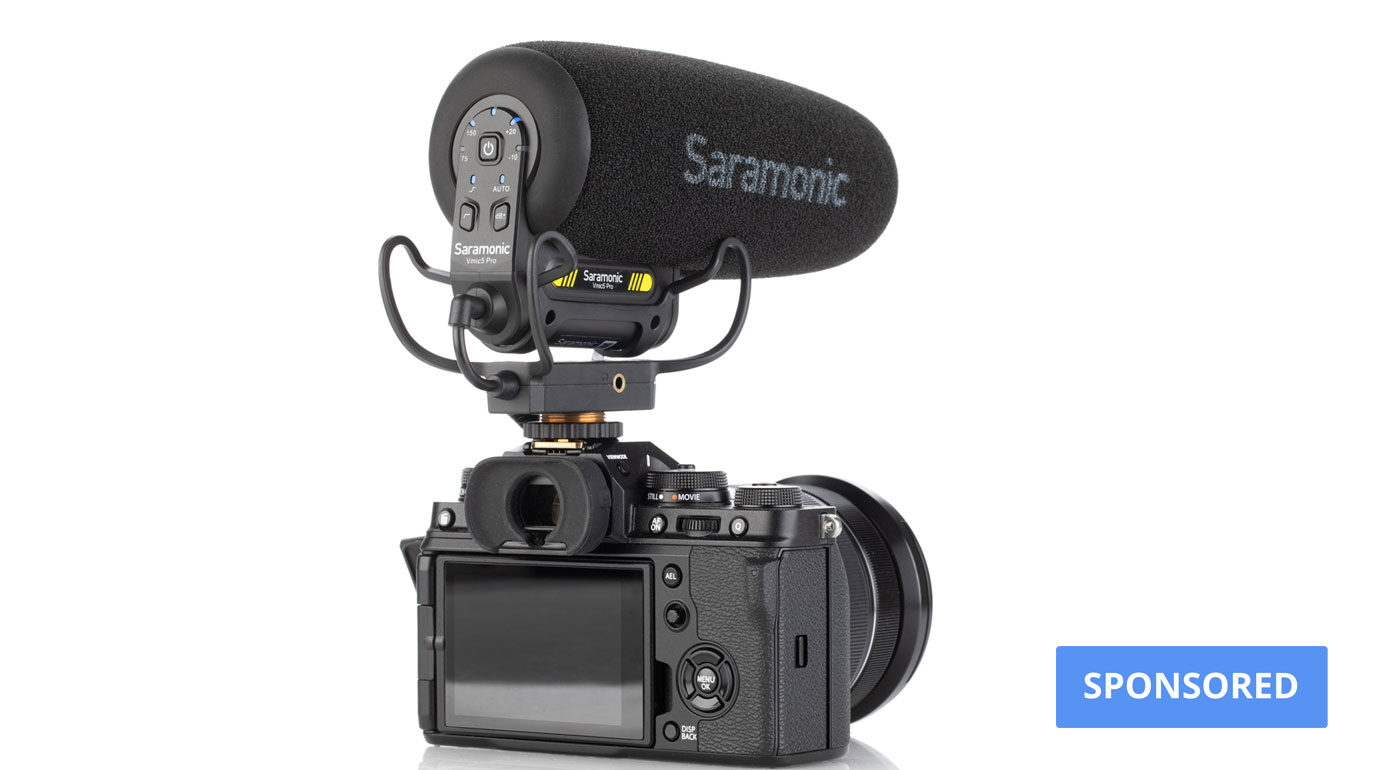 ---
Saramonic's Vmic5 Pro is an advanced supercardioid on-camera condenser shotgun microphone for broadcast-level sound quality. From content creators to vloggers to journalists, the Saramonic Vmic5 Pro aids every type of video creator. It features a 3-stage gain control with a +20dB boost option for clean gain on cameras with noisy preamps. Additionally, the mic offers 0dB and -10dB level settings and a +5db high-frequency boost options for quality audio capture.
The Saramonic Vmic5 Pro comes with a foam windscreen, a furry windshield, an automatic power on/off function, a side-mounted 3.5mm microphone output and a 3.5mm headphone output. Its integrated shock mount isolates the mic from vibration noise when in motion as well. Also, the microphone's internal 2000mAh lithium-ion battery keeps it running for up to 120 hours. So no matter where you are, the Vmic5 Pro is ready to capture the best possible sound.

Learn more about the Vmic5 Pro's features and specs and its lifestyle heavy, commercial style.
---
Sony ECM-VG1 Short Shotgun Microphone – Shotgun mics get attached to cameras or boom poles. This one is small and ultra-lightweight. The box includes accessories like a table stand and a fuzzy windshield. It's an excellent choice for professional and aspiring filmmakers. $199
---
TASCAM's Portacapture X8
TASCAM's Portacapture X8 rings in a new generation of high-res, multi-track handheld recorders. Not only is it super user-friendly — thanks to its app-like operation — but it also uses cutting-edge functionality for creating quality content. With the new Launcher system and its 3.5-inch color touch panel, you can enjoy smooth navigation when adjusting the audio settings. You can also save time with the system's preset settings.
The TASCAM Portacapture X8 features two 14.6mm condenser microphones. These microphones support 32-bit float point recording. You can detach the microphones and either set them up in an A/B or X/Y orientation. Additionally, you can record up to eight tracks at the same time. There's even a headphone jack, in and line-out connections and a built-in USB-C port. Capturing high-quality audio has never been this easy.

Learn more.
---
Lighting
---
Interfit Photographic Three-Head Fluorescent Lighting Kit w/Boom Arm – The bundle kit includes three light heads and three different stands to attach them to. Each light has adjustable settings and works independently for excellent versatility. $249
Ulanzi VIJIM Lighting Kit with VL-120 Video Light & MT-08 Tripod, White – A powerful light is a perfect gift for casual video folks. The set comes with a small tripod stand, a diffuser and colored filters to experiment with lighting setups. $49
Lee Filters Lee CEP Filters Color Effect, 12 x 12in Lighting Filters – Paper filters help change the shades and tones of lights, helping get the right effect for subjects or backgrounds. When directly attached to light fixtures, the light shines through the filter to cast a hue. While many modern lights are adjustable to warm or cool tones, paper filters are still a great tool to have. $38
Neewer Light Wand Studio LED Lighting Kit – These two long wand lights work well in home studios or professional settings. The wands emit powerful and adjustable light. However, the bulbs are LED, so the wands won't get hot. Each comes with a lightweight, adjustable floor stand. $99
---
Studio gear and accessories
---
Irix Cine family
The holiday season is all about family. Winner of the Videomaker Editor's Choice Award for best budget cine lenses, the Irix Cine family brings joy to all. The line features five professional cine lenses — the Cine 150mm T3.0 1:1 Macro, 11mm T4.3, 45mm T1.5, 30mm T1.5 and 15mm T2.6. Irix's Cine family supports many mount types, including Canon EF, Arri PL, MFT, Sony E, L, Z and Canon RF mount. The entire Cine line—winner of the 2020 Red Dot Award for best design—has something to offer every pro videographer and photographer. The Cine 150mm T3.0 1:1 Macro is the first-ever Irix Cine lens and is perfect for extreme up-close macro shots. The Cine 11mm T4.3 is rectilinear and ready when you need to shoot wide. The 30mm T1.5 is excellent for interviews and medium wide shots. The 45mm T1.5 shoots smooth bokeh and the 15mm T2.6 fits right into any filmmaker's gear tool kit. All five lenses are weatherproof and ready to shoot 8K UHD video. The Irix Cine family is here for the holiday season, ready to bring joy to filmmakers and photographers.

Learn more.
---
Raya Portable Studio Kit – The price for this set couldn't be better. Primarily, it's a tall backdrop frame for hanging fabric backdrops. It also comes with two lights, light stands, light umbrellas and all of the necessary cables and cords. This set will make even a small studio feel professional. $99
---
Manfrotto MOVE
MOVE is the first quick-release system to help increase your pace on set and make switching setups effortless. It reduces downtime when switching between tripods, motion control gear and stabilizers — even in fast-paced, creative environments. The Move Quick Release System is perfect for today's creatives who shoot both video and still photos, preventing any friction when moving from shot to shot.
It's not just a simple, universal connect; it's an innovative product for anyone looking to improve their creative range and on-set shooting efficiency. Move your camera seamlessly and transition between different supports without hesitation or lag.
---
Delkin Devices Fat Gecko Dual-Suction Camera Mount – To the untrained eye, this may seem like an odd gift. Trust us, though. This is an absolutely cool piece of video gear for creative filmmakers. With powerful suction cups, a camera can be attached to cars and boats to capture impossible shots. $57
---
Kingston Workflowstation Doc
Capture. Connect. Create. Kingston's Workflowstation and Readers expedite post-production by offering a flexible system to transfer video, photos and audio from up to eight sources.
The Kingston Workflowstation Dock is customizable. So you can use its included USB miniHub or grab some SD and microSD readers to suit your needs.
No matter if you're working on a 4K/8K multi-cam shoot with multiple audio recorders or using a drone/GoPro combo for B-roll, you can connect up to four readers to the dock and simultaneously transfer files with USB 3.2 speeds. On the go? You can simply drop the hub or readers needed into your bag and connect using the included USB-C cable.

Learn more.
---
ProAm USA Articulating and Telescoping Boompole (8′) – If you haven't already picked out a kit with boom poles, get this kit to add to your receiver's collection. It's eight feet long and can attach just about any gear. Boom poles are perfect for capturing video or audio in hard-to-reach places. $29
---
Kingston's XS2000 Portable SSD
Utilizing USB 3.2 Gen 2×2 speeds, Kingston's XS2000 Portable SSD delivers next-gen performance in a compact, external drive. Type-C host devices with USB 3.2 Gen 2×2 support achieve lightning-fast transfer speeds up to 2,000MB/s for enhanced productivity with little interruption.
With storage options up to 2 TB, you can offload and edit high-res images, 8K videos and large documents in a flash. Whether you're creating for work or play, Kingston's XS2000 Portable SS includes a removable ruggedized sleeve and IP55-rating to withstand water and dust. It's the perfect companion for the office or out on-location.

Learn more.
---
Dinkum Systems ActionPod – Filmmakers and hobbyists will get endless use out of this flexible camera mount. It can be bent and twisted to capture any angle. $31
---
SanDisk Professional
The G-DRIVE from SanDisk Professional is an enterprise-class hard drive that delivers reliable and high-capacity storage in a stylish all-aluminum design. Built with a 7200RPM Ultrastar hard drive that provides up to 260MB/s read and 260MB/s write speeds, and available in up to 18TB capacity, it's a great option for those who need to back up or access their videos fast.
The G-DRIVE from SanDisk Professional works great with Macs as well. It supports up to 45 watts of USB Power Delivery through the USB-C port. This means you can charge any compatible MacBook or MacBook Pro without a separate charger. With the G-DRIVE from SanDisk Professional, you get a reliable, powerful and stylish data storage companion for all your demanding workloads and mission-critical content.

Pricing: $184.99 – $549.99 (4TB, 6TB, 12TB, 18TB)

Learn more.
---
H&A Studio Monitor Stands (Pair) – Monitor stands are a helpful addition to any studio. They attach perfectly with monitors for easy viewing at a comfortable height. These are sturdy and even have accessories to accommodate different floor types. $33
---
Padcaster Parrot Teleprompter Kit
Always be ready for your close-up! The Padcaster Parrot Teleprompter Kit is the most affordable and portable teleprompter on the market – no more memorizing lines or looking down at your script. Set up takes less than a minute – just attach the teleprompter to your camera and insert your smartphone while it runs Padcaster's free Parrot app. Almost instantly, you're delivering your script while looking directly into your camera's lens.
The Parrot Teleprompter uses a 30R/70T beam splitter glass — the same found in high-end teleprompters. Additionally, the kit comes with thirteen mounting rings, a Bluetooth remote and a glass cleaning kit. Currently on sale for just $79 (20% off the standard sticker price), there's no better time to get the Padcaster Parrot Teleprompter Kit than now.

Learn more.
---
Transcend 256GB 800x CompactFlash Memory Card UDMA – Anyone with a camera will tell you: Videographers always need more media storage. These memory cards come in a range of speeds, capacities and prices. The bigger, the better. $135
---
Skydio 2
Skydio 2 is the drone that will get you into drones. Skydio 2 delivers advanced flight autonomy based on deep learning algorithms that constantly detect and avoid obstacles, allowing you to perform flight maneuvers that not even expert pilots would dare on any other drone. You focus on what you're doing – riding a mountain bike, shredding snow, or lining up the perfect sunset shot – while your drone does the flying. It's the perfect first drone, and the last one you will ever want to fly. The intelligent drone to help you discover new and exciting ways to fly.
Starting at $949, order yours today at skydio.com.
---
LensCoat CF6 Memory Card Wallet, Navy – Every filmmaker's worst nightmare is shooting some amazing scenes and then losing the memory card. Save the day with a wallet designed to keep their cards safe and organized. $16
---
JOBY GorillaPod 3K PRO Camera Audio Kit
This award-winning camera audio kit is perfect for all serious mirrorless/CSC vloggers. It comes with JOBY's best-in-class, futureproof JOBY Wavo microphone — a professional vlogger's dream audio recording partner. The JOBY Wavo microphone comes built with a Super-Cardioid polar pattern, allowing it to focus on the vlogger's voice and isolate it from noisy backgrounds. Plus, its ¼-inch-20 locking cold shoe mount adds extra security and peace of mind.

However, the GorillaPod 3K PRO Camera Audio Kit's Wavo microphone doesn't come alone. The kit also includes the GorillaPod 3K PRO. The GorillaPod 3K PRO features a sleek aluminum design and comes with CNC machined sockets and an Arca-Swiss-compatible ballhead. With this kit, content creators have access to a new standard in-camera stabilization.

Learn more.
---
Editing
---
ThunderBay Flex 8
ThunderBay Flex 8 offers eight drive bays that support a mix of SATA/SAS and U.2/M.2 NVMe drives for up to 144 TB of storage capacity. Next, there are a plethora of ports, including two Thunderbolt 3, one USB-C, and two USB-A for device docking and charging.
See your work in greater detail by adding up to an 8K display via a built-in DisplayPort 1.4 connection. Ingest hi-res images and video via front-side SD 4.0 and CFexpress card readers. And when you want to expand your desktop capabilities, there's a PCIe slot waiting for your specific project needs. ThunderBay Flex 8 is the one Thunderbolt 3 desktop device that rules them all. With an irresistible economy of scale, this consolidated solution is ideal for anyone waiting for the right moment to invest in Thunderbolt technology.
---
BenQ SW271C 27" 4K color accurate IPS monitor
BenQ's SW271C 27-inch 4K color-accurate IPS monitor for video and photo editing adds confidence to your creative process. This hardware and software-calibrated display boast Delta E ≤ 2 color accuracy. Whether designing web content in sRGB, editing 4K video in DCI-P3/Rec. 709 or retouching photos in Adobe RGB, the BenQ SW271C's AQCOLOR technology showcases content at its best.
The BenQ's SW271C 27-inch 4K monitor features HDR10/HLG video support, USB-C connectivity, select SDI to HDMI device compatibility for video and a shading hood. BenQ's proprietary Paper Color Sync also enables an accurate print preview. Additionally, the monitor's Uniformity Tech ensures screen-wide consistency and its Hotkey Puck G2 facilitates quick adjustments.
---
AMD Radeon PRO W6800
Discover your software's full potential. The AMD Radeon PRO W6800 Professional Graphics delivers the ultimate software experience, with up to a gigantic 32 GB of fast frame buffer. Plus, it provides high-performing hardware raytracing, optimizations for up to 6 ultra-high res HDR displays and exceptional multitasking capabilities.
The AMD Radeon PRO W6800 Professional Graphics comes wrapped around an award-winning graphics architecture called AMD RDNA 2. This architecture is an industry-leading graphics foundation for visually rich gaming consoles.
---
Wrap it up nicely
If you're a gift-seeker, we hope you've found the perfect gift on our list. We also hope the video enthusiasts on the receiving end are delighted that you took the time to learn a bit about their passion while searching for something special to give them. In the joyful spirit of holidays, we say, "Good job, you!" and hope you find the coolest wrapping paper ever.
On the other hand, most people don't admit it, but many Black Friday and Cyber Monday shoppers are actually finding great deals for themselves. Maybe it's the most cost-effective way to get an expensive camera or stock up on some essential gear. Perhaps they already know they'll be getting funny socks and bad sweaters from family members soon. If that's you, we hope you found just what you were looking for, too.