In the world of video production, shotgun microphones are widely considered the go-to standard for getting the best audio. And, as most producers have learned, audio quality can make or break any film or video project. That's why it's important to choose the right microphone and to use it properly. Whether you're shooting an amateur video or a professional video, a news report or a vlog, poor audio quality can lower the value of any project — even if it's a visual masterpiece.
In the guide, we will list the best shotgun microphones currently on the market, run through their strength and weaknesses and discuss everything you need to know about shotgun microphones.
---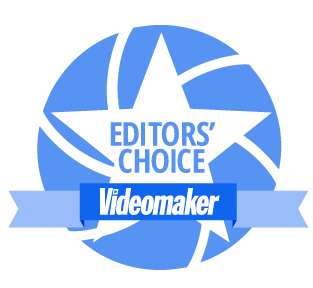 The Editors' Choice award recognizes exceptional video production equipment, software and services. These products must help videographers be more effective storytellers while being affordable, easy to use and dependable. The products must also deliver a superior user experience.
---
Best shotgun mic
Sennheiser MKH 8060
Strengths:
Very natural sound
No off-axis distortion
Weatherproof
Compact size
The Sennheiser MKH 8060 is an extremely high-quality shotgun microphone with a very natural sound. It has a super-cardioid polar pattern at low to midrange frequencies, which becomes a lobar pattern in high frequencies. This means it is very directional, helping you to focus on recording only the sounds you want. In addition, the MKH 8060 doesn't suffer from the distortion or coloration of sounds coming from the sides that can affect shotgun microphones.
The MKH 8060 has a frequency response of 50 Hz to 25 kHz and very low noise of 11 dBA. It also has an ultra-high sensitivity of -24 dB which means you won't need to use noise reduction or boost gain in postproduction. The MKH 8060 has a 3-pin XLR output and works with any device that can supply 44 V to 52 V phantom power. The microphone has a transformerless and fully floating balanced output for optimal signal integrity.
At only 7.01 inches (178 mm) long, the MKH 8060 is very compact for a shotgun microphone. It has a sturdy metal construction, and Sennheiser has designed its RF circuit to be highly immune to moisture. This means you can be confident using the microphone even when the weather turns bad. The Sennheiser MKH 8060 is a bit expensive, but it will take your audio recordings to the next level.
---
Most affordable shotgun mic
RØDE NTG1
Strengths:
High pass filter
Lightweight
The RØDE NTG1 is a lightweight shotgun microphone with a highly directional super-cardioid polar pattern. This makes it ideal for film, video, and voice-over use.
Additionally, this mic has a full frequency response from 20 Hz to 20k Hz and low self-noise of only 18 dBA. The NTG-1 also incorporates a switchable high pass filter set at 80Hz. You can use this to help reduce unwanted low-frequency noise such as traffic sounds or air conditioning. The microphone has an XLR connection and needs 48 V of phantom power. It also has a balanced output, meaning you can use longer cable runs than with other camera-mounted shotgun microphones.
The RØDE NTG1 is made from machined aluminum with an epoxy finish for durability. This also helps keep the microphone's weight down to only 3.7 ounces (105 g), making it ideal for use on a boom. In addition, if you register your NTG1 with RØDE, the standard warranty period is extended to an amazing ten years. Overall, the RØDE NTG1 has great features and delivers high-quality audio for an affordable price.
---
Best all-weather shotgun mic
RØDE NTG5
Strengths:
Weatherproof
Comes with shock mount and windshield
Very low self-noise
Weaknesses:
The pistol grip shock mount is heavy for boom use
The RØDE NTG5 is an ultra-lightweight shotgun microphone that weighs only 2.7 ounces (76 g). It has a moisture-resistant design that makes it the ideal all-weather microphone. It includes RF-biased circuitry and a conformal coating, making it perfect for harsh weather conditions.
The NTG5 has a 20 Hz to 20 kHz frequency response and very low self-noise of just 10dBA. It also features a revolutionary acoustic design that uses circular acoustic perforations instead of the linear slots that most shotgun microphone designs have. The NTG5's super-cardioid polar pattern makes it highly directional with a smooth off-axis response. It's another microphone with a 3-pin XLR connection which needs phantom power.
RØDE bills the NTG5 as a location recording kit. Most microphones are sold with a stand mount and foam windscreen. However, the NTG5 also comes with a pistol grip shock mount and a furry "dead cat" windshield. This means you are ready to record great audio straight out of the box without the need to buy other accessories.
---
Best mini shotgun
DPA Microphones 4097
Strengths:
Ultra-small form factor
Built-in shock mount
IP 58 certified weatherproof design
Weaknesses:
MicroDot connector requires a separate adaptor
The DPA Microphones 4097 is a 2-inch specialist shotgun microphone mounted on a 4-inch flexible gooseneck. It is ideal for recording audio where space is tight, such as inside a car or where you need to hide a microphone on a set or location. However, you can also use the DPA 4097 on a boom pole as a regular shotgun microphone.
This microphone has a MicroDot connector on the end of the gooseneck. You will need to buy separate adapters to connect it to a wired XLR input or wireless transmitter. However, DPA supplies adaptors for just about every wireless system, so the 4097 should work with your existing kit. It has a built-in shock mount to effectively reduce vibration and handling noise.
The DPA 4097 has IP58 certification, which means it is protected from dust ingress and immersion in liquids. This is achieved with a water-repellant nano-coating of the cover and housing. The microphone also has hermetic sealing of the amplifier at the core of the mic and dual gold plating of the diaphragm. Despite its diminutive size, the DPA 4097 is a professional microphone capable of delivering the high-quality audio needed for film and television.
---
Best long shotgun mic
Audio-Technica AT8035
Strengths:
Highly focused pickup pattern
It can be battery powered
Low cut filter
Weaknesses:
May be too long to use on-camera
The Audio-Technica AT8035 is a long shotgun microphone, measuring over 14.5 inches (369 mm) in length. In simple terms, the extra length of the interference tube means that the AT8035 will reject more off-axis sounds and be more directionally focused. You can also get good audio when further from your subject with a long shotgun microphone than one with a shorter tube.
The Audio-Technica AT8035 has a frequency response of 40 Hz to 20 kHz and a switchable low cut filter at 80 Hz. The microphone has a three-pin XLR connection and is compatible with phantom power from 11 V to 52 V. However, the AT8035 can also be powered by a single AA battery which means that you can use it with cameras or recorders that can't supply phantom power. The microphone will run for an incredible 1,200 hours on a single battery.
The additional length of the Audio-Technica AT8035 can make it unsuitable for on-camera use, as it will get in a shot with some lenses. Longer shotgun microphones are also more susceptible to the distortion of off-axis sounds that can occur in rooms with a lot of reverb.
---
Best pro shotgun mic
Sennheiser MKH 416-P48U3
Strengths:
Industry-standard sound quality
Very high build quality
Suitable for adverse environmental conditions
The Sennheiser MKH 416 is one of the main go-to shotgun microphones for professionals in the film and television industries and has been for some time. It is also a very popular microphone for voice-over recording.
This microphone has a frequency response of 40 Hz to 20 kHz and a hyper-cardioid pickup pattern that narrows into a lobar pattern above 2 kHz. The directivity of the MKH 416 is one of the reasons it is so popular for outside broadcast recording. It also has high consonant articulation and feedback rejection. The MKH 416 is an XLR microphone and requires your recording device to supply 48 V phantom power.
The Sennheiser MKH 416 has a matt black all-metal body designed to withstand the rigors of professional use on set or on location. It also has an RF condenser design which means it is highly immune to moisture. This means you don't need to worry about damaging the microphone when working in adverse environmental conditions. The MKH-416 is expensive, but it's a quality product that you can rely on, which is why it's an industry standard.
---
Best camera-top shotgun mic
RØDE VideoMic NTG
Strengths:
Recording via 3.5 mm or USB-C
Safety channel recording
Internal rechargeable battery
Weaknesses:
Larger than previous models
RØDE's VideoMic NTG combines the best features from both RØDE's NTG and VideoMic ranges of microphones. The VideoMic NTG can be used with either a 3.5 mm or USB-C output. This means it can be connected to smartphones, computers and video cameras. In addition, the 3.5 mm output automatically switches between TRS and TRRS, so you don't need an adaptor cable. The 3.5 mm jack also doubles as a headphone output for audio monitoring when you are in USB mode.
The VideoMic NTG has a high pass filter, which can be set at 75 Hz or 150 Hz, and a pad with a -20 dB cut. There is also a safety channel feature that sends a signal -20 b lower into the right audio channel. This is great for ensuring that you don't get clipped audio. In addition, the Video NTG has an infinitely variable gain control, so you can adjust your microphone's output to suit your recording device.
Also, the microphone has an internal rechargeable lithium-ion battery, giving you over 30 hours of recording. It also has an aerospace-grade aluminum construction, keeping it very light at only 3.3 ounces (94 g). In addition, the VideoMic NTG uses the Rycote Lyre shock-mounting system with cable management to reduce vibration and handling noise.
---
Most affordable camera-top shotgun mic
JOBY Wavo
Strengths:
Supercardioid polar pattern
Rycote designed shock mount
TRS and TRRS cables included
Weaknesses:
The microphone is permanently attached to the shock mount
The Joby Wavo is a compact entry-level shotgun microphone aimed at vloggers. However, it still has some quality features, including a microphone with a super-cardioid polar pattern to focus on your subject and reduce background noise. The Wavo also has a Hytrel Double Point Duo-Lyre shock mount designed by Rycote team to isolate unwanted vibrations.
You can use this mic with cameras or smartphones and comes with both TRS and TRRS cables in the box. The base of the microphone allows you to attach it to your camera via a locking cold shoe mount or a 1/4-20 thread. The Wavo has an all-plastic construction, but that also keeps it light at under 1.5 ounces (40 g). The microphone is powered by your camera or phone, so there's no battery to worry about.
The Joby Wavo is an inexpensive microphone, but it's certainly an improvement on the microphone built-in to your camera or smartphone.
---
Best phone shotgun mic
Sennheiser MKE 400
Strengths:
Automatic power on/off feature
Integrated headphone output jack
Interchangeable TRS and TRRS cables
Weaknesses:
Gain limited to three discrete levels
The Sennheiser MKE 400 is a highly directional, supercardioid shotgun microphone designed to be used with cameras and smartphones. To that end, it comes with locking cables for both TRS and TRRS devices. The MKE 400 also has a 3.5 mm headphone jack with its own volume control. This is great for monitoring audio if your camera or phone doesn't have a separate headphone socket.
It has integrated wind protection and shock absorption to help ensure clean audio recordings. In addition, you get a furry windshield to help with outdoor recordings. With the MKE 400, you can select between three levels of gain: -20 dB, 0 dB and +20 dB. There is also a low-cut filter.
The MKE 400 is powered by two AAA batteries that should last more than 100 hours. To increase your battery life, the microphone automatically powers on and off when connected to DSLR or mirrorless cameras.
---
Best stereo shotgun mic
Azden SMX-30V
Strengths:
Innovative stereo/mono design
Swivel mount to adjust the aim of the microphone
Weaknesses:
Gain limited to three discrete levels
The original Azden SMX-30 had an innovative design that incorporated a switchable mono shotgun and stereo microphones into one body. The SMX-30V improves on this by adding a mixing dial. This means you can choose between a 100-percent mono input, a 100-percent stereo input or any blend of the two microphone signals.
Azden's SMX-30V has a three-step gain control (-10, 0 and +20 dB) and a high pass filter to reduce unwanted low-frequency noise. The Azden SMX-30V also has a unique swiveling shock mount, so you can rotate the microphone 30 degrees to the right or left. This means that you can aim the SMX-30V at your subject even when they are not centered in the frame.
The Azden SMX-30V attaches to your camera with a standard cold shoe or via a 1/4-20 thread. In addition, the microphone will run for up to 100 hours on a pair of AA batteries and has an auto power on/off option to conserve battery life. The audio output cable is detachable, which means you can simply replace it if it breaks rather than needing to send it out for repairs.
---
Everything you need to know about shotgun microphones
To get the best sound quality using your shotgun microphone, you need to understand the basics of how it works.
What is a shotgun microphone?
Shotgun mics are long, narrow tubes with slits evenly spaced along each side and a capsule near the rear end. Also called interference tube microphones, these mics are designed to allow sound from in front of the microphone to pass through the tube to the capsule. At the same time, sounds from the sides must enter through the slits. This creates a phase cancellation effect that results in the rejection of those off-axis sounds.
In this way, these mics can pinpoint the source of sound while rejecting other noise. Some fans of shotguns have come to refer to them as 'sniper mics' because, when it comes to accuracy, there's no substitute.
The exact design and quality vary between shotgun mics. Good ones can reject nearly all sounds coming from the sides while still picking up sounds from the front. These will give you a better signal-to-noise ratio.
Advantages of shotgun mics
Capturing high-quality audio offers many challenges when shooting video. One of the biggest advantages that shotgun mics have is their narrow pickup pattern. This is a big step up from your camcorder's built-in mic, which generally has lower quality and a wider pickup pattern leading to more of the surrounding environment making it onto your recording. Built-in mics are generally not designed for quality audio. They can pick up a lot of background noise and wind, while shotgun mics give you clearer voice pickup.
One of the biggest advantages that shotgun mics have is their narrow pickup pattern.
Another advantage of shotgun mics is that they have a long reach. This helps tremendously when you have to record at a distance. Because their pickup patterns are long and narrow, these mics can often help isolate and records sound coming from farther away.
That being said, however, keep in mind that shotgun mics do not "zoom" in on sound the way a camera lens zooms in on actors. The most expensive shotgun mics can only capture audio from a distance of six to ten feet, while the less expensive ones only capture sound at a distance of three to four feet.
Shotgun mics vs. lavaliers
Shotgun mics and lavaliers (also known as lapel mics) can both capture quality audio when used properly. Both are great for dialogue, vlogging and interviews. Lavalier mics are generally clipped onto the subject, so even the omnidirectional variety can offer a good signal-to-noise ratio due to their proximity to the sound source.
Though there are directional lavs available, shotguns generally offer a tighter pickup pattern, and their form factor makes them considerably more versatile. Shotgun microphones can also sound more natural when you compare them to lavaliers, and you don't need to hide them on actors to keep them out of your shots.
Properly positioning your shotgun mic for better sound
As we have discussed, shotgun mics focus closely on the subject directly in front of them, and they reject sounds from the sides and the rear. That's why it's key to get the microphone as close to your subject as possible and to keep it pointed directly at your sound source.
The best sound will come from positioning the shotgun mic a few feet above your subject. Booming from above the subject allows a more crisp and clear dialog to be heard. When booming from above, the microphone will be pointing downwards and the noise from around the room will be off-axis. This gives you more emphasis on the voice and less environmental noise.
Another positioning rule to follow is that, if you're shooting indoors, try to avoid aiming your shotgun mic at hard surfaces. Think hardwood floors or brick walls. These surfaces reflect sound waves that cause the sound to be somewhat hollow and can reduce the effectiveness of the interference tube design. This means more noise will come through on your recording.
Get to know the mic before you buy
There are different mics out there and you have to know which ones work best for your shoots. You may be shooting an interview or doing a vlog, or you may be a field reporter on location. For each situation, there are various mics to accommodate your shoot. Understanding your mics allow you to use them more effectively.
Since most shotgun microphones are designed to pick up the human voice, frequency range will likely only be a concern when shopping for a mic to fit a particular use case. Keep in mind that longer shotgun mics are better at rejecting lower the off-axis frequencies.
Perhaps more influential in your purchasing decision will be the microphone's pickup pattern. This determines how directional the microphone is. Omnidirectional microphones, for instance, capture sound from all directions. Cardioid mics capture sound from the front but don't capture sound so well from the sides and reject sound at the rear.
There are several kinds of polar patterns for shotgun microphones:
Supercardioid: a narrow pickup pattern where the microphone is sensitive right in front of the diaphragm and sounds off-axis are rejected
Hypercardioids: like a supercardioid but with a more narrow pickup pattern and an extended rear pickup
Ultracardioids: the most narrow pickup pattern possible, not usually good for use on a boom pole since they are so directional that the slightest move has the subject go off-axis
Any choice you make in buying a mic for your shoot should be based on the pickup pattern — the directions from which the mic captures the most sound. This is not written in stone since shoots and project requirements differ, but once you have a thorough understanding of pickup patterns, this should narrow down your choices.
Shotgun mic shortcomings
Though shotgun mics offer some great advantages, keep in mind that they can also offer challenges for certain shoots. They also normally require extra equipment. If you plan to have any movement during your shoot, you'll need a boom pole and a special shock mount. And for outdoor shoots, expect to add the blimp or dead cat as mentioned earlier. In addition to that, your shoot will require an operator who knows how to keep shotgun mics out of your shots while still positioning the mic to get the best sound.
Shotguns are also particularly prone to wind noise. This is because of their open-back capsule design. Professionals suggest using what is known as sound blimps or a "dead cat" windshield. These are designed for minimizing wind noise when recording in high wind conditions. Some even suggest using these noise suppression tools even if you're shooting indoors.
Additionally, shotgun mics aren't the best choice for small rooms, especially those with lots of hard surfaces. They are more ideal for outdoors and large spaces with balanced acoustics.
Should you buy?
If you're seriously considering looking into buying a shotgun microphone, consider all of your options first. Your purchase should be based on the camera equipment you are using and on the project you plan on shooting. For some shoots, a lavalier or directional condenser mic may be a better option. However, if you want a versatile mic that can be used in a number of situations, a shotgun microphone is a better investment.
Contributors to this article include Pete Tomkies, Stephen Mandel Joseph and the Videomaker Editorial Staff.