The Atomos Ninja V packs most of the technology found in Atomos' other monitor-recorders into a smaller form factor at an incredible price point. For just $700, you'll get a 5-inch, 1000 nit 1920 x 1080 touchscreen recorder that can capture 10-bit 422 video via an HDMI input. The size makes it a great pairing for a DSLR or mirrorless camera. With a slew of new cameras on the market that offers clean 10-bit out their HDMI, the Ninja V is even more exciting. Since it was announced at the NAB show in April of 2018, the Ninja V has only gotten more relevant. While it won't capture RAW of any kind, it will encode up to DNxHR HQX and ProRes HQ.
Atomos created the monitor-recorder category and has done a good job leading the category in both innovation and price. For the same cost as some field monitors, Atomos offers a field monitor and a recorder, but what good is that if either function is lacking? That's what we set out to test.
---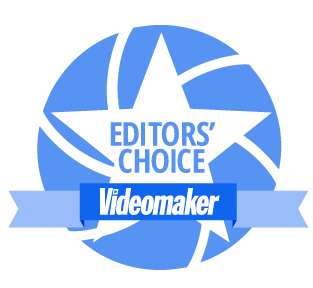 The Atomos Ninja V is a recipient of our Editors' Choice award, which recognizes exceptional video production equipment, software and services.
---
A disclaimer
Before we dig in, it's important to note that the unit we used for this review did not have the final firmware installed. The interface might change, with an underline under might. Additionally, the unit we used did not have a DNxHR capture function. When questioned about it, Atomos said that it will be on the shipping version of the Ninja V AtomOS's firmware. Adding to that, the fan noise should be reduced on the production units. We did notice some fan noise, but unless your mic is right next to the unit, this wouldn't be much of a problem. While testing, we did not experience any functional issues with our pre-release firmware. The interface is a departure from the one found in Shogun Inferno and Shogun Flame, but not a drastic one.
Ninja V in use
The timing for testing the Ninja V was perfect. We were able to test it with several of the latest mirrorless cameras, starting with the Panasonic Lumix GH5 and GH5s. The monitor is a great fit for them, though they don't need the record function as much as other cameras. Both cameras already capture 10-bit internally, but they still benefit from the Ninja V's ability to record in ProRes and DNx codecs. However, a larger screen is key to getting proper focus and exposure.
Most of our testing with the GH5s was to shoot B-roll of the Canon EOS R's, new lenses and adapters. The new Canon turned out to be a great pairing for the Ninja V. The EOS R can't capture 10-bit video internally, so the Ninja V expands its capability. Capturing in 10-bit increases the number of captured colors from 16.77 million to over a billion. That's a big step up in quality. Now, the setup isn't much different between the GH5s and the EOS R. You'll just need a different HDMI cable. Instead of a full-size HDMI output, the EOS R has a mini HDMI port.
Lastly, we tested with the new Nikon Z7, the first full frame mirrorless camera from Nikon. Like when paired with the EOS R, the Ninja V expands the bit-depth capabilities of the camera from 8-bit to 10-bit. The Nikon also brings another big win for capturing externally — its log profile, N-log, is only available when recording externally. Lastly, because the Z 7 doesn't have a screen that flips around for selfie-shots, the Ninja brings some flexibility for vloggers with the viewing angle of the monitor.
Other perks
The Ninja V is more than a reference monitor and high-quality encoder; you'll also expand the use of your camera with no record time limit. Most mirrorless cameras and DSLRs can only capture video clips running up to 30 minutes. Another perk is that if you shoot on a camera that doesn't have a headphone jack, the Ninja V will add one, allowing you to monitor audio off the HDMI. Also, if you need it, the Ninja V also has HDMI passthrough.
All of the shoot assists you need are available in the Ninja V, if your camera doesn't offer them or you want more robust tools. You have access to a Waveform, RGB Parade, Focus Peaking and Zebras, and you can add a look or LUT. Because it has a brightness of 1000 nit, if you want to work in HDR, you can use the Ninja V to preview the dynamic range of your capture using AtomHDR preview. Is the monitor super bright? No, but it's bright enough to work well when shooting in full sun. For a little context, the Apple iPhone X is around 750 nit when at its brightest.
Because it has a brightness of 1000 nit, if you want to work in HDR, you can use the Ninja V to preview the dynamic range of your capture using AtomHDR preview.
The Ninja V is powered off one Sony L series battery. Depending on the size of battery you use, you can expect 2-3 hours of life. Because it only has one battery slot, it doesn't get the benefit of being able to hot-swap power like the Atomos Shogun. If you require a longer use-time, the Ninja V does come with a power adapter that slides into the battery port. At that point, you will be limited only by the capacity of your media. There is also a media port under the battery that can give you NDI connectivity via an Ethernet/NDI module. Other innovative accessories have also been developed to make use of this port, including a Sync module that has wireless timecode, plus Bluetooth and a small battery to allow hot swapping of batteries. We expect more to come.
Finally, like the Shogun Inferno and Flame, the Ninja V offers a log to video feature. With log to video, you are able to quickly add a LUT from any given camera to convert it into Rec. 709.
And some quirks
While there are lots of good features and functions on the Ninja V, there are a few low points as well. None of them outweigh the good aspects, but if you're considering buying, they are things you should know about. The first thing worth mentioning is that the Ninja gets pretty hot when in use. It's not so hot to burn you. The screen, case, power button and inputs/outputs are all just hot enough to cause you to respond to it cautiously at first encounter.
When we received the Ninja V, Atomos included a full-size SSD caddy, just like the ones that work with their 7-inch recorders. When plugged into the smaller 5-inch unit, it stuck out. If that kind of thing bothers you, look for a smaller drive. Part-way through our evaluation, we got new drives from Sony and Angelbird. Along with being smaller in size, these drives are each a bit cheaper as well. You can also adapt them with a handle to make them compatible with the 7-inch recorders like one of the Shoguns.
Marketplace
There are no other 5-inch, 4K-capable monitor-recorders on the market at or under $700. The closest you'll get is the Blackmagic Design Video Assist 4K, but it's 7 inches and costs $900. The only option on the market offering the 5-inch form factor and both monitoring and recording is the Video Devices PIX-E5 for $1,000. Additionally, if you are just looking for a monitor that is 800 nit or brighter with a 1980 x 1080 resolution, the closest competitor is the SmallHD 502 Bright; it costs $1,300.
Final thoughts
Atomos made the Ninja V with everything you'll need — and it's a great price, even if you don't need it to capture video. Are there a few issues? Yes, but most of them can be worked around or accepted because of its price. The Atomos Ninja V is a great product, and we expect Atomos will sell many of them. They are well worth it.
SUMMARY
:
COMPANY NAME: Atomos
WEBSITE: Atomos.com
STRENGTHS:
1,000 nit brightness

Far cheaper than comparable products
WEAKNESSES:
RECOMMENDED USES:
Narrative Filmmaking
Documentary Filmmaking and Journalism
Marketing Video Production
TECH SPECS:
Display Size: 5″
Resolution: 1920 x 1080 427 ppi
Video Aspect Ratio: Native: 16:9
Brightness: 1000 cd/m²
Bit Depth: 10-bit
LUT Support: 3D LUT (.cube file format)
Inputs:
1 x HDMI type A, v2.0
1 x 2.5 mm, LANC
1 x 3.5mm analog audio jack (also serves as output)
Outputs:
1 x HDMI type A, v2.0
1 x 3.5 mm, headphone (also serves as input)
Input: 8/10-bit 4:2:2 (dependent on video source)
Output: 8/10-bit 4:2:2 (dependent on video source)
HDMI Input/Output Resolutions:
4096 x 2160: 60/59.94/50/30/29.97/25/24/23.98
3840 x 2160: 60/59.94/50/30/29.97/25/24/23.98
1080p: 60/59.94/50/30/29.97/25/24/23.98
1080i: 60/50
720p: 60/50
Supported Codecs:
Apple ProRes: HQ, 422, LT
Avid DNxHR: HQX, HQ, SQ, LB
HDMI Supported Audio Formats: 2- or 8-channel, up to 24-bit (camera dependent)
Master Caddy Dock: Interface: 2.5″ SATA to USB 2.0/3.0
Power Requirements: 6.2 to 16.8 VDC (battery or DC power input)
Power Consumption: 10-19 W
Supported Battery Types: Sony L-series
Battery Life:
5200 mAh: Up to 2 hours (monitor and 4K 60p recording)
7800 mAh: Up to 3 hours (monitor and 4K 60p recording)
Construction: Aluminum alloy chassis. ABS polycarbonate
Dimensions: 5.94 x 3.6 x 1.22″ / 15.1 x 9.15 x 3.1 cm
Weight Without Batteries & Media: 11.3 oz / 360 g