Budget-conscious filmmakers, documentarians and commercial producers that are looking for a quality imaging tool owe it to themselves to check out the Blackmagic Production Camera 4K. It uses the same unique and robust body design as the Blackmagic Cinema Camera that is 6.5 inches wide and 5.2 inches tall and weighs 3.8 pounds. Unlike most traditional camcorder bodies, it is somewhat awkward to handhold for long shots and most shooters will quickly find that at least a basic cage or shoulder mount is a must for nearly all shots not on a tripod. But don't forget, the word "Production," does imply a professional tool in which a steady mount is considered standard.
Quality Control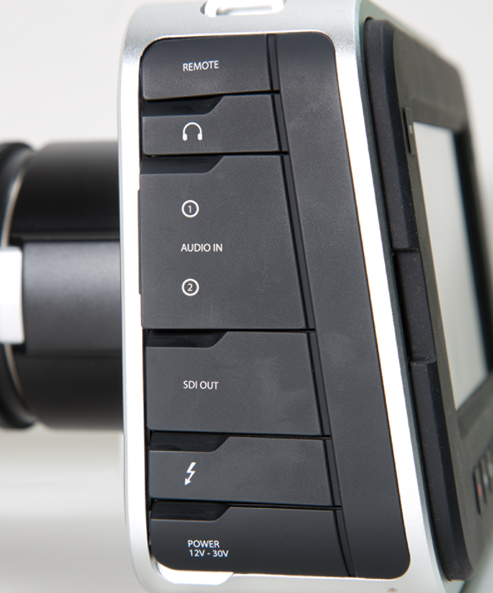 There are 10 buttons to control the main functions that include iris, focus peaking, record (on front and back), stop, play, clip navigation (2), menu and power. The user must access all remaining functions through touch screen menus.
The left side hosts the majority of the connections. There is a 2.5mm LANC for basic remote camera control, a 1/8-inch stereo headphone jack, two balanced 1/4-inch audio inputs that accept either mic or line levels, a 6G-SDI 10-bit 4:2:2 BNC output, a Thunderbolt port for HD video and audio capture and a 12V-30V power connection to recharge the internal non-removable battery.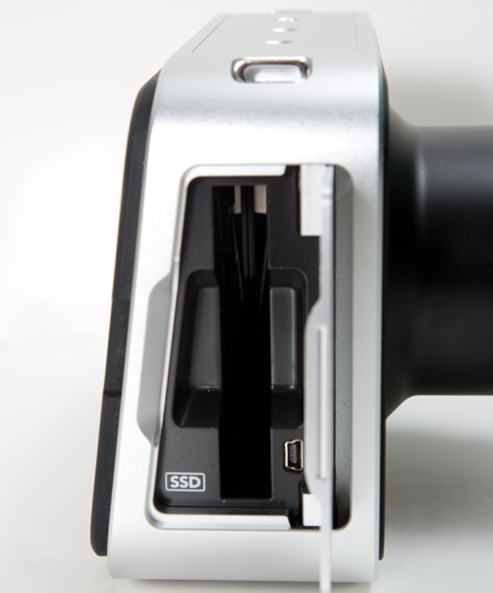 The Blackmagic Production Camera 4K records to removable 2.5-inch SSDs. The port is on the right side along with the USB 2.0 mini-B connection. If you have large fingers you may find it difficult to remove the SSD as there isn't much room to grasp the card.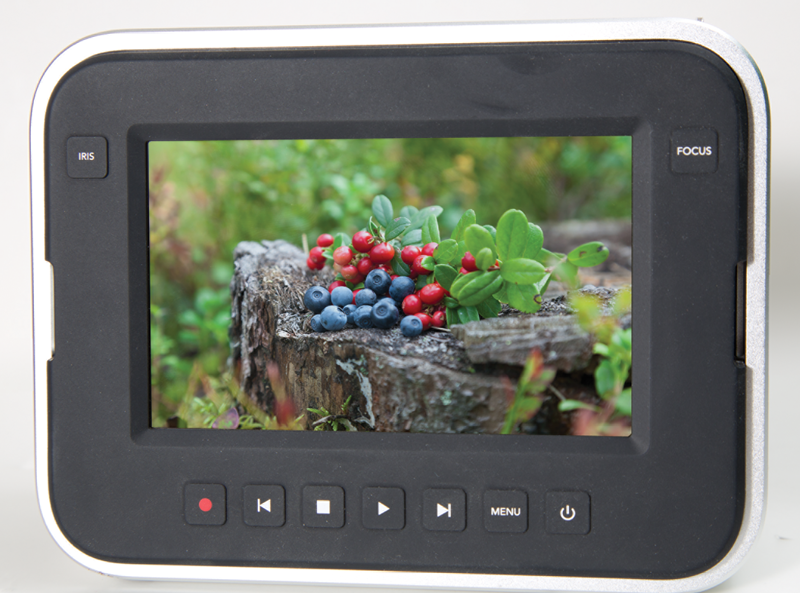 The 5-inch LCD touchscreen is 800×480 resolution, that is plenty sharp but it is highly reflective, making it difficult to see many outdoor shots. The included black rubber screen hood easily snaps into place and does help a little. If you really want to see your exterior shots you may find you have to add an extension onto this hood or use the focusing cloth trick from the old view camera days. This usually ends up being any shirt, jacket or towel lying around.
The Blackmagic Production Camera 4K has three 1/4-inch mounting holes on the top and one on the bottom with a locator pin for added security. There is also a fan and venting perforations on the bottom that can be partially covered by your mounting method.
The Blackmagic Production Camera 4K has an EF and ZE compatible lens mount that is capable of controlling the electronic iris on many Canon lenses. In fact, we found that two of our favorite lenses that do not work on the Blackmagic Cinema Camera, the EF 17-40mm f/4L USM and the EF 85mm f/1.2L USM, worked perfectly on the Blackmagic Production Camera 4K and both camcorders had the most current firmware update. The 85mm is a particularly tricky one as even the focus ring requires power. So there appears to be something more than just firmware going on that allows the Blackmagic Production Camera 4K to work with a greater variety of lenses.
Feature Focus
The Blackmagic Production Camera 4K's most impressive features are its Ultra HD video resolution, Super 35 size sensor with global shutter, dynamic range of 12 stops and excellent recording formats. As of our tests, the Blackmagic Production Camera 4K does not yet record to the advertised visually lossless compressed CinemaDNG RAW. Blackmagic says they will enable this feature in a future firmware update. So, we recorded our test scenes with the available Apple ProRes 422 (HQ).
If you think 4K is for you, then let's dig into some details. The "4K" in the name is an approximation, it actually shoots Ultra HD video which is 3840×2160 not the DCI 4K standard of 4096×2160. UHD video is a television standard and true 4K is a digital cinema standard. It also has a slightly different screen ratio; the familiar 16:9 rather than the 1.9:1 of 4096×2160. Are you going to miss the added screen width of those extra 256 pixels? We doubt it. UHD will give you plenty of growing pains all by itself, the first of which is getting a 4K monitor. If you want to see your shots at full resolution, you may want to check out some of the newer monitors such as the Dell 28 Ultra HD monitor. Otherwise, you'll be stuck with having to pan your full resolution image or letting your CPU and editing software resize it.
[video:17534]
Ultra HD video, the Super 35 size sensor with global shutter and 12 stop dynamic range are among its most impressive features.
We did a variety of resolution tests with charts and highly detailed subjects all of which confirmed the sensor was giving us the promised UHD resolution. We took a few frame grabs to examine images that had fine detail more closely in Photoshop, such as the individual hairs around the edge of our subject. We were impressed with both the sharpness and lack of compression artifacting in the Apple ProRes 422 (HQ). And remember, there are additional benefits of shooting in 4K, even if your final output is SD or HD, such as cleaner chromakeys and recomposing options.
When shooting 4K, focusing becomes more critical than ever, whether your output is to the Internet or to the big screen. The focus button on the upper right of the rear panel does a good job at giving you peaking information. It toggles the feature on or off but does not give the user any other control over intensity, color or range. We found that it worked very well to keep all of our shots in focus.
New Sensor
The Blackmagic Production Camera 4K's sensor is 21.1mm x 11.9mm which gives you a 1.7 crop factor. It is significantly larger than the Blackmagic Cinema Camera's 15.8mm x 8.9mm sensor with a 2.3 crop factor. For example, a 100mm lens on the Blackmagic Production Camera 4K will give you a 170mm field of view whereas the same lens on the Blackmagic Cinema Camera would yield 230mm. An added benefit of the larger sensor is that you'll get a shallower depth of field at the same f-stops.
Rolling shutter is a thing of the past. The global shutter built into the sensor finally overcomes the dreaded skewing during pans and fast motion that comes with every rolling shutter sensor found in most DSLRs. Now vertical lines remain vertical even during fast pans and fast moving cars, kids and creatures, all keep their natural shape. For comparison, we mounted our Blackmagic Production Camera 4K and a Blackmagic Cinema Camera side by side on a tripod and did some fast pans focused on a wrought iron fence. The difference is stunning. You no longer need to pass out Dramamine to your audience before your action sequences. While there are no more rolling shutter issues, we did notice there is a very slight lag in the LCD screen response as compared to the Blackmagic Cinema Camera that becomes most evident when doing fast pans.
Some early users of the Blackmagic Production Camera 4K have reported dead or "stuck" sensor pixels that appear as small white spots on their images. We tested our sensor for this by recording three clips with the lens cap on at each of the available ISOs; 200, 400 and 800. We grabbed a still frame from each and imported them into Photoshop and carefully reviewed each at 200 percent. We did not find any dead pixels. These same three images did, however reveal the noise differences in each ISO setting. At ISO 800 we saw noise above 10 percent as indicated on our RGB parade scope in Premiere Pro CC.
Tests
The noise we saw in our ISO test images led us to test the Blackmagic Production Camera 4K in low light. We shot several scenes in low light at ISO 800 and found that the noise does become noticeable in not just the darkest tones but the middle tones as well. This is clearly not a camcorder you'd want to use when you do not have control over the lighting environment. At ISO 400 the noise clears up considerably and at ISO 200 the image is very clean if you have adequate light for proper exposure.
To test contrast and dynamic range we shot scenes at midday in a heavily treed area. We exposed for the brightest parts of the scene by pressing on the iris button. This prevents clipping of the brightest parts of a scene but we found we overrode this setting about half the time as we preferred to allow small parts of the scene to clip in favor of having a little more exposure. But it is a quick and reliable way to get an initial, if overly conservative, exposure. We graded these clips with the included DaVinci Resolve 10 and found we could raise the blacks to bring back some detail in the shadows without introducing much noise or sacrificing any highlight information. We graded the same scene shot with the Blackmagic Cinema Camera and could tell there is less dynamic range, but it is hard to tell if this is just the acknowledged one f-stop or more.
We tested color reproduction and separation by shooting some highly saturated and textured clothing on bright green grass. There is no auto white balance function. White balance settings are limited to six presets from 3200 to 7500. If you need to fine tune your white balance more than this you'll need to do it in post. Even after increasing the color saturation in post by 25-percent and viewing at 400 percent, we could not detect any bleeding between colors or reduction in the sharpness of the clothing detail. With ProRes 422 and (later) CinemaDNG RAW, there is plenty of color information to play with without sacrificing image quality.
Additional tests revealed that skin tones look natural when using the right white balance and not over saturated like so many modern camcorders do by default. In fact, when shooting in the film dynamic range setting, shots initially appear flat by design. We shot a resolution chart with increasingly fine vertical and horizontal lines to test for moiré and anti-aliasing. The Blackmagic Production Camera 4K's new sensor shines in its ability to practically eliminate these imaging challenges. The only imperfections we could see were those actually present in the printed chart itself and not a result of poor resolving power.
Editing any 4K footage will give your system a workout and the ProRes 422 files produced by the Blackmagic Production Camera 4K are no exception. We were able to get real-time performance and do basic editing with our four-year-old 8-core 2.33GHz Windows 7 64-bit system running Adobe Premiere Pro CC. For more information on the demands of editing in 4K, check out our article, Editing in 4K: Minimum System Requirements.
Audio
The Blackmagic Production Camera 4K comes with a built-in mono mic that is sensitive enough to capture most ambient sounds which also means it will pick up noise from the camcorder's cooling fan. It is there primarily to record reference audio. It is the two 1/4-inch balanced audio inputs that will record quality line or mic level sound although there is no phantom power. You set levels manually and need to use headphones as there are no visual level indicators. The playback quality on the Blackmagic Production Camera 4K itself sounds quite thin but clear. The actual recorded audio when played back on an edit system has very low noise. Clearly audio is not a key feature of this camcorder and many producers will use a separate audio recording system.
Summary
Blackmagic Design has produced another breakthrough camcorder. The UHD sensor doesn't deal with rolling shutter problems and produces images with fine detail. The professional recording formats give you the latitude for heavy post-processing. For added color depth, we hope the promised CinemaDNG RAW becomes available soon. You do need to avoid low light scenes and will probably end up using an external audio recorder, but other quirks are easy to work around. If you are a producer that needs to upgrade to 4K and are tight on cash, for less than $3,000, the Blackmagic Production Camera 4K produces images that simply can't be beat.
Blackmagic Design
www.blackmagicdesign.com
$2995
Tech Specs
Format: CinemaDNG RAW (future capability), Apple ProRes 422 (HQ), 1920×1080
Sensor Type: 4K Super 35mm Sensor with global shutter
Size of Sensor: 21.1mm x 11.9mm
Shooting Resolutions: 3840×2160 and 1920×1080
Frame Rates: 23.98p, 24p, 25p, 29.97p, 30p
Lens Mount: EF and ZE mount compatible with electronic iris control
Microphone: Integrated mono microphone
Power: Integrated Lithium-ion Polymer rechargeable battery, 12V-30V DC port for external battery power, 12V AC adapter
Battery Life: Approx. 90 minutes
Recording Media: Removable 2.5" SSD
Audio In: 1/4" balanced analog audio jacks (2)
Audio Out: 1/8" (3.5mm) stereo audio headphone, 2-channel SDI Audio Output
Video Out: SDI Video
Other Interface: 2.5mm LANC for remote control; Thunderbolt port for capture of HD video and audio; USB 2.0 mini-B port for software updates and configuration
Weight (body only): 3.8lb. (1.7kg)
Strengths
4K, 12-bit uncompressed
12 stops of dynamic range
Large sensor with global shutter
Reduced moiré/aliasing
Weaknesses
Significant storage and workstation demands
No RAW (as of March 2014)
Poor low light
Media management issues (no formatting, deleting, or capacity indication)
Poor audio options
Brian Peterson is a commercial video producer and certified Steadicam owner/operator.