We live in a world driven by convenience. From fast food to mobile phones, everything around us has been designed with convenience in mind. In fact, it's almost a guarantee that at some point in our lives, we've paid just a little bit more for gasoline, eaten food that was the opposite of what the doctor ordered or tolerated sitting on airplane seats that were crammed closer together than sardines – all in the name of convenience. This steadfast commitment to convenience is precisely what Panasonic had in mind when designing its newest HDC-TM80 camcorder. Though its build and video quality won't blow away professional videographers, its size and price make it perfect for those looking for a good camcorder that can go anywhere.
The Design
In an age where compact still cameras are increasingly able to shoot video, design has become an important factor when choosing a camcorder. The biggest advantages camcorders have historically had over still cameras are an easy to hold body, better audio functionality and more recording options. In these areas, the Panasonic HDC-TM80 does not disappoint. The body of the camcorder couldn't be easier to hold due to its excellent form factor and incredibly miniscule dimensions of 2 inches wide by 2.3 inches long by 4.29 inches deep. In fact, the body is so small that we found a large hand can easily wrap itself fully around the body of the camcorder, making it perfect for stealth shooting for documentaries and family events. Unfortunately, one of the side effects of a body this small and lightweight is image shakiness. Panasonic got one step ahead of this problem by including a very accurate optical image stabilizer (OIS) in its lens system. We found this feature to work very well for a camcorder of this size, even when zoomed in. Speaking of zoom, the TM80 included a very useful and surprisingly accurate zoom lever on the top of the unit that allowed us to zoom in up to 34x optically. Interestingly, Panasonic also included the ability to zoom up to a somewhat comical 2000x using its digital zoom. However, we found that no matter how good the lighting situation, the image looked far too blurry and noisy in order for us to get an acceptable picture.
By far one of the best features of the camcorder was the sheer lightness. Weighing in at less than half a pound, we found the TM80 to be the perfect companion to a purse, backpack or suitcase. In fact, at .43 pounds, the HDC-TM80 is lighter than most cell phones, giving you fewer reasons to leave the camcorder at home.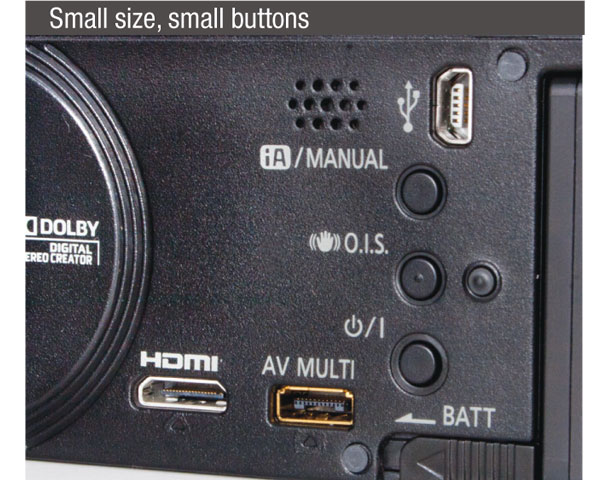 Being so small, the camcorder did have buttons for putting the camera in manual mode , turning OIS on and off, and for power that were almost smaller than the width of a ballpoint pen, which made these critical buttons somewhat difficult to press. However, the body did have a mode switch on the back of the camera that was easy to shift from record to playback mode. In addition, the camcorder also included an HDMI mini connector for hooking the camera directly to an HD television and an AV Multi connector that allowed for both component and composite video. If you happen to own a Panasonic VIERA television, Panasonic also included a way to control your camera with a synchronized remote control using a technology called VIERA Link which allows for very easy operation of the camera. But we found the placement of the HDMI mini jack to be too close to the LCD screen on the camera. Any cable plugged into this jack would inevitably end up covering part of the image on the LCD panel, making remote monitoring using the HDMI cable the only way to see a proper image. The TM80 design also included an easily accessible recording button right where your thumb meets the camcorder, a photo button at the top of the body, internal microphone below the camera's lens, a convenient lens cover closing switch to keep your lens clean and dry, a USB terminal for downloading video, an LED light on the front of the unit and a DC input terminal in order to both charge the battery and for extended use of the camera.
The particular camcorder we reviewed, the TM80 came with a convenient 16GB of internal flash memory allowing us to get shots at any time without having to buy or remember to bring an SD card. However, for those not quite willing to give up on writing to a physical medium, the TM80 also allowed video to be written to an SDXC, SDHC, or SD memory card. Since the card slot is inconveniently located at the bottom of the unit, we won't be blaming anyone for wanting to stick with the internal memory option for most recording situations. If you find that you do want more recording time, the TM80 does have a relay-recording feature that allows the camera to automatically switch from the built-in flash memory to the memory card inside the camera that we found to be quite useful.
With a camera as small, light, and powerful as this, you might be wondering about battery life. The TM80 is able to record for up to an hour on its standard battery. This might work for some, but others may want to consider the 2580mAh battery accessory which can almost double recording time.
The unit comes with an excellent 2.7-inch touchscreen LCD. Though it can be awkward to use while recording, the touchscreen gives you many different options without having to dig through endless menus such as zooming, focusing, and selecting clips to view. It can also be used as a way to power the device by simply opening the screen. The LCD screen has a 170-degree viewing angle and can rotate 180 degrees vertically and 90 degrees horizontally allowing you to achieve any angle you want. We found it helpful to turn on the focus assist and composition guideline features , which put blue outlines around the areas that were in focus, as well as lines to help us keep the camera level and our subjects correctly framed – no small matter in good video shooting.
The Video
Of course, the most important part about any camcorder is the quality of the video. The Panasonic TM80 includes a 1/5.8 inch MOS sensor. As a result of the smaller sensor size, we did notice some video artifacts during heavy movement in our video clips. It's good to keep in mind that one has to expect some tradeoffs for the price and convenience of this kind of camcorder. So even though the image quality was different than what we'd expect from one of Panasonic's pro cameras, it was still rather good for the price of the unit.
The TM80 also uses an MPEG-4-AVC/H.264 format which can record video with a resolution of 1080 x 1920 at 60 interlaced frames per second. This is one of the biggest problems we found with the camcorder since there was no option for recording at the popular frame rate of 24fps or for the improved quality of progressive style recording. Again, it is helpful to remember that there are always tradeoffs in order to keep a low price, but it would have been a nice feature to have all the same.
The Bottom Line
For video enthusiasts looking for a small and lightweight camcorder at a good price, the TM80 may be what you need. Though it admittedly lacks some useful features and has a small sensor size, it more than makes up for them with a convenient form factor and an easy to swallow price.
Tech Specs
Storage Media: SD/SDHC/SDXC, 16GB Built-In Memory

Sensor: MOS

Sensor Size: 1/5.8″

Effective Pixels: 1.3 million

HD Modes: 1080/60i, 540/30p

File Format: JPEG, MPEG-4 AVC/H.264

Focus: Auto/Manual

Iris: F1.8-4.0

Shutter Speed Range: 1/30 – 1/8,000

Optical Zoom: 34x

White Balance: Auto/Manual/Presets

LCD Monitor Dimensions: 2.7″

Video In: Yes

Video Out: Yes

Internal Microphone: Yes

Microphone In: Yes

Headphone Jack: Yes

Speaker: Yes

Battery Type: Li-On (1,790mAh)

Accessory Shoe: No

Dimensions: 2.02″ x 2.32″ x 4.29″

Weight:.43 lbs (without battery)
Strengths
Can be controlled through VIERA Link televisions
Has relay recording
Can record to internal or external memory
Still pictures can be taken while recording video
Weaknesses
Uneven overall video quality
Low storage capacity
Lack of HD cable accessories
Summary
For the price you pay and the features you get, the TM80 is a solid investment for anyone looking for a convenient video recording option.
Panasonic Consumer Electronics Company

One Panasonic Way

Secaucus, NJ 07094

www.panasonic.com

$450
Dan Bruns is an Associate Multimedia Editor at Videomaker