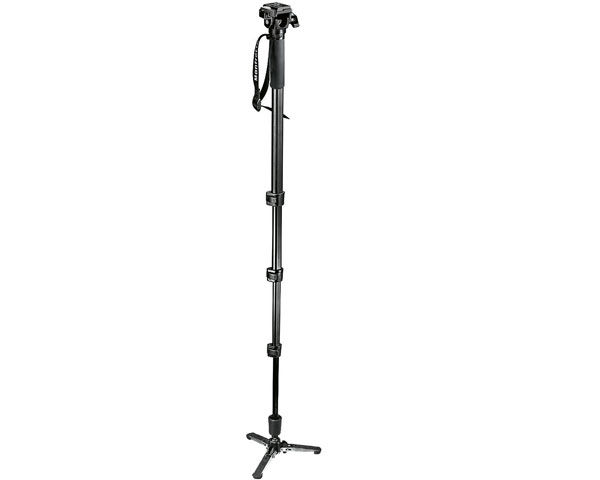 My 'Pod
When is a 'pod not a tripod? When it's a monopod, of course. When does a monopod have one leg and three feet? When it's the 560B by Manfrotto.
We couldn't help but have fun with this valuable camcorder accessory when it arrived at the Videomaker Headquarters. From following our mascot, "Deen," the Jack Russell terrier, around with an inverted camcorder attached, to "Prairie Dogging" our coworkers (looking over the cubicle walls), we found lots of ways to use this monopod. However, it's power isn't in its obvious use but in its unique design.
A Leg to Stand On
The 560B is no ordinary monopod. All monopods do one thing well: they assist the user to keep hand-held shake to a minimum by supplying support on one leg. If well attached, they can also allow the user to shoot over-the-head-shots. However, the 560B goes a step beyond.
The monopod is equipped with three firm retractable feet at the bottom of its leg. Our first thought was that the feet were just a gimmick, but when we opened them, we saw how steady and unique this feature really is. When you unfold the feet, you'll find each locks firmly in place by spring-loaded clips that prevent them from being collapsed accidentally. Each foot has a rubber pad on its underside, giving them added support on slippery floors. You can lower any foot individually, or keep them retracted and use the 'pod like any standard monopod, as there is also a rubber pad protecting the bottom center. We would caution users to be careful when retracting the feet, as the spring is exposed and could stretch over time or become encrusted with dust and dirt if you shoot outdoors often.
Bend Me Shake Me
With the feet retracted, the 560B works like any other monopod. However, open the feet and you expose the monopod's best feature: a fluid cartridge near the bottom of the leg. This cartridge allows the user to execute some incredibly smooth pans while still keeping a firm grip on the ground.
Employing a ball and socket design, the feet and base of the tripod stay steady on the ground while allowing the videographer to pivot the monopod flexibly and smoothly. Think of a handheld arcing shot sweeping over the hood of a car, or imagine standing on the upper-most peak of a mountain and panning across the skyline for a smooth panoramic shot of the mountain range.
The pivoting ball is smooth and has a nice drag to it. Even employing all the hand-held shooting tricks, pans are never as smooth as those using a steady device of some kind, and the thick support on the 560B's base makes movement smoother than those shot with an ordinary monopod. In fact, you might find yourself leaving your solid, steady, and cumbersome tripod in the car while you grab-and-go with Manfrotto's 560B.
The downside of this ball-and-socket design is the same as the retractable feet, the cartridge is exposed to the elements and water, dust and other forces of nature can get into the joint, clogging up the device, and rendering this feature on your monopod unusable. If it does get dirty, it appears that you can open the joint with a tiny screwdriver to remove the ball from the socket to clean it.
One might wonder why the designers placed this joint at the base of the monopod as opposed to the traditional placement at its head, and the answer is easy: for stability. It's all about physics; the joint at the bottom of a one-legged 'pod works as a counter-balance to the heavy camera on top.
Head Count
Moving up the monopod, the leg itself has four sections, can be raised up to 65-inches, and collapsed as low as 26-inches. Each section opens using a locking flipper lever that feels solid and secure. If you don't need to raise the monopod to it's highest point, then you should raise the top sections first to get the height you want, because the bottom section is thinner and won't be as steady. This is true for all most tripods or monopods, but many people find it's easier to open from the bottom. Your 'pod is always going to be steadier with the larger sections in use as opposed to the thinner portion of the leg. Just another fun tripod tip.
The head of the Manfrotto's 560B is similar to other monopods; it has a locking tilt design and a quick-release plate. However, this locking tilt is firm and secure, and the quick-release plate has an added extra locking pin that prevents the user from accidentally pulling the quick-release lever and dislodging the camera. The ski pole-like grip is comfortable, and with a firm grasp, due to the pivoting cartridge at it's feet, you can smoothly spin the head for some handheld pans that look smooth as glass.
We tested the 560B using two camcorders: a Panasonic PV-GS39 camcorder, which weighs in at 1.03 pounds and a larger Sony DCR-VX2100, which weighs in at 3.6 pounds. The Panasonic camcorder mounted on the monopod was a breeze to put through tilt, pan, and arc movements and we were surprised to find the monopod had no trouble accommodating the larger Sony camcorder either. We did feel a bit uncomfortable with it's stability when the 'pod's leg was fully extended using the heavier larger camcorder, and would prefer to keep the smaller thinner lower section retracted. Although you must keep a firm grip on the monopod using larger camcorders, the specs list says the load capacity can hold up to a 4.4-pound camcorder without doing damage to the 'pod.
A Leg up on the Competition
While we found very little wrong with the monopod compared to other devices in its field, there are a few things worth noting. First, its price. With monopods going for $25 for the very simple, to $90 for more solid 'pods, we found in our research that the average 'pod was about $65. At $210 MSRP, this is a pricey 'pod, although dealers are listing it a lot lower. However, we believe it's worth the money if you take care of it. We also discovered that if you're doing a sweeping arc shot with the feet firmly placed on the ground, if you gently place one of your own feet over one of the monopod's feet you will have a steadier shot. This is something you can't do with any other monopod.
Finally, having the three feet might give you a false sense of security. Smaller camcorders can balance while standing on the monopod without the human touch, but don't be fooled. You can't forget and leave your camcorder sitting on Manfrotto's 560B monopod as it is not a tripod, and a mild gust of wind or ground movement can topple it over if it's left unattended.
The only thing missing on this monopod is a spirit level, as you might want to check if your shot is level, but most likely you'll be using it for moving shots. We believe you'll love this monopod, and find you'll grab it more often than your tripod for that steady, firm, and very fluid shot.
Want to see more? Download our vidcast, Videomaker Presents episode #28 to see the 560B in action.
TECH SPECS
Model: 560B

Finish: Black

Material: Aluminum

Column Type: 3-faceted

Maximum Height: 65.5 in

Closed Length: 26 in

Leg Sections: 4

Foot Type: Retractable feet

Maximum Load Capacity: 4.4 lbs

Tilt: -90°/ +90°

QR Plate Supplied: 3157N

Weight: 24.7 oz
STRENGTHS
Fluid pivoting leg (pan only)
Retractable feet
Strong locking protection
WEAKNESSES
Pricey for a monopod
No level bubble
SUMMARY
The perfect accessory to bridge the gap between firm planted tripods and handheld shooting freedom, Manfrotto's 560B monopod is smooth, light, and fun to use.
Jennifer O'Rourke is Videomaker's managing editor.
$210
Manfrotto Distribution Inc.

PO Box 506

Ramsey, NJ 07446

www.manfrotto.us