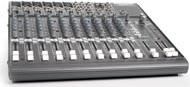 While there are a wide range of companies that have built solid reputations making quality audio mixers, for the past decade or so few have had a better reputation for both value and dependable quality than the Mackie brand. Much of the reason for Mackie's success has been its reputation for balancing quality of sound performance, with nearly indestructible quality and signal flow flexibility. A case in point is the Mackie 1402-VLZ Pro.
A Solid Performer
The 1402 has been in production for several years. It's a favorite in small video studios because it combines high quality basic sound mixing in a small footprint while still providing the kind of flexible signal routing that audio-for-video practitioners value.
The first thing you'll notice when you unpack a 1402-VLZ Pro is that while the unit is only of modest size, it feels completely solid and substantial. This means you won't have to worry that moving a slider will cause the whole unit to shift on your desktop.
If you ever have the chance to go "under the hood" of one, you'll quickly realize that this weighty feel doesn't result from the manufacturer simply tossing some extra metal in the box, either. It's the result of densely packed components and the kind of engineering quality that makes a difference in gear. It's the "feel" of the unit. No wobbly faders or insubstantial knobs here. Every control has the "rock solid" feel that shows that the designers spent time thinking about a lot more than simply where to put the holes for the necessary knobs. Why is this important? For one clue, read some of the Mackie literature and you'll learn that this kind of precise fit and finish has a purpose behind it.
Mackie's manual and web site points out that when they were designing the product, they understood that occasionally, bad things happen to good mixers. Like stuff falling on them. So they designed the faders and knobs with the goal of being able to withstand some grief. That close tolerance between the bottom of the knob and the metal plate behind it helps insure that if something does fall on the control surface, it won't put extraordinary pressure on the circuit board underneath and crack something.
Quality Design
Mackie has earned its reputation for quality for smart design and it shows. The reality is that no matter how good a microphone you use, if you use it with a pre-amp circuit that isn't up to par, your sound quality will suffer. While not the absolute finest in the industry (mike preamps are sold where the cost of a single channel is far more than the cost of this whole mixer) the Mackie VLZ Pro pre-amps are well known for a solid price/performance ratio. In fact, one can argue that in most typical audio-for-video signal chains, the VLZ Pro's microphone pre-amps will likely out-perform the rest of the equipment surrounding them. Another benefit to using a dedicated audio mixing board in your work is that most mixers have basic tone controls built in–tone controls (unlike the software versions on many computer based audio sub-systems) that always work in real time so that you can make changes and hear them instantly.
In the studio, mixers like the 1402-VLZ Pro also do double duty as audio patch bays, allowing you to keep sources such as microphones, VCRs, DVD players, MP3 players and the like all attached to a central place with feeds to your recorders so that you can select the proper sources with the quick slide of a fader, twist of a knob, or the punch of a button. In short, a quality audio mixer can act as your central audio processing unit, making your audio-related work more efficient. With 14 line inputs, (6 mono and 4 stereo pairs), flexible mono and stereo master faders and robust patching and signal control options built in – the unit has all the flexibility most basic audio for video suites will require.
Point of Power
And it's a minor point but another "check mark" in Mackie's favor is that the unit has a real AC power cord rather than a "wall-wart" style power supply. Don't get me wrong, there's nothing inherently wrong with using an outboard power supply. Sometimes that's the powering solution that makes the most sense for a particular piece of equipment. And equipment that uses lower voltage DC has the added advantage of being easy to convert to battery operation — something that the Mackie 1402 does not offer. But I've always suspected that for many manufacturers the decision to use a "wall-wart" power supply is often just a money saving decision. It's clearly more costly to build the necessary power supplies and high-voltage circuitry inside a unit than it is to just use an outboard transformer to step down the juice at the wall.
So the power cord becomes an indicator that Mackie elects to balance of quality and affordability, and if the two goals were in conflict, they do their best to come down on the side of quality. A decision that should help keep their customers happy in the long run. Bottom line – these are some of the most popular small mixers in the industry and they wouldn't be if they didn't have a distinguished record of providing good value for the money.
So if you're ready to expand your audio toolkit and are looking for a simple, flexible, dependable hardware audio mixer — joining the legions of users who depend on small Mackie mixers like the 1402-VLZ Pro to handle their day to day audio chores is a safe bet.
Bill Davis writes, shoots, edits, and does voiceover work for a variety of corporate and industrial clients.
TECH SPECS
Input Channels: 14

Types: XLR, 1/4", RCA

Mono Inputs: 6

Stereo Inputs: 4

Mic-Level: 6

Line-Level: 14

Ground Lift: no

Phantom Power on Mic: yes

Output Type: XLR, 1/4", TRS, RCA

Stereo Output: yes

Meter Type: LED

Max. Mic Gain: 60dB above unity

Max. Line Gain: 45dB above unity

EQ bands: 3

Cue: yes

Fader Type: Slide
STRENGTHS
Small size with a solid and substantial feel
Can also do double duty as an audio patch bay
14 line inputs (6 mono and 4 stereo pairs)
WEAKNESSES
Can't operate off a battery
SUMMARY
The 1402 VLZ pro mixer is combines high quality basic sound mixing in a small package while providing the flexibility that audio and video producers cherish.
$579

LOUD Technologies Inc.

16220 Wood-Red Rd., NE

Woodinville, WA 98072

(800) 258-6883

www.mackie.com