Casting actors and talent is an important part of the pre-production process, and it's something that shouldn't be taken lightly. There are a few places where you shouldn't try to cut corners, and on-screen talent is one of them. The movie-rating website rottentomatoes.com is filled with beautifully produced movies torn apart by reviewers because of bad acting. Conversely, it's also filled with great reviews of movies with lower production values and great acting, which is to say, a talented actor can be of far more use to your production than an extremely fancy camera.
Define your needs to avoid wasting time
After getting your budget, the first thing you need to do is sit down and figure out exactly what you need and how much you have to spend on it. This isn't only to be done with money, this is with time as well. How much time do you have and how much can you afford to spend on each part of your production? Being organized in the beginning means you waste less time and money as you go along.
As your production gets larger, more people get involved, schedules become more difficult and every wasted minute adds up. To help you figure out what you need, write out descriptions of the talent you're looking for. This can be loose like a general age range, or it can be extraordinarily specific.
Finding actors who work for deferred compensation isn't uncommon in independent cinema where cast and crew are paid in "points" against future revenue.
You should also have your production schedule in the works now too. What dates are you planning on shooting? How flexible can you be? Can you accommodate actors who have other jobs, children they need to pick up or holidays? Set aside the largest amount of time you can possibly work on the project and be prepared to compromise to fit in everyone's schedule.
Finally, be aware of your budget, How much money, if any, do you have available to pay actors? Money isn't always necessary. The indie film industry is bursting with films that casts and crew have worked on in exchange for food and credit, but even a nominal amount shows your actors you care. One of the best things you can get from your first video production is good word-of-mouth from the people you've worked with.
Compensation can be paid, volunteer or deferred, the latter means that payment is deferred until your project—hopefully—begins earning money. Finding actors who work for deferred compensation isn't uncommon in independent cinema where cast and crew are paid in "points" against future revenue.
Where to look
After years of casting actors in videos, we've learned that the most important aspect of an actor is that they show up when they're supposed to show up, do what you need them to do and are pleasant to be around during the interim. This means that once we've found an actor we like using, we've very little motivation to go elsewhere. Working with people you know and trust is always the least stressful, but how do you get to that point?
1) Casting agencies: all big cities have casting agencies, lists full of models and actors and voice-over talent that they'll be happy to send your way for a fee. They'll often have someone come sit with you while you do auditions. They're in the Yellow Pages under "casting agency" and easily found with a Google search for "casting agency YourTownHere".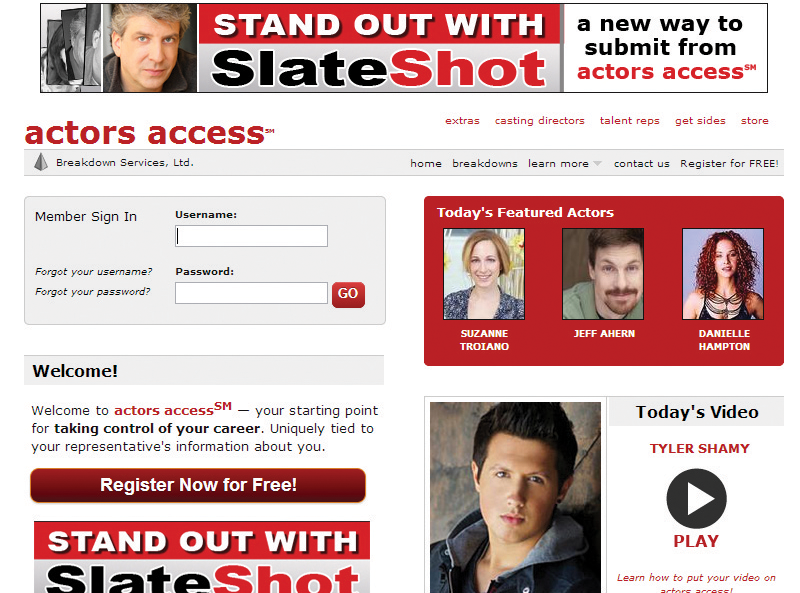 2) Websites: lots of actors go it alone and look for jobs on places like craigslist.org, and on actor specific websites like actorsaccess.com, backstage.com, or mandy.com.
3) Friends and family: unless your brother in law is in the Actor's Equity Association, this is a last resort. Just like you wouldn't hire someone off the street to do sound or lighting work for you, getting actors who are pros is important. Working with actors among friends and family can also lead to difficult family situations… avoid if possible.
Open or closed auditions?
Once you have your casting calls written and published and you're getting responses from talent, it's time to schedule auditions and start casting talent. So-called "open auditions" are time slots when anybody can show up and audition, closed auditions are by appointment only. In an open audition, you'll need a waiting area and someone organized to staff the door, organize actors, collect resumes and headshots and send them in in an orderly fashion. In cities like New York or Los Angeles, open auditions sometimes bring in hundreds of actors competing for a few parts.
If you're seeing dozens or even hundreds of actors back to back on the same day, you may not have much time to spend with them individually. Don't overextend yourself — keep on schedule and be considerate of the actors who have taken time from their day to come and sit in your waiting room. However much time you promise them, be sure that you give it to them and even if you know right away that they're not right for the part, be polite. Apart from actors, one thing that you'll acquire during the auditioning process is a reputation. It's better to have the reputation as the courteous director who offers great feedback than the jerk who was texting while people are acting their hearts out.
Joshua Browns, a Philadelphia based actor and director has seen the audition process hundreds of times from both sides of the table. His experience as both a director casting talent and an actor looking for jobs gives him a terrific opportunity to understand what works and what doesn't work during casting calls. Like many actors, Browns wants to know that he's being taken seriously. "It's great," he says, "if a CD [Casting Director] can try to occasionally look up and pay attention during the actual read. Actors get that you want to make notes, but a director who never looks up once during an audition makes you feel like you're wasting your time."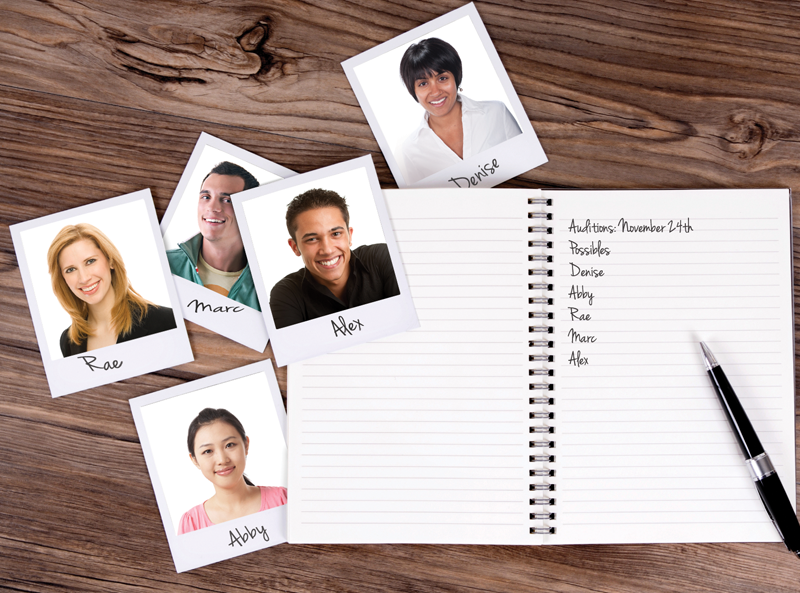 Plan to give each actor enough time to come in, get settled and then read for you. You can have someone read dialogue with them, preferably an actor either who's already cast in the production or someone specifically to do that. You can either have actors prepare a monologue of their own, or have them read something from your production. If you do that, be sure that it's something that gives them a chance to act.
Browns goes on to point out " … the most aggravating part of the process is directors/casting directors who don't know how to pick "sides" that will actually help them make a decision. Actors can usually tell when a particular moment or scene is going to show them off well, and when you get a side that doesn't show off what you do, or where the character you're auditioning for isn't the focus of the moment, it's incredibly frustrating."
You can take notes during the process but keep them short and refer to a video of the rehearsal to make your decisions. When you've narrowed it down to a few actors, it's common to schedule a "call back" when you have the best come in for a lengthier audition in which you can really see how they work; casting talent requires more than a few seconds. Not all directors and casting directors inform the auditioners that they didn't get the part, but it's a nice thing to do. Casting talent is a job you'll probably do over and over, it's good to be well thought of.
Your final decision
After your casting calls there are an awful lot of things to take into consideration when making your final decision and, perhaps counterintuitively, they're not all based around casting actors who are the most talented. Some other things to consider are their work ethic, and their enthusiasm. What extenuating circumstances would cause them to miss a day of work? During the shooting of Big Trouble in Little China, Kurt Russell came down with a serious bout of the flu but refused to take a day off. Even with dedicated actors, some script changes may be in order to help the production flow. Availability is also important, if your shoot runs over schedule would they be able to extend? And also take into consideration their rate, how much you'll need to pay them. If he or she belongs to a union such as the Screen Actors Guild there are union considerations you'll need to take into account as well.
SIDEBAR
Writing Casting Calls
Writing a casting call involves saying who you are and what you need. Be vague enough that you'll get some people who defy your expectations, but explicit enough that you won't get people who are totally wrong. Briefly explain what the role is and any age, gender, or ethnicity requirements. Also specify whether you're looking for union or non-union workers and let people know how to get ahold of you. You can either schedule auditions with a specific date and place or solicit resumes first and ask the people you're interested in to stop by for an audition.
Sample:
Bob's Used Bicycles Commercial
Compensation: Paid
Requirements: NON-UNION
Contact Information: 945-343-4989
Contact: Bob Zwildgetz
Email: BZwldgetz@bobsusedbicycles.com
Casting for a Bob's Used Bicycles commercial will involve a local celebrity. Looking for MEN and WOMEN between the ages of 20 and 30 who can sing and perform light stunt work. Must be able to satisfy ALL of the following:
Able to balance a bowling pin on their head while riding a bicycle for at least one city block.
Be very physically fit
Be available days Monday-Friday
Be unafraid of gorillas
Must have resume and headshot