Not familiar with I/O devices? Finding the right I/O device to match the equipment you use and the demands of the work you do can be as simple as looking at a few common uses of I/O devices and seeing how these reflect your needs.
What is an I/O Device?
I/O is a common abbreviation used for input/output. An I/O device is anything that sends data into or out of a computer system. For our usage that data usually consists of audio and video signals or files. Even though the footage our cameras produce is most likely digital, and the video coming out of our computers is also digital, the formats are usually not the same. That's where I/O devices are utilized; they get video and audio into or out of your computer. I/O devices can be as simple to operate as an SD card reader or as complex as a SDI capture and monitoring device.
Internal or External?
If you're working with a laptop then you'll need an external I/O device connected via a USB, Thunderbolt or other compatible port. On many desktop computers, you can add an I/O card directly to the motherboard, although using an external device does have it's advantages. External I/O devices offer more flexibility; they can easily be moved from one system to another. Internal I/O cards don't require any additional desk space since they install inside your computer. Additionally, if you move your computer system frequently, you won't have to worry about leaving the I/O device behind.
It's important to make sure that your computer has the right ports available for the I/O device you want to connect. First check to see if your computer has the USB, Thunderbolt or PCIe port needed to connect, and then make sure you aren't using that port for something else. For example, if your desktop has multiple USB ports, but you're using all of them for external hard drives, an internal I/O card might be a better option.
Video Capture
One of the most common uses of I/O devices in video work is to capture a video signal so that it can be recorded or manipulated by a computer. There are many different devices out there to help you do this, so it's not about finding the best one; rather, you should look for the device or devices that best suit the work you do.
One of the most common uses of I/O devices in video work is to capture a video signal so that it can be recorded or manipulated by a computer.
At first, the idea of recording live video to a computer instead of a camera or dedicated recorder may seem a bit odd, but it does have its advantages. The first advantage is speed. If you capture straight to the computer you edit with, then there is no waiting for files to transfer before editing. Many cameras only offer one or two recording codec options with limited ability to adjust the codec settings, but editing or recording software on a computer can offer a lot more options. Those codec options can be very important if you're looking to shoot and upload straight to a website without editing. Having more options with your codecs can also let you record with less compression, which usually improves your image quality.
It's important to note that many cameras only allow you to record in camera with 4:2:0 color sampling, which degrades the richness of the color in your footage. It's possible with many capture devices to record with 4:2:2 or 4:4:4 color sampling, which will greatly increase the quality of the color reproduction as well as make many effect shots like chroma keys easier to accomplish. Despite recording capabilities, most cameras that have HDMI outputs support 4:2:2 color sampling, and many with SDI outputs support 4:2:2 and 4:4:4 color.
Web Streaming
You don't need dedicated hardware to stream multi-camera live events to the web. Software solutions, such as Livestream Studio and Telestream Wirecast, are designed to work with video capture devices that allow you to stream a live feed to the web while switching between multiple camera inputs, adding in titles and playing video clips — all while recording the video to your computer.
Video Monitoring
If you're working on projects with delivery to a standard like broadcast HD, then you'll want to monitor that video in that standard. The challenge with this is that computers typically use the sRGB or the Adobe RGB color space and HD video uses the rec. 709 color space. While these color spaces are similar, they don't reproduce color exactly the same way. This is part of the reason the color on a Blu-ray played on your computer may not look the same as when you view it on a TV connected to a Blu-ray player.
One of the solutions for this issue is to use an I/O device to connect your computer to a broadcast monitor with an SDI input or a computer monitor with an HDMI input. Software support of an I/O device to drive an external rec. 709 video monitor is widespread. Media Composer, Final Cut Pro and Premiere Pro all currently support video monitoring. To help ensure color accuracy, you'll need to calibrate your monitor. SDI equipped broadcast monitors typically have onboard controls for this. If you're using a computer monitor, you'll need to use software based calibration tools from the software you're running, the software of the I/O device or a third party calibration software.
You'll also want to view footage at the same resolution you're mastering for. If your project is 1920 x 1080, you'll want a monitor that has that native resolution. Some software and some monitors will let you display pixel for pixel. An example of this would be if you're viewing a 1280 x 720 resolution project, you watch it on a 1920 x 1080 monitor with black borders around the on-screen image. By doing this, you ensure your video isn't scaled to a higher or lower resolution on the monitor, which would alter the image.
Sound Solutions
The audio inputs on many computers can pick up a lot of noise. This is no real fault of the computer because the inputs were more designed for things like Skype than for pro audio use. Using an external audio I/O device helps isolate the audio inputs and outputs from the noise of your computer and allows you to use professional connections like XLR ports. Some of them also have physical gain (volume) controls to help you alter levels with greater ease.
Compatibility is Key
Whatever I/O device you choose, you'll need to ensure it will not only be compatible with your camera and computer hardware setup but also with any software you plan to use it with; this includes your computer's operating system. Many I/O device makers provide lists of compatible software on their websites, and some software companies even list usable I/O devices. You may also want to check out some of the user and support forums as well, but keep in mind that the opinions on how products perform from end users can vary greatly.
Getting The Gear
Here are a few of of the options currently available in I/O devices.
Elgato Game Capture HD
Although this device was intended to capture live video from video game consoles, it's streaming capabilities can be used for live events or for video clips for social media. The Game Capture HD isn't the only small capture box on the market, but at $150, it's one of the least expensive models to offer analog and HDMI inputs as well as an HDMI pass through for monitoring the input video.
Behringer U-Phoria UMC202HD
The U-Phoria UMC202HD allows you to capture two channel 24bit/192 khz audio to your computer via USB, eliminating the noise that is often picked up by using a computer's onboard audio inputs. The unit features two XLR inputs with phantom power and gain control knobs as well as ¼" outputs and ¼" headphone output. The U-Phoria UMC202HD brings pro audio features in a steel case and retails for $150.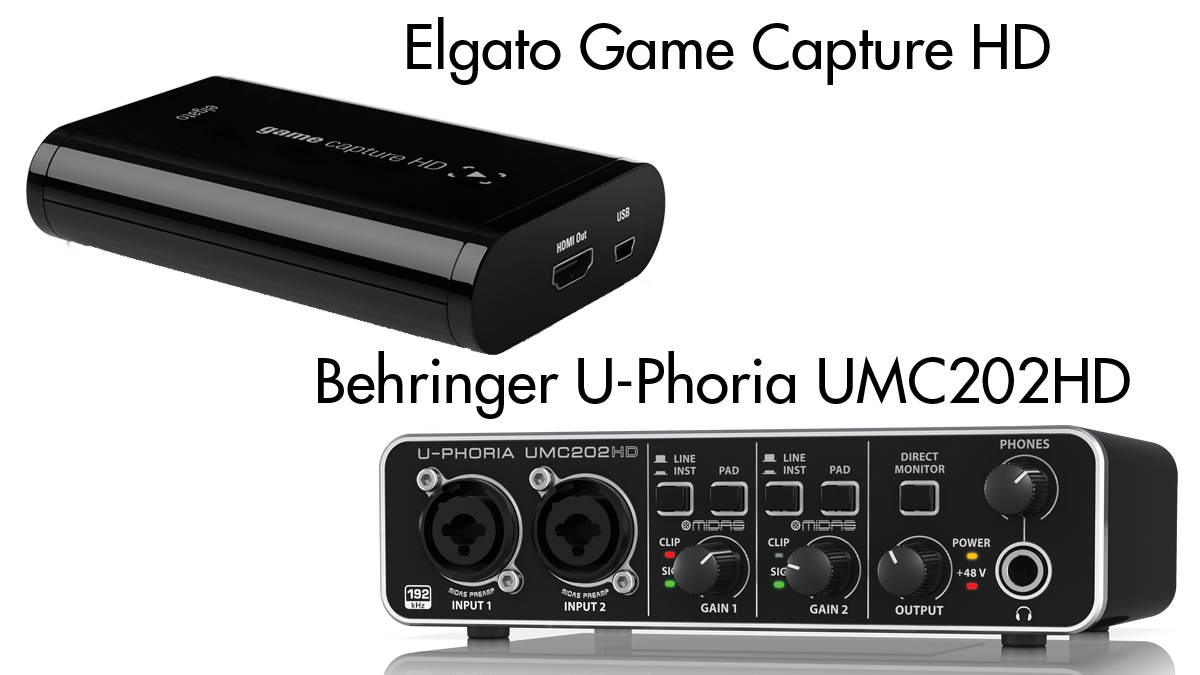 Blackmagic Design Intensity Pro 4K
If you need HDMI capture and monitoring in HD and UHD (3840 x 2160), then the Intensity Pro 4K may be the card for you. This PCIe card has both input and output HDMI ports as well as a ports for a breakout cable for analog video (Component, Composite or S-Video) and audio (RCA pair) as well as a SPDIF audio output. The Intensity Pro 4K supports 4:4:4 color sampling in HD and 4:2:2 in UHD. It has a retail price of $200.
AJA U-TAP HDMI
The U-TAP is an unassuming little box that allows you to input an HDMI video feed directly into your computer via USB 3.0. The device is compatible with both Windows and Mac OS, with Linux support coming soon, and it has broad software compatibility. In addition to the HDMI version, the AJA U-TAP is also available in an SDI version. Both are priced at $345.
Blackmagic Design UltraStudio 4K
If you regularly work with a lot of playback decks in different standards or need to monitor footage in multiple standards, this unit is a very versatile option. From DCI 4K (4096 x 2160) to composite analog SD and just about everything in between, the UltraStudio 4K packs a lot of connection options into a single unit. The UltraStudio 4K includes SDI, HDMI, analog video and XLR analog audio inputs and outputs as well as timecode and remote I/O. With support for just about every major video standard from the past 20 years and a large list of software support, it's a device that will take almost anything you can send its way. The UltraStudio 4K connects to your computer's Thunderbolt port and retails for $995.
Matrox Convert DVI Plus
Creating high quality screen captures of content on computers in a live streaming or broadcast environment isn't always easy, but the Matrox Convert DVI Plus was built to solve that problem. It takes the DVI output of a computer and converts it to SDI with region-of-interest support. Region-of-interest allows you to zoom in on a section of the screen and show just the video and not any other screen graphics that you don't want to appear, similar to the way you would crop a picture in Photoshop but for live video. The unit supports matting for a downstream keyer and logo overlay and also works as a stand-alone DVI to SDI converter. The Matrox Convert DVI Plus retails for $995.
AJA Kona 4
The Kona 4 is a PCIe video monitoring and capture card that supports video up to DCI 4K at 60 fps with 4:4:4 color sampling via SDI ins and outs. Analog video is also supported along with 16 channels of digital audio and timecode I/O with the supplied breakout cable. The card even has an HDMI output for connecting to less expensive monitors. If you're looking for an I/O device with SDI connections and a list of supported formats that you're not likely to outgrow anytime soon, then the Kona 4 is worth a look. It retails for $1,995.
Final Thoughts
Having the right I/O device can really ease your production or post production workflow. While budget may ultimately play a factor in your purchasing decision, remember to look for the device that best supports your hardware and software setups.
Make sure to get a solution that will support the type of work you do and provide the controls you need to do it better.
Manufacturer List
AJA
www.aja.com
Avid
www.avid.com
Blackmagic
www.blackmagicdesign.com
Datavideo
www.datavideo.com
Elgato
www.elgato.com
Epiphan
www.epiphan.com
Grass Valley
www.grassvalley.com
ikan
www.ikancorp.com
MATROX
www.matrox.com
Motu
www.motu.com
NewTek
www.newtek.com
Teradek
www.teradek.com
Odin Lindblom is an award-winning editor and cinematographer whose work includes film, commercials and corporate video.