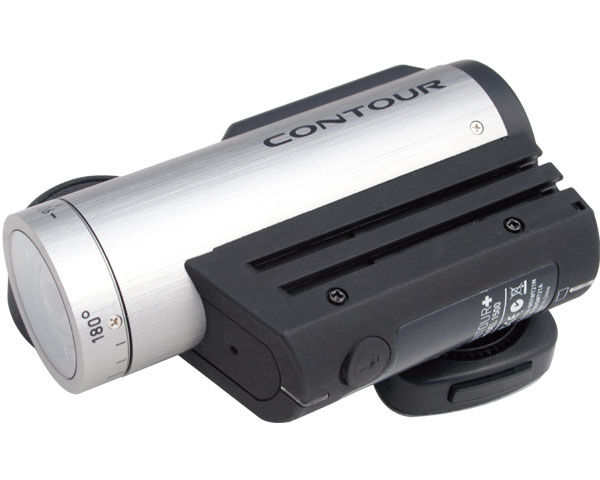 Whether you like to cycle, ski, hang glide or bungee jump; if you're looking for great video on the extreme-go then you've got to check out the Contour+.
The Box
A pretty nifty little camera with lens cover, 2GB MicroSD card, Connect View card for Bluetooth pairing and rechargeable battery. Cables included are USB, mini HDMI and an external microphone cable. Two rotating flat surface mounts, one profile mount, a leash for securing camera to mount and a user's manual round out the box contents. The inclusion of a media card and HDMI cable is much appreciated, making this camera ready to go, literally, "right out of the box."
The Features
The main body of the Contour is a water-resistant (not water-proof) aluminum cylinder approximately 3 7/8 inches long and 1 3/8 inches across with a slide switch on top for record and GPS status functionality. In the not-recording position the switch reveals a button used for pairing the camera with another Bluetooth enabled device.
Underneath the cylinder is the mounting block. The Contour has no place for a tripod mounting screw; instead it uses a T-rail mounting system. Adhesive backed mounting plates may be adhered to any number of surfaces; a motocross helmet for example. The mount's T-shaped rails slide into the camera's correspondingly shaped grooves creating a solid mount. Flat mounting plates may be rotated to the desired position and locked in place.
The bottom of the mounting block is home to a 2.5mm external microphone jack. A 2.5mm to 3.5mm adapter cable is included for use with mini-jack equipped microphones. The lens barrel is marked in 15-degree increments and may be rotated to compensate for inverted mounting. This keeps your image upright even though the camera may not be.
On the rear of the cylinder is a spring-loaded door that pops back when lifted, to reveal the USB and HDMI ports, power switch, video format selector switch, MicroSD card slot, Connect View card slot and battery. The power switch may be operated with the compartment door in the closed position while the two ports may be accessed via pass-through port covers on the back.
For the sake of compactness and durability the Contour has no built-in video display. If you have an iPhone 4, iPhone 3G, iPhone 3GS or 3rd or 4th generation iPod touch, you can download the Contour Mobile App at Apple's App Store. Via Bluetooth, the App allows you to use your mobile device as a preview screen as well as adjust settings such as video mode, mic volume, lighting conditions and more, in real time. Sorry Android users; at the time of this writing, they're working on it, but we're just going to have to wait a bit longer.
The Payoff
Strap the Contour onto a vehicle, helmet or hang glider and the result is some very gritty, extreme, in-your-face, quality HD footage. There's no image stabilization here. Your viewers are going to feel the tension at every bump in the road, the thrill of every victory and the pain of every bone crunching crash.
The super wide 170-degree field of view captures pretty much everything and while there is some distortion, it's certainly livable, and typical, of this sort of video. The camera's low-light capability is, well, low. In other words, lots of noise. In well-lit situations however image quality is very high with clear, rich colors.
Speaking of noise, audio is of the typical onboard sort. Not studio quality by any means but well suited for the genre. And wind noise is just part of the game. If you want better audio for conducting interviews you can take advantage of the microphone port and plug in a quality, wind shielded, external microphone.
Combined with flexible mounting options, manually configurable white balance and exposure, Bluetooth capability for live monitoring and software access and GPS for tracking your location, speed and altitude, the Contour+ may very well be the current king of hands free, POV cameras.
To check out the Contour Community and see some cool shots other folks have done with their Contour.
Tech Specs
Video: 5MP Sensor; H.264 Codec; .mov file type; configurable white balance

Video Format: Full HD – 1080p/30fps (1920×1080); Tall HD – 960p/30fps (1280×960); Action HD – 720p/60fps (1280×720); Original HD – 720p/30fps (1280×720)

Stills: 5MP; 1 photo per 3, 5, 10, 30 and 60 seconds (2592×1944)

Wide Angle Lens: F2.8; 170 degrees at 960p, 720p, Photo; 125 degrees at 1080p; lens rotates -90 to 180 degrees to allow sideways and inverted mounting

Audio: internal microphone, external mono microphone jack; AAC audio compression

GPS: built-in GPS receiver

Bluetooth: v2.1

Memory: 2GB MicroSD card included; capacity up to 32GB

Battery: Removable Li-ion; charge via USB to computer or Contour charger
(sold separately); battery life – 2 to 2.5 hours

Body: Water-resistant aluminum shell; TRail Mount System; rear door pass-through
for USB and HDMI ports

Dimensions: Length 3.86″ x Height 2.28″ x Width 1.34″

Weight: 5.3oz (150g)
Strengths
HDMI cable included
2GB MicroSD card included
Wide angle lens captures all the action
Rich, HD quality
Weaknesses
Excessive video noise in low light
Summmary
If you're a thrill seeker who wants to take your audience along for the ride, the Contour+ is one great way to get them there.
Contour Inc.

3131 Western Avenue, Ste. 410

Seattle, WA 98121

www.contour.com

$500
Mark Holder is a video producer and trainer.