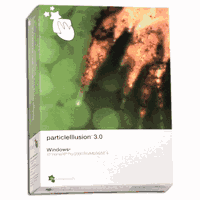 wondertouch by GenArts has just released their popular particleIllusion for After Effects on the Mac. Previously, this release was only available as a standalone sibling to particleIllusion 3.0 and piAE for Windows, but is now available as a plug-in right in After Effects. This allows users the flexibility to create natural, high quality effects such as smoke, fire, explosions, sparkles, fireworks, and abstract effects without having to leave the After Effects environment.
New features for piAE on the Mac include:
* The ability to load most of the more than 2,800 existing particleIllusion emitters in After Effects, including the popular "Pro Emitters"
* The same emitter search engine found in wondertouch particleView
* Access to all top-level particle parameters, including size, life, number, velocity, etc. to further customize the particles for each project
* OpenGL-accelerated rendering
* Full support for HD content
The price for all of these amazing features is only $299. Existing customers can get the plug-in for $179. particleIllusion will also come bundled with their other programs and Pro libraries as well.