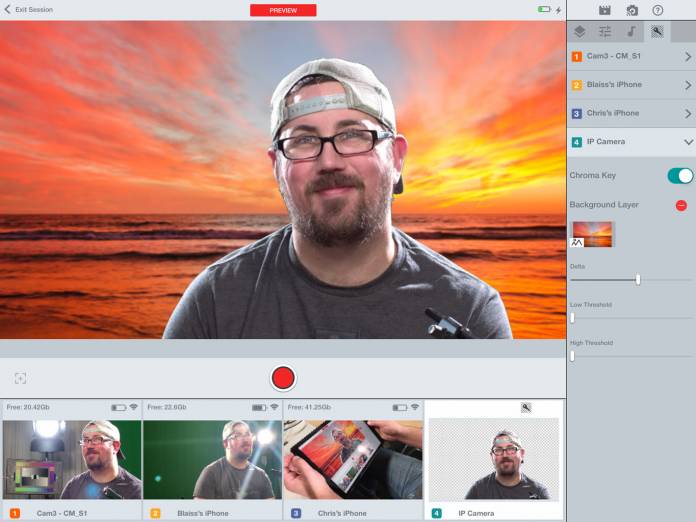 Cinamaker is a live video streaming and switching system that accepts both iPhones and external cameras as inputs. Plus, it uses an iPad as the control interface. Although Cinamaker sells hardware, Cinamaker's software is at the core of this system. This software uses network infrastructure to make multi-cam live streaming and capture possible.
Furthermore, if you have an iPad and an iPhone, you can download the free Cinamaker app today for the ability to live stream, switch and record video from up to two iPhones. The iPhones and iPad don't even need to be on a network; they can be connected peer to peer, making this a simple way to produce a multi-camera stream.
In short, if you need more inputs or want to edit later in Premiere Pro or Final Cut Pro, you'll need Cinamaker Studio. You'll also need to upgrade in order to playout premade video and connect dedicated cameras. Cinamaker Studio costs $20 per month or $200 a year.
Cinamaker kits
On the whole, Cinamaker software is at the core of any Cinamaker streaming setup, but they also offer hardware so that you don't need to source your own adapters, switch and cables to make it all work. You can also set up Cinamaker on an existing network.
Additionally, Cinamaker has a few packages to get you up and streaming for a surprisingly low price. With three kits currently available, the Basic starter kit costs $295 and allows you to connect and switch between up to four iPhones. However, this setup is not fast enough to use an encoder or non-iPhone camera with a higher data rate.
In the event that you do want to use a dedicated video camera, you need the Pro starter kit, which allows for a much faster network. At $495, the Pro starter kit offers gigabit networking for five iPhones, along with the needed adapters.
Overall, the last kit is the most sleek, with the ability to power each iPhone and iPad via the network connection with power over Ethernet. At $1,200, the Super Pro Kit is the most elegant and the best choice for those who want to install setup to be ready with wired power — no charging needed.
Setup is easier than expected
Cinamaker sent us all three kits to test for this review. At first, the number of ethernet cables, switches and adapters was overwhelming. However, with just a few pictures as directions, we were able to hook everything up and get it working on our first try. That's impressive.
In all, we were expecting a much more involved setup time with much more difficulty. Yet, each iPhone connects to the network switch with an adapter. Once the iPad and iPhone apps are turned on, you are ready to go. Even the most expensive kit is just as simple to connect.
That said, cable management will be key since cables connect everything together. Yet, Cinamaker is also capable of connecting inputs over Wi-Fi or with a P2P network. However, it was advised that, if your wireless network has lots of traffic or if you are in an area with numerous Wi-Fi networks, Wi-Fi isn't the best choice.
Comparatively, we were able to test the P2P connection on its own and in coordination with the wired connections. This gave us the ability to have a camera that was roaming wirelessly, while maintaining the dependability of a wired connection on our other cameras.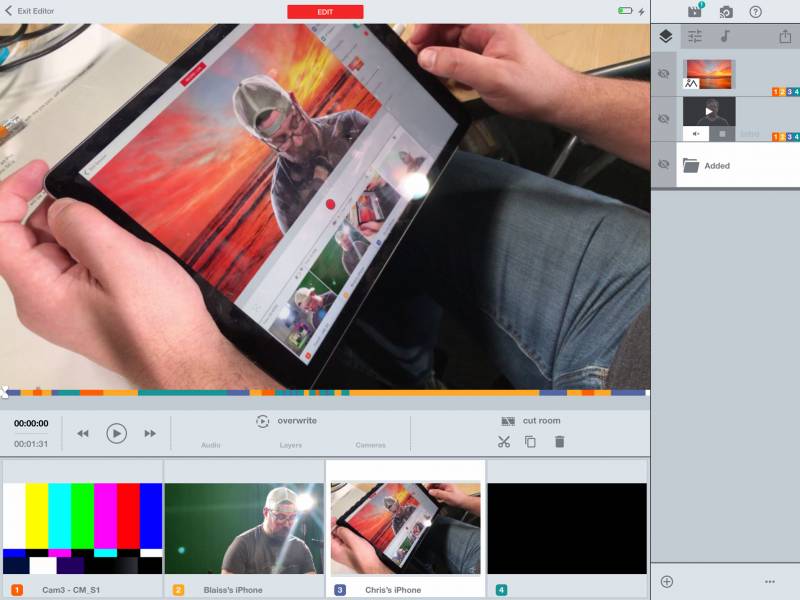 Performance issues
In short, the issue we have most with Cinamaker is that it integrates phone cameras, which don't offer the best image quality. This is where we got to test the HDMI encoder, which allows you to connect any camera with an HDMI output to Cinamaker via Ethernet.
Sadly, during our first time using the encoder, we immediately encountered issues getting the input to show up. Eventually, we discovered that in order for the encoder to work properly, the camera resolution and frame-rate need to match the project.
So, we set the camera to HD at a frame-rate of 29.97 and — voila! It began to transmit to the switcher. This solution wasn't apparent at first and wasn't something easy to identify. However, once the frame rate and resolution were unified with the project, the encoder worked well.
After that, the only issue we had was when trying to key the input from the encoder. In short, it gave us intermittent connection problems. However, the problem resolved itself when we stopped keying the input. When we finally got everything working properly, we noticed that when switching to the keyed input, there was a delay between the switch and the appearance of the background plate.
That small moment where the background was missing is not acceptable for professional video. However, once we alerted Cinamaker to the issue, they were quick to update the app with a hot fix that resolved the issue.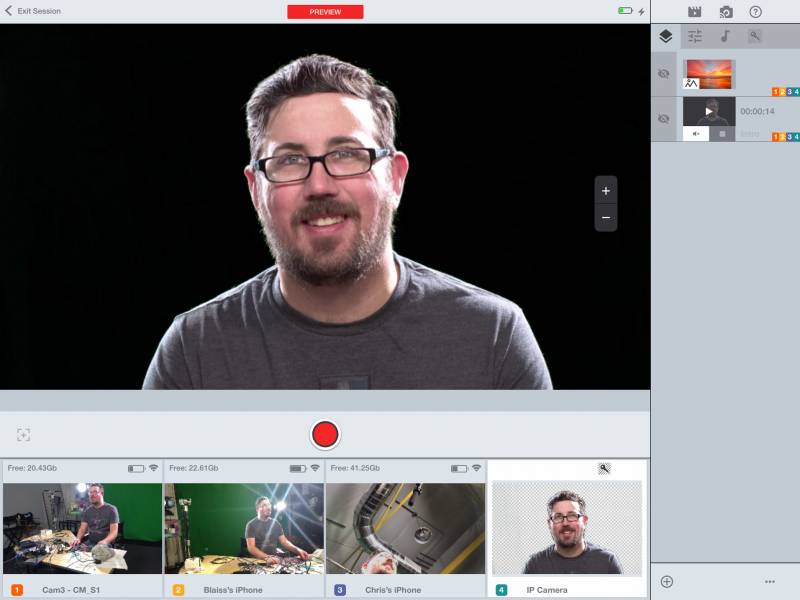 Marketplace
Generally speaking, because Cinamaker offers both subscription software and hardware, it's not exactly like any other product in the marketplace. With that said, there are a few similar options for those who want choices.
The first is a completely wireless solution called Sling Studio. Then we will look at a software switcher called Wirecast Pro, which requires additional third-party hardware. Lastly, is a free open source option called OBS. Like Wirecast, it's just a software streaming, switching and capture platform that requires additional hardware to be fully functional.
Sling Studio is a wireless hub that allows for switching between wireless HDMI inputs. The HDMI transmitters can be connected to any camera with an HDMI output. It also allows for iPhones and iPads to be used as wireless camera inputs and offers support for Android smartphones, too. It also has a single wired HDMI input. Switching happens on either an iPad or Mac.
In all, the Sling Studio hub costs $1000. For that, you can connect to up to 10 cameras at once. For wireless HDMI transmission, each transmitter will set you back $350. These transmitters are battery powered. Sling allows you to play out a pre-made video, create graphics or show a picture in picture. It also has multiple built-in transitions.
Comparatively, Telestream's Wirecast Pro costs $700. It's a full-fledged software switching and streaming software. It comes with a transition library, graphics, titles and text controls. This can be used for video conferencing and screen capture, and you can connect NDI inputs and control PTZ cameras. Live chroma keying and sync audio and video are also supported.
Last up is the open source switching software called OBS. On top of being free, it offers unlimited video inputs, live chroma keying and has virtual sets and graphics. It offers 8-channel audio mixing and is IP camera compatible.
Final thoughts
Cinamaker is simple and surprisingly easy to set up. It has its downfalls — like poor keying — but it's priced well in the marketplace. The ability to use power over Ethernet and iPhones for a stream is very nice — perfect for those who will be installing the setup. For those looking to stream using existing tools like your network and an iPhone, Cinamaker is a great solution that won't break the bank.
SUMMARY

STRENGTHS:
P2P connection doesn't need a wireless network

PoE allows for cameras and switcher to always be charging
WEAKNESSES:
RECOMMENDED USES:
• Corporate and Event Videography
• Online Video Production
PRICE:
Hardware:
Starter kit basic $295

Starting kit pro $495

Starter kit super pro $1195
Software:
TECH SPECS:
Supported devices:
iPhone: 6 and newer

iPad: Air 2 and newer