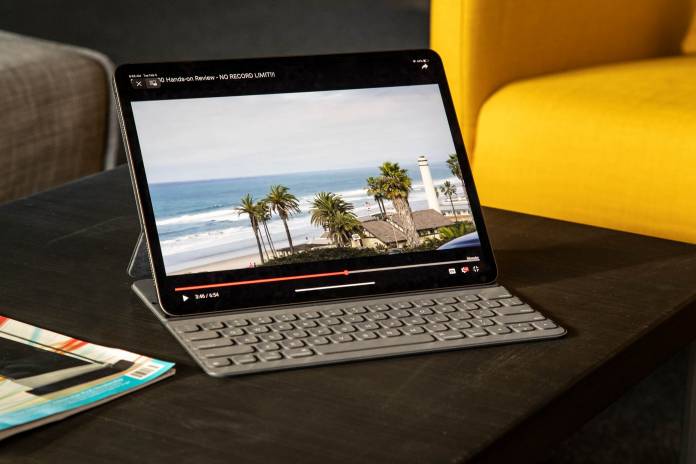 The new iPad Pro (3rd Gen) from Apple is hands down the fastest, most powerful iPad ever made. It's better in every way than its predecessor, offering a wonderful Multi-touch interface and up to 6 gigabytes of RAM. It has a USB-C port, though it can't connect to external storage.
Even though the overall size is smaller, the new 12.9 inch iPad Pro offers the same size screen as the last generation. Compared to the 2nd generation iPad Pro, the new edge-to-edge design and rounded corners also makes this version much easier to hold on to. In another improvement, the new Apple Pencil now charges wirelessly and connects nicely to the iPad. Goodbye, awkward lightning port Pencil — you will not be missed. Overall, it's much easier to handle and use the new iPad Pro over the last generation.
The 12.9 inch iPad Pro can be configured with 64GB of storage all the way up to 1TB. You can choose either Wi-Fi or Wi-Fi+cellular versions. We reviewed the Wi-Fi version, which starts at $999 going all the way up to $1,750 for the 1TB version. With the 64GB capacity, expect to need to pay for cloud storage. That means slow access to data. For video editors, the more storage the better.
Advertisement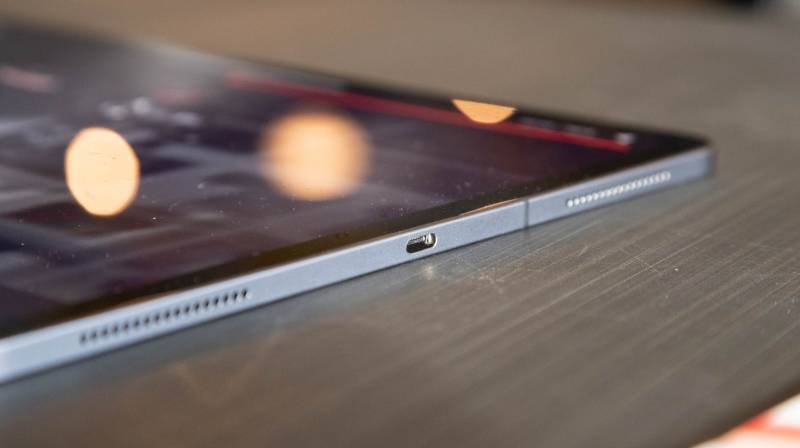 Performance Perspective
The performance of the iPad Pro is excellent. This is the most powerful iPad ever. To put that into a bit of context, the fastest standard iPad costs $329 and has a Geekbench Multi-core score of 5,931. The iPad Pro's score is 17,931. Because of its robust performance and USB-C connection, it seemed that this new iPad Pro was going to be the first iPad for video editing. This still may be true, but the workflow for getting video from external sources onto the iPad is painful.
Take this example: Say you have 60GB of unedited footage. That's not a huge amount these days. You are not able to plug in an external USB-C storage drive and drag the files on to the iPad.
Instead, you're forced to do one of three things: You can push your footage up to the cloud and then download it again to the iPad. You could also use Airdrop, assuming you have an Apple computer. Both solutions are slow. The second option is using Apple's USB-C SD card reader for $40. You then could use the SD card to move data from your camera or computer to the iPad. The last option is to connect your camera directly to the iPad and offload it from there.
For video producers, managing data is a fact of life, so just getting started using the iPad to edit video stinks. The easiest and best workflow is to capture everything with the built-in camera, but the iPad is just so big — talk about cumbersome. We hope that Apple will open up the USB-C for data transfer from an external drive in the future to alleviate this pain point.
What is it like to edit video on the iPad Pro?
Once we got our footage transferred via Airdrop, we tried out a few different iOS editing apps to see how it felt to edit using only a touch interface.
We used both Adobe Rush and iMovie to edit a project on the iPad Pro. The experience editing in both was as good as it gets — they are both simple intuitive apps, and when used in combination with the Apple Pencil, we could easily see someone using the iPad Pro for editing on the go. We wouldn't go as far as to say that it would be the only tool we would use to edit, but getting a rough edit on the tablet and finishing on a desktop is totally possible.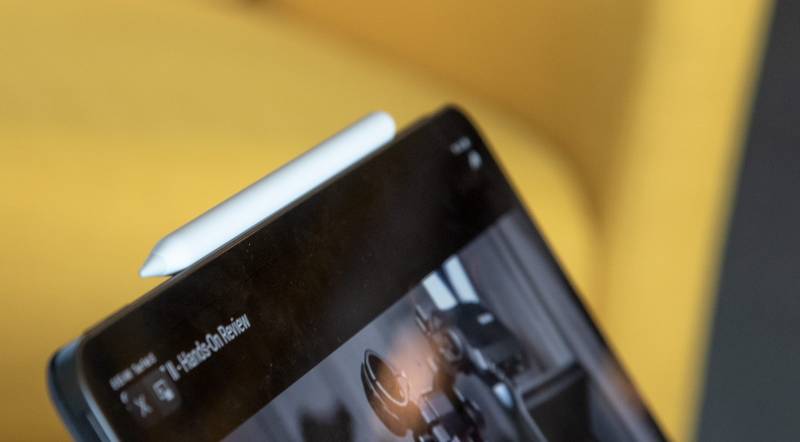 The must-have accessories
For most uses, the Smart Keyboard Folio and Apple Pencil are required. The Folio is $200 for the 12.9-inch iPad Pro, and the 2nd generation Pencil will set you back $130. If Apple products are not expensive enough on their own, the pricy accessories will break the camels back.
The Folio allows for a laptop experience, allowing for handsfree viewing with mulitple viewing angles and, of course, adds a keyboard. The Apple Pencil flows well when drawing or writing and is much more precise than a finger when editing video.
Other performance
The iPad Pro has a great battery life. We used it heavily for watching videos, surfing the internet and editing video all day without it needing a charge. Like all lithium batteries, battery life will go down over time depending on use. Apple offers a long list of best practices to get the longest battery life from their products.
Another plus, the screen is nice and bright, offering 600 nits of brightness — bright enough to use in full sun situations. Additionally, the screen has a very good anti-reflective coating to minimize issues for viewing in bright conditions. The screen is not 4K, instead offering a resolution of 2732 x 2048 at 264 ppi. It still looks great, however.
ProMotion technology also automatically adjusts the display refresh rate up to 120Hz for smoother scrolling and better responsiveness on iPad Pro.
Marketplace
For more context, let's look at three other comparable tablets.
The Samsung Galaxy Tab S4 is the first we are going to look at. It's also the least expensive at $750 for the 256GB version. The same capacity iPad Pro is $1,125. The screen size of 10.5 inches is closer to the smaller version of the iPad Pro. It also comes with an SD card reader.
Next is the Google Pixel Slate. The Slate is more expensive than the equivalent iPad. It comes with an Intel i7 processor, two USB-C Ports and 16GB of RAM.
Last up is the Microsoft Surface Pro 6. At $2,300, it's the most expensive product we considered. It is the only other tablet to offer up to 1TB of storage. It also has an Intel i7 processor, along with USB-A, mini display and Surface Connect ports.
Final thoughts and recommendation
The 12.9 inch iPad Pro (3rd Gen) is a powerful machine. If the next iOS allows for data transfer over USB-C from an external storage device, the iPad Pro would be the must-have tablet for video editors on the go. Until that happens, it will have to settle for being the best iPad ever and hope for a better tomorrow.
SUMMARY
STRENGTHS:
Fast performance

Long battery life
WEAKNESSES:
RECOMMENDED USES:
Online Video Production
Casual Video Production
TECH SPECS:
Operating System:

iOS 12

Chipset: Apple's A12X Bionic chip with Neural Engine
CPU:

Apple 64-Bit Octa-Core

Coprocessor:

M12: Motion, Neural/AI, Voice

GPU:

Apple 7-Core

Storage:

Flash 1 TB

Sensors:

Accelerometer, Ambient light sensor, Barometer (Altimeter), Compass, Depth, Face ID, Gyroscope

Display Panel Type:

IPS LCD

Size:

12.9″

Viewing Angle:

178°

Brightness:

600 cd/m²

Ports:

1x USB 3.1 – Type C

Audio:

4x Integrated Speaker

Wi-Fi:

Wi-Fi 5 (802.11ac)

Bluetooth:

5.0

Front Camera Resolution:

7.0 MP / Video: 1920 x 1080p 60fps

Aperture:

f/2.2

Rear Camera Resolution:

12.0 MP / Video: 3840 x 2160p 60 fps

Focus Type:

Phase-Detect Autofocus

Battery:

Lithium-Polymer Providing up to 9 Hours per Charge (36.7 Wh)

Dimensions (W x H x D):

8.5 x 11.0 x 0.2″ / 214.9 x 280.6 x 5.9 mm

Weight:

1.4 lb / .64 kg
Did you find this content helpful?