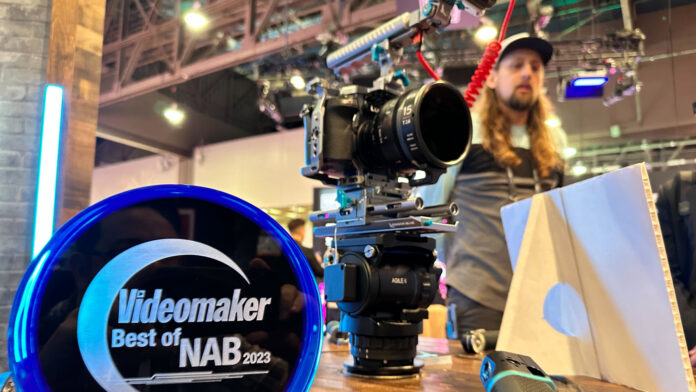 Congratulations to Kondor Blue for winning our Best Accessory of NAB 2023 with the PRO-BLADE SSD Handle. This versatile handle provides a top or side-mounted grip point while also housing a solid-state storage drive for USB-C external recording.
How it works
The Kondor Blue PRO-BLADE SSD Handle can be mounted as a top or side handle using the NATO rail and clamp system. If needed, the handle can also be adapted to ARRI Rosette and Quick Release Rosette systems.
The handle holds up to 2 TB of SSD storage using the SanDisk Professional PRO-BLADE SSD Mag. A vertical NATO rail protects the USB-C connection port, allowing for a safe and reliable connection between handle and camera. With this setup, footage can be captured directly from camera to SSD with sustained read/write speeds of up to 1,000 MB/s.
Other features of the Kondor Blue PRO-BLADE SSD Handle
In addition to providing a sturdy grip point and a safe spot for an SSD, the PRO-BLADE SSD Handle offers several other useful features that make it a valuable rig component. For example, the handle features multiple mounting points, including a cold shoe with a safety stop, two 1/4 20 ARRI-style mounts and a NATO rail that runs along the bottom of the handle. The bottom rail also features integrated safety stops.
For better ergonomics, the PRO-BLADE SSD Handle also features finger cutouts and side cross hatchings for a textured grip. Kondor Blue designed the handle to be durable yet lightweight and comfortable.
Compatibility
Not every camera features external SSD recording via USB-C. Here is a list of cameras that work with this new handle:
Panasonic S5II X
Panasonic GH6
Blackmagic 4k
Blackmagic 6k
Blackmagic 6k G2
Blackmagic 6k Pro
Blackmagic Ursa 4.6k G2
Blackmagic Ursa 12k
Sigma FP
DJI Ronin 4D
Pricing and availability
The Kondor Blue PRO-BLADE SSD Handle is available now for pre-order. It has a price tag of just under $200. Learn more at kondorblue.com.