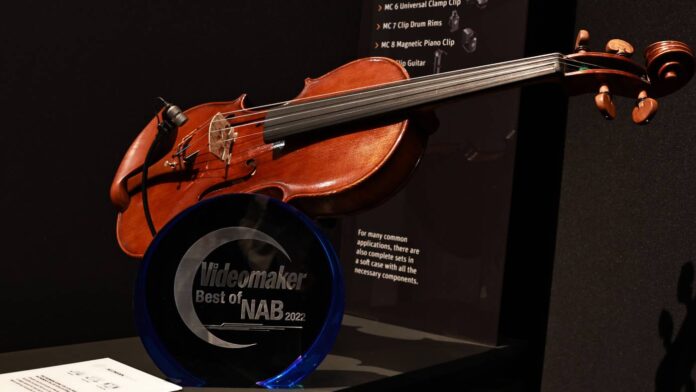 Congratulations to Neumann for taking home Videomaker's Best Mic award at NAB 2022 with its impressive Miniature Clip Mic System.
This tiny little microphone system makes capturing audio for live productions or music recordings simple. Due to its size, you can put it up and personal in the shot, taking little to no space whatsoever.
Neumann Miniature Clip Mic System overview
The system includes a KK 14 cardioid capsule, which the company claims can capture every "true sound" of things like woodwind, brass or string instruments. According to Neumann, the capsule overcomes the limitations plaguing electret principles and captures the sound expected of a wide range of acoustic sources.
This capsule features a layer-based design. According to Neumann, each of the capsules' eight key components is designed for "optimal performance."
"With ultra-low self-noise of 23 dBA and an extremely high maximum sound level of 153 dB SPL, the KK 14 delivers perfect results from both very quiet and very loud instruments," Neumann says.
Lots of connectivity options with the Miniature Clip Mic System
The Neumann Miniature Clip Mic System features interchangeable cable options. This includes a 3.5 mm jack, Lemo, 4-pin mini-XLR and MicroDot connectors. The microphone also works with a wired connection via the MCM 100 high-end output stages and the 3.5 mm jack cable.
Mounting
One of the best things about the mic is its mounting options. It takes just a few seconds to mount and mounts with its gooseneck holders, which can rotate along one or two axes and locks in 45-degree increments.
Pricing and availability
Currently, there's no pricing information or set release date. However, Neumann has given us a ballpark timeframe for when we can expect the system to release. We can expect the Neumann Miniature Clip Mic System to launch sometime this spring. Right now, it's accepting preorders.