Despite much of the controversy surrounding it, "Joker" smashed the box office. It's now the most successful R-rated film of all time. So far, it's made over $988 million, just shy of a billion. However, the film has divided the public and critics over whether it's too controversial to be recognized at award shows. It's been branded as one of the most controversial movies in recent times. There are also fears of it inspiring violence.
While many critics believe that "Joker" shouldn't be awarded for its controversial stances, recent polling suggests that audiences want to see more controversial movies that explore moral gray areas. In an Oct. 11-13 Morning Consult survey, the survey found audiences are split over whether they want films with or without a clear hero and villain. The 'with' opinion comes in at 51 percent, while the 'without' opinion comes in at 49 percent. In a similar poll, 52 percent of 2,198 U.S adults said movies should show moral ambiguity.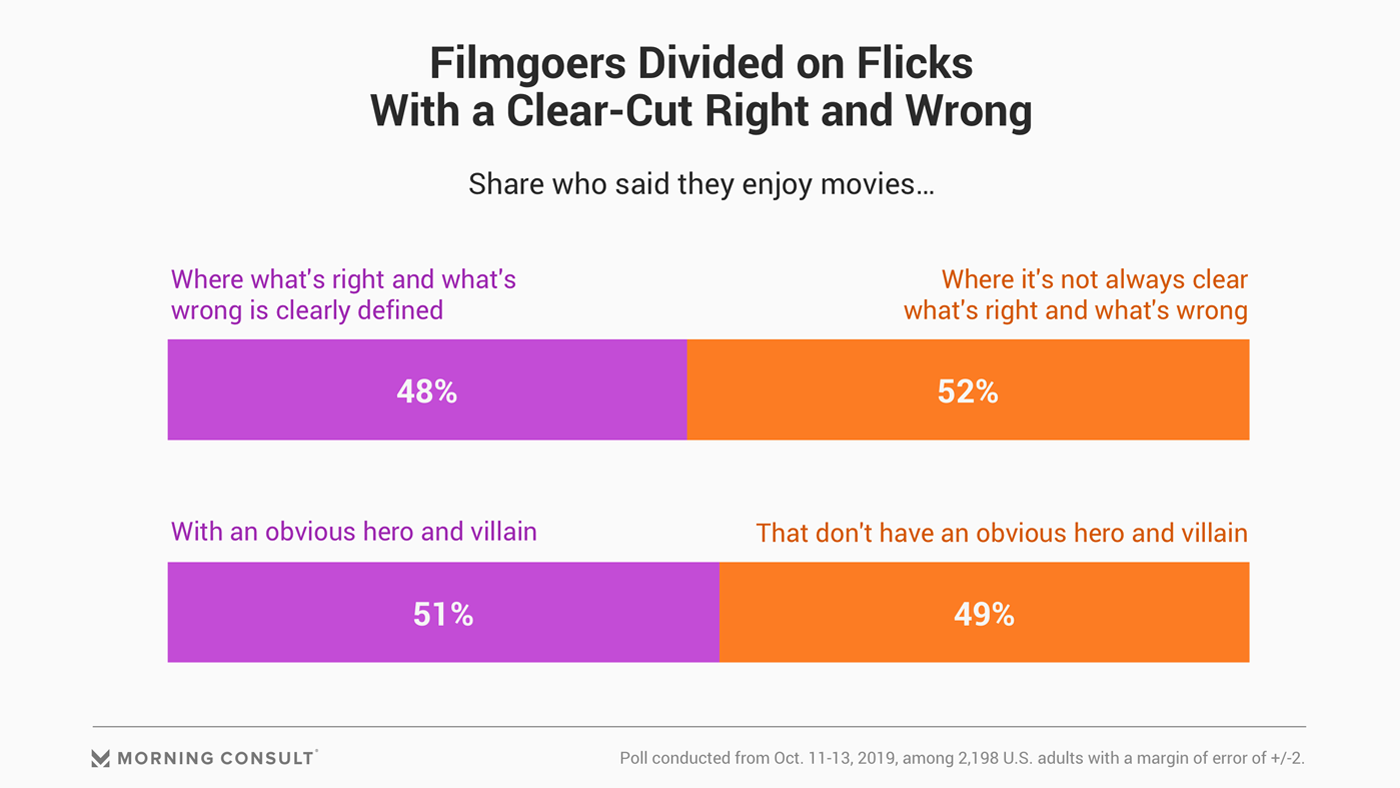 Is "Joker" too controversial to be acknowledged or should controversial movies be treated equally?
There's been a lot of concern over the graphic violence in "Joker." Thankfully, there is no instance of violence tied to "Joker". However, many have branded it as a film that will incite violence and urged for it not to be supported.
Ironically, the controversy helped the film. It became an event film. Everyone knows about "Joker" even if people weren't planning on seeing it. The more the film was branded as too controversial, the more it sparked the interest of audiences.
Additionally, according to Paul Dergarabedian, a senior media analyst at Comscore Inc., the success of "Joker" is "reflective of a desire by audiences to be challenged by movies." Similar to Martin Scorsese's "Taxi Driver", which "Joker" took inspiration from, the film has challenged audiences with its controversial topics and become an event you had to see for yourself.
Also, films like "Joker" are more likely to do better during times of social unrest. Kendall Phillips, a professor at Syracuse University's department of communication and rhetorical studies, said controversial films are more likely to do better "during times of cultural or social upheaval." Why? Because audiences crave "darker fare" as a way for them to process what is happening in the world.
Critics are torn about "Joker"
Now, not all critics are against "Joker." Far from it. It has gained critical attention and has won a few awards already despite being one of this years' most controversial movies. But how does the Academy feel about the film? In a story published by The Hollywood Reporter, a member of the Academy's executives' branch said "I don't think the Academy should honor a film with such controversial elements." Those are strong words that go against what audiences believe.
When polled, 68 percent of them believe a good film should be rewarded, regardless of whether it's controversial or not. Likewise, 76 percent of 238 surveyed people who saw "Joker" believe the film should be nominated for an Oscar. It's clear that audiences want the best films to be awarded, despite potentially ruffling society's feathers.
That isn't to say the Academy is completely against "Joker" and films like it. Another member in the producers' branch said he was "torn" over the "responsible" choice "as a voter." However, there is a clear divide between critics and audiences. Critics debate about what fits best into culture and audiences just want to be entertained by a good film and see it be rewarded when it succeeds in doing that.
Image courtesy: Warner Bros. Pictures