GoPro has announced its new GoPro HERO12 Black action camera with features such as timecode sync. The company has also announced the Max Lens Mod 2.0 accessory which it describes as a game changer.  
HERO12 Black sensor
The GoPro HERO12 Black features a 1/1.9-inch sensor with an extra-large 8:7 aspect ratio. This larger sensor means that it can be cropped into vertical 9:16, widescreen 16:9, traditional 4:3 or full-frame 8:7 aspect ratios. These aspect ratios are also available across all video resolutions as well as TimeWarp, Time Lapse, Night Lapse and all Night Effects modes. In addition, it means that you can capture vertical video with HERO12 Black mounted horizontally.
Video specifications
The action camera can record video up to 5.3K which has 91% higher resolution compared to UHD 4K and 665% more than 1080p HD video. In 4K you can also record up to 120 fps for 4x slow motion and in 2.7K resolution you can shoot at an amazing eight times slow motion. In addition, the HERO12 Black delivers High Dynamic Range (HDR) video in 5.3K and 4K. If you want still images, you can capture up to 24.7-megapixel frame grabs and 27-megapixel photos.
Max Lens Mod 2.0
Combining the HERO12 Black with the new Max Lens Mod 2.0 accessory gives you a super wide 177-degree field of view at 4K resolution and 60 fps. GoPro says this is the best in class, widest-ever field of view at that resolution and frame rate. With the Max Lens Mod 2.0 you can also capture video and photos in three field-of-view settings: Max Wide, Max SuperView and the hyper-immersive Max HyperView. In addition, the Max Lens Mod 2.0 takes full advantage of the HERO12 Black's extra large 8:7 sensor. You get perspectives that are 36% wider for widescreen video and 48% taller for vertical video.
Emmy Award-winning video stabilization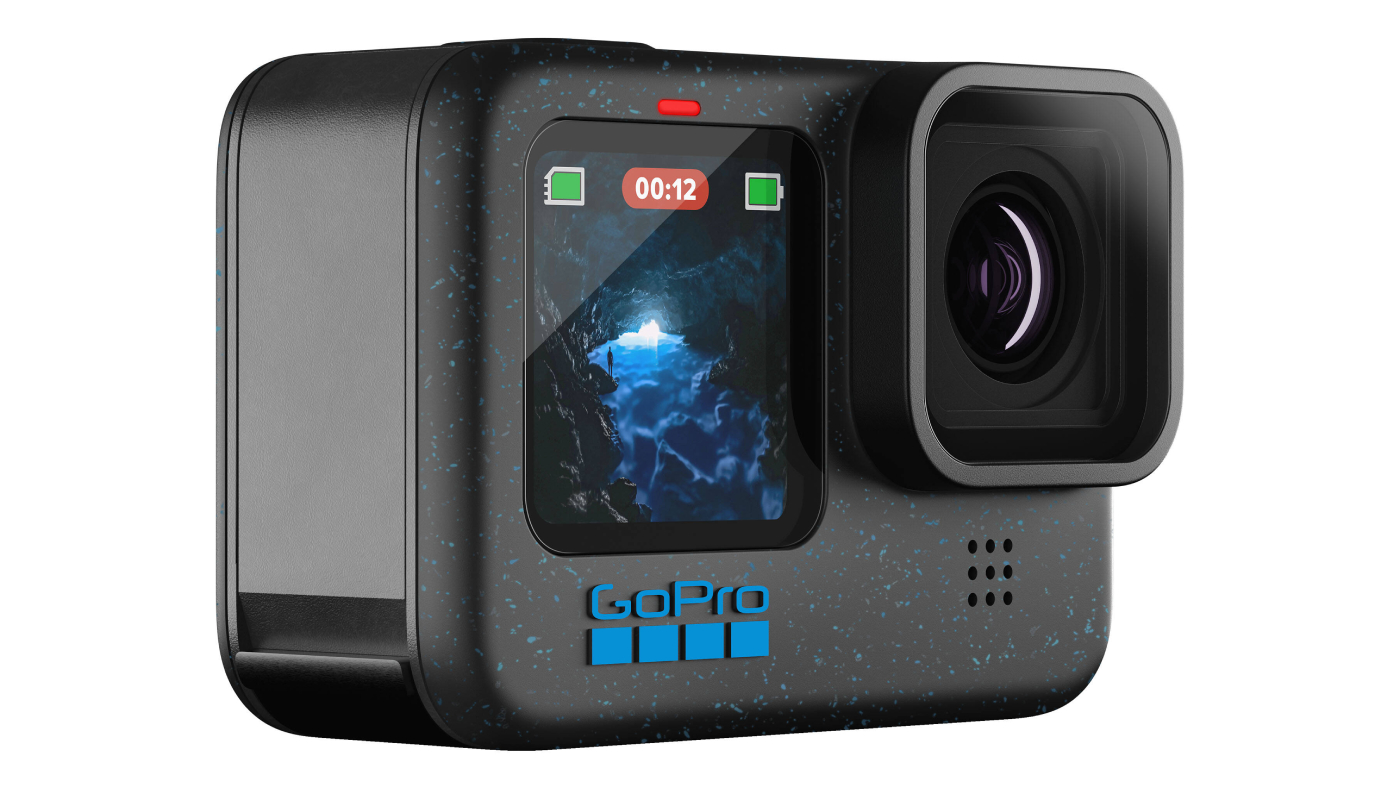 According to GoPro, the new action camera uses GoPro's Emmy Award-winning video stabilization with 360° Horizon Lock. HyperSmooth 6.0 includes next-generation AutoBoost that automatically increases video stabilization as needed. The feature also maintains the smallest cropping margin possible with imperceptible transitions between crop levels. HyperSmooth 6.0 also gives you horizon-leveling even with full 360-degree camera rotation in the Linear + Horizon Lock digital lens and in all lens settings when using the Max Lens Mod 2.0 accessory.
Log video
The HERO12 Black supports shooting in GoPro's GP-Log format. Recording in a log format gives you more scope for color grading your video in post-production. You can also use LUTs (Look Up Tables) with GP-Log clips. In addition, the HERO12 Black has a Timecode Sync feature. This means you can sync an unlimited number of HERO12 Black cameras for easy multi-camera editing. GoPro says the timecode works with Final Cut Pro, Adobe Premier and other leading editing apps.
Other features
The HERO12 Black has improved power management to give up to twice the runtime. GoPro says that you can record continuously for 70 minutes at 5.3Kp60, over 95 minutes at 5.3Kp30 and over 155 minutes at 1080p30. These runtimes are also quoted with HyperSmooth 6.0 video stabilization on. In addition, the HERO12 Black's mounting fingers now feature 1/4-20 mounting threads which are compatible with standard camera mounts and accessories. The camera is waterproof to 33 feet with no additional housing required. The company describes the camera's build as "GoPro Tough" and GoPro subscribers enjoy "no questions asked" damaged camera replacement.
What we think
GoPro has been a market leader for action cameras for some time and the new HERO12 Black includes some great new features. The use of a large sensor means that you can capture high quality video in horizontal or vertical video modes without needing to rotate the camera. The Max Lens Mod 2.0 accessory also takes this advantage even further. In addition, you can record audio straight to HERO12 Black from Bluetooth devices, such as Apple AirPods, earbuds, headphones and microphones. This is a great feature for vlogging, scene narration or even issuing voice commands to control the HERO12 Black. If you are looking for a new action camera, you should take a look at the GoPro HERO12 Black.
Pricing and availability
The GoPro HERO12 Black and Max Lens Mod 2.0 are available for preorder on GoPro.com now. The HERO12 Black retails at $399 and the Max Lens Mod 2.0 is $99. GoPro subscribers can pick up the Max Lens Mod for $20 less at $79. GoPro says that both products will be available in stores from September 13. There will also be a HERO12 Black Creator Edition for $599. This comes with a grip, a media mod attachment with a mic and an LED light attachment.