DJI has launched its latest action camera, the DJI Osmo Action 4. The new camera's headline feature is a larger sensor for better image quality and low-light performance.
Image quality
The Osmo Action 4 has a 1/1.3-inch image sensor which is around 30% larger than the 1/1.7-inch sensor in the previous Osmo Action 3. As a result, the new sensor has a 2.4 μm-equivalent pixel size which is better in low light as the larger pixels can capture more light.  The low light performance is also boosted by a wide f2.8 aperture. In addition, the camera has a lens with an ultra-wide 155-degree field of view.
Video resolution
This camera can record in 4K with a 4:3 aspect ratio (3840 x 2880) at up to 60 frames per second (fps) and a standard 16:9 aspect ratio (3840 x 2160) at up to 120 fps. You can also shoot in these aspect ratios and at these frame rates at 2.7K resolution. If you drop the resolution down to 1080p HD then the maximum frame rate is 240 fps. In addition, the Osmo Action 4 can record video with 10-bit color depth and in a D-Log M mode which is better suited to color grading in post-production. For social media, the Osmo Action 4 has a native vertical mode which you enable with the included Horizontal-Vertical Protective Frame.
Image stabilization
The Osmo Action 4 uses RockSteady 3.0 to stabilize your footage. This is an electronic image stabilization technology that analyzes the images captured by the camera's sensor to produce frames that are sharp and clear. The camera also features HorizonSteady which corrects camera shakes for any horizontal rotation. This keeps the horizon level in every frame, regardless of how the camera is mounted or worn.
Other features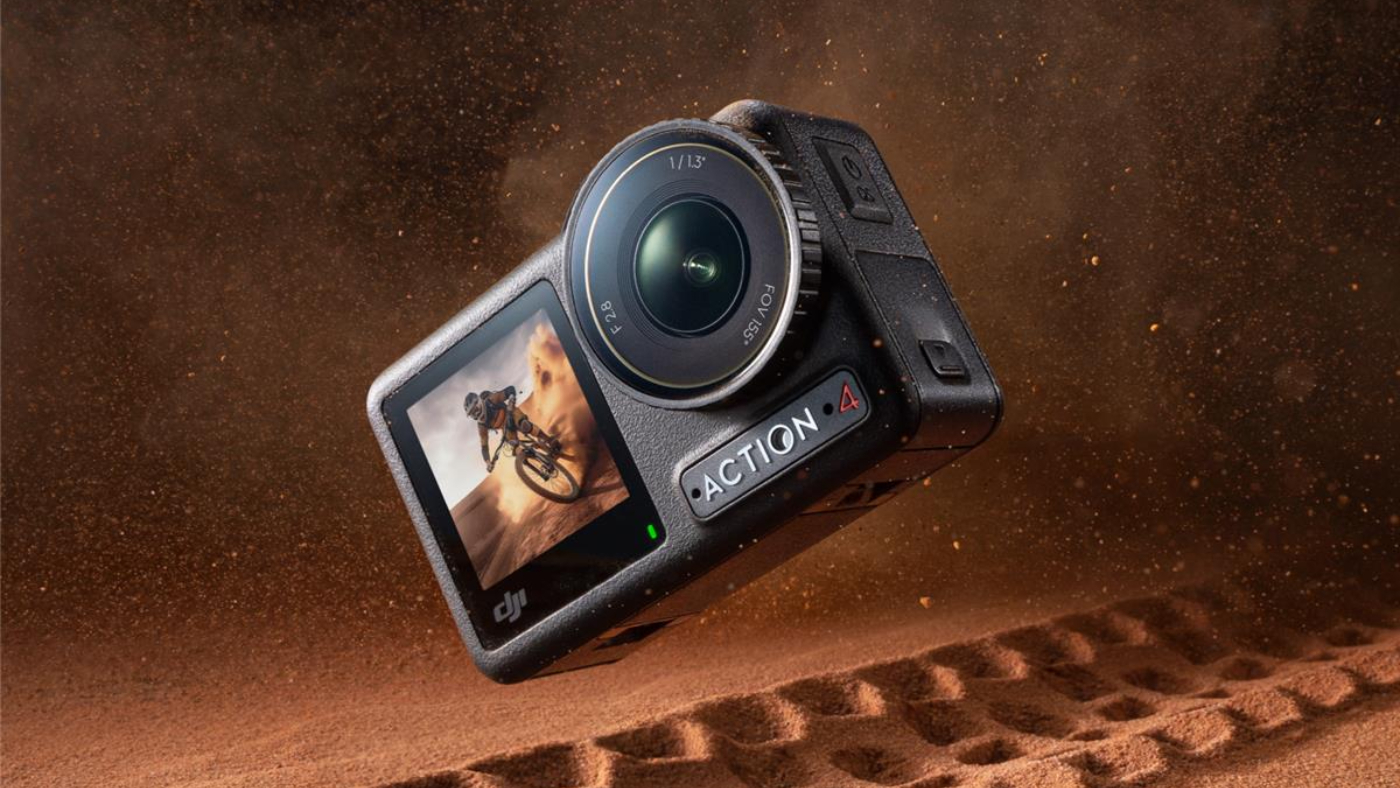 The Osmo Action 4 is waterproof to 18 meters (59 feet) depth without the need for an additional case. You can also record for up to two and a half hours with the camera's battery. When you do need to recharge, the battery will fast charge to 80% in only 18 minutes.  If you want to record better audio, you can connect an external microphone via the camera's USB-C or with a 3.5 mm to USB-C adaptor. In addition, you can use voice control to control the camera when your hands are busy.
What we think
From its specifications, the Osmo Action 4 doesn't appear to offer a huge improvement on the previous model. However, the larger sensor should improve low light performance. The camera would also be a good choice if you want to match video with that recorded on a DJI drone. If you are looking for a new action camera, then the DJI Osmo Action 4 is worth a look. However, you should also consider the GoPro Hero 11 which costs the same but offers higher resolution 5.3K video.
Pricing and availability
The DJI Osmo Action 4 is available now in a Standard Combo that retails for $399. This includes the Osmo Action 4, a battery and the Horizontal-Vertical Protective Frame. It also has a quick-release adapter mount, a curved adhesive base and a lens hood. In addition, for $100 more you can get the Osmo Action 4 Adventure Combo. This includes everything in the Standard Combo and adds two extra batteries, a multifunctional battery case, and a 1.5 meter extension rod.