Canon has announced two new cinema zoom lenses suitable for use with both full-frame and Super 35 cameras. The lenses cover the focal length ranges 20-50 mm and 40-135 mm. Both lenses have a maximum aperture of T2.4. Canon states that both lenses are "perfect for 4K productions," with the specifications quoting 8K resolution.
Mount
The Canon CN-E20-50mm and Canon CN-E45-135mm T2.4 L are available with EF and PL mounts. Canon states that the mount is interchangeable between EF and PL. However, this is a cost option via Canon Authorized Service Centers or Third Party Companies and not a user option as with the DZOFILM cine zoom lenses.
Bokeh
The lenses have 11 bladed apertures, which should give a smooth bokeh. Both lenses are parfocal, meaning the focus point stays fixed as you zoom, unlike with most photography lenses. According to Canon, the lenses also have an internal focusing system that delivers minimized focus breathing. Focus breathing is when the image size changes slightly as you pull focus. The CN-E45-135mm has a minimum shooting distance of 3.3 feet, while the CN-E20-50MM can focus down to 2 feet.
Design
The CN-E20-50MM and CN-E45- 135MM share the same design with a consistent front diameter of 114 mm. The lenses have standard 0.8 mm pitch gears on the iris, zoom and focus rings. These rings also share the same positions and have the same rotation angles for each lens. This means it will be easy to swap between lenses without having to reconfigure your camera setup. The lenses also feature luminous — glow in the dark — metric and imperial markings for easy operation in low light.
Metadata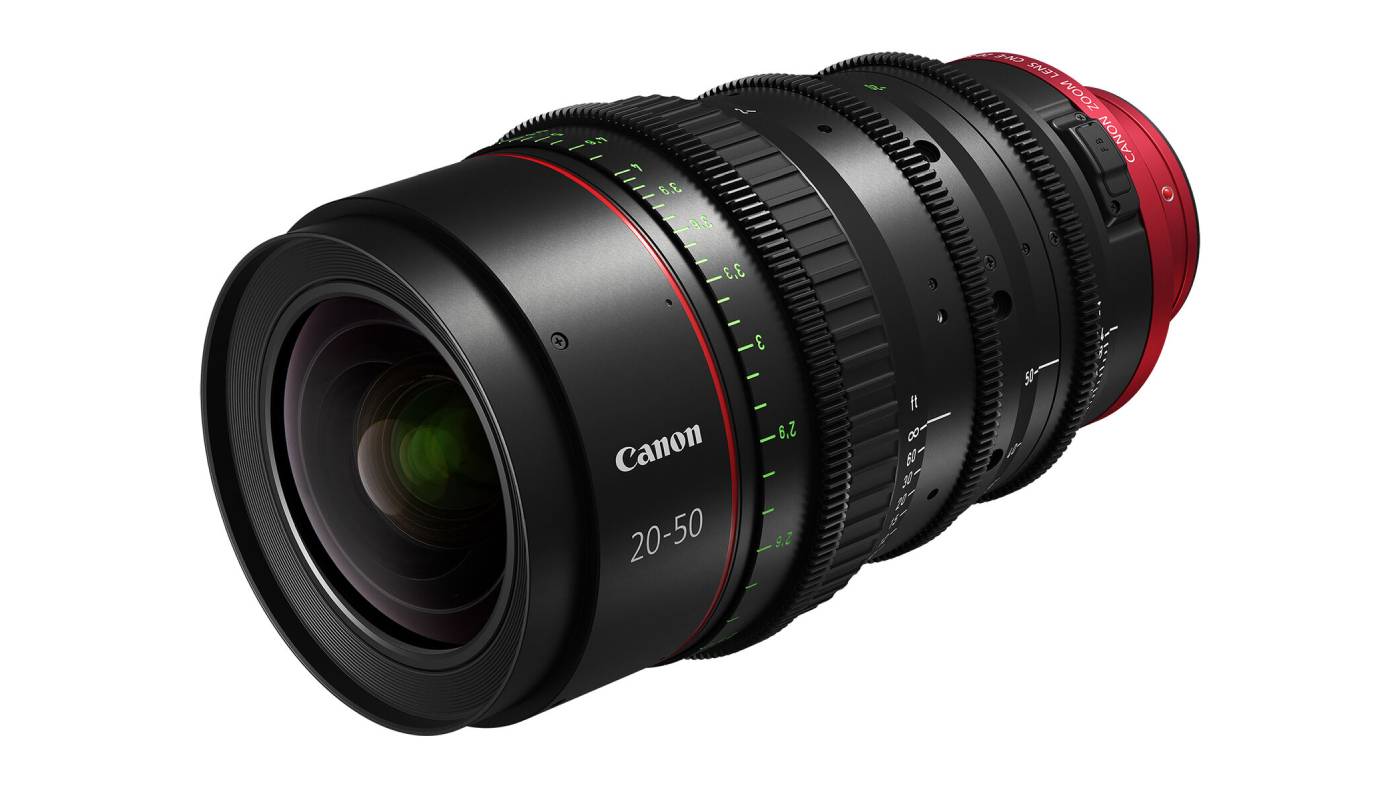 The lenses have Advanced Lens Metadata Support, including Cooke /i Technology and Zeiss eXtended Data protocols for the PL mount option. With the EF mount, you can use Canon metadata. You can display or record lens metadata to utilize camera functions such as aberration correction, peripheral illumination correction and focus guide function with compatible cameras.
Size
The CN-E20-50mm is 9.5 inches in length and weighs 7.28 pounds. The CN-E45-135mm T2.4 L F/FP is slightly larger, measuring 9.7 inches and weighing 7.5 pounds.
Pricing
The Canon CN-E20-50mm T2.4 L and CN-E45-135mm T2.4 L cinema zoom lenses will each cost $21,999. The CN-E20-50mm should be available in June, and the CN-E45-135mm will follow in September.