Blackmagic just announced the jawdropping URSA Mini Pro 12K. This massive high-res camera is capable of recording 12K video at 60 fps.
While the URSA Mini Pro 12K retains the same exterior design as its predecessor, its interior has been completely overhauled. Inside, the camera sports a 12,288 x 6480 12K Super 35 sensor and 14 stops of dynamic range. Outside, the camera features an interchangeable PL mount, as well as built-in ND filters, dual CFast and UHS‑II SD card recorders, and a SuperSpeed USB‑C expansion port.
More on the lens mount, you can switch between PL, EF, and F mount lenses on the URSA Mini Pro 12K. Also, there is a new film curve for BRAW – generation 5. Blackmagic Design claims the camera will offer better highlight roll-off, better skin tones, and more flexibility in post.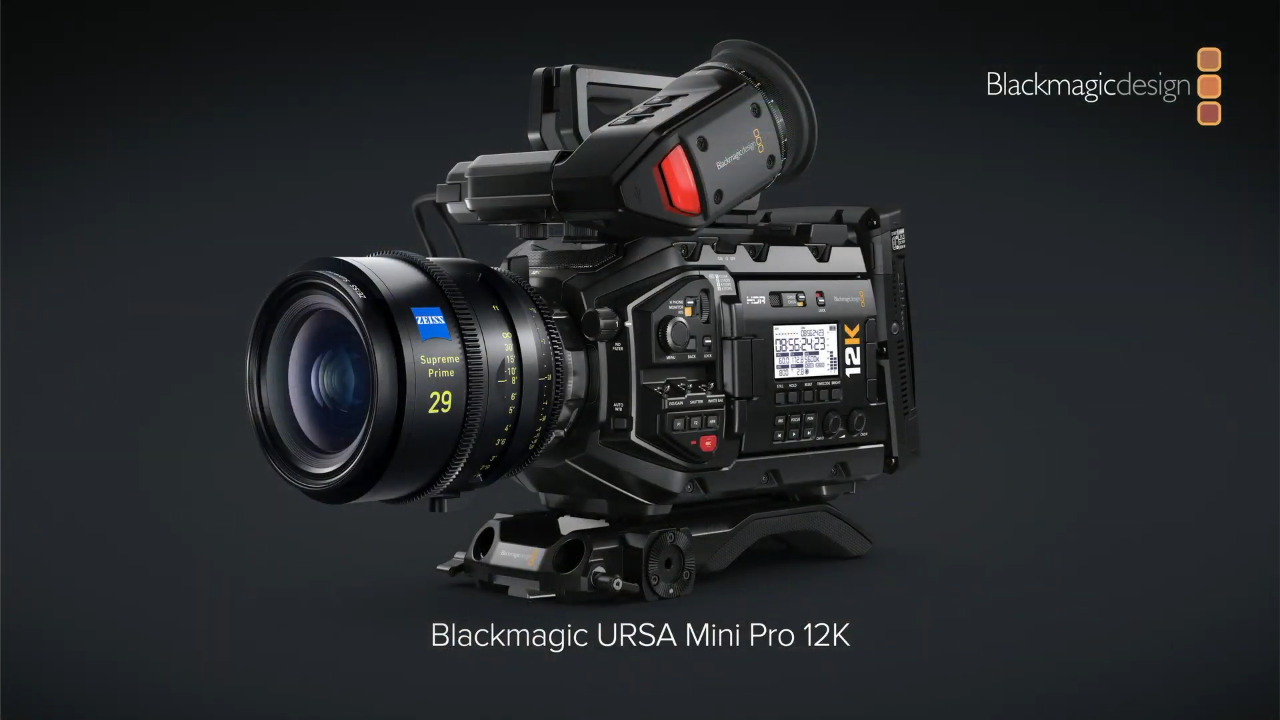 Video shooting
When it comes to resolution, this camera is in a class of its own. It is capable of shooting 12K at 60 fps, as well as 110 fps in 8K and up to 220 fps in 4K Super 16. The camera uses in-sensor scaling, allowing you to shoot 8K or 4K RAW. There is no cropping or change in your field of view when you do this.
Not only that, but the camera is capable of switching from 4K, to 8K, to 12K in-camera. The combination of 80 megapixels per frame, the camera's new color science, and Blackmagic RAW is what makes 12K possible, according to Blackmagic.
One of the major reasons why Blackmagic decided to go with 12K is so that you can get better color and resolution at 8K, thanks to over-sampling. The camera's massive 12K resolution makes reframing shots in a post in 8K and 4K possible. Essentially, it can shoot as multiple cameras in one.
Video recording breakdown
12K up to 60fps
8K (8192 x 4320) up to 110fps, 8192 x 3408 up to 140fps
6K up to 110fps
4K (4096 x 2160) up to 110fps full-sensor or up to 220fps in super16 crop mode
You can edit on a laptop
According to Blackmagic, the URSA Mini Pro 12K sensor and Blackmagic RAW make 12-bit RAW workflows in 12K "effortless." "Blackmagic RAW lets you shoot 12K and edit on a laptop, a capability that simply isn't possible with other codecs," Blackmagic writes.
Additionally, the URSA Mini Pro 12K files are multi‑threaded and work across multiple CPU cores. Also, they are GPU accelerated to work with Apple Metal, CUDA, and OpenCL. So, it looks like while you may be working with 12K files, modern laptops should be able to handle the files in post.
What about the storage?
Since the camera shoots such high resolutions, it must be able to store these massive files. That is essential. The URSA Mini Pro 12K features dual built-in CFast and UHS‑II SD card recorders, and a SuperSpeed USB‑C expansion port for recording to fast SATA and NVMe drives.
With "Record RAW on 2 Cards" turned on, URSA Mini Pro 12K can record simultaneously across two cards up to 900MB/s to 2 CFast cards or 500MB/s to 2 UHS‑II SD cards. There is also a SuperSpeed USB‑C expansion port on the rear of the camera, allowing it to record to USB‑C flash storage up to 900MB/s.
Pricing and availability
The Blackmagic URSA Mini Pro 12K is open for preorder now for $9,995. You can learn more at Blackmagic Design's website.
Image courtesy: Blackmagic Design