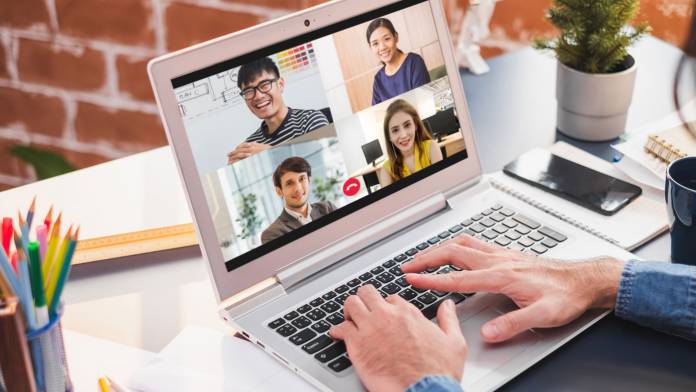 Content creators have always been an innovative bunch. For example, just about every studio has a few apple boxes around. It's the perfect tool for lifting a light, a set piece or even to help a short actor to fit into frame. In the early days of film, some innovative crew member grabbed a wooden box that contained apples, flipped it over and the tool was born. A major part of the production process is to think creatively to get the right shot with what you have on hand. When a problem arises, you come up with a creative solution.

In this time, when people are encouraged to remain physically distant, the challenge for the production team is to innovate for collaboration. What tools are available to keep a team progressing and while still allowing for the nuances of teamwork? When you are working remotely, you do not have those serendipitous moments when a co-worker drops by your cubicle to give you a little nugget of inspiration that changes everything.

Some great tools have been around for a while, but have recently become critical to our connections. Video conferencing apps like Zoom, Microsoft Teams and Google Meet are now the foundation for keeping us face-to-face. "Zooming" has become a standard verb for us, and the apps are the new "apple boxes."
Creative teams can view their work together and truly collaborate.

Creative teams can view their work together and truly collaborate. Network productions are creating new shows by conferring or making their promotion look like the app. Sports commentators, working from home, can call play-by-play on simulated games, and the experience feels live. Directors are miles away but can still coach their talent via a phone or tablet placed just off-camera.

Some tools were designed for business use, but they have great application for production. Like the project management tool Wrike which allows you to break down projects, assign tasks and schedule deadlines. A team member logs onto the app and knows what's expected of them each day. It doesn't matter where they are working from. You can even drop in still and video files to clarify production details. Directors can request a specific shot. When it is complete, the camera crew will load up the finished product.

Other tools are specific to video production but allow us to close the gap on our distancing. Producers are using switching and streaming apps like VMix in some unique ways. The local news team creates a live talk show with guests spread out across the state. The anchor sits at his desk in the newsroom, while the director is at home. We recently heard about a production team located in Hollywood that produced a commercial for television in India. The director was in Bombay, and a producer was in New Jersey.

It is not clear exactly how long the separation rules will be in effect. However, production will continue in innovative ways. The collaboration, which is the heart of the creative process, also continues. We just have to find the right tools to make it work.