For those who love visual storytelling, where every frame tells a unique tale, gifts that foster their creativity are always welcome. This holiday season, give them something that supports their dreams.
However, choosing the perfect gift for a videographer can be tricky. While expensive items like a new camera might seem like an amazing thing, we don't always recommend it. However, there are dozens of other thoughtful options that can be great gifts for the videographer in your life.
This guide will help you through the world of video gear to help you give a gift that is both thoughtful and useful. Plus, since this list is tailored for videographers, it's basically a trove of fantastic options that will undoubtedly make your filmmaker's holiday season. We have organized this guide into several categories to help you browse through and pick out what works for you and your filmmaker. Let's get started.
---
Cameras
A filmmaker's camera isn't just a tool; it's a means for them to turn their creativity and vision into something special. So, if your videographer needs a new camera, consider these options.
Panasonic LUMIX S5IIX
The LUMIX S5IIX is a true triple threat and the latest LUMIX full-frame hybrid mirrorless camera to utilize phase detection autofocus thanks to its new imaging engine and newly developed 24.2-megapixel 35 mm CMOS sensor. With the LUMIX S5IIX, you will enjoy incredible quality in still photography, movie production, and unlimited wireless and wired livestreaming. Camera features include a powerful image stabilization system, a new heat-dispersion mechanism, an open gate function to easily create content in multiple aspect ratios for posting to various social platforms and the Real Time LUT function, enabling in-camera photo and video color grading. Learn more.
---
PTZOptics Studio Pro
The Studio Pro is a complete content creation and livestreaming solution featuring 12X optical zoom, a 72.5-degree field of view and a portrait and landscape toggle switch, empowering users to connect with their audiences however they watch. The camera's time-of-flight sensor gives the camera quick focus capabilities. In contrast, its advanced focus settings allow users to achieve a bokeh effect for a more unique and creative visual experience. It captures clear audio with its internal noise-canceling microphone array and lights scenes with the LED light panel accessory. It also has a cold shoe for mounting the light, a shotgun mic or other accessories. Learn more.
---
Bright ideas for giftable lighting
Illuminate their passion with a gift that shines as brightly as the stories they tell. From portable LED panels that bring scenes to life to ambient lighting solutions that set the mood, video pros need access to a variety of lighting options. Each type serves a different purpose and can be easily used to create exactly the atmosphere they want to capture.
Vidpro Ultra-Slim LED-150 On-Camera Video Lighting Kit
This is an on-camera light with an adjustable shoe that works with most hot-shoe cameras. It's lightweight and durable and offers all the features of larger lighting but in a perfectly pocket-sized product. It provides daylight-balanced 5,600 K color temperature and is dimmable to adjust from 100% down to 10%. The Vidpro Ultra-Slim LED-150 is powered by a single Sony L-series (NP-F) type battery, which is included in the kit. The set also includes the charger pack for that battery along with a tungsten filter and soft diffuser for great versatility.
UBeesize LED Video Light Kit with Adjustable Tripod Stand
What makes this lighting set truly stand out are its thoughtful extras. The set has two full lights with tripods that can extend from 24 inches to 57 inches. The included compact LED light panels have a 1/4 universal ball head, ensuring a 180-degree adjustment for diverse angles. It also comes complete with two sets of four color filters (red, orange, white, blue). These filters allow for a wide range of visual effects. With easy-to-use cable controls, your giftee can customize brightness levels from 10% to 100% to create ambiance with ease. Perfect for filmmaking, photography, video conferences and online courses, this kit is a versatile companion for any videographer.
3pack LED Studio Streaming Video Lighting Kit
If you want to give more lights with more options, this lighting kit has you covered. There are three light panels, each boasting 70 light beads and a full range of nine color filters. The light panels attach easily to the expandable tripod stands — which are made of aluminum for lightweight durability. Once attached, each light can be pivoted and rotated to nearly any angle. Your favorite filmmaker can create low-light scenes that are still beautifully illuminated or put a harsh light on their subject to enhance a dramatic story. If your videographer offers photography sessions as well, this cool set serves nicely in any shooting environment.
EMART Softbox Lighting Kit
Softbox lights are a fantastic addition to a videographer's lighting collection. These lights effectively reduce shadows and create natural fill light so that the main subjects and the surroundings are illuminated well. While softbox-type lights are usually quite large, this one is more compact at 16 inches by 16 inches and still comes with all of the right components and capabilities. Your favorite filmmaker can adjust the warmth and brightness to create their ideal level of natural-looking light anywhere. This kit includes the lightbox, high-powered bulb, fully adjustable tripod stand, professional velcro ties, gloves and remote control. Everything (even the stand) folds down neatly into a sleek black carry case, which is also included.
Microphones and audio gifts for videographers
Bad audio can be the downfall of a movie, video or short film even if the story is compelling and the camerawork is perfect. That's how distracting poor sound quality can be. It's also an area of the industry where gear makes a big impact on your video's quality. For example, if a filmmaker has a low-quality camera, they can make magic happen by adjusting the lighting and angles. But for the most part, if you have a low-quality microphone, viewers are less forgiving. With the right mics in the right places, your videographer can catch the main subject's voice and eliminate background noise to capture crisp audio that won't distract from the story. The goal is for the sound quality to be so good that you actually don't notice it at all. And so, microphones and audio gear are always well-appreciated holiday gifts for videographers.
---
Saramonic Blink 500 ProX B2
The Saramonic Blink 500 ProX B2 is a 2.4 GHz dual wireless system that delivers exceptional, broadcast-quality sound for two people to cameras, recorders, mixers, mobile devices, computers and other 3.5 mm input devices. Ideal for content creators, filmmakers, journalists, vloggers, livestreaming and so much more. This ultra-portable and incredibly lightweight dual mic system comes with two clip-on wireless transmitters with built-in mics, two professional lavalier microphones, a dual-channel receiver and an advanced portable charging carry case. Learn more.
---
Sennheiser EW-DP
With EW-DP, Sennheiser has introduced the 5th generation of its popular wireless microphone systems for filmmakers and creators. This digital UHF microphone system features an all-new portable design and impressive audio quality. At its heart is a compact, intelligent receiver that helps even novice users easily set up their audio, with Smart Notifications providing system guidance and trouble-shooting when you encounter a challenge. The receiver features an innovative magnetic stacking system and can be controlled remotely via the Smart Assist app. It's complemented by a sturdy bodypack transmitter and the ME 2 omnidirectional lavalier mic, which delivers clear, intelligible dialogue. Learn more.
---
The Imaging World Professional Microphone and Accessories Kit
Want to give a cool, useful gift that delivers that coveted wow factor? This microphone kit is tailored for the discerning videographer, providing not only a high-quality microphone but also a comprehensive set of accessories to meet all their audio recording requirements. The package includes a furry wind muff, foam wind shield and comfortable hand grips. It also features a shock mount and stand mount complete with connectors and adapters, ensuring compatibility with a wide range of tripods, booms and mic stands. To top it off, the kit comes with a cleaning set and a durable hard shell carrying case, making it a thoughtful gift for videography enthusiasts.
FTF GEAR Studio Condenser USB Microphone Kit
The FTF GEAR Condenser Microphone stands out as a professional-grade gift choice for videographers. Boasting a versatile design with an adjustable pivoting arm and various setup options, this condenser microphone excels in capturing high-quality audio for video projects. Perfect for recording vocals, enhancing podcasts or elevating music recordings, this mic kit offers USB connectivity, ensuring seamless compatibility with laptops, desktops and various devices used in videography setups. The package is also equipped with essential accessories, including a windscreen, pop filter, two different mounts and velcro straps, ensuring the microphone stays securely in place during video shoots. This is a practical gift for videographers seeking top-notch audio quality.
Polsen MVP-3 Micro Directional Shotgun Microphone
This compact microphone is specifically designed to enhance audio capture during video recordings. With its supercardioid polar pattern, it effectively minimizes background noise and focuses on capturing clear audio from the subject of interest. This feature is important for filmmakers and videographers who strive for professional-level sound quality in their projects. It is also equipped with a shock mount system, which further reduces handling noise and vibrations. The MVP-3 is compatible with a wide range of cameras and camcorders, making it a versatile option for filmmakers and videographers using different equipment setups. Overall, this mic offers exceptional audio performance and compatibility, making it an ideal holiday gift choice.
OnStage MSA7040TB Top Mount Telescoping Microphone Boom
If your favorite videographer has a collection of fantastic microphones, consider enhancing their setup with this telescoping mic boom. Designed to provide increased versatility for microphones, this boom is compatible with nearly all microphone models and stands. Whether used for adjustable positioning during recordings or live performances, this telescoping mic boom enables videographers to achieve optimal sound quality even in cool action shots while filming. It's a thoughtful addition to any videographer's toolkit, offering practicality and flexibility for capturing impeccable audio in various settings.
Portable storage and transfer hubs
If you're not in the filmmaking and production industry yourself, you might be wondering why on earth someone would want a memory card as a gift. Good question; the fact is that whether your favorite videographer is a creative filmmaker or capturing weddings for paying clients, memory cards and external storage are basically gold. Many moments only happen once and can't be recreated at all. Other times, they may need to run a dozen or more takes of a scene to ensure they've really got it right. Either way, once it's shot, losing that footage can be a disaster for their projects. So quality memory devices offer a convenient way to store and transport vast amounts of data smoothly and efficiently.
---
Lexar CFexpress cards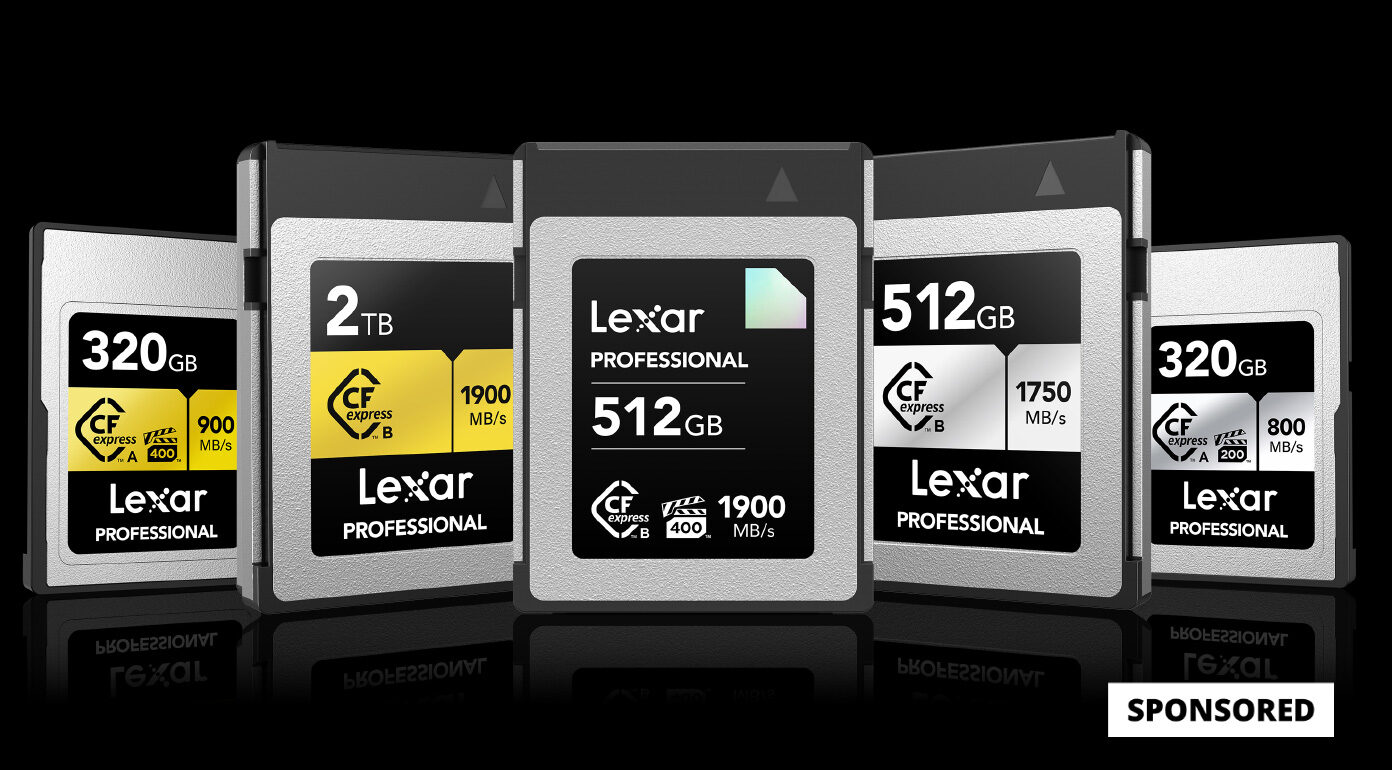 Whether you're looking for Type-A or Type-B cards, Lexar has covered all the bases with three different tiers of CFexpress cards — from our CFexpress Type A and Type B SILVER cards to CFexpress Type A and Type B GOLD cards to our highest-performance card, the CFexpress Type B DIAMOND Series. With blazing-fast write speeds that allow creatives to capture cinema-quality 8K video to powerful read speeds that accelerate workflows by transferring files in a flash, Lexar cards are the perfect gift for every photographer, videographer and creative professional. Learn more.
---
Transcend Portable External Memory ranging from 250 GB to 2T capacity
Not only will Trancend's portable SSDs provide the storage space videographers need, but they will also allow them to unleash their creativity to the fullest. From capturing breathtaking landscape shots to documenting precious milestones, this gift will empower them to bring their visions to life without worrying that they'll run out of space. They offer a wide range of options suitable for every storage need and budget:
While it may seem like a simple data and charging hub, this sleek device is extremely useful for videographers. It transforms a single USB port into ten ports, including three that double as charging ports. This hub is a powerhouse of connectivity that allows lightning-fast data transfer speeds of up to 5 Gb/s. It can effortlessly transfer video files, back up footage and connect multiple devices simultaneously. Plus, the hub works with multiple types of USB interfaces. To make it even more convenient, the hub includes individual LED indicator lights for each port to easily monitor the power status of each device.
---
Livestreaming
This holiday season, consider gifting livestreaming gear that elevates their production value. Here are a few great options.
Videoguys LiveU Solo Pro
With the LiveU Solo Pro, you can deliver an outstanding live video experience from anywhere. The LiveU Solo PRO video encoder, together with its Solo Creator Universe, offers one-touch, wireless livestreaming, directly from your camera to popular online platforms and any web destination. With up to 4K resolution and bonded 4 G/5 G streaming, you get superior live video quality and reliability. The LiveU Solo Pro and compatible SoloConnect Pro Modem kits are available at Videoguys. Call 800-323-2325 or visit www.videoguys.com for all your live production and streaming needs.
---
Videoguys TriCaster Mini Go
Simple, skillful and scalable, the TriCaster Mini Go offers all creators the simplest setup yet with a wealth of professional-level video production features that grow with you as you continue along your TriCaster live production journey. It's perfect for streamers, gamers, podcasters, influencers, schools, colleges and universities, churches, corporations or content creators. There is a TriCaster for every production available at Videoguys.com and from our nationwide network of trained and certified system integrators. Call 800-323-2325 or visit www.videoguys.com for all your live production and streaming needs.
---
Extra gadgets and gear
There are endless fun giftable items out there that might resonate with your filmmaker. We really love the utility gifts that make our jobs easier or help us achieve great results. Here are a few versatile accessory items you might want to consider.
Movo Full-Size Aluminum Tripod
This versatile tripod is the perfect companion for capturing stunning shots on any terrain. With a weight capacity of 7 lbs, it can accommodate dedicated cameras and even mobile devices with ease. Setting it up anywhere is a breeze, thanks to its individually telescoping legs. It also has secure flip-locks and an extendable central column for extra stability. The pan head makes smooth movements easy and offers up to 90 degrees of tilt. It's ideal for capturing subjects on the move or shooting from extreme angles so your favorite filmmaker can realize their creative vision.
Amazon Basics Aluminum Tripod Stand with Case
For a lightweight and streamlined version of the Movo Full-Size Aluminum Tripod, consider this aluminum tripod from Amazon instead. It offers many of the same features like telescoping legs with sturdy clips and a strong central column for stability. The adjustable height goes beyond six feet and it can hold up to 5.5 lbs. The whole thing folds down to a super-compact size and slips into the grab-and-go carry case. Want to be extra cool? For just a few dollars more, you can gift them two of these versatile tripods.
SOULWIT 200 Pcs Cable Management Kit
When receiving gifts, cables and clips are basically like socks and ties for videographers. But they are always useful throughout the year. And this cable set has 200 pieces, including clips, straps, fasteners, nail-downs, zip-ties and lots more. Your videographer will use all these day in and day out.
Embrace the joy of giving
The giving season is a great time to get to know a little more about the passions of our loved ones. Whether you decide to go with one of the specific options we've presented here or just use these as a jumping-off point to discover some other cool gear you'd love to give, we hope this year's holiday gift guide has been helpful. Happy gift-giving.