There are quite a lot of lavalier microphones out there, and many of them are great options. This article will cover everything you need to know to choose lavalier mics — and when to use them — based on your budget and your particular needs.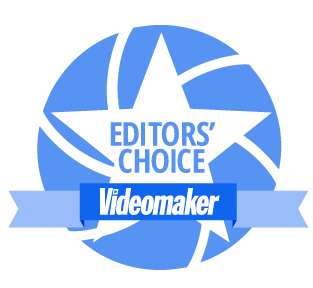 The Editors' Choice award recognizes exceptional video production equipment, software and services. These products must help videographers be more effective storytellers while being affordable, easy to use and dependable. The products must also deliver a superior user experience.
Best overall lavalier
Sennheiser MKE1
The Sennheiser MKE1 Miniature Lavalier Microphone is one of the smallest lavalier microphones on the market, allowing it to capture great audio while also staying discreet. In total, its diameter is just 3.5 mm. So, it's perfect for hiding it in subjects' clothing and hair or on props. Also, the mic features an omnidirectional polar pattern and wide frequency response. With this, it captures clear audio, especially voice. As for its sound pressure level, The MKE1 has a high maximum sound pressure level of 142 dB.
Additionally, you don't have to worry about surface noise. Its cable is reinforced to minimize noise that can be caused by rubbing against surfaces like clothing. Plus, the mic has a moisture-resistant enclosure that protects it against moisture damage. The Sennheiser MKE1 is a clear choice for shooters needing the best well-rounded lavalier mic.
Best budget lavalier
Deity W.Lav Pro
The Deity Microphones W.Lav Pro is a great option for videographers working with a strict budget or those who want to save on equipment but not sacrifice their projects' audio quality. This lavalier microphone has an omnidirectional polar pattern and is waterproof with an IP57 rating. You also receive a foam windscreen to prevent the mic from capturing wind noise and plosives.
It comes with a 5.9′ cable and requires 2.5 to 3.3 VDC power from a wireless transmitter. Its frequency response ranges from 20 Hz to 20 kHz and has a 130 dB maximum SPL.
Best lavalier for reality/ENG
Sanken COS-11D
The Sanken COS-11D Omni Lavalier Microphone is a popular choice for professionals working in the TV and broadcast industry, and it's clear why. It's a subminiature lav with a rectangular design that allows it to sit vertically. This design helps the mic increase its surface area and allows it to capture more full sound than larger mics. The lav also has a frequency response of 50 Hz to 20 kHz, allowing it to capture accurately.
Its omnidirectional polar pattern can pick up sound at a 360-degree pattern. Also, it comes with a water-resistant mesh screen, keeping it safe from humidity and weather. The Sanken COS-11D Omni Lavalier Microphone won't disappoint.
Best lavalier for film/narrative
DPA d:screet CORE 6060
DPA's d:screet 6060 CORE Subminiature Microphones are quite small and measures just 3 mm in size. At the same time, it still delivers great sound quality. This makes them a nice option for filmmakers. The mic offers a 4 dB soft boost between 8 to 20 kHz.
It also has an SPL rating of 134 dB. This makes it great for recording most speakers, vocalists, and presenters. Additionally, it's powered by 5 to 10V plug-in power from a wireless transmitter. If you're a filmmaker, check out the DPA d:screet 6060 CORE Subminiature Microphone.
What are lavalier microphones, and how to buy them?
Variously called "wire," "body mic" or "lapel mic," the lavalier microphone has become an essential part of a Production Sound Mixer's arsenal. Let's take some time to discuss what situations are most appropriate for lavalier mics and how to choose the best model to deploy at any given time.
Wireless systems
When used as a wireless microphone, the lavalier (lav) is but one component in a larger system. The other components in this system include a transmitter (which the lav connects to) and a receiver that feeds a sound recorder. Many manufacturers package and sell wireless systems as a kit containing these three components, along with cables and accessories. As a result, the phrases "wire" or "lav" is used to describe the whole kit. Though, it's more accurate to call it a "wireless mic system" and refer to the system's mic as the lav.
These lavalier microphone kits tend to be priced very competitively, making them an attractive option for those who are starting out or for corporate or video producers who must carefully juggle their camera, lighting, grip and sound budgets.
Before you purchase a wireless system, you must know that there are many competing products in the market, and some are offered in various frequency ranges, but they're not all the same. The RF spectrum legally available to use in the US goes from 470 MHz (MegaHertz) through 608 MHz. This range falls within what's known as UHF (ultra high frequencies).
You're probably familiar with the stations in your FM radio receiver, which can go from 88.1 MHz to 107.9 MHz. These wireless systems are basically FM radio stations that are a bit higher up the RF spectrum. So, when shopping, make sure you choose a system whose range falls between 470 MHz and 608 MHz.
UHF vs. 2.4 GHz
There's also a new generation of products sold in the 2.4 GHz (1 GHz = 1,000 MHz) range. That range is currently used by Wi-Fi routers and devices like smart speakers and appliances. Brands such as Sennheiser, Røde and Line 6, among others, have developed wireless systems in that range. They're easy to use, don't require any scanning or coordination, and can hop automatically from one frequency to another. So they can "dodge" interference without much fuss.
Among the most notables in this range are the Røde Wireless Go II ($240+), Audio-Technica's ATW-1101/L System 10 ($400+), the XSW-D ($400+) by Sennheiser and the Deity Connect Timecode Kit ($480+).
Unfortunately, these systems have a couple of drawbacks: their effective range is typically 100 feet, which may not be enough for your application. The other issue is that, with the proliferation of the "Internet of Things" products in offices, events, film sets and public spaces, there may be too many devices nearby operating in the 2.4 GHz range. These devices will compete with your wireless mics for the same limited number of slots, which may cause dropouts, thus making the signal unreliable.
The only standout among these devices is the Deity system because its transmitter can record during filming on an SD card and can be retrieved later if there are any problems during the take.
Of the many systems available in the UHF range, these are some of the most reputable: the Sennheiser XSW ($320+), Audio-Technica's ATW-2129b ($400+) and the BLX14R/W85 ($500) from Shure. These offer good quality and solid reliability for reasonable prices, but the range is limited to 300 feet, which is acceptable for most applications.
Major film and TV projects, such as the "Fast and Furious" franchise or Fox TV's "9-1-1" demand more durability and greater range, which includes systems from Zaxcom, Lectrosonics and Shure provide. They're priced in the $3,000 to $6,000 range.
Lavaliers vs. boom microphones
Lav mics are used extensively in news broadcasts, sit-down interviews and live TV. News anchors wear them on their lapels, as do talk show guests. Boom microphones are rarely used in these settings. Reality TV also uses lav mics regularly because the dialogue is improvised and camera placements aren't pre-planned, which makes the use of boom mics impractical.
Scripted film and TV production, however, is a more structured environment, with plenty of planning and rehearsal, which makes it the ideal workflow for boom microphones. A good condenser microphone mounted on a boom pole provides the clearest, fullest sound for dialogue. Lavalier microphones have certainly come a long way, and some of the best — and priciest — models rival the quality of boom microphones.
But lavs aren't meant to be used all the time. Boom mics don't only offer a fuller sound; they also provide perspective. An experienced boom operator knows to adjust the distance from the actor to the microphone, matching the camera frame. The wider the shot, the more we see of the scene, and the more "open" the sound should be. The boom mic moves further away from the actor; we can hear more of the "air" surrounding them. In contrast, lav mics are very present, as they're very close to the actor's mouth. They also always sound the same, which works great for newscasts or reality TV, but it's not ideal for scripted shows. This is because they sound unrealistic, which takes the viewer out of the experience.
Still, there is a place for lav mics in narrative production. For instance, lavs are great for whenever the frame is too wide for effective boom mic placement, like during car stunt scenes. On a TV series with a fast-paced environment, it's customary to put a lav mic on every speaking actor. Setups are usually filmed with two and three cameras, and it's hard to predict which camera placement will allow the boom operator to reach every piece of dialogue. This way, the production sound mixer can play a lav in the mix as needed, leaving the boom operator to focus on other actors.
Choosing a lavalier microphone
Wireless systems usually include a "kit" lav that's of acceptable quality, but there are better options that you can purchase separately. As long as the replacement microphone has the same type of connector, you can use any lav mic you want. Standalone lav mics tend to be better sounding, more durable or smaller — or a combination of those.
DPA lavaliers are at the top of the market. Their 4060 series ($500+) is considered state-of-the-art. Many experienced sound mixers use them extensively, and they've been used in major films such as "Top Gun: Maverick" (2022) and "Nope" (2022). They also have a relatively new series called 6060 ($650+), whose capsule is surprisingly small while still delivering high-quality sound.
The Sanken COS-11D ($350+) and the Countryman B6 ($300+) are two other options but at a lower price point. The COS-11D is very popular with newscasters, but it's also used quite a bit in film and TV. The B6, on the other hand, is a bit of a problem solver. It can be placed pretty much anywhere due to its impossibly small capsule. Its sound is somewhat thin compared with the Sanken's, but sometimes it's the only lav small enough to hide in a particular situation.
The most budget-friendly choices are Deity's W.Lav Pro ($150+,) Audio-Technica's BP899 ($200+) and the Lavalier Go by Røde ($60.) You can compare them before making your choice by listening for self-noise. Place it in a quiet room and put on your headphones; then, crank up the volume. You may hear a hiss that's louder than the sound emanating from the room itself. Choose the mic with the quietest hiss.
Picking your lavalier microphone
Even if you can't splurge on a fancy wireless system, it pays off to invest in a standalone lavalier. Your recordings will sound clean and crisp and will elevate the end result, whether it's a corporate presentation or a more elaborate cinematic project.
Contributors to this article include Blas Kisic and the Videomaker Editorial staff.