In the late 1980s and early 1990s, the idea of a graphical editing system was a futuristic dream for many. Rumors swirled of powerful systems in the works, hidden behind the walls of Industrial Light and Magic and Skywalker Ranch. Fast forward to 2019, and the landscape of software available to videographers is immense. Gone are the days of cutting film strips, tape decks and linear editing. Today, video editing is a digital non-linear process and an incredibly important part of video production.
In this article, we'll go over the criteria you'll need to consider when shopping for new video editing software, including your skill level, workflow and budget. But first, let's take a look at our favorite video editing software for editors at every level.

---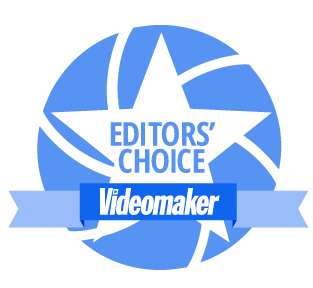 The Editors' Choice award recognizes exceptional video production equipment, software and services. These products must help videographers be more effective storytellers while being affordable, easy to use and dependable. The products must also deliver a superior user experience.
---
Best beginner editing software
Apple iMovie
Strengths:
4K video support
Importing/Exporting of 1080p at 60fps
Free for Apple users
Simple media organization
Available for Mac, iPhone and iPad
Weaknesses:
Wrapping timeline was removed
iMovie is a fun and engaging experience that succeeds at appealing to novice editors in its simplicity. Advanced editors may find it limiting, but iMovie clearly isn't designed for the advanced user. In addition to supporting for 4K video editing, the latest version of iMovie also offers tools for creating animated titles. You can also add color filters to your video and creating special effects like split-screen effects and even green-screen compositing.
With an intuitive interface, easy export and sharing, Apple iMovie provides a useful outlet for burgeoning video producers. Anyone can start to create content without much investment up-front. The software is free for Mac, iPhone and iPad users.
Free
---
Best enthusiast editing software
Wondershare Filmora
Strengths:
Supports up to 4K resolution
Supports 3D LUTs
Robust image adjustment tools
Weaknesses:
Rendering previews is unintuitive
Filmora is the latest iteration of Wondershare's video editing software. This desktop video editing app offers a simplified editing interface while still giving users control over their media. Filmora's collection of editing tools includes all of the basics, plus speed and reverse clip controls, video and audio track separation and picture-in-picture support. As for image adjustments, users can improve image quality and dial in a look with a robust collection of filters and effects, including support for 3D LUTs.
Filmora also offers the ability to add custom text to your production. Or, you can customize one of the included text templates. Other features include audio repair tools, dozens of transitions and support for screen capture and green screen production. All of this — along with editing and export support for resolutions up to 4K — makes Filmora a great choice for editors who want more flexibility for a reasonable price.
Annual plan: starts at $50
Perpetual plan: $80
---
Best professional editing software
Adobe Premiere Pro
Strengths:
Adobe Creative Cloud compatibility
Industry-leading AI-powered tools
Adobe Premiere Pro is by far the most popular editing software and with good reason. It's an industry standard because it's packed with a ton of professional tools and is compatible with other Adobe applications like After Effects.
What really sets Adobe Premiere Pro from its competition is its AI-assisted tools, like auto-generated captions. This is all thanks to Adobe Sensei. It can save you hours, if not days, of work. If you want to make a quick video for sharing on social media, you can do that in Premiere Pro. If you want to make a long, professional video course, you can do that in Premiere Pro as well. It's got everything you need to make great video.
$21 per month for Premiere Pro plan, or $55 for Creative Cloud subscription
---
The big four
A guide to video editing software would be incomplete without a nod to these four professional editing applications. We can't ignore the enduring ubiquity of the editing platforms from Avid, Apple, Adobe and Blackmagic Design. To be considered a professional editor, it's all but mandatory that you know your way around at least one of the following programs.
If you're already editing on one of the following three applications, stick with it; we do not recommend switching. Additionally, if any of the three below appeal to you over our official recommendation, you should go for it. They are all very capable applications that will take you far.
Avid Media Composer
Avid Media Composer was the original nonlinear editing suite and is still a widely used powerful editor for many professional editors in Hollywood and small production houses alike. It's a robust all-around tool, and though it has a history of being less flexible than other editors, keyboard-based editing and other pro features make this a strong choice for editors who need fast, consistent turnarounds. It has adapted over the years to support 4K and many other formats natively while sticking to its roots as a video editing and compositing tool.
For a taste of Media Composer, check out Media Composer First, Avid's free starter version.
Final Cut Pro X
If you work on a Mac, Final Cut Pro X is a great option. Final Cut Pro was once considered the industry gold standard of editing software. In recent years, however, other software suites have become more popular. However, Final Cut is still a powerful and versatile software for Mac users. It has regained its footing with pros since X's initial launch by keeping up with the functionality pro editors expect, while refining the interface and timeline. With integrated support for 2D and 3D animated titles and graphics, a robust audio editing toolset and the ability to apply color corrections and grading in-program, Final Cut Pro X is an all-around great piece of software for Mac users and is still the standard in many studios.
Adobe Premiere Pro CC
Premiere Pro is a complete video editing platform with extensive format support and built-in tools for audio editing, titles, graphics, color correction and compositing. This industry-leading software is a favorite among enthusiasts and professionals alike. In addition to providing a deep video editing toolset, Premiere Pro also uses automated functions powered by Adobe Sensei, Adobe's AI technology, to cut down on repetitive tasks and speed up your workflow.
Compatible with both Windows or MacOS, Premiere Pro CC benefits from close integration with the rest of Adobe's Creative Cloud. You can subscribe to Premiere Pro CC a la carte, but when you combine the power of Premiere with other Creative Cloud apps like Audition and After Effects, you end up with an incredibly powerful storytelling toolkit with support for everything from color grading to media encoding and delivery, along with photo editing and graphic design.
Blackmagic Design DaVinci Resolve
Blackmagic Design DaVinci Resolve is an all-in-one editing, color correction, visual effects, motion graphics and audio post-production software. What really sets this software apart from the other three is that you can use it for free. While there is a paid version of the software, the free version offers more features than you will find in any free video editing software — and even some paid ones. It can edit video up to Ultra HD 3840 x 2160 in 60 frames per second. It also features color grading tools, including luma, HSL and 3D keyers, color warper and HDR tools. It's also a great collaboration tool. Multiple people can work on the same project simultaneously.
The free version is already great enough to earn DaVinci Resolve's spot next to the other big three. However, if you upgrade to the paid version, DaVinci Resolve Studio, you gain access to more advanced features like DaVinci Neural Engine and stereoscopic 3D. You also get additional Resolve FX.
---
Know what you need
Think of purchasing software as buying into a suite that will help you tell stories. You'll likely be using the same software for years, so it's important to seek out software that fits your needs. Each system has its own workflow and its own nuances. What you prefer will depend on how you work.
Each system has its own workflow and its own nuances. What you prefer will depend on how you work.

With the rise of 360 video and 4K, editing systems need to stay up to date with the changing landscape. New formats help us tell stories from new angles, but we need to consider how they will shape our work. Some software comes with native support for these emerging technologies, while others require the user to install a plug-in. Keep this in mind as you shop.

Also consider your own skill level and how you plan to grow your video editing skill-set in the future. Most beginners will start with a drag and drop style editor, some version of which comes standard on many computers. These free options are fine for simple cuts, but beware of downloading free editing software from disreputable sources. This can come with drawbacks like malware, viruses and other problems.
These programs are also often limited when it comes to input and output formats. Plus, the interface can be pretty clunky. We recommend you seek out and learn to use more professional software if you are serious about editing video.
Making the investment
Years ago, your status as a beginner editor or a pro made a huge difference in the software you used. Today, most pro software comes with enough resources for the beginner or professional to get started without much trouble. If you're serious about editing, there's no reason not to start with pro software.
Adobe Premiere Pro, Apple Final Cut Pro X and Avid Media Composer are much more capable than most consumer editing software. Plus, they offer a plethora of resources if you need help getting started. It's true these upper-level programs often require larger investments of both time and money. However, with a pro editing suite, you can experiment while learning the skills you'll need to edit professionally.

While price is one important area to consider, functionality is another important area to think about. If you plan on working with 4K, multicam, 360 video or other complex forms of video, you'll need to find software that can support that workflow. Professional video editing software will all support 360, 4K and multicam editing. Check the features list for any other software you are considering.
In terms of computing power, you'll need to make sure your system will be able to handle not only the software, but the video you are working with. Always check the minimum system specifications before making any software purchase. You'll also want to make sure the software you buy is compatible with any plug-ins you might want to use now or in the future.
The choice is yours
Video editing is an essential step in the production process. It is the place where the story is truly told. While the camera helps a director paint a picture of a scene or shot, editing reveals the entire story. Editing is how we set the tone, pace, and feeling for a piece of content. While there are many different programs available, it is important to consider your needs as an editor. Purchase the software and system that best fits your production workflow.
For help choosing a computer for video editing, read "How to choose the right computer for video editing: 4 key specs to check."
Contributors to this article include Chris Settineri and the Videomaker Editorial Staff.