DSLR cameras already make for capable video recording platforms. Pairing one with an external microphone is an ideal way of creating extra value with increased sound quality. Let's take a look at the market's best microphones for DSLRs and discuss what you need to consider when choosing the right microphone for your DSLR.
---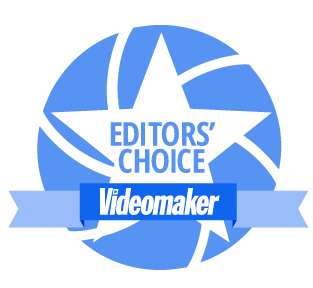 The Editors' Choice award recognizes exceptional video production equipment, software and services. These products must help videographers be more effective storytellers while being affordable, easy to use and dependable. The products must also deliver a superior user experience.
---
Best budget camera-top mic for a DSLR
Sennheiser MKE 200
The Sennheiser MKE 200 is a compact, camera-mount directional microphone designed to enhance audio quality for both DSLR and mirrorless cameras, as well as mobile devices. With its sleek, lightweight design and impressive performance, the MKE 200 is an excellent addition to any content creator's toolkit, especially those seeking to elevate their audio capture game.
Featuring a built-in windscreen and shock mount, the MKE 200 ensures that your recordings remain free of wind noise and handling vibrations. Its supercardioid polar pattern focuses on capturing sound from the front while minimizing background noise, making it perfect for interviews, vlogging or on-the-go filmmaking. Additionally, the MKE 200 includes 3.5 mm TRS and TRRS locking cables for seamless compatibility with cameras and mobile devices, providing users with a versatile, high-quality microphone solution for a variety of applications.
---
Best camera-top mic for a DSLR
RØDE VideoMic NTG
The RØDE VideoMic NTG is a highly versatile shotgun microphone, designed to deliver top-notch audio quality for both on-camera and off-camera use. This microphone boasts a unique blend of high-quality components and user-friendly features, making it an excellent choice for filmmakers, vloggers and podcasters alike.
The VideoMic NTG is equipped with a highly directional supercardioid polar pattern, ensuring precise audio capture while minimizing background noise. Its adjustable gain control and auto-sensing 3.5 mm output make it compatible with a wide range of devices, such as cameras, smartphones, and recorders. Additionally, the built-in rechargeable battery offers up to 30 hours of runtime, ensuring uninterrupted recording sessions. With its durable construction and impressive performance, the RØDE VideoMic NTG is a valuable addition to any content creator's toolkit.
---
Best stereo camera-top mic for a DSLR
Azden SMX-30
The Azden SMX-30 Stereo/Mono Switchable Video Microphone is a high-performance microphone designed to cater to the diverse needs of video production professionals. This microphone offers the unique ability to switch between a stereo and mono recording mode, making it ideal for capturing a wide range of audio environments.
In stereo mode, the SMX-30 utilizes two directional microphones to capture immersive and spatial audio, perfect for recording natural soundscapes or live events. In mono mode, the microphone focuses on a single, highly directional supercardioid polar pattern, which excels at isolating subjects from background noise. The microphone features a built-in low-cut filter, +20 dB gain boost and -10 dB pad, allowing for easy adaptability to various recording situations. Powered by two AA batteries, the Azden SMX-30 provides up to 24 hours of operation time. With its flexibility and high-quality audio performance, the Azden SMX-30 is an excellent choice for videographers seeking a reliable and adaptable microphone solution.
---
Best UHF lav mic set for a DSLR
Sennheiser EW 512P G4
The Sennheiser EW 512P G4-AW Pro Wireless Lavalier Microphone System is a professional-grade audio solution designed for videographers and journalists who require exceptional audio quality and reliability in their wireless setup. This system operates in the AW+ frequency band, offering an impressive range and minimal interference.
Featuring Sennheiser's renowned MKE 2 Gold lavalier microphone, the EW 512P G4-AW ensures clear, natural sound reproduction with its omnidirectional polar pattern. The system also includes a compact and lightweight SK 500 G4 bodypack transmitter, as well as the EK 500 G4 portable camera-mount receiver, both of which boast a rugged metal construction to withstand the rigors of field use. With a user-friendly interface and quick synchronization between transmitter and receiver via infrared, the EW 512P G4-AW makes setup a breeze.
The Sennheiser EW 512P G4-AW Pro system also features a 88 MHz tuning bandwidth, 32 frequency presets per range and easy-to-navigate menu controls. With up to eight hours of battery life, this system is perfect for those seeking a dependable, high-quality wireless lavalier microphone system for their professional audio needs.
---
Best 1.9 lav mic set for a DSLR
Sennheiser AVX
The Sennheiser AVX-MKE2 Set is a cutting-edge, camera-mountable wireless lavalier microphone system designed for videographers who demand high-quality audio and seamless integration with their cameras. This system operates in the license-free 1.9 GHz frequency range, ensuring minimal interference and optimal signal stability.
The Sennheiser AVX-MKE2 Set boasts automatic frequency management, self-configuring digital transmission and adaptive power management, all of which make it incredibly user-friendly. The system also intelligently adjusts audio levels to match your camera's input sensitivity, reducing post-production editing time. With up to four hours of operation on a single battery charge and the ability to recharge via USB, the AVX-MKE2 Set is the ideal choice for professionals seeking a reliable, high-quality wireless lavalier microphone system that effortlessly integrates with their camera setup.
This set features Sennheiser's MKE 2 omnidirectional lavalier microphone, the AVX-MKE2 Set delivers clear and natural sound reproduction. The receiver's unique design also allows for a secure, rotatable connection to your camera, ensuring the perfect fit and easy adjustments.
---
Best 2.4 Ghz Lav mic set for a DSLR
RØDE Wireless Go II
The RØDE Wireless GO II is an ultra-compact, dual-channel wireless microphone system that builds upon the success of its predecessor, offering enhanced usability and performance. Designed for videographers, content creators and journalists, this system combines portability and versatility, ensuring crystal-clear audio for your recordings.
Each of the two lightweight transmitters in the Wireless GO II system features a built-in omnidirectional microphone and a 3.5 mm TRS input for connecting external lavalier mics. The receiver, also compact and lightweight, supports both mono and stereo recording and can be connected to cameras, mobile devices and computers, offering universal compatibility.
Utilizing RØDE's Series IV 2.4 GHz digital transmission with 128-bit encryption, the Wireless GO II provides a range of up to 656 meters. The system also boasts an impressive seven-hour battery life, USB-C rechargeability and onboard recording capabilities, allowing you to capture over 24 hours of audio directly on the transmitter as a backup or for additional flexibility in post-production. With the RØDE Wireless GO II, you'll experience the perfect balance of portability, performance and reliability, making it an ideal choice for professionals seeking a high-quality, easy-to-use wireless microphone system for their recording needs.
---
Best two-channel Lav mic set for a DSLR
DJI Mic
The DJI Mic is a compact digital wireless microphone system designed to provide exceptional audio quality and convenience for content creators, videographers, and journalists. With its sleek, user-friendly design, the DJI Mic ensures seamless integration with a variety of recording devices, including cameras and smartphones.
Featuring a dual-channel receiver and two transmitters, this system allows for versatile audio capture, including interviews and on-the-go reporting. The transmitters come equipped with built-in omnidirectional microphones and 3.5 mm TRS inputs for connecting external lavalier mics, providing flexibility in your recording setup.
The DJI Mic operates on a 2.4 GHz frequency band, ensuring stable transmission up to a range of 100 meters. The system also boasts a five-and-a-half-hour battery life. It also offers USB-C charging and a compact, lightweight design. This makes it easy to carry and use in various shooting environments.
With its combination of performance, portability and reliability, the DJI Mic is an excellent choice for professionals and enthusiasts alike, offering a high-quality wireless microphone solution for a wide range of recording scenarios.
---
Considerations
When investing in new equipment, it's essential to consider the following criteria to balance cost and performance. If purchasing a new microphone for a DSLR solves a problem, it's best to invest sooner rather than later. This helps you avoid losing value through delay. Waiting to save up for a purchase can result in losing value over time.
Cost
There is more to cost than the initial sticker price. Value for money is derived from the microphone's upfront utility and its longer-term usability. A camera-mounted shotgun microphone has a singular purpose and will likely outlive the original camera it was purchased for. Also, a wireless DSLR microphone solution will have limited scalability depending on its maximum number of input sources.
When considering purchasing a microphone, be upfront about your use case. Also, buy for what you need now while also considering how much it needs to scale over the next year. Look for features such as battery life and the total number of input channels.
Finally, check resell prices and leverage them to fund upgrades.
Dual system audio
This approach uses a dedicated microphone and sound recording system that is entirely external to the camera. Dual system audio services larger productions and requires dedicated operators to manage.
However, smaller versions can be adapted for solo operators by using portable recorders and external microphones alongside their DSLRs. The main challenges are keeping track of takes and syncing the audio afterward; using a clapboard can help. Keep the audio rolling to avoid constant stopping and starting, and trim the excess in editing.
Audio quality
This brings us to audio quality. Internal camera microphones are small, cramped affairs with poor sound quality and limited dynamic range. A DSLR microphone offers a significant improvement in performance and production quality.
Design and portability
A sign of good portability is when all the audio equipment fits in the camera bag. Portability also translates into size, which is important when mounting microphones to the camera, let alone fitting well. The majority of DSLR camera-focused microphones are designed to fit on the shoe mount and remain in the camera's profile.
Wired or wireless
Most microphones require a wired connection of some kind. Wireless microphones communicate with a receiver that uses a wired connection to route audio to the camera, such as the RØDE Wireless GO II.
Pure wireless systems typically use Bluetooth, which requires Bluetooth functionality on the camera itself and comes with the drawback of reduced audio quality.
A wired connection to the camera results in higher-quality audio being recorded and has no bearing on whether the audio receiver requires battery power — more on that next. Audio over USB is the newest feature and can support even higher audio quality than the standard 3.5 mm TRS cable.
Battery life
Power delivery through batteries is a constant with DSLR microphones, with the exception of some small wired dynamic microphones. A camera-mounted shotgun microphone like the Rode VideoMic uses active amplification and requires a separate 9-volt battery. For better or worse, portability means that many of the batteries will be rechargeable lithium-ions, which will impact long-term serviceability. Don't forget to charge them before shoots and bring spares where possible.
Consider the number of sources being recorded. DSLR wireless systems tend to be dual-channel and support a maximum of two input sources. Accounting for four hours of battery life that comes out to two sources at four hours each or eight hours for a single source. Sticking with the DSLR microphone approach might mean having to buy more than one wireless system to keep up with battery life.
Filters
High-pass filters, also known as low-cut filters, are a staple of recording and are used to cut out frequencies below 150 Hz. Use high-pass filters on sources that don't naturally produce bass frequencies in the 150 Hz range, such as dialogue.
It is common and recommended to use a high-pass filter during recording rather than fixing or removing those frequencies during post. This is a desirable and not uncommon feature to have on a microphone.
Polar patterns
Directional patterns like cardioid and shotgun are the most appropriate for recording the kind of near-field content you would expect with a DSLR. Some lavalier microphones feature omnidirectional capsules as well.
For more on microphone selection and polar patterns, head over to our guide on choosing the right mic.
Microphone types
You can expect to use these common microphones with a DSLR camera.
Internal
Unlike the jump in quality and multi-microphone approach taken in higher-end smartphones, cameras have not received the same uplift. The DSLR built-in microphone experience isn't a great one. The design includes a single small microphone capsule to save space and easily pick up handling and internal noise. Expect a cardioid pattern here.
This makes sense considering the different applications, and users will opt for a dedicated microphone. Why spend valuable time, money and space on an integrated microphone that users will most likely replace?
Shotgun
Shotgun microphones are highly directional and at their best when recording a source that is neatly in front of them. That is why boom operators twist the boom to keep the shotgun microphone pointed at the active speaker. This is just how directional shotgun microphones are and a good choice for point-and-shoot environments.
Lavalier
These come in both omnidirectional and cardioid flavors and are one of the best dialogue capture solutions available. Lavaliers are a tried and tested option for micing dialogue in static and dynamic shots. They are a great choice for solo shoots where you are both the content and camera operator.
Nice To Haves
These features may be optional in some cases, but they are also well worth the investment.
Shock mounts
A shock mount isolates a microphone from external mechanical noise, such as handling noise and impacts to the camera body or microphone stand. They serve as a great safety net and can save you from losing a good take.
Windscreen
Another must-have item, windscreens not only help offset the impact of wind and gusts on a recording but also help reduce the effects of plosives and pops when recording dialogue. Windscreens come in more rigid foam or the fluffier "deadcat" varieties, with the latter offering more wind resistance.
Gain control
Having gain control on an external microphone is a must-have feature. Being able to quickly and reliably adjust the gain to suit the recording environment is essential. Reliable metering makes the screen functionality below all the more important.
LCD screen
The trend of digitization and multi-function controls and displays shows no signs of slowing down anytime soon. A screen helps configure and monitor everything from gain, filter and output settings all the way to battery level.
USB connectivity
At a minimum, a USB connection should provide charging and power capabilities. Standalone recorders utilize USB for data transfer, which can function as an audio interface depending on the model. However, since we are discussing DSLR camera microphones, the data transfer aspect is less relevant. This is because the objective is to synchronize and store the audio on the camera.
The Rode Wireless GO II uses its USB connection to function as an audio interface when connected to a computer. When connected to a camera via USB, it can record higher-quality audio. It also frees up the 3.5 mm port to function as a headphone output for monitoring.
An increasing number of models offer hybrid analog and USB connectivity. The latter is most useful for computer connectivity without the need for a dedicated audio interface.