Sound Devices launched the MixPre-3 and MixPre-6 just prior to NAB on April 19, 2017. After handling them on the show floor, we gave the MixPre-3 our Best Audio Recorder of NAB 2017 award.
Although separate models, the MixPre-3 and MixPre-6 are pretty similar. The difference is the amount of preamps each has and a few other small features. The 3 has three XLR inputs, whereas the 6 has four.
MixPre-3 and 6 cost 650 and 900 dollars respectively. They contain what Sound Devices calls "high-performance, ultra-low-noise, discrete, Class-A mic preamps" Sound devices calls these preamps by the name of Kashmir. They feature a -130dBV noise floor, analog limiters, and a 32-bit A-to-D converter. Plus, they're hand-crafted.
More than a simple field mixer, the MixPre also serves as a field recorder and USB audio recording interface. Both models offer ring LED metering per channel and a built-in ¼ inch 20 thread mount for cameras. You are able to feed timecode via HDMI and ⅛ inch inputs as well as trigger recording. Powered by either AA batteries, or with an optional mount for Sony L-mount batteries, it uses two types of USB connections: USB type-A and Type-C.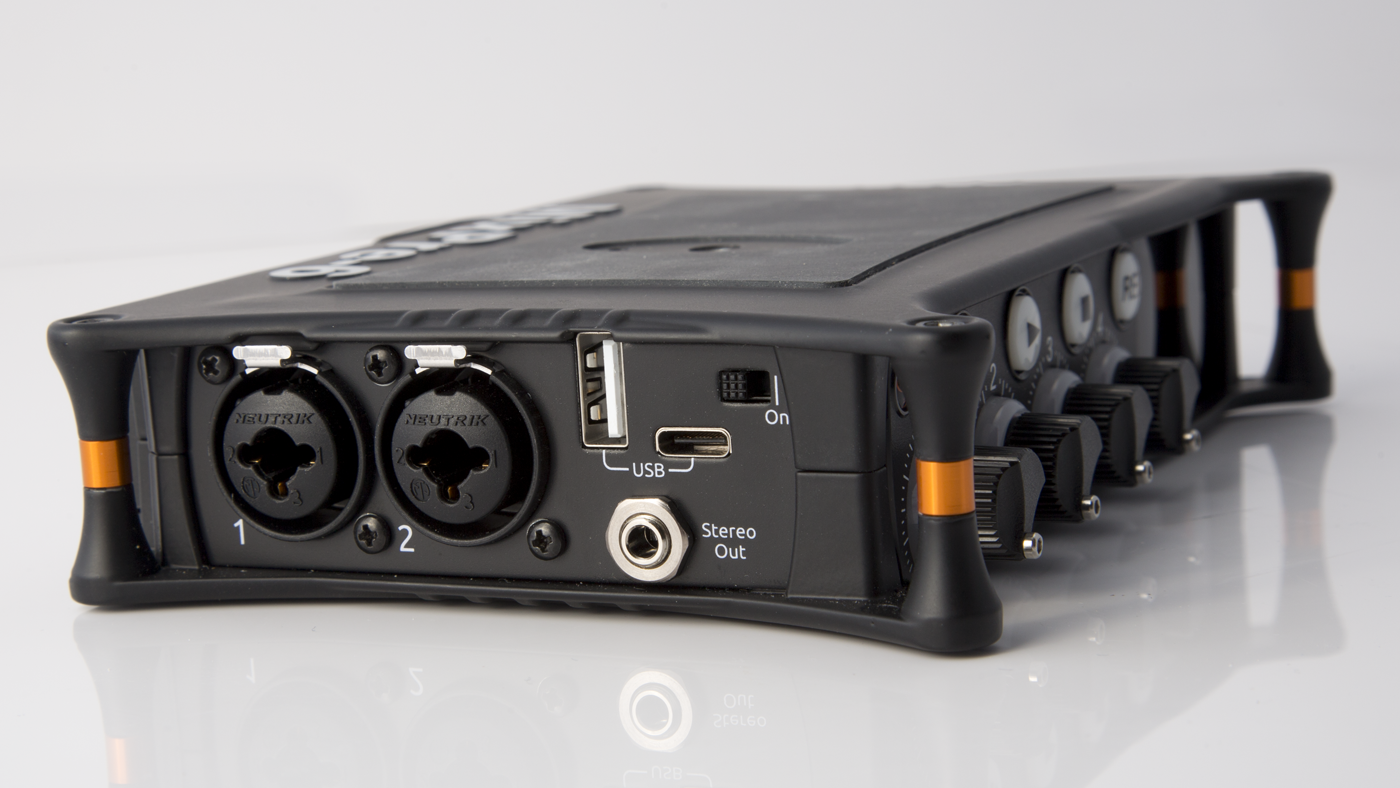 In Use
Because the MixPre-3 is more than a field mixer, we wanted to put it to the test to see what it could do. Our first use case is using it as a standalone recorder for a voice-over. This was right out of the box; we had very little time with the MixPre before this use. The first thing we noticed is that the SD card input is behind the battery.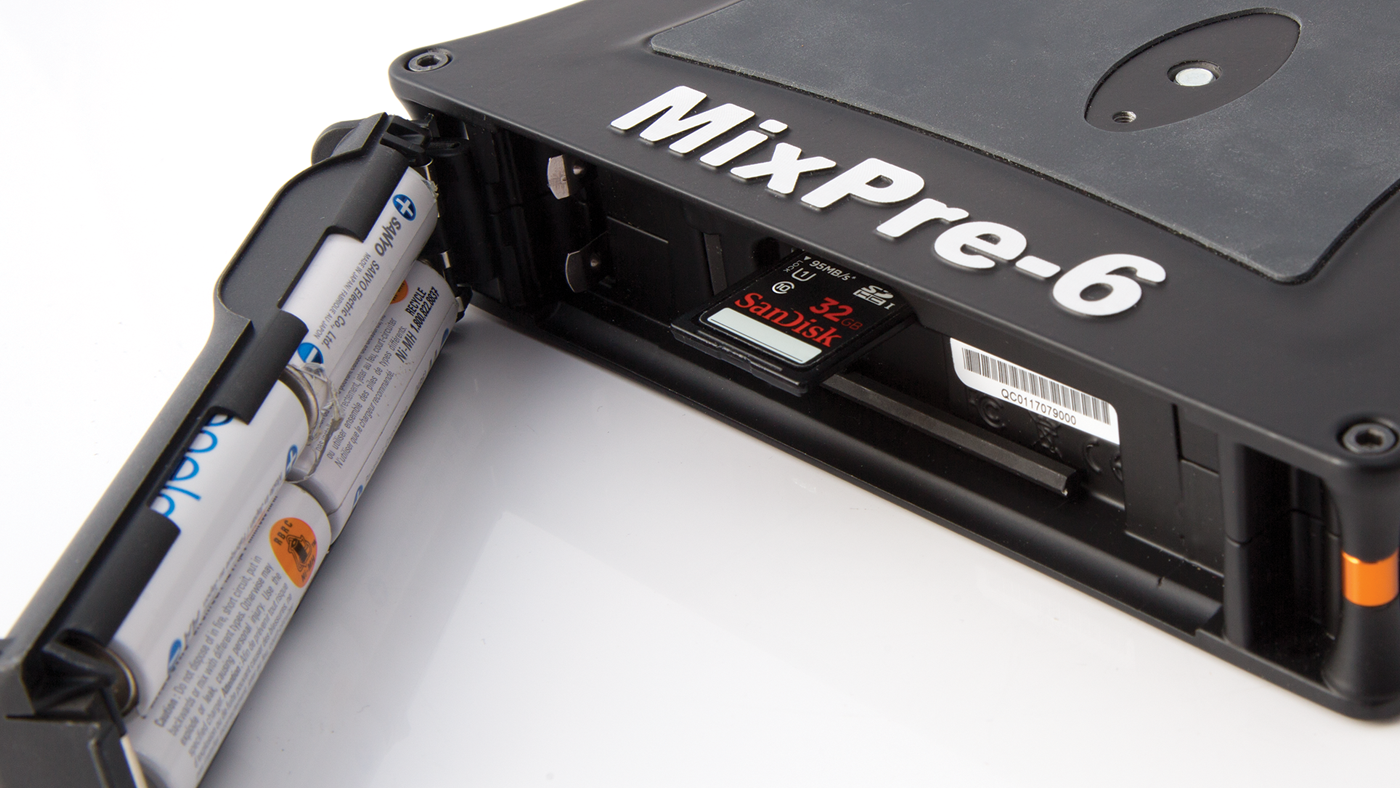 Having the SD card input behind the battery is unfortunate as it will be inconvenient for some workflows. However, it is possible to transfer files via USB C without removing the SD card at all. With a large enough card and a workflow that accommodates off-loading from the device, the placement of the SD card slot may never be of concern.
Another note on this aspect of the design: the batteries go within the battery pack, which is completely removable from the unit. This makes replacing the batteries easy; however, lose the tray and you'll be forced to us AC power or an external power supply.
Once we started recording, we got the level where we wanted it and got to tracking. It's very intuitive to use, and the preamps sound wonderful and are very quiet. When recording a low level at -31db, we were able to normalize the audio to -0 and there was no noise — none! Consider the application of having that much headroom, it's quite fantastic. Recording dynamic sound sources is a breeze with its -130dBV noise floor.
When recording a low level at -31db, we were able to normalize the audio to -0 and there was no noise — none!
Next, we moved on to using it with a camera. In coordination with a Panasonic Lumix GH4, we set up to shoot some A-roll with a Røde NTG-2 shotgun mic. To connect with the GH4, we needed three cables, two 3.5mm TRS stereo cables and a micro HDMI to mico HDMI. Needless to say, that's a lot of cables. This configuration allows you to record the stereo out of the MixPre with the video clip. However, because it goes through the subpar preamp of the camera, using the audio recorded through the camera is not recommended. Instead, we used the camera recording as a scratch track to help us sync the audio that was recorded directly to the MixPre. The audio we recorded onto the MixPre-3 at the same time sounded great. Another feature accessed with this setup is camera triggered start and stop, making it easier to sync the audio.
Our last test was using all of the inputs of the MixPre-6 to record four inputs from a live rock band practicing in a garage. The inputs easily handled the dynamics of the drum kit. In this configuration, we recorded the inputs independently so they could be mixed at a later date. Using a Lewitt LCT 640 TS a dual-output condenser, we captured the room. We had a Shure BETA 52A on the kick drum with a SM57 on the snare. The audio that was recorded sounded better than it did live in the room.
Build Quality
Sound Devices created robust and stout products with the MixPre line. The design protects the knobs and overall has a long-lasting build quality. The location and design of the battery pack is strange. We're not sure how often this design flaw would be problematic.

A user will navigate the menu options with its small touch screen. It's simply laid out and easy to use. Even this reviewer's fat fingers were able to select all functions. Moving to the gain knobs, they have smooth operation and when pushed in, they access the menu options for each channel. Our favorite option is the external knob for headphone volume. It's very nice to be able to articulate the headphone volume without the need of going in the menu. The one thing that bothered us about this headphone knob is that it spins infinitely. A stop at the beginning and end of the control would have been nice, but it's far from a deal breaker.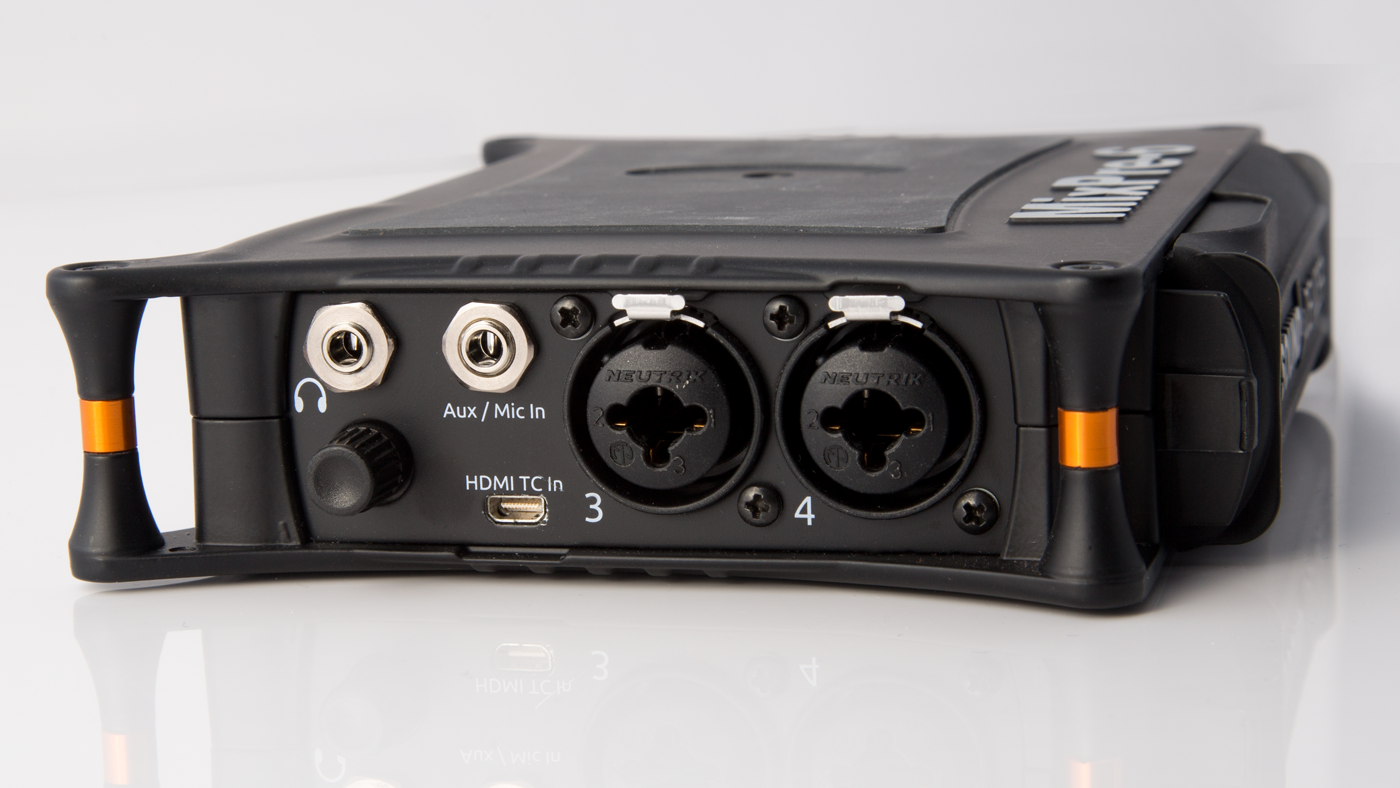 Marketplace
The MixPre-3 and 6 are somewhat unique in the marketplace. They function as both field mixers and recorders. With that said, there are a few products that are similar, namely the Zoom F4 and the Tascam DR-70D.
The Zoom F4 costs 650 dollars and has an integrated mixer. It records up to 24-bit audio at 192kHz. It offers four combo XLR ¼ inch inputs that offer phantom power. It comes with limiters for all inputs and output as well as an LCD Display.
Next, let's look at the Tascam DR-70D for 300 dollars. It records four channels simultaneously, has dual built-in omnidirectional mics and has a dedicated camera output. Lastly it has a built-in limiter and high-pass filter.
Final Thoughts and Recommendation
Is the Sound Devices MixPre line a bit on the costly side? Yes. However, the preamps are significantly nicer than other products in this price range. The battery location and design are weak, but it's not a deal breaker. Overall, both the MixPre-3 and MixPre-6 impressed us. If you are looking for a high quality field audio recorder, you should consider the MixPre-3 and MixPre-6 from Sound Devices.
Sound Devices
www.sounddevices.com
PRICE:
MixPre 3 – $650
MixPre 6 – $900
STRENGTHS:
Stout build quality
Low noise floor
WEAKNESSES:
Battery compartment
SD card slot behind battery
SUMMARY:
The Sound Devices MixPre-3 and MixPre-6 have great sounding preamps, but they are a bit on the costly side. They have a robust build and are easy to use.
RECOMMENDED USERS:
Indie filmmakers
Documentarians
Corporate filmmakers
Commercial producers
TECH SPECS:
Frequency Response:
10 Hz to 40 kHz +/- 0.5 dB re 1 kHz @ 96 kHz sample rate
ADC: 32-bit precision; 120 dB dynamic range min
Inputs Mic: XLR active-balanced; 4-kOhm input Z
Line: XLR active-balanced; 4-kOhm input Z
Aux/Mic In: 1/8" (3.5 mm) TRS, 2-channel unbalanced; 100-kOhm input Z
USB Audio: 2 channels – All inputs fully RF-filtered and overload-protected
Mic Input: +6 to +76 dB
Line Input: -20 to +30 dB
Fader: -inf to +20 dB
Headphone: -inf to +20 dB
Total, Mic-to-Recording (Max): +96 dB
Maximum Input Level
Mic XLR: +14 dBu (limiters on or off)
Line XLR: +40 dBu (limiters on or off)
Aux/Mic In: +10 dBu
Low Cut Filters: 80 to 240 Hz (adjustable), 18 dB/oct. First stage analog, subsequent stages digital
Microphone Power
Mic XLRs: 48 V via 6.8-kOhm resistors, 10 mA each
Mic 1/8" (3.5 mm): 3 V @ 3-kOhm source Z
Stereo Output: 1/8" (3.5 mm) TRS stereo unbalanced, 500-Ohm output Z, +7.8 dBu max output level
Audio Interface (USB Type-C): 5-in/2-out; 44.1 to 96 kHz; 16-/24-bit; class-compliant USB 2.0 high-speed or ASIO (supplied)
Mass Storage (USB Type-C): USB 2.0 high-speed
Keyboard (USB Type-A): Text entry and control
Maximum Record Tracks: 5 Tracks – Stereo mix + 3 ISOs
Sampling Frequency: 44.1, 48, 96 kHz
Bit Depth: 16, 24
Storage Type: SD, SDXC, SDHC card
Max Storage Size: 512 GB (SDXC)
Card format: FAT32 (32 GB or less) or exFAT (>32 GB)
File Type: WAV with embedded timecode stamp and metadata
Timecode
Time of Day: File stamped w/current ToD
LTC Input: File stamped w/incoming LTC on Aux 1/8" (3.5 mm)
HDMI TC: File stamped w/incoming TC from HDMI & sample clock slaved from HDMI sample clock. Only works on specific cameras that support HDMI TC
Frame Rates Supported: Auto-Detects (FPS): 23.98 (same as 23.976) 24, 25, 29.97, 29.97 DF, 30
Remote Control
Bluetooth Smart: Wireless control using Wingman app
HDMI: Auto-record start/stop trigger from cameras that output record flag over HDMI
Timecode: Auto-record start/stop trigger via Aux In timecode
Touchscreen: 320×240; 1.6", color, sunlight-viewable IPS LCD
Power: 4x AA sled (included) NiMH recommended
Operating: -4 to 140°F (-20 to 60°C), 0 to 90% relative humidity; (non-condensing)
Storage: -40 to 185°F (-40 to 85°C)
Dimensions (H x W x D): 5.7 x 4.4 x 1.4" (144 x 110 x 36 mm)
Weight: 16.8 oz (.48 kg) without batteries
Chris Monlux has been playing guitar since he was 12. He is also Videomaker's Multimedia Editor.